India election 2019: latest updates
5:06 a.m. ET, April 16, 2019
'When you play the Game of Thrones, you either lose or you bribe'
The main opposition Congress Party is using HBO's hit TV series "Game of Thrones" to throw some shade at rival Prime Minister Narendra Modi and his Bharatiya Janata Party (BJP).
Using the hashtag #BJPGameOfThieves, Congress posted "Spoiler Alert: When you play the Game of Thrones, you either lose or you bribe." It's a reference to the GoT tagline, "When you play the game of thrones, you either win or you die."
Accompanying the tweet was an image depicting Modi as the Night King -- who leads an army of the undead to destroy the Seven Kingdoms of Westeros -- and several other prominent BJP members as characters from the show.
It comes as the much anticipated eighth and final season of the fantasy show aired on Monday.
Congress dished out the role of Queen Cersei Lannister to BJP President Amit Shah, Union minister Rajnath Singh was cast as Walder Fray and Union minister Nitin Gadkari as King Joffrey Baratheon, according to NDTV.
Karnataka BJP chief Yeddyurappa was depicted as head Lannister and hand of the king Tywin Lannister and Finance Minister Arun Jaitley was cast as "master of the coins" and serial manipulator Petyr Baelish aka "Littlefinger."
Uttar Pradesh Chief Minister Yogi Adiyanath apparently appears as Jon Snow -- "the king in the north."
The BJP has yet to provide a formal reaction.
4:30 a.m. ET, April 16, 2019
How a political board game is revealing Indians' true feelings about the election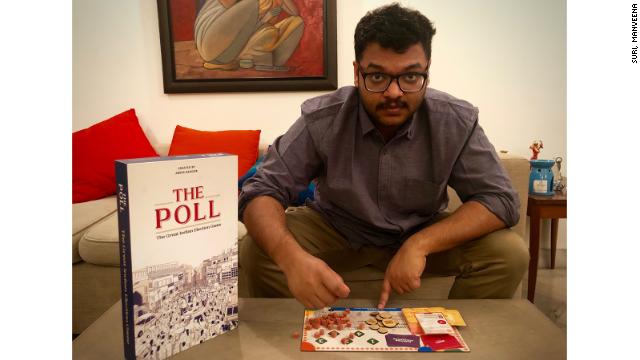 Staging a mass rally. Spreading fake news. Fueling caste tensions. Playing the religion card.
These are among the more unsavory tactics that have allegedly been used by some Indian political parties as they scramble for votes during election season.
Now, with the country of 1.3 billion people embarking once again on the world's biggest democratic exercise, a new board game is simulating something of that campaign process -- offering players both the standard and the sleazier electoral strategies.
The Poll: The Great Indian Election Game is the brainchild of 27-year-old journalist Abeer Kapoor, who came up with the idea in 2017 after covering national and state elections.
Three to four people can play with each representing a political party. Players can create a manifesto by choosing "policy cards" which he or she must defend, they can convince opponents their strategy will work and battle for influence.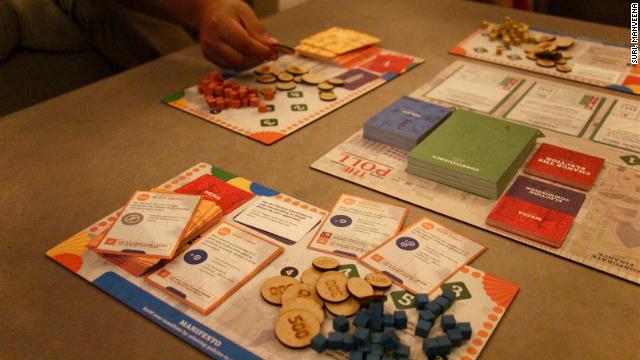 Jargon has been lifted from real party manifestos and definitions taken from high school textbooks, since one of Kapoor's goals is to educate players in the process -- warts and all.
"We want people to understand the process of an election, that there are issues and there are promises that are made and we don't always hold people accountable for that," Kapoor said.
Read more here.
3:39 a.m. ET, April 16, 2019
Two more political leaders banned from campaigning
The Indian Election Commission issued a gag order on two more political leaders late Monday for violating the model code of conduct during their election rallies.
Senior Bhartiya Janata Party (BJP) leader, Maneka Gandhi, was issued a notice by the EC after an election rally where she told voters that development work will be assigned to villages based on the number of votes BJP gets there.
Speaking at the rally, Gandhi said that a village where her party receives more than 80% of the vote share will get the priority in terms of development work, and where they get less than 50%, will be at the bottom of their list.
Classifying the government's commitment to serve the villages in this category Gandhi said, "it is up to you on whether you want to bring your village to the 'A' category. I would like that you keep it there rather than slide to the 'B' category. We always try to do good work for you."
The EC in its notice barred Gandhi from speaking at any public events or to the media for 48 hours, starting Tuesday.
The second leader barred from public appearances is a regional leader from Uttar Pradesh, Azam Khan.
Khan is a member of the Samajwadi Party -- which is part of the regional alliance in the state taking on the BJP.
At an election rally last week, Khan made derogatory remarks against his main rival from the BJP. Jaya Prada, an actress-turned-politician, lodged a police complaint against Khan for indecent comments made against her.
"The Commission has observed that the impugned statement made by Azam Khan is not only indecent but also derogatory and totally uncalled for," read the notice from the EC.
The EC has issued a gag order on Khan for 72 hours starting Tuesday.
This is not the first time Khan has made controversial remarks against women and he was banned by the EC once in 2014 as well.
"The Commission has observed that Sh. Azam Khan has not changed his way of campaigning and he is still indulging in using very objectionable language in election campaigning," said the EC.
6:07 a.m. ET, April 15, 2019
Two senior political leaders temporarily banned from campaigning
India's Election Commission Monday banned two senior political leaders from campaigning in response to complaints registered against them.
Yogi Adityanath, chief minister of Uttar Pradesh and a hard-right Hindu priest turned politician for the ruling Bhartiya Janata Party (BJP) was banned for the next 72 hours from campaigning in India.
In an election rally last week, Adityanath said the BJP was looking for votes from people of all religions barring one -- Islam. "They have said that we want only Muslim votes and we do not need any other votes, I have come for the rest of the votes to you," said Adityanath.
Another regional leader and head of the Bahujan Samaj Party in Uttar Pradesh, Mayawati during an election rally asked Muslims to not split their votes across parties and to vote as one for the alliance formed by the regional state parties. She has been banned from campaigning for the next 48 hours.
According to strict guidelines, candidates are not allowed to incite communal violence or appeal to voters on the basis of religion in any way.
Indian elections are highly charged as political parties vie for sections of voters, usually divided on the basis of caste and religion.
This is not the first time that Adityanath has courted controversy over speeches deriding the Muslim community in India. He has in the past praised US President Donald Trump's travel ban and said that India needed to take similar steps.
4:02 a.m. ET, April 15, 2019
No signs of upcoming election in Dalai Lama's home town
India is in election mode, with the world'a biggest exercise in democracy unfolding across this vast nation, but as CNN reports from around the country, one place seemingly free from the poll frenzy is McLeodganj, home to the Dalai Lama and a significant population of Tibetan refugees.
Located in the Indian state of Himachal Pradesh, which votes on May 19, it is so far largely free of the election paraphernalia visible in several parts of the country: There are no election posters or other signs that the nationwide vote is currently underway.
When pressed in conversations around town, locals say the community here largely stays out of Indian politics, focusing instead on issues to do with the Tibetan population settled in the region.
And many also seem unaware of a recent change in the law: following a recent Indian court ruling in 2013, which ensured that those born after 1950 can register to vote.
But local reports say that few have, as for many here, maintaining their identity as Tibetans takes precedence.
It's reflected in the streets around the main Buddhist temple in McLeodganj: Pop into shops, walk through the market, wander into hotels, and there's almost no sign of the election that's animating the rest of the country.
3:38 a.m. ET, April 15, 2019
Election Commission warns state broadcaster over unfair coverage
The Election Commission pulled up the Indian state broadcaster, Doordarshan News (DD News) last week for "unbalanced" and "disproportionate" coverage given to various political parties in the run-up to national elections.
The reprimand came after the main opposition party, Congress complained to the commission that the ruling Bhartiya Janata Party was receiving undue coverage from the national news channel and its affiliates.
"The Commission would like you to direct the DD News Channel to desist from extending any preferential or disproportionate airtime coverage in favor of any party and extend commensurate and balanced coverage of the activities of all recognized political parties," read the notice.
In India, as soon as the dates for the elections are announced, the model code of conduct kicks into place and the election commission is responsible for maintaining a standard of impartiality and a level playing field. The rules have been built to make certain that the ruling government does not take advantage of its position.
Political parties and their members are also monitored for any language which may be derogatory or attempts to incite violence. Multiple leaders have already received warnings and notices by the commission for derogatory language.
The commission has had to recently ban a biopic based on Prime Minister Narendra Modi's life and a TV channel called NaMo TV that was named after him.
3:28 a.m. ET, April 15, 2019
Who votes when and where?