Measles is spreading across the US
2:11 p.m. ET, April 16, 2019
Measles outbreak in Michigan linked to New York cases
Michigan health officials confirmed the measles outbreak in Oakland County is linked to the ongoing outbreak in New York.
Lynn Sutfin, public information officer for the Michigan Department of Health and Human Services, told CNN that a man from New York traveled to Southeast Michigan by vehicle.
"He was unknowingly contagious with the measles during his visit here. All 38 other cases of measles in Southeast Michigan can be linked to this individual," she said.
State health officials have reported 39 cases from this outbreak. (There is an unrelated case of measles in Washtenaw County, Michigan, which is linked to international travel.)
Some background: The ongoing outbreak in ultra-orthodox Jewish neighborhoods in New York began in October when, according to health officials, an unvaccinated child became infected with measles while visiting Israel.
"Since then, there have been additional people from Brooklyn and Queens who were unvaccinated and acquired measles while in Israel. People who did not travel were also infected in Brooklyn and Rockland County," the New York City Department of Health and Mental Hygiene website said.
On Monday, they added that two people contracted the illness from the UK and one from Ukraine. According to the World Health Organization, Ukraine has reported 72,000 cases of measles in the last 12 months, the highest of any country.
In all, more than 500 cases of measles have been reported in New York as part of this outbreak — 332 of them since January with more than 40 new cases identified in the last week.
11:27 a.m. ET, April 16, 2019
New order forces anyone with measles in Rockland County to stay home for up to 21 days
Dr. Patricia Schnabel Ruppert, health commissioner for Rockland County, New York, announced a new effort to contain the outbreak.
Anyone who is unvaccinated, has a laboratory-confirmed case of measles, has been identified by a health investigation as being exposed to measles and is under age 18 will be issued an order to essentially stay at home for up to 21 days (depending on when they were exposed and when the county learns of the exposure), she said at a news conference Tuesday.
Ruppert said that children must have proof of vaccination, immunity or an exemption form on file at schools and childcare facilities in order to attend.
Parents and guardians are responsible for minors, and failure to comply is $2,000 per day.
Why this matters: The new effort comes as the county appeals a judge's order from a few weeks ago. The judge put a hold on a ban on unvaccinated children in public places in Rockland County.
11:19 a.m. ET, April 16, 2019
New York official: "This outbreak is not going away"
There have been 186 cases of measles in Rockland County, New York, since the outbreak began in October.
"This is our 29th week fighting the measles outbreak here in Rockland — the longest lasting current outbreak in the entire nation and the largest outbreak in New York State in 30 years," Rockland County Executive Ed Day said at a news conference Tuesday.
"Despite our best efforts this outbreak is not going away. If anything it has now accelerated," he added.
He noted that 33 new cases have been reported since the county first issued an emergency order three weeks ago that was later nullified by a judge, taking steps to contain the outbreak by attempting to restrict unvaccinated minors from public places.
Day said he will renew the emergency declaration on April 25 when it expires.
He said that 1,760 people have been vaccinated against measles in the last three weeks so the effort to get the word out and get people vaccinated has worked but there is more work to do.
11:19 a.m. ET, April 16, 2019
5 parents file lawsuit against NYC for mandating measles vaccinations
Five New York City mothers have filed a lawsuit against city for mandating the measles-mumps-rubella (MMR) vaccine for those who may have been exposed to measles in select zip codes in Williamsburg, Brooklyn.
The lawsuit is being filed on behalf of themselves and their minor children, who all live within the affected ZIP codes identified by Mayor Bill de Blasio when he declared a public health emergency last week. All five women said their children have obtained religious exemptions for school attendance.
Here are the mothers' claims:
The mothers claim there is insufficient evidence to claim that there is a measles outbreak and that "forced vaccination" is not necessary, contending that the number of current active cases of measles does not "constitute an epidemic and does not justify the emergency orders."
The lawsuit also claims there are other measures the city could have taken first, such as isolation or quarantine of infected persons. 
Although Dr. Herminia Palacio, the city's deputy mayor for Health and Human Services, stressed last week that the vaccine is safe, the mothers are also claiming that the city "failed to disclose the number of cases [of measles] that have been caused by MMR vaccination" and they believe that the vaccine "indisputably carries risk of severe injury and death to some individuals."
They claim that their religious practices are being overridden unnecessarily.
Some background: De Blasio announced the measure to require vaccinations for persons living in specific zip codes in Brooklyn last week amid what the city declared was an outbreak that had affected at least 285 people, as well as 246 children under the age of 18.
De Blasio said at the time of the announcement that the city's law department had reviewed their emergency order extensively and that they were certain they had the legal authority to mandate vaccinations in a specific area, saying the city was "empowered" in a public health emergency to save lives.
11:18 a.m. ET, April 16, 2019
Why experts say the anti-vaccination movement played a huge role in the measles outbreak
Experts point to one reason for this year's large outbreak: the power of the anti-vaccination movement.
"It's just terribly sad that children in the US are having to suffer measles. This should not happen," said Dr. William Schaffner, medical director of the National Foundation for Infectious Diseases and an adviser to the CDC on vaccines. "We'd previously eliminated this disease not just in the US but in the entire Western Hemisphere, and it appears that now we've profoundly and sadly turned back the clock."
The 20 states reporting measles this year are Arizona, California, Colorado, Connecticut, Florida, Georgia, Illinois, Indiana, Kentucky, Maryland, Massachusetts, Michigan, Missouri, Nevada, New Hampshire, New Jersey, New York, Oregon, Texas and Washington.
Most of the cases have been in New York, site of an outbreak among ultra-Orthodox Jews that started in the fall.
Dr. Nancy Messonier, director of the CDC's National Center for Immunization and Respiratory Diseases, said the New York outbreak has been particularly difficult to control. "Most measles outbreaks in the US stop sooner than this," she said.
Health officials there announced last week that in the neighborhoods affected by the outbreak, anyone who has not had been vaccinated against measles or cannot show evidence of immunity could face a $1,000 fine.
On Monday, the New York City health department announced that one child-care program was closed "for repeatedly failing to provide access to medical and attendance records in violation of an Order of the Health Commissioner in response to the current measles outbreak." Schools and child-care programs are required to maintain records on-site, and unvaccinated students and staff are prohibited from attending.
In addition, the department said, "23 yeshivas and day care programs have received Notices of Violations (NOVs) for not following the school exclusion order."
Health officials in Rockland County, New York, tried to bar unvaccinated children from public places, but a judge prohibited the county from enforcing that rule.
Messonier said it's a matter of "correcting myths" about vaccination. Health authorities have worked with rabbis to explain that vaccination is safe, but that still hasn't turned the outbreak around.
"You have to just approach people where they are and answer their questions," Messonier said. "It's about the slow work of developing trust."
11:18 a.m. ET, April 16, 2019
What you need to know about measles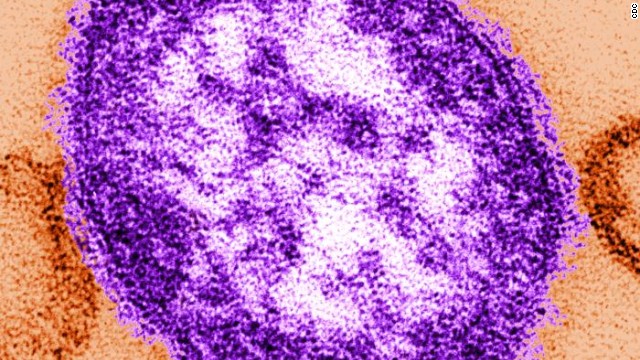 Measles, the highly contagious and previously eliminated viral illness, has been spreading in communities across the United States in recent weeks.
Here's what you need to now about measles:
What it looks like: Measles usually manifests as a combination of high fever, as high as 105 degrees Fahrenheit, along with what is known as the three Cs: cough, coryza (another word for runny nose), and conjunctivitis or pink eye, Sammons explained. Early on, measles can look like many other viral illnesses, but the red blotchy rash that comes with it may help set it apart.
How you catch measles: The measles virus spreads through coughing and sneezing and can live in the air where an infected person coughed or sneezed for up to two hours. If someone who is not immune to the virus breathes the air or touches an infected surface, they can become infected, according to the US Centers for Disease Control and Prevention.
How to prevent it: The vaccine provides protection against the illness well into adulthood, but for those who are too young to be vaccinated or who have chosen not to vaccinate, the illness can be highly contagious and even deadly. Two doses of the measles vaccine protect against measles in 97% of cases, according to the CDC. In people who have been immunized, it is possible to contract the illness, but it usually has a milder course. 
10:29 a.m. ET, April 16, 2019
Measles cases jump to second-highest level in US in 25 years
The number of measles cases in the United States made its biggest jump of the year, with 90 new cases reported in just one week, according to numbers released Monday by the US Centers for Disease Control and Prevention.
With 555 total cases, 2019 now has the second-highest number of measles cases in the United States in 25 years -- and the year isn't even half over.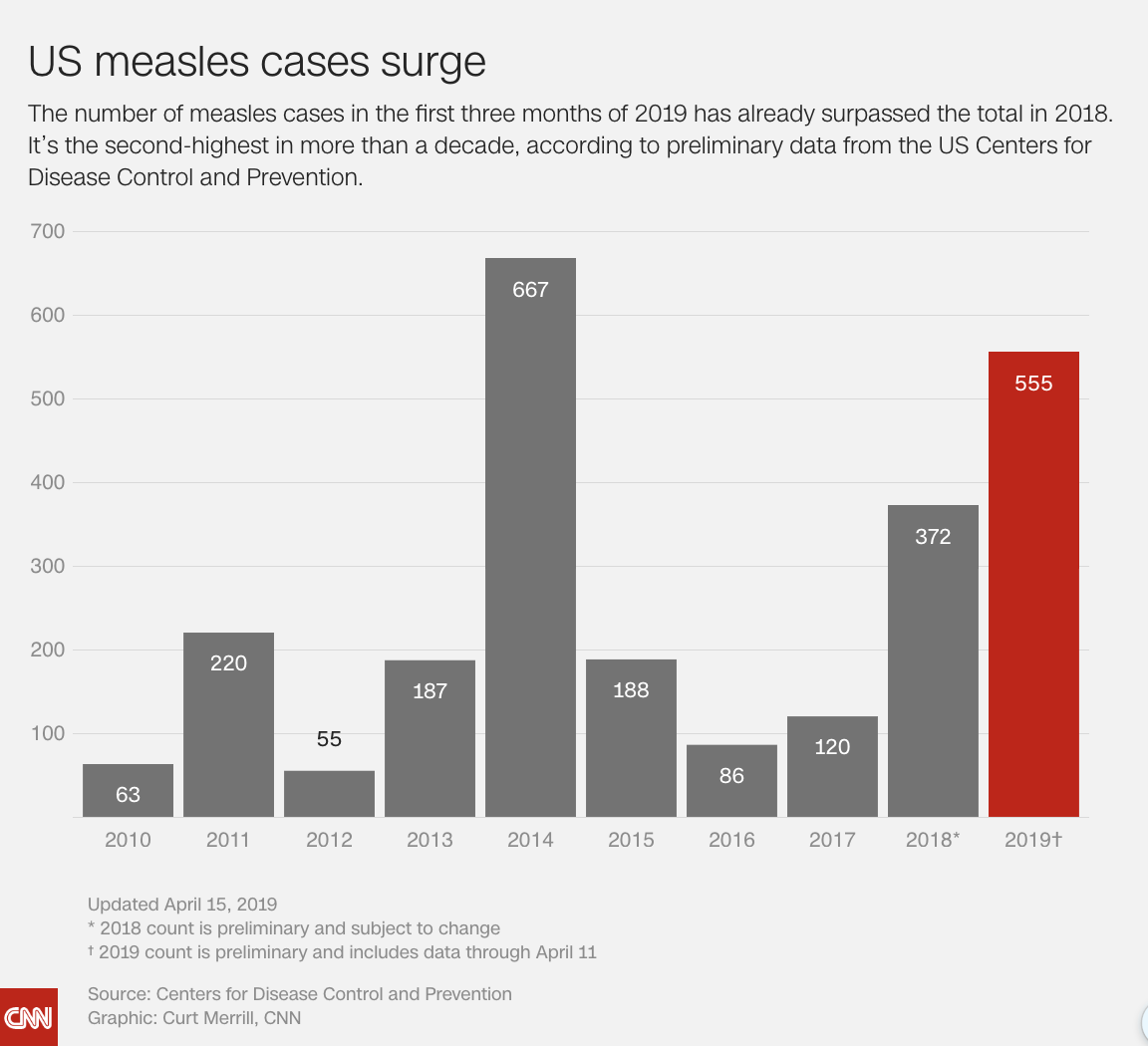 Measles isn't just rising in the United States: The World Health Organization reported Monday that there were more than 110,000 measles cases worldwide in the first three months of 2019, an increase of nearly 300% from the same period last year.
The data is provisional, and the actual number of measles cases is probably higher, as WHO estimates that fewer than 1 in 10 cases globally is reported to the agency.
Ukraine had the highest number of cases in the past 12 months, with more than 72,000, followed by Madagascar and India with more than 69,000 and 60,000 cases, respectively. WHO warned that there are delays in reporting and that this data may be incomplete.