It's mid-afternoon in Kyiv, seven days after Russia launched a full-scale invasion of Ukraine. Here are today's latest developments:
Russia squeezes the south: Russian forces are battling to take control of strategic cities in southern Ukraine, after days of intense fighting.
Mariupol under siege: Mayor Vadym Boichenko said the Russian military is creating a "humanitarian catastrophe" in the port city.
Battle for Kherson: The mayor of the southern city of Kherson indicated it had fallen on Wednesday, saying Ukrainian forces had left. However the situation remains unclear, according to British military intelligence.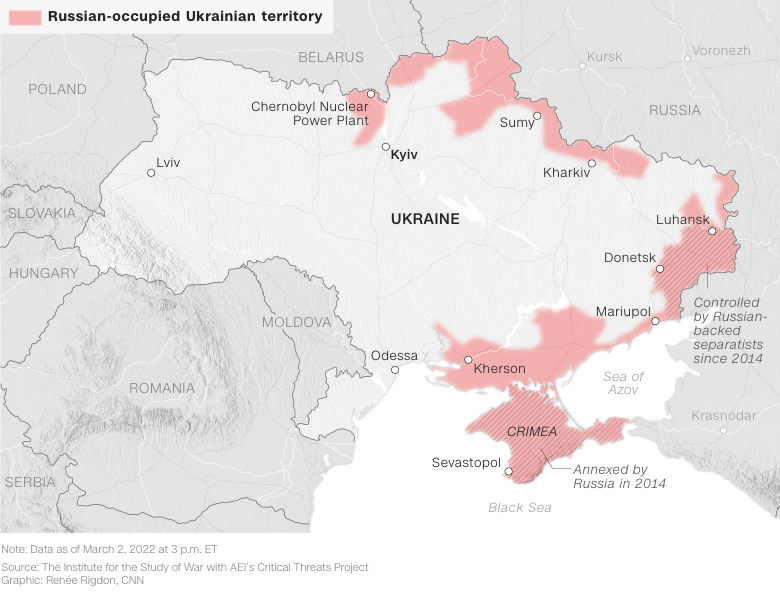 Expected talks: A second round of talks are set to take place in Belarus on Thursday between Russian and Ukrainian delegations. The first round on Monday lasted five hours and ended without a breakthrough.
Wave of refugees: More than one million people have left Ukraine in just a week, according to the UN. You can learn how to support humanitarian efforts in Ukraine here. 
Moscow changes tactics: Russian troops are engaging in more direct attacks on Ukrainian cities after attempts to encircle targets such as Kyiv were frustrated, said a NATO official.
Shelling in Kharkiv: In northeast of Ukraine, 34 civilians were killed by Russian attacks on the Kharkiv region in the past 24 hours, emergency services announced this morning.