Theresa May to resign as UK Prime Minister
5:08 a.m. ET, May 24, 2019
BREAKING: Theresa May announces her resignation
Theresa May has announced she will step down as UK Prime Minister, after three bruising years that saw her fail to deliver Brexit.
May said Friday she would quit as leader of the Conservative Party on Friday June 7.
Her announcement triggers the start of a contest to replace her as Conservative leader and Prime Minister.
5:08 a.m. ET, May 24, 2019
'I have done my best,' May says
"Ever since I first stepped through the door behind me as prime minister I have striven to make the United Kingdom a country that works not just for the privileged few but for everyone, and to honor the result of the referendum," May says.
"I have done my best" to deliver Brexit, May says -- but she has failed to do so.
"I have tried three times."
May adds it is a matter of personal regret for her that she has failed to deliver on her flagship policy.
4:53 a.m. ET, May 24, 2019
Downing Street sends reporters... nothing
Downing Street have confirmed Theresa May will be making a statement shortly. Unfortunately, their email to reporters -- which was meant to include a copy of the speech -- contained a large empty space.
"Please see below a Checked Against Delivery version of the Prime Minister's statement this morning. This is for immediately release," it says, ahead of some blank white space.
Either someone forgot to include an attachment, or the metaphors are in full flow inside Downing Street.
5:04 a.m. ET, May 24, 2019
HAPPENING NOW: Theresa May making speech outside Downing Street
Theresa May is addressing reporters outside 10 Downing Street. It's expected that she will confirm her resignation imminently.
Follow it here.
4:36 a.m. ET, May 24, 2019
Tory MP quits post and calls for new leadership
It's not exactly the big resignation that we're all waiting for, but a Conservative MP has left her post and called for new leadership of the party.
Helen Grant quit as the party's Vice Chair for Communities, saying she wants "actively and openly" to support one of the candidates for the Conservative leadership. She didn't confirm whom she will be endorsing.
"The PM has, of course, said she will be leaving, a decision that I respect and believe to be right," she added in her letter.
4:38 a.m. ET, May 24, 2019
Theresa May is inside Downing Street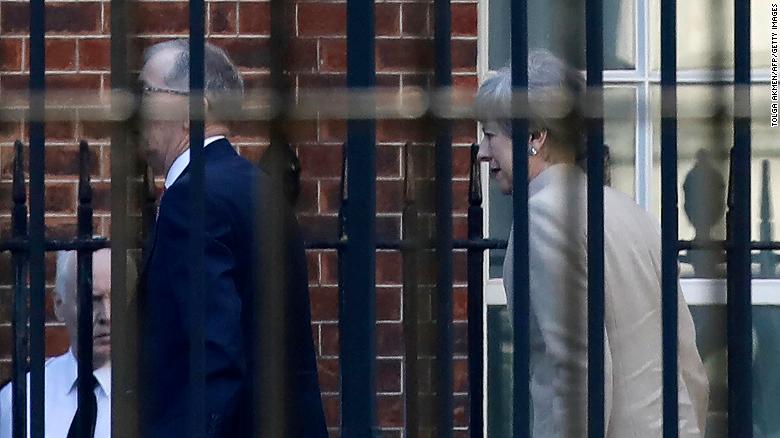 Theresa May arrived at 10 Downing Street via the back entrance this morning.
CNN has also seen Conservative Party chairman Brandon Lewis arriving at Downing Street.
Speculation is mounting that May will emerge later and announce details of her resignation to the waiting press.
4:04 a.m. ET, May 24, 2019
"Time finally runs out" -- Friday's front pages
Several papers in Britain are splashing on Theresa May's expected announcement on Friday. "May To Quit Today," the Daily Mirror says on its front page -- although it's anticipated that May could hold on as caretaker PM until early June but confirm she's stepping down as Conservative Party leader.
The Metro reports that furious MPs have pleaded with May's husband Philip to encourage her to step down.
The Telegraph suggests Foreign Secretary Jeremy Hunt is the latest Cabinet member to twist the knife on May, while the Guardian is already switching focus to the impending race for Tory leadership -- in which Boris Johnson begins as the frontrunner.
3:43 a.m. ET, May 24, 2019
Will Theresa May name date of exit?
Friday could be the day.
British Prime Minister Theresa May, bruised from three years of internal party disputes and unable to stem the tide of criticism over her unpopular Brexit bill, is expected to announce details of her resignation shortly.
She's facing a showdown over her future on Friday morning with Graham Brady, the head of the influential 1922 Committee of Conservative backbenchers, whose mutinous MPs are likely to change their rules and force her out if she won't clarify her exit strategy.
Yes, we've been here before -- speculation has hovered over May's head for most of her tenure -- but the walls are closing in on her faster than ever before.
It could be a long day in Westminster.