October 14, 2022 Russia-Ukraine news
9:46 p.m. ET, October 14, 2022
Our coverage for the day has ended. Follow the latest Ukraine news here or read through the updates below. 
9:37 p.m. ET, October 14, 2022
US to provide an additional $725 million in military assistance to Ukraine
The US is providing additional military assistance valued at up to $725 million to Ukraine, the administration announced late Friday.
Citing the recent Russian bombardment of targets across Ukraine and "the mounting evidence of atrocities by Russia's forces," Secretary of State Antony Blinken said the Kyiv government would receive additional arms, munitions and equipment from the Pentagon.
It will bring total US military assistance for Ukraine to more than $18.3 billion since the beginning of the Biden administration, Blinken said.
The Pentagon broke down the assistance as follows:
Additional ammunition for High Mobility Artillery Rocket Systems (HIMARS);
23,000 155mm artillery rounds;
500 precision-guided 155mm artillery rounds;
5,000 155mm rounds of Remote Anti-Armor Mine (RAAM) Systems;
5,000 anti-tank weapons;
High-speed Anti-radiation missiles (HARMs);
More than 200 High Mobility Multipurpose Wheeled Vehicles (HMMWVs);
Small arms and more than 2,000,000 rounds of small arms ammunition;
Medical supplies.
8:08 p.m. ET, October 14, 2022
Saudi leader pledges $400 million in humanitarian aid for Ukraine and offers mediation
Saudi Arabia's Crown Prince Mohammed bin Salman called Ukraine's President Volodymyr Zelensky on Friday to pledge $400 million in humanitarian aid to "alleviate the suffering of Ukrainian citizens in the wake of the crisis," according to the state-run Saudi Press Agency.
The crown prince also said that Saudi Arabia's position was to support "de-escalation" and that the kingdom stood ready to "continue efforts of mediation," between Ukraine and Russia, the state news agency said.
Some background: Last week, OPEC+, the oil cartel led by Saudi Arabia and Russia, agreed to slash production by 2 million barrels per day, twice as much as analysts had predicted, in the biggest cut since the Covid-19 pandemic. An intense pressure campaign by the US to dissuade its Arab allies from the cut ahead of the decision seemingly fell on deaf ears. 
US officials expressed displeasure at the OPEC move and President Joe Biden told CNN on Tuesday that Washington must now "rethink" its relationship with Riyadh.
Saudi Minister of State for Foreign Affairs Adel al-Jubeir denied that there were political motives behind the cuts. "Saudi Arabia is not siding with Russia," he told CNN. "Saudi Arabia is taking the side of trying to ensure the stability of the oil markets."
7:21 p.m. ET, October 14, 2022
Iran says it condemns Russia's attempted annexations in Ukraine despite no-show on UN vote
From CNN's Jennifer Hansler
Iran's delegation would have voted in favor of the United Nations General Assembly resolution condemning Russia's attempt to absorb parts of Ukraine "if the whole body of the resolution is (focused) on the condemnation of this annexation," a spokesperson told CNN on Friday.
Iran was absent Wednesday during the vote, which overwhelmingly passed.
The resolution calls on countries and international organizations not to recognize Russia's so-called annexation of the four regions, demands its immediate reversal and calls for Russia to "immediately, completely and unconditionally withdraw all of its military forces from the territory of Ukraine within its internationally recognized borders."
Iran considers the resolution to be "based on political motives," a media counselor for the Iranian Mission to the United Nations told CNN.
"Some items in the resolution were not acceptable for Iran, but some parts of the text of resolution that was respecting the territorial integrity and national sovereignty of countries is an unchangeable principle in Islamic Republic of Iran's foreign policy," the counselor said, citing the example of Iran not recognizing Kosovo because its declaration of independence "was a violation of Serbia's territorial integrity."
Some context: Iran has provided Russia with drones that have been used during the war against Ukraine, but Tehran's relations with Moscow are not without complications. Read more here.
5:48 p.m. ET, October 14, 2022
It's nighttime in Kyiv. Here's what you need to know
Russia's deadly missile barrage on civilian targets appears to have drawn to a close, but the attacks' toll is still felt widely across Ukraine. Meanwhile, Kyiv's troops push ahead with a counteroffensive, gaining ground in some key regions, according to officials.
If you're just joining us, here's what you need to know:
4:59 p.m. ET, October 14, 2022
Ukrainian officials extend olive branch to Elon Musk amid Starlink and peace plan row
From CNN's Tim Lister and Julia Kesaieva
A senior Ukrainian official has made a conciliatory gesture toward US billionaire and Tesla CEO Elon Musk after bitter exchanges over his ideas for a settlement to the conflict with Russia.
"Definitely @elonmusk is among the world's top private donors supporting Ukraine," tweeted Mykhailo Fedorov, Ukraine's vice prime minister and minister of digital transformation. "Starlink is an essential element of our critical infrastructure."
The remarks appear to be intended to draw a line under bitter criticism of Musk by some Ukrainian officials after he publicized ideas for a peace settlement that would see Ukraine surrender Crimea and agree to neutrality status.
The effort to smooth things over comes after CNN reported exclusively that SpaceX sent a letter to the Pentagon last month saying it can no longer continue to fund the Starlink satellite service, and asked the Pentagon to pick up the bill.
The system — which has been provided free of charge since early in the conflict — has been an essential link in allowing Ukraine's forces to maintain communications.
Soon after the tweet from Fedorov, another senior Ukrainian official spoke of the value of the Starlink system to Ukraine's war effort.
Mykhailo Podolyak, adviser to the Head of the President's office, tweeted: "Let's be honest. Like it or not, @elonmusk helped us survive the most critical moments of war."
"Business has the right to its own strategies. 🇺🇦 [Ukraine] will find a solution to keep #Starlink working. We expect that the company will provide stable connection till the end of negotiations."
What the Pentagon is saying: "We can confirm the Department received correspondence from SpaceX about the funding of Starlink their satellite communications product in Ukraine," Deputy Pentagon Press Secretary Sabrina Singh said Friday.
"We remain in communication with SpaceX about this and other topics."
4:30 p.m. ET, October 14, 2022
US military official: Kyiv's gains have moved more Russian targets in range of standard artillery
From CNN's Ellie Kaufman
Ukrainian forces continue to make progress in the southern region of Kherson, regaining control over more land previously occupied by Russia, a senior US military official said Friday.
"We have seen gains in the north now, really the line of advance for the Ukrainians, just north of the city of Mylove, and then extending essentially to the north and west with a number of small towns and villages that the Ukrainians have been able to clear of the Russians," the official said.
The US has also seen some "incremental gains" in the central part of the battleground region, "so not a lot of advancement, but some," the official said. "We're talking kilometers."
Because Ukrainian forces have gotten closer to Russian forces along this central axis, they are relying less on guided multiple launch rocket systems, or GMLRs, to counter Russians, the official said.
"It's also placed a good portion of that battle space under standard artillery, not GMLRs," the official continued. "They can range the Russian targets they want to hit with standard artillery."
Gains in Kherson prompt evacuations: Meanwhile, Russia said Thursday its forces would help evacuate residents of occupied Kherson to other areas.
The announcement by Russia's deputy prime minister came shortly after Moscow-backed officials in the region appealed for help moving residents out of harm's way. It's the latest indication that Russian forces are struggling in the face of Ukraine's counteroffensive.
Here's a look at where things stand on the ground: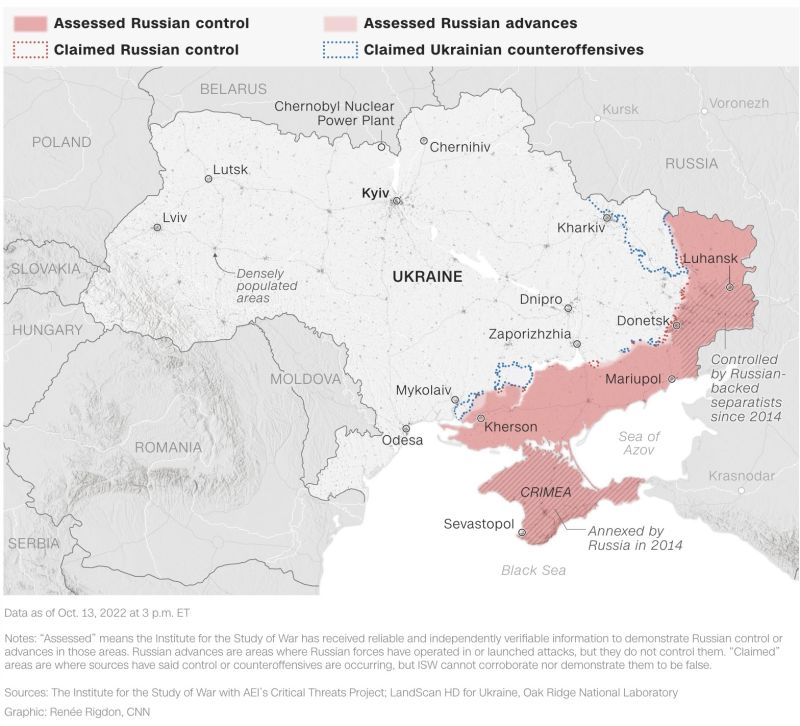 3:54 p.m. ET, October 14, 2022
Ukraine says it destroyed a "significant" amount of Russian weapons in strike against Luhansk region
From CNN's Tim Lister
The Ukrainian military says it has destroyed a significant amount of Russian weaponry in a strike against a railway hub in the eastern region of Luhansk.
It also said the Russian had suffered substantial losses in Kherson, Zaporizhzhia and Donetsk.
But in its operational update Friday, the General Staff made no mention of fighting around Bakhmut in Donetsk, where Russian forces appear to have made some gains in recent days.
But the General Staff did say that Russia "continues to focus its efforts on attempts to implement its plans to reach the administrative border of Donetsk region."
The General Staff said that "according to preliminary information, in the area of the railway station in the town of Antratsyt [Luhansk] our soldiers destroyed a significant part of the enemy's weapons and military equipment transported by rail. The amount and nature of damage is being specified."
CNN is unable to confirm the attack.
More on Ukraine's counteroffensive: In recent weeks, Ukraine has targeted Russian supply lines in Luhansk as it seeks to build on its successful offensive in neighboring Kharkiv.
In other areas, according to the General Staff, some 150 Russian soldiers had been killed and about 100 injured by Ukrainian attacks in Khlibodarivka (Donetsk region), Tokmak (Zaporizhzhia region) and Tokarivka (Kherson region).
The General Staff claimed that in the city of Kherson, Russian forces had seized 13 barge-type vessels for the transportation of personnel and equipment across the Dnipro River. Ukrainian long-range rocket attacks have made most bridges across the river impassable. 
It also claimed that three S-300 units had been destroyed. S-300 missiles have been causing devastating damage in central Ukraine, especially in Zaporizhzhia and Mykolaiv.
1:16 p.m. ET, October 14, 2022
Russia plans to complete repairs to Crimean bridge by July next year
From Uliana Pavlova
The Russian government has announced plans to complete repairs to the Crimea bridge by July 1, 2023, according to a decree published on the government's portal.
The road and rail bridge was badly damaged in an explosion last weekend. Russia has blamed Ukraine's security services for the attack, allegedly carried out with a bomb concealed inside a truck.
The decree, signed by Prime Minister Mikhail Mishustin, states that the Nizhneangarsktransstroy Company has been appointed as the sole contractor for the restoration and reconstruction of the Crimean bridge.
The decree said "the deadline for concluding state contracts for the performance of work specified [is] July 1, 2023,"