January 29, 2023 Russia-Ukraine news
12:05 a.m. ET, January 30, 2023
5:36 p.m. ET, January 29, 2023
Missile strike on residential building wounds at least 3 people in Kharkiv, officials say
From CNN's Mariya Knight
A missile hit a residential building in the center of Kharkiv, Ukraine's second-largest city, and left at least three people wounded, according to Ukrainian officials.
"The residential building got hit. There is a fire in the building — heavy damage," the northeastern city's mayor, Ihor Terekhov, said on Telegram Sunday.
"All emergency services are on site. Information about victims and destruction is being clarified," Oleh Syniehubov, head of Kharkiv's military administration, wrote in a separate message.
He later added that at least three injuries had been confirmed, and that rescue operations were ongoing as of about 11:15 p.m. local time (4:15 p.m. ET).
Syniehubov said it was a Soviet-era S-300 long-range missile that struck the building, located in Kharkiv's urban district of Kyivskyi.
4:04 p.m. ET, January 29, 2023
Western allies have committed to sending tanks to Ukraine. Here's how those vehicles stack up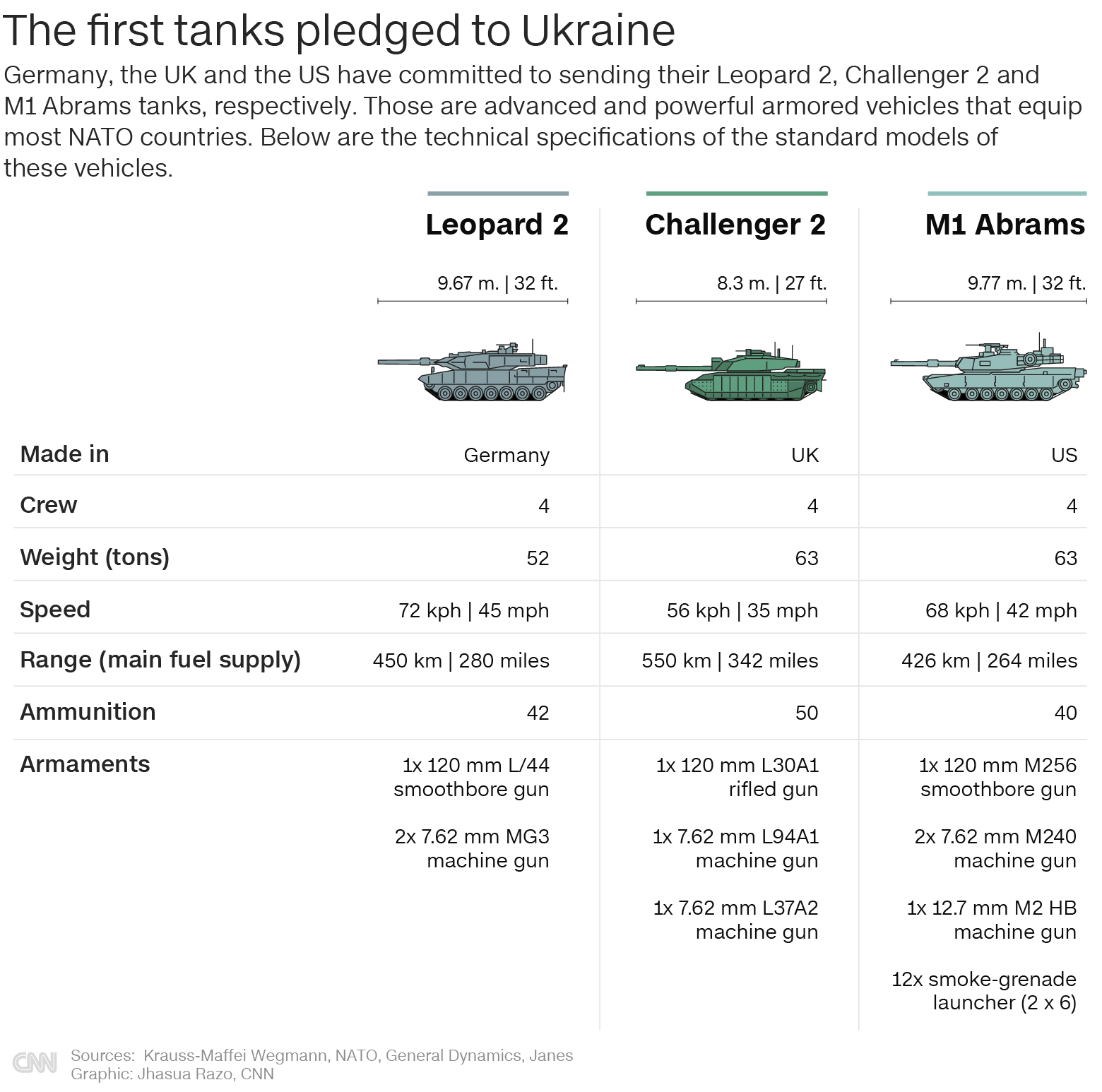 3:36 p.m. ET, January 29, 2023
The US and Russia have each sent key diplomats to African countries in recent weeks
From CNN's Bethlehem Feleke
United States Ambassador to the United Nations Linda Thomas-Greenfield called on African leaders to condemn Russia's war on Ukraine in an interview with CNN's Larry Madowo in Nairobi Saturday.  
Thomas-Greenfield visited Ghana, Mozambique, Kenya and Somalia as part of the Biden administration's push to strengthen relations with the continent.
"We want to build partnerships; we want to work with the African countries to address the challenges that we all face. We want to see how we can work together to address climate change, to address security, to address food insecurity, which so many countries are dealing with right now because of the war in Ukraine," she said.
Her visit coincided with Russian Foreign Minister Sergey Lavrov's visit to South Africa, Angola, Eswatini and Eritrea the same week.
This is the second trip to the continent in six months for both and comes on the heels of US Treasury Secretary Janet Yellen's 10-day trip to the continent. When asked if the US is trying to counter Russia's charm offensive, Thomas-Greenfield replied: "I would argue the opposite; they're probably trying to counter what we are doing. We have been on this continent since the beginning." 
"I want to highlight what we do on the humanitarian side; we are the largest contributor to humanitarian assistance across this continent," she added. 
A reporter asked if African leaders should attend the upcoming Russia-Africa Summit in St. Petersburg this July.
"I hope if African leaders go, they will be strong in their condemnation of what Russia is doing in Ukraine," the ambassador said.
3:02 p.m. ET, January 29, 2023
Zelensky says Russia hopes to drag out the war to exhaust Ukrainian forces
From CNN's Mariya Knight
Russia wants to drag out its invasion in hopes of exhausting Kyiv's forces, Ukrainian President Volodymyr Zelensky said in his nightly address Sunday.
Zelensky said his country has to make time "its weapon."
He also renewed pleas for literal weapon supplies from allies.
"We must speed up the events, speed up the supply and opening of new necessary weaponry options for Ukraine," he said.
Zelensky alluded to a report from his head of intelligence about "the possible shift in the situation in the near future" but gave no specific details.
"We are doing everything to ensure that our pressure outweighs the occupiers' assault capabilities," he said.
He also commented on the situation on the front lines, particularly in the Donetsk region of eastern Ukraine.
"The situation is very tough," he said. "Bakhmut, Vuhledar and other areas in the Donetsk region are under constant Russian attacks."
He said Russians are "persistently attempting to break through Ukrainian defense in the area despite numerous casualties."
"Every prevented step of the enemy there means dozens of prevented steps of the occupiers in other directions," the president said.
Some background: Kyiv has created a sense of urgency in calling for the provision of Western jets and long-range missile systems this week, after securing pledges for dozens of modern battle tanks from allies.
Ukraine is bracing for an expected spring offensive by Russia's forces.
2:27 p.m. ET, January 29, 2023
Negotiations underway with allies to supply Ukraine with long-range missiles and aircraft, adviser says
From CNN's Mariya Knight in Atlanta and Yulia Kesaieva in Kyiv
"Fast-paced" negotiations are underway with Western allies to supply Ukraine with long-range missiles and aircraft, according to Ukrainian presidential adviser Mykhailo Podolyak.
"In my opinion, there are two very important positions on the negotiating table for this stage of the war right now: long-range missiles — key missiles that will allow the destruction of the Russian rear infrastructure, primarily the artillery depots, a large number of which are located, for example, on the territory of Crimea — and also aviation," Podolyak said on Ukrainian media Saturday, adding that the negotiations are "fast-paced."
Podolyak said the process of training Ukrainian soldiers to use new equipment is also underway. He added that Ukraine requested "a concrete number of tanks" from its Western partners without mentioning how many. 
For context: Germany earlier this week promised to send 14 Leopard 2 tanks to Ukraine, while the US pledged 31 M1 Abrams tanks, Poland said it will provide 60 tanks and the UK already committed 14 Challenger 2 tanks.
The German defense minister said, however, that it was "out of the question" for Germany to supply fighter jets.
You can read CNN analysis on the potential for Western jets to enter the Ukrainian arsenal here.
2:09 p.m. ET, January 29, 2023
Russian shelling kills at least 3 people and wounds 6 in Kherson, city council says
From CNN's Maria Kostenko and Kostan Nechyporenko
At least three people have died and six more were wounded by Russian shelling in the southern Ukrainian city of Kherson on Sunday, a statement from the city council said.
A nurse and a canteen employee were among those hurt, both of whom were described to have "moderate injuries."
The shelling hit warehouses, a hospital, a bus station and a school playground, and damaged buildings and vehicles in the region, the Kherson City Council said earlier Sunday.
More context: Russian President Vladimir Putin claims he's annexed the region and that the people there are now Russians. But his troops have left Kherson, and now they're shelling civilians they once vowed to protect.
11:41 a.m. ET, January 29, 2023
Wagner mercenaries claim to have taken another village near Bakhmut in eastern Ukraine
From CNN's Tim Lister and Maria Kostenko
The Russian mercenary company Wagner says its fighters have taken another village near the city of Bakhmut, where intense battles between Russian and Ukrainian forces continue.
Wagner said on its official Telegram channel that its "assault teams have liberated Blahodatne village thereby they have established full control over the settlements adjacent to the city."
Blahodatne is a small village about 6 kilometers (4 miles) to the north of Bakhmut in the Donetsk region of eastern Ukraine.
Wagner posted photographs and video of their fighters at the entrance to the village. It said that claiming the town would allow it to put more pressure on Ukraine's troops on the northeast outskirts of Bakhmut, including in the small communities of Krasna Hora and Paraskoviivka.
Keep in mind: CNN has not been able to independently verify Wagner's claim, and is reaching out to the Ukrainian military for comment. Reuters reported Sunday that Ukraine claimed to repel attacks on the village the day prior.
Moscow's private military also led the capture of Soledar, located a few miles northeast of Bakhmut. After initially denying Wagner's claim to control the town, Ukraine's military acknowledged that it had pulled back from the territory earlier this week.
More on Wagner's assault: The Russian goal appears to be to encircle Bakhmut, rather than to fight in the city itself, which has endured months of brutal battle.
Wagner fighters are reported to have also made gains to the south of the city in the last week. The last remaining routes into the city under Ukrainian control have come under heavier Russian fire in the past week, according to Ukrainian officials and commanders. 
The Wagner statement acknowledged that attacking Kyiv's forces on the high ground to the west of Bakhmut would be more challenging. 
In the last few days, a CNN team in the area has observed intense shelling to the north of Bakhmut.
11:00 a.m. ET, January 29, 2023
What we know so far about the number of tanks pledged to Ukraine from each country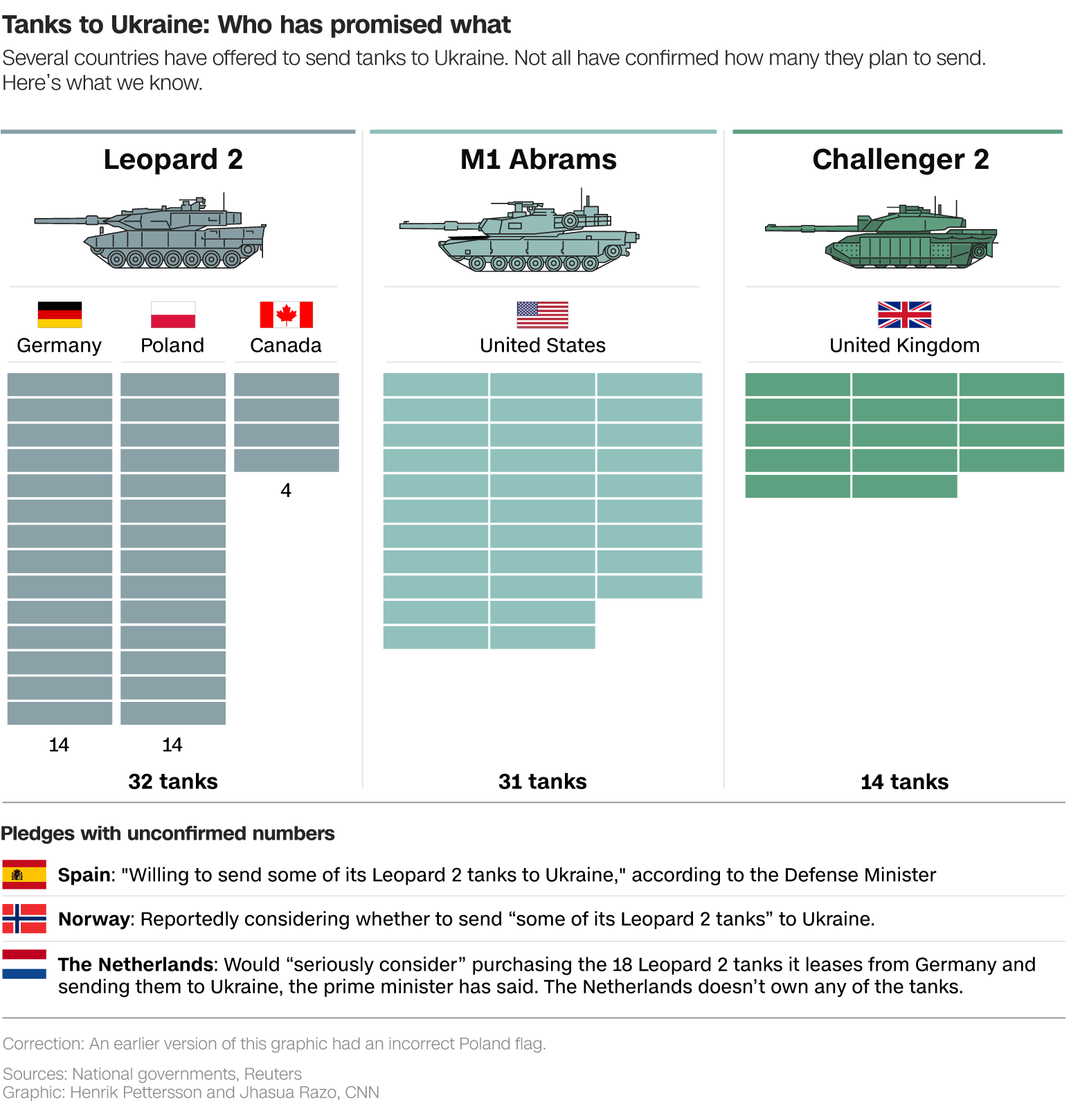 In addition to the 14 Leopard 2 tanks pledged, Poland said Friday that it will send 60 more modern battles tanks to Ukraine.