After 100 days of war, Russian forces now control about 20% of Ukrainian territory, according to Ukrainian President Volodymyr Zelensky.
The Ukrainian military says fighting continues in multiple parts of the Luhansk and Donetsk regions, with Russian forces trying to advance from several directions as they seek to take more of the area. 
Here's the latest on Russia's war in Ukraine:
Fighting in the east: Zelensky said Thursday that Ukrainian forces are withstanding the Russian onslaught around the city of Severodonetsk in the Luhansk region. "We have some success in the battles in Severodonetsk," Zelensky said. "But it's too early to tell." Reports from Thursday said street fighting continued in the city, which is mostly controlled by Russian forces. 
Hundreds in hiding: About 800 people, including children, are hiding in several bomb shelters underneath a chemical factory in Severodonetsk, which has been targeted by Russian missile attacks, the head of Luhansk region military administration said. Those hiding are locals who were asked to leave the city, but refused, according to the official.
Ukrainian gains in the south: Ukrainian forces say they have made significant progress during an offensive against Russian positions in the occupied southern region of Kherson. The Territorial Defence AZOV Dnipro unit said armed forces liberated 8 kilometers (about 5 miles) of "occupied territory."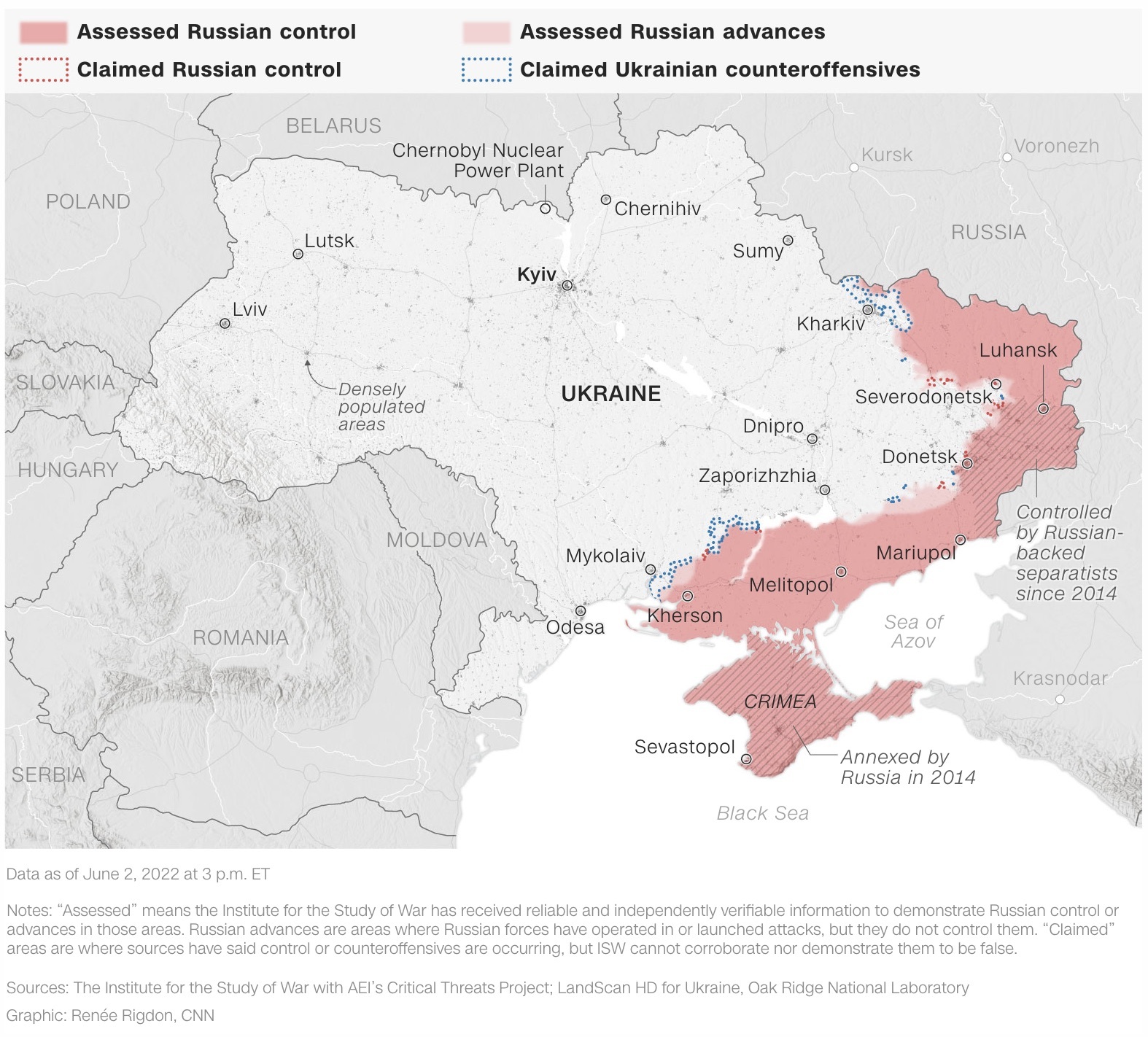 US cyber operation: Cyber Command, the US military's hacking unit, has conducted offensive cyber operations in support of Ukraine as it defends itself against Russia's invasion, the head of the command said. The disclosure underscores how important projecting power in cyberspace has been to the Biden administration as it continues to avoid directly engaging Russia in a shooting war. 
NATO chief meets with Biden: NATO Secretary General Jens Stoltenberg said Thursday he had a "great meeting" with US President Joe Biden, Vice President Kamala Harris and national security adviser Jake Sullivan. "President Putin wanted less NATO and therefore he invaded Ukraine, but he's getting more," Stoltenberg told reporters after the meeting.