There's been little change on the front lines in Ukraine over the past day, according to the Ukrainian military — but plenty of shelling.
In its daily report, the Ukrainian General Staff said there was heavy fighting around Bakhmut and that Russia had launched "unsuccessful offensive actions" in several locations to the west and southwest of the eastern city.
Russians also targeted other areas on the front lines in Donetsk, including Avdiivka, Mariinka and Vuhledar, with a mix of airstrikes and artillery fire. "There were 37 combat engagements. Bakhmut and Mariinka remain at the epicenter of the fighting," it said.
"Ukrainian defense forces repelled numerous enemy attacks near the town of Mariinka," it said. The town is in ruins and almost every civilian has left.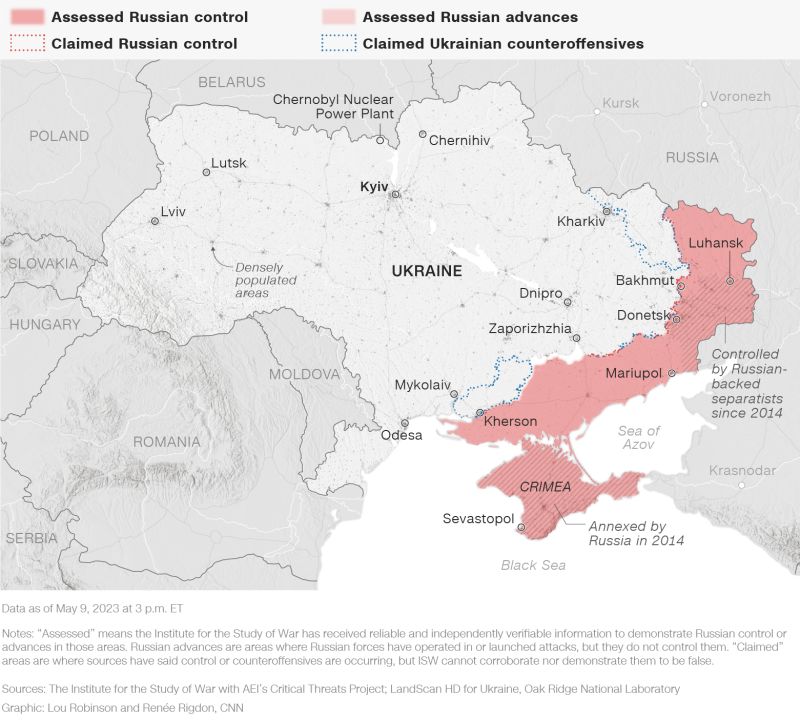 Yuriy Fedorenko, an officer in Ukraine's 92nd Brigade, posted on Telegram that in Bakhmut Ukrainian defenders had managed not only to stabilize the situation but also to gain an advantage in some areas over the past three days.
"The enemy has been pushed away from the main routes of communication, which means that their intention to take Bakhmut in a vice grip has been thwarted," Fedorenko said.
The General Staff said the Russians had launched more attacks with S-300 missiles against the town of Kostiantynivka, which lies west of Bakhmut.
Geolocated social media video also shows Russian attacks in the Kharkiv region, where the two sides are separated by the river Oskil in some areas.
The General Staff said that in Russian-occupied areas, civilians were still being pressured to take Russian citizenship.
In the Zaporizhzhia region, it said:
"People who agreed to cooperate with the Russian occupiers have been asked to renounce their Ukrainian citizenship in writing and accept Russian citizenship. Those who refuse are threatened by the invaders with dismissal from their jobs and further persecution."
It also claimed that security checks on the civilian population had been stepped up in Crimea.