Ukrainian President Volodymyr Zelensky said six people were killed in a wave of Russian missile strikes across Ukraine on Thursday. Earlier, regional authorities said 11 people were killed in the Russian attacks, which included those who died in shellings and other kinds of attacks.
While energy has been restored to most of the country, Russian forces are keeping up their assaults near the invasion's eastern front, especially around the strategic city of Bakhmut.
Here are the headlines to know:
Wave of Russian strikes: At least 11 people are dead and more than 20 injured following a barrage of Russian strikes against critical infrastructure across Ukraine, according to regional authorities. Some of the strikes used advanced missiles that Ukrainian forces cannot shoot down. President Volodymyr Zelensky, in his nightly address, said six people were killed directly from missile strikes, describing it as a "difficult night" in Ukraine.
Russia's narrative: The Russian Ministry of Defense said the attack was retaliation for what the ministry called "terrorist actions" organized by Kyiv. Russian security officials claimed a small Ukrainian armed group had crossed into Russia's Bryansk region last week. Kyiv dismissed Moscow's claim the overnight assault on "peaceful cities and villages of Ukraine" was retaliatory.
A rare type of missile: Russia launched a total of 84 missiles over the last 24 hours, and Ukraine's air defenses intercepted 34 of them, the Ukrainian military said. However, six of the strikes involved Kinzhal ballistic missiles that eluded Kyiv's air defenses, the military said. Yurii Ihnat, a spokesperson for the Air Force Command of Ukraine, said they have "no capabilities to counter these weapons." The use of such a wide and unpredictable array of weaponry seemingly marks a shift in the Kremlin's strategy.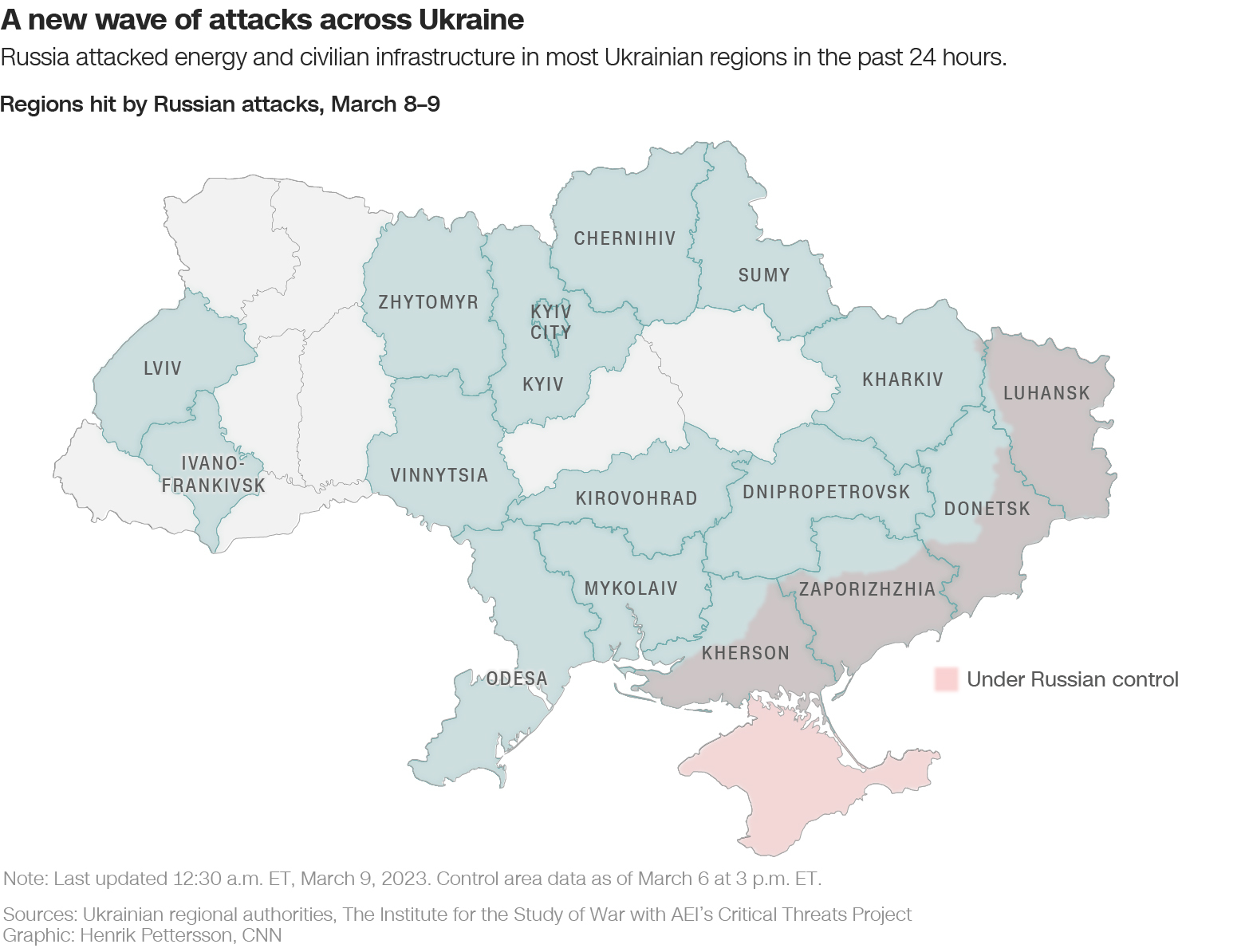 Impact at Zaporizhzhia: The power supply at Zaporizhzhia nuclear power plant is back on after it was "completely disconnected" from Ukraine's power grid due to Russian shelling, according to the national energy company. The Russian-controlled plant is still operated mostly by Ukrainian workers and had been running in emergency mode after the shelling. In other parts of the country, engineers have restored the electricity supply in most regions where energy facilities were damaged, Ukrainian Energy Minister Herman Halushchenko.
Fighting in the east: Russian forces have kept up their assaults near the invasion's eastern front in Kupyansk, Lyman, Bakhmut, Avdiivka and Shakhtarsk, the General Staff of the Ukrainian Armed Forces said. Holding on to the eastern city of Bakhmut is important for Ukrainians, as every day of sustained resistance allows Kyiv's forces to chip away at Russia's offensive capabilities, one of Ukraine's top military leaders said.