The royal wedding: How it unfolded
2:47 p.m. ET, May 19, 2018
How everything changed in Windsor today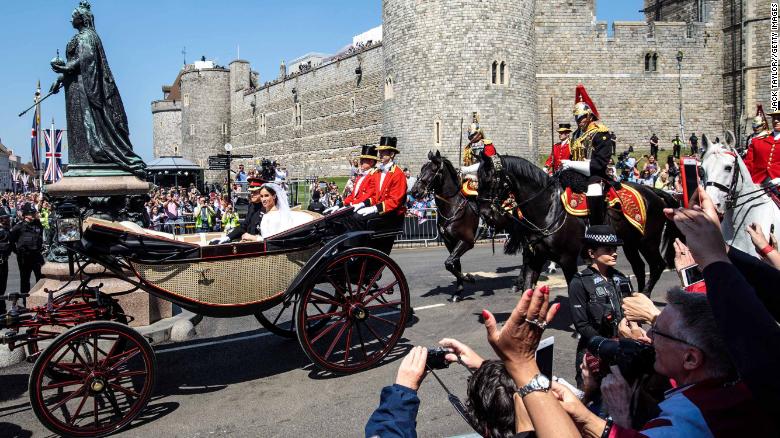 It was a royal wedding like no other: A gospel choir sang, Dr. Martin Luther King, Jr. was quoted in a rousing address and a young couple was united in a marriage that will change a venerable institution forever.
The marriage of the sixth-in-line to the throne to Meghan Markle, a biracial American, saw the British monarchy transform into something more representative of its people than it has been before.
On the cobbled streets of Windsor, among the snaking river of people who turned out to celebrate, there was a sense from many that the newest member of the royal family had reinvigorated "The Firm."
2:41 p.m. ET, May 19, 2018
Meghan's second dress is designed by Stella McCartney
The Duchess of Sussex changed dresses for the evening reception. She's wearing a lily white, high-neck gown made of silk crepe and designed by Stella McCartney, according to Kensington Palace.
Meghan's silky satin shoes are from Aquazurra. The soles are painted in baby blue.
McCartney, the 46-year-old daughter of Paul McCartney, is one of the most renowned and respected female designers in the notoriously male-dominated world of luxury womenswear.
Oprah Winfrey and Amal Clooney both wore Stella McCartney to the wedding ceremony this afternoon.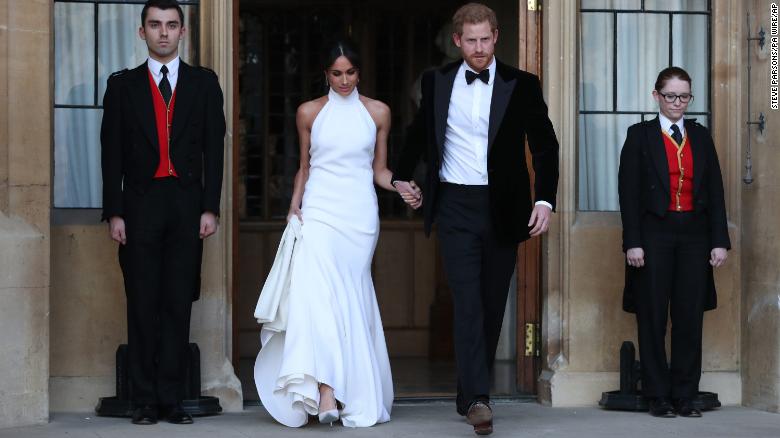 2:40 p.m. ET, May 19, 2018
Harry and Meghan leave Windsor Castle in a Jaguar
The Duke and Duchess of Sussex just left Windsor Castle. They're on their way to an evening reception for around 200 friends and family hosted by Prince Charles, Harry's father.
Prince Harry is driving the couple to the reception at Frogmore House in a silver blue Jaguar E-Type Concept Zero.
According to Kensington Palace, the vehicle was originally manufactured in 1968, but has since been converted to electric power.
2:17 p.m. ET, May 19, 2018
Serena Williams is ready for the evening reception
Tennis superstar Serena Williams, a close friend of bride Meghan, posted a photo of herself in her evening dress:
She attended the wedding ceremony for the the Duke and Duchess of Sussex earlier today wearing a pink fitted dress.
2:08 p.m. ET, May 19, 2018
Harry and Meghan won't leave on their honeymoon just yet
The Duke and Duchess of Sussex will not depart for their honeymoon immediately after the wedding. Instead, they will undertake a public engagement in the week after the ceremony, according to Kensington Palace.
So where will they eventually honeymoon? There's no official word, but there is a long list of locations suggested as possible destinations, including...
Botswana: The pair vacationed here early in their relationship.
Seychelles: William and Catherine spent their first days as a newly married couple on the archipelago.
Namibia: Reports suggest the newly-married pair are planning on staying at several different lodges and safari camps owned by luxury lodge company Natural Selection.
1:49 p.m. ET, May 19, 2018
Read the stirring wedding address everyone is talking about
In a stirring royal wedding address, the African-American leader of the Episcopal Church quoted Martin Luther King Jr. and spoke passionately about the power of love.
Delivered with Harry and Meghan -- and the rest of the royal family -- looking on, the impassioned speech was one of several standout moments from the ceremony, breaking with the usual somber atmosphere and traditional music and language used in previous royal weddings.
1:38 p.m. ET, May 19, 2018
That time Prince Harry waved at Anderson Cooper
CNN's royal correspondent Max Foster was at the royal wedding carriage procession this afternoon. He says he told CNN anchor Anderson Cooper to give Prince Harry a wave as the newlywed coupled passed by.
Check out the photographic result:
1:28 p.m. ET, May 19, 2018
A 12-year-old terror attack survivor was invited to the royal wedding
Beaming from ear to ear, Manchester bombing survivor Amelia Thompson sat down with CNN to talk about what it was like to attend the royal wedding (and even grab a moment with David Beckham himself!).
When asked about what it meant to be invited she said:
Terrorism can't win. That by standing together, we will beat terrorism."
Watch her below:
1:12 p.m. ET, May 19, 2018
Take a look at the hats of the royal wedding
Americans are probably more accustomed to seeing fabulous hats and fascinators at the Kentucky Derby than at a wedding. But that's how the British roll.
Friends, family members and famous faces turned out in a plethora of colorful and elaborate headpieces for the royal nuptials.
"A hat is not protection for the head, it's a demonstration of the soul. Every nuance of style, shape, color betrays the ambitions and status of its wearer. It may be a pretty scene, but it's also cruelly revealing," Stephen Bayley, a tastemaker and design expert, told CNN.
Take a look at some of the most stunning fashion statements on display today.