European elections results 2019
1:49 a.m. ET, May 27, 2019
France posts final results: Victory for Le Pen
Marine Le Pen's far-right National Rally (RN) party has beaten an alliance from French President Emmanuel Macron in the European elections in France, according to final results from the country's Interior Ministry.
Le Pen's RN, which is a rebranding of the National Front, won 23.31% of the vote versus 22.41% from Macron's La République En Marche-led alliance known as Renaissance.
In 2014, the then National Front won with 24.86% of the vote.
The Green party Europe Écologie Les Verts gave a strong performance with 13.47% of the vote -- a huge increase from their 8.9% showing in 2014, according to the ministry.
French voter turnout was significantly higher than in previous EU elections at 50.12%. Voter turnout was 42.43% in 2014.
Following exit polls, Le Pen called on Macron to dissolve the French National Assembly, or lower house of parliament.
"The trust that the French people have given to us by choosing us as the first Party, but above all as the future alternative power, is an immense honor. And we measure the responsibility that comes with it. Given the democratic disavowal suffered by the established power tonight, it will be up to the President, now, to draw the consequences. He who put his presidential legitimacy in this vote, made it a referendum on his policies, and even on himself. He has no other choice than, at the very least, to dissolve the National Assembly and choose a voting system that is more democratic and finally representative of the real opinion of the country."
On Monday, French papers led with Le Pen's victory and the Green's surprise showing.
French daily Le Figaro focused on the personal battle between the two leaders, "Macron duels with Le Pen," while Libération noted the rising appeal of a third option, "The greens grow."
1:10 a.m. ET, May 27, 2019
Centrist parties suffer in Germany
German Chancellor Angela Merkel's Christian Democrats (CDU) and coalition partner, the Social Democratic Party (SPD), suffered sharp swings away as voters turned towards the Greens.
The Christian Democrats saw their support drop to 28.7% from 35.3% in the 2014 election, while the SPD dropped to 15.6% from 27.3% in 2014, putting the party in third place.
It was double defeat for the SPD after the party failed to win the majority of votes, for the first time in more than 70 years, in a weekend election in Bremen, according to Reuters.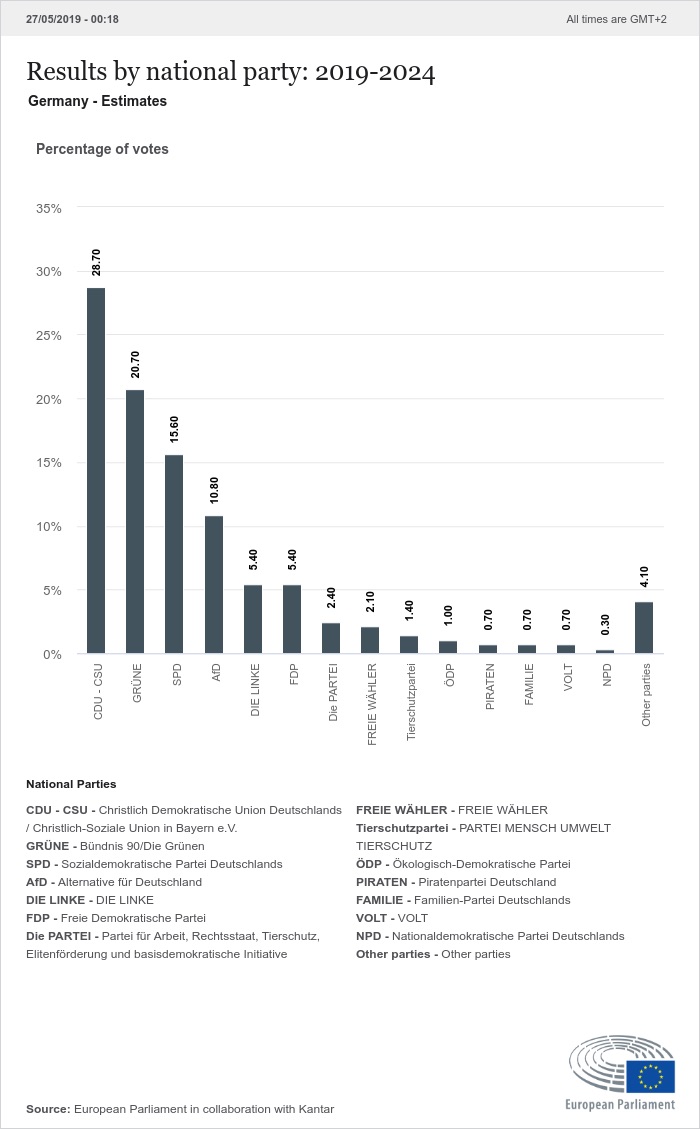 Losses for the two major parties signal a shift in the European power base, away from the center-right European People's Party (EPP) and center-left European Socialists (S&D).
Together, they secured 329 seats, down from 412 at the last election.
Guy Verhofstadt, the leader of the Alliance of Liberals and Democrats for Europe (ALDE), said they had lost their joint majority, which presented an opportunity for his pro-European group.
The ALDE&R took 107 seats, according to the European Parliament website.
Verhofstadt said it was now time to nominate a leader who is able to unite the bloc for the next five years.
11:58 p.m. ET, May 26, 2019
UK Farage's popularity "could split the pro-Brexit vote"
The UK's Conservative Party looks set to suffer a major defeat in the European elections, taking just 8.71% of the vote, compared to 23.3% in 2014.
That puts the party in 5th place, well behind Nigel Farage's newly-formed Brexit Party, which topped the poll with almost 32%.
Conservative party MEP Daniel Hannan told CNN "you don't have to be an expert to understand why."
We voted to leave and we haven't left. It's that simple
Hannan said his concern was that the Brexit party could split the national conservative vote.
"What worries me is there is only one pro-Bexit party with representation at Westminster. And what worries me is a split between the Conservatives and the Brexit Party may put in a Corbyn-led government, which would drop Brexit. But frankly by then, it will be the least of our problems," he said.
Labour leader Jeremy Corbyn reacted to the European Parliamentary election results on Twitter, calling for another general election or a second Brexit referendum.
10:43 p.m. ET, May 26, 2019
Greens post strongest ever showing in Europe
The Green Party has posted its strongest ever showing in European elections, winning 70 seats and taking 9.32% of the vote, according to provisional results.
Co-leader of the Green Party of England and Wales, Sian Berry, said she was "very proud of our movement."
"Amazing Green results across Europe - standing together across the continent for urgent action on climate, against austerity, for social justice and against hate. Very proud of our movement tonight!"
In the 2014 European elections, the party took 50 seats.
Much of the party's gains came from northern Europe, including the UK, France and Germany, where young people have staged marches calling for political action over climate change.
The protests, which have spread to countries all over the world, were inspired by 16-year-old Greta Thunberg, who has become known for her single-minded determination to force governments to act.
Read more about her here.
1:15 a.m. ET, May 27, 2019
Matteo Salvini: "Vote allows us to change Europe"
Italy's Deputy Prime Minister Matteo Salvini told local radio late Sunday night that he had spoken with France's far-right National Rally President, Marine Le Pen, and Hungary's Prime Minister, Viktor Orban, after his party's victory in the European Elections.
"This is a vote that allows us to try to change Europe," Salvini said, after the Lega Party took 33.64% of the votes.
Salvini's Eurosceptic party hopes to form a majority bloc in the European Parliament.
12:43 a.m. ET, May 27, 2019
Farage's Brexit Party trounces rivals
In the UK, a party that was launched just six weeks ago has clinched almost as many votes as the Liberal Democrats and the Labour Party combined.
Nigel Farage's Brexit Party took home 31.71% of the votes, reflecting growing political dissatisfaction with major parties in the UK.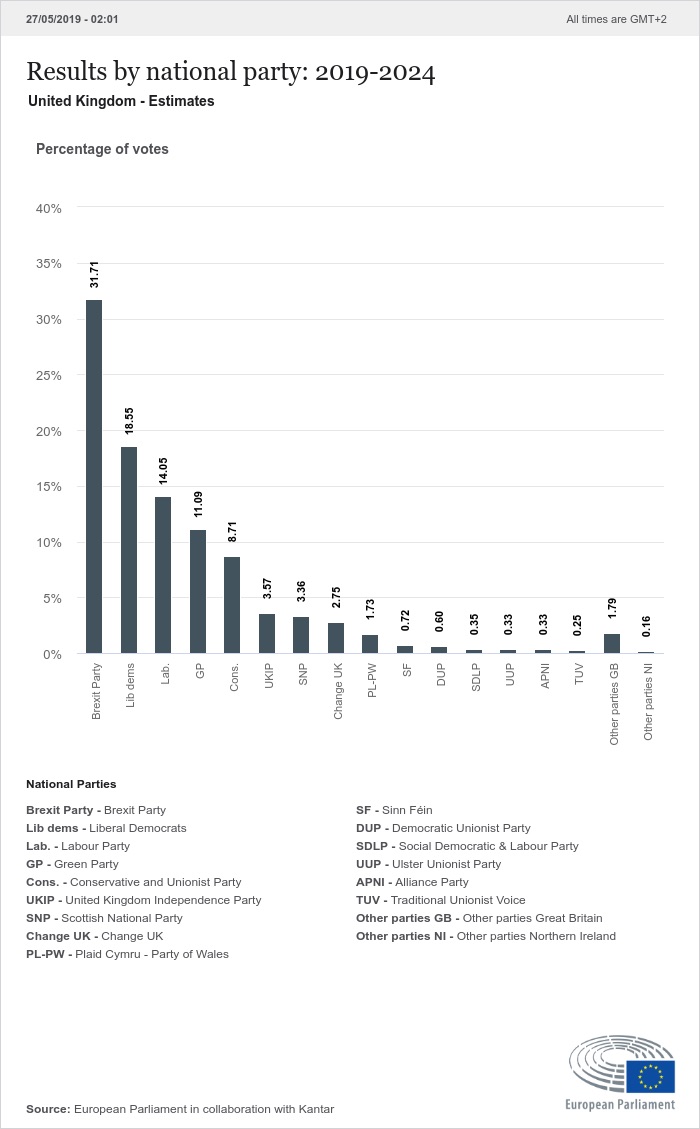 Farage, who has long campaigned for the UK to leave the European Union, said voters had sent a clear message to the Conservative government.
"If we don't leave on October the 31st, then the scores you've seen for the Brexit Party today will be repeated in a general election -- and we are getting ready for it," he said.
The UK was supposed to have left the EU on March 29th, rendering the country ineligible to vote. Instead, Prime Minister Theresa May tried to push alternative deals through Parliament but ultimately failed. On Friday, she announced her intention to resign as party leader on June 7.
Conservative Party Chairman Brandon Lewis tweeted Sunday that the party needs to deliver Brexit "as quickly as possible."
8:22 p.m. ET, May 26, 2019
UK's Labour leader Corbyn pushes for general election – or a second referendum
On Twitter, Labour leader Jeremy Corbyn has reacted to the European Parliamentary election results, calling for another general election.
He wrote: "With the Conservatives disintegrating and unable to govern, and parliament deadlocked, this issue will have to go back to the people, whether through a general election or a public vote."
8:12 p.m. ET, May 26, 2019
Nigel Farage "makes history" with seat for Brexit Party 
Nigel Farage, the ardent Brexiteer, has won a seat in the European parliament for his new Brexit Party.
Speaking in Southampton, UK shortly after winning the seat, Farage said: "There's a huge message here. Massive message here. The Labour and Conservative parties could learn a huge lesson tonight but I don't suppose they actually will."
On Twitter, the British politician wrote: "If Britain does not leave the EU on October 31st, these results will be repeated in a general election."
9:02 p.m. ET, May 26, 2019
Europe's mixed message
Europe's voters have spoken, but not with a single voice.
In what is set to be one of the highest turnouts ever in European elections, the only clear message for Brussels is that Europe must reform if it is to survive. But what that reform looks like is the next big battle to come.
If there's one thing we've learned tonight as the European Parliamentary election projections rolled in, Europe's populist surge appears to have stalled. Despite winning in Italy, France and Hungary, right-wing, nationalist leaders have underperformed.
Euroskeptic hopes of nationalist politicians becoming a powerful force inside the European Union have somewhat faded. Instead, millions of voters backed vehemently pro-EU Green and liberal parties.
European politics is about to become increasingly fragmented. These election results – and the challenge they pose to building any kind of consensus – accurately reflect the extreme divisions between not only the 28 EU member states, but the divisions in those nations. 
So, it's a mixed message for Europe. How the leaders choose to interpret these results will have an immediate impact on key decisions that need to be made. The European Commission needs a new president, as does the European Parliament. The new makeup of Europe and the decisions that are made off the back of these confusing results will have enormous influence on both.