Boris Johnson scrambles for support on Brexit deal ahead of vote
12:08 p.m. ET, October 18, 2019
We're wrapping up our live coverage
Boris Johnson's team will be hitting the phones until late into the evening, but it's time for us to rest up before a big day in Parliament tomorrow.
Super Saturday will kick off at 9:30 a.m. (4:30 a.m. ET), when debate begins on Johnson's Brexit deal. The vote that will follow is still too close to call.
Thanks for following our live coverage from London.
11:50 a.m. ET, October 18, 2019
More ex-Tories are backing the deal
David Gauke, one of the Conservative MPs expelled from the party by Boris Johnson for opposing no-deal Brexit, has said he'll back Johnson's deal.
He will also vote for the can-kicking Letwin amendment, he added in a Twitter thread.
His colleague Nick Boles has come to a similar conclusion.
11:25 a.m. ET, October 18, 2019
Does Boris Johnson have the numbers?
Here's a look at the situation in Parliament as Boris Johnson races to win support for his Brexit deal in Saturday's vote.
The all-important blocs of potential rebel Labour MPs, ex-Conservative independents, and hardline Brexiteers in the Tory party will have had their phones ringing throughout the day as Johnson's team scramble to get their pact over the line.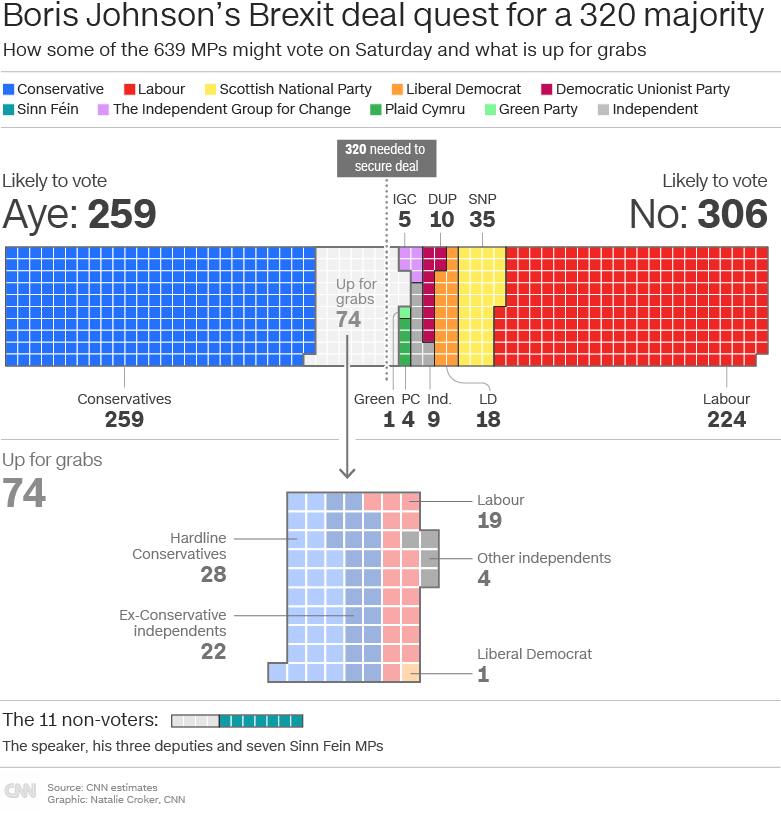 11:52 a.m. ET, October 18, 2019
One amendment could change everything on Saturday
Super Saturday, as we keep being informed, is make or break for Boris Johnson's Brexit deal.
Unless it isn't.
An amendment to Johnson's deal has the potential to shake everything up. The measure has been proposed by Oliver Letwin, an MP who was booted out of the Conservative parliamentary party last month when he supported anti no-deal legislation known as the Benn Act.
The amendment says the House would "withhold support" from Johnson's plan until all of the legislation required implement the bill is passed by Parliament as well.
It would force Johnson to request a Brexit extension on Saturday night, as per the Benn Act, and it remove the risk of no deal in a few days' time. But it still allows Johnson to pass his Brexit deal -- he just has to pass all the separate parts of the Withdrawal Agreement as well.
Nick Boles, who has co-signed the amendment, suggested the vote on the amendment could be read as a political indication of whether the House would support the deal, but not as a legal endorsement of the deal. (Though Liberal Democrat leader Jo Swinson has also signed the amendment, despite being opposed to Brexit altogether).
What does this mean for Saturday? If Letwin's amendment passes -- and it enjoys support from a cross-section of parties -- it would mean that Saturday isn't the be-all-and-end-all. Instead, the subsequent votes on the Withdrawal Agreement in the coming weeks become all-important, because they would need to be approved if the Brexit deal is to come into effect.
What does it mean for Brexit? If the Letwin proposal comes into effect, the government's plans to leave the EU by October 31 would be thrown into the air. Such an outcome opens up the possibility that the entire withdrawal agreement could be amended, for example with a requirement to hold a second referendum on the final outcome.
Will it pass? The amendment is signed by members of the three main political parties, including the aforementioned Hilary Benn, and the leader of the Liberal Democrats, Jo Swinson. But everything hinges on whether the Labour leadership decides to swing its entire bloc behind it. The Guardian's political editor, who is well-connected in Labour circles, thinks they might, as does Bloomberg.
10:10 a.m. ET, October 18, 2019
Amber Rudd says she's 50/50
One key former Conservative MP, Amber Rudd -- who quit Boris Johnson's Cabinet last month citing her lack of belief that the Prime Minister wanted a Brexit deal -- says she's "50/50" on whether or not to back the plan.
Rudd appears to indicate that she'll wait until Johnson's statement to the Commons tomorrow before making her mind up. The former Work and Pensions Secretary has been on something on a journey when it comes to Brexit, initially criticizing Johnson's approach, before agreeing to serve in his Cabinet, then resigning.
She is now seen as a crucial bellweather in the pack of soft Brexit-backing former Conservatives that also includes ex-Chancellor Philip Hammond and the longest serving member of Parliament, Ken Clarke.
10:02 a.m. ET, October 18, 2019
Macron: No Brexit extension unless there are major changes
French President Emmanuel Macron has said he does not support another Brexit delay in the event that UK Prime Minister Boris Johnson cannot pass his deal on Saturday.
"So we can turn to the future, I believe we shall stick to the deadline of the 31st October," Macron told reporters during a press conference in Brussels at the EU Council summit.
"That being said, I'm not trying to predict the future, but I do not think we shall grant any further delay. I believe it is now time to put an end to these negotiations and work on the future relationship and put an end to what is currently ongoing," he added.
"There shall be no delay unless there are some major changes."
Why this matters: Macron has played hardball before when it comes to Brexit extensions, and it's no surprise that he's reprising the role now. A Brexit delay needs to be signed off by all 27 remaining EU leaders, so a French veto would block it. But on two previous occasions, Macron's apparent reluctance to grant a delay was eventually overcome -- and forcing a no-deal split is arguably no more desirable now for the EU than it was when Theresa May was Prime Minister.
More pressingly for Johnson, Macron's comments suggest EU leaders are happy to give him all the help they can in passing his deal. By framing the issue as Johnson's deal vs no deal, the PM will hope his team can focus minds on opposing benches to support the pact.
9:30 a.m. ET, October 18, 2019
Downing Street cautiously optimistic and on charm offensive
Boris Johnson's optimism has rolled into Friday, if conversations with his allies are anything to go by.
Rather than trying to pressure those he's worried might not support his deal, Johnson and his team are having constructive conversations.
"I don't think there is a great deal of arm twisting per se. Much more about cajoling, giving briefings and accurate information (as opposed to rumor and misinformation which is rife). Not heard of anything more," one government minister explained to CNN. 
For the time being, this seems to be true. The government is confident that it nearly has the numbers. Efforts to win over wavering opposition MPs have been handled in the same way, with as much information being offered as possible while reminding those who would prefer a softer Brexit that there is no guarantee of getting an extension if they vote down Johnson's deal. 
Whether this gets them anywhere near or not is another matter and Johnson still has a huge trust issue to overcome. It will take something pretty spectacular to win the support of people who think that he has behaved irresponsibly and thrown Northern Ireland under the bus to get a deal. But right now, Downing Street is smiles and sunshine. 
8:53 a.m. ET, October 18, 2019
Here's what MPs are saying about the deal right now
As we keep an eye on floating MPs who may or may not declare how they'll vote on Saturday, here's a broader look at the noises coming out of different corners of Westminster.
Trade Secretary Liz Truss is making the government's case for the deal, saying it will give Britain the freedom to "go our own way."
But Steve Baker, the chair of the all-important, hardline ERG group of Conservatives, is keeping quiet on how the bloc will vote before they meet on Saturday morning.
Labour MPs, meanwhile, are expressing concern about the long-term consequences of Johnson's deal. Referencing reports that hardline Tories are seeking to ensure a no deal is still on the table at the end of the agreement's extension period, shadow Brexit Secretary Keir Starmer said its "end destination is a damaging right-wing project" -- and Jess Phillips said she cannot trust Boris Johnson.
Meanwhile, Green MP Caroline Lucas says the deal gets worse each time she looks at it.
7:59 a.m. ET, October 18, 2019
These three groups will determine the future of Brexit
As Boris Johnson's team races around Westminster to drum up support for his deal, all eyes are focused on three separate groups of MPs who could fall either side of the debate.
Broadly speaking, the three vital groups are:
Hardline Conservatives: There are 28 self-styled "Spartans" -- hardline Conservative MPs who voted down Theresa May's deal all three times, and back a hard Brexit. A handful of those are now on the government's payroll, so are almost certain to back the deal. And some, including European Research Group (ERG) head Steve Baker, have signaled a willingness to back the plan once they've picked through it in more detail. But they're not a totally homogeneous block, and even a couple of holdouts could spell doom for Johnson.
Ex-Conservative independents: Johnson took the whip away from 21 Conservative MPs last month, after they voted to block a no-deal Brexit. Many of them are expected to back the deal now, while a handful who support a second referendum are likely noes. But some, including former Cabinet members Amber Rudd, Philip Hammond and Ken Clarke, haven't said which way they'll vote yet.
Labour rebels: Five Labour MPs backed Theresa May's deal, but as many as 20 could be up for grabs this time. With an election looming and several of these lawmakers representing Leave-voting regions, they could make the calculation that backing a Brexit deal is vital to electoral success. What's more, there's been no sign that Jeremy Corbyn will expel those who support the government.