8:55 p.m. ET, February 24, 2019
Ruth Carter makes history with costume design win
The award for best costume design went to Ruth Carter and in her own words, it was "a long time coming."
Carter won for "Black Panther" and became the first African American to take home the statue.
She thanked Spike Lee for giving her her start and said she hoped she made him proud.
She also paid homage to the film that made her a trailblazer.
"Marvel may have created the first black superhero, but through costume design, we turned him into an African king," Carter said.
She also showed love to her mother.
"This is for my 97-year-old mother watching in Massachusetts," Carter said. "Mom, thank you for teaching me about people and telling their stories. You are the original super hero. "
8:52 p.m. ET, February 24, 2019
Melissa McCarthy brought the funny — and the bunnies — to present
Melissa McCarthy mocked "The Favourite" in probably one of the wackiest costumes to grace the Oscars stage.
McCarthy walked on stage with Brian Tyree Henry, who also wore an early 18th century gown, to present the best costume award.
Her dress was dotted with stuffed bunny rabbits — an homage to the main character in "The Favourite."
As McCarthy presented the award, she performed ventriloquism with the rabbits.
"These artists create a pastiche of textiles with authenticity, yet never distract from the story. Costume designers construct the looks that ground a character to a particular time and place in the subtlest of ways," McCarthy said.
It was a strange bit, but it brought plenty of laughs.
8:31 p.m. ET, February 24, 2019
Chris Evans wins gentleman of the night award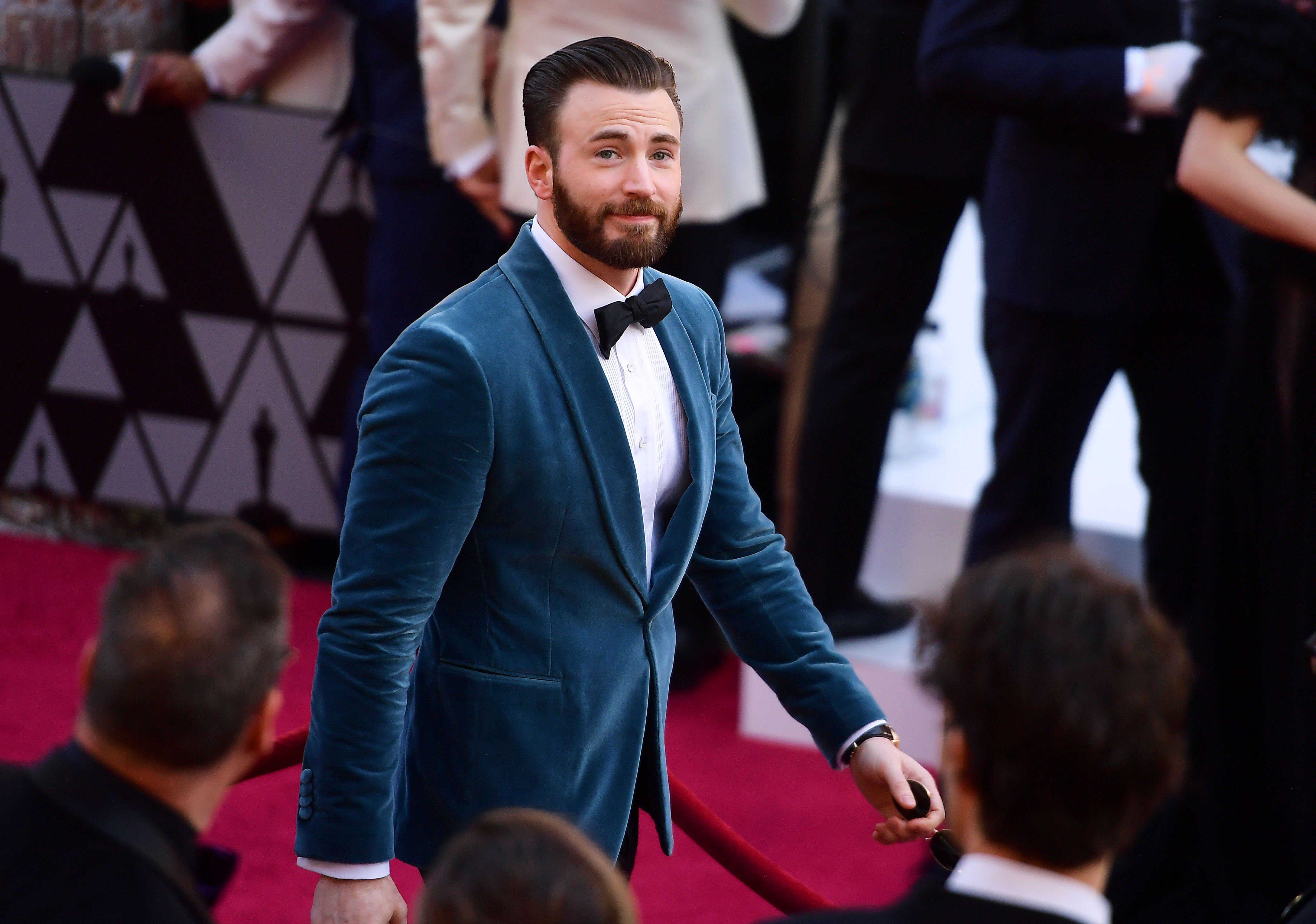 The internet went crazy for Chris Evans helping Regina King up on stage when she won for best supporting actress.
We get it. He's adorable. It was adorable. Regina has always been adorable.
Heart it all.
8:23 p.m. ET, February 24, 2019
A story about a free solo climber just won best documentary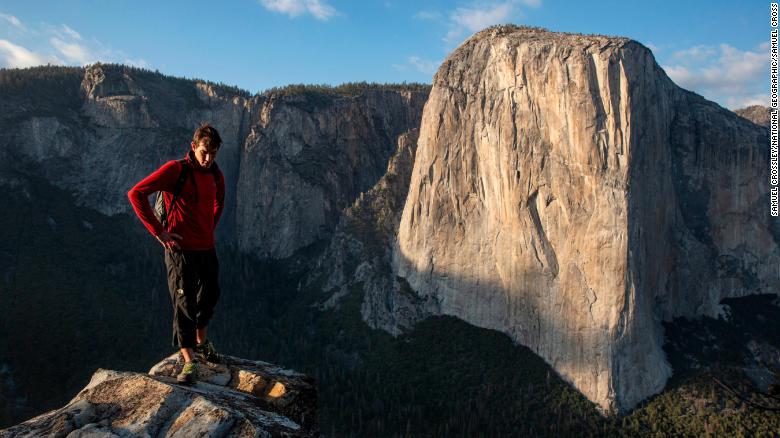 National Geographic's "Free Solo" just won for best documentary.
Directed by award-winning filmmakers Elizabeth Chai Vasarhelyi and Jimmy Chin, "Free Solo" follows Alex Honnold for more than two years as he prepares for the climb of his life.
In June 2017, the 33-year-old became the first person to climb Californian granite monolith El Capitan in Yosemite National Park without any ropes -- a skill known as free soloing.
8:20 p.m. ET, February 24, 2019
Seriously, why didn't Tina Fey, Amy Poehler and Maya Rudolph host?!
These three women are hilarious.
Former "Saturday Night Live" stars and real-life BFFs Tina Fey, Amy Poehler and Maya Rudolph presented the first award of the night, best supporting actress.
They riffed on everything from the show's lack of host to how all actresses are into supporting because women are supportive.
"For example, I support both of you financially," Poehler joked.
They also gave us an example of what it would have been liked if they had been chosen as hosts.
"Hey Chadwick Boseman, 'Wakanda' plans you got later on tonight," Rudolph said, giving us a taste of how they would have acted.
Regina King won the award, BTW.
8:23 p.m. ET, February 24, 2019
Regina King wins best supporting actress
Regina King just won best supporting actress for "If Beale Street Could Talk."
She is the third black actress to win both an Oscar and a Primetime Emmy, joining Halle Berry and Viola Davis.
King thanked her mother and Baldwin, the author of the book that was adapted into the film.
"James Baldwin birthed this baby. And Barry, you nurtured her, surrounded her with so much love and support. So, it's appropriate for me to be standing here, because I'm an example of what it looks like when support and love is poured into someone. Mom, I love you so much. Thank you for teaching me that God is always leaning, always has been leaning in my direction," she said.
King has three Emmys, which she won in 2015, 2016 and 2018. 
8:11 p.m. ET, February 24, 2019
Queen and Adam Lambert rock the Oscars' opening
If nothing else, the Oscars opening let us know which celebs can and cannot dance.
Queen, fronted by Adam Lambert, kicked off the 91st Academy Awards with a medley of the group's hits including "We Will Rock You" and "We Are the Champions."
"Bohemian Rhapsody," the story of the late Freddie Mercury, Queen's lead singer, is nominated for best picture as is its star, Rami Malek, for best actor.
8:03 p.m. ET, February 24, 2019
Lady Gaga brings old Hollywood with an edge to the Oscars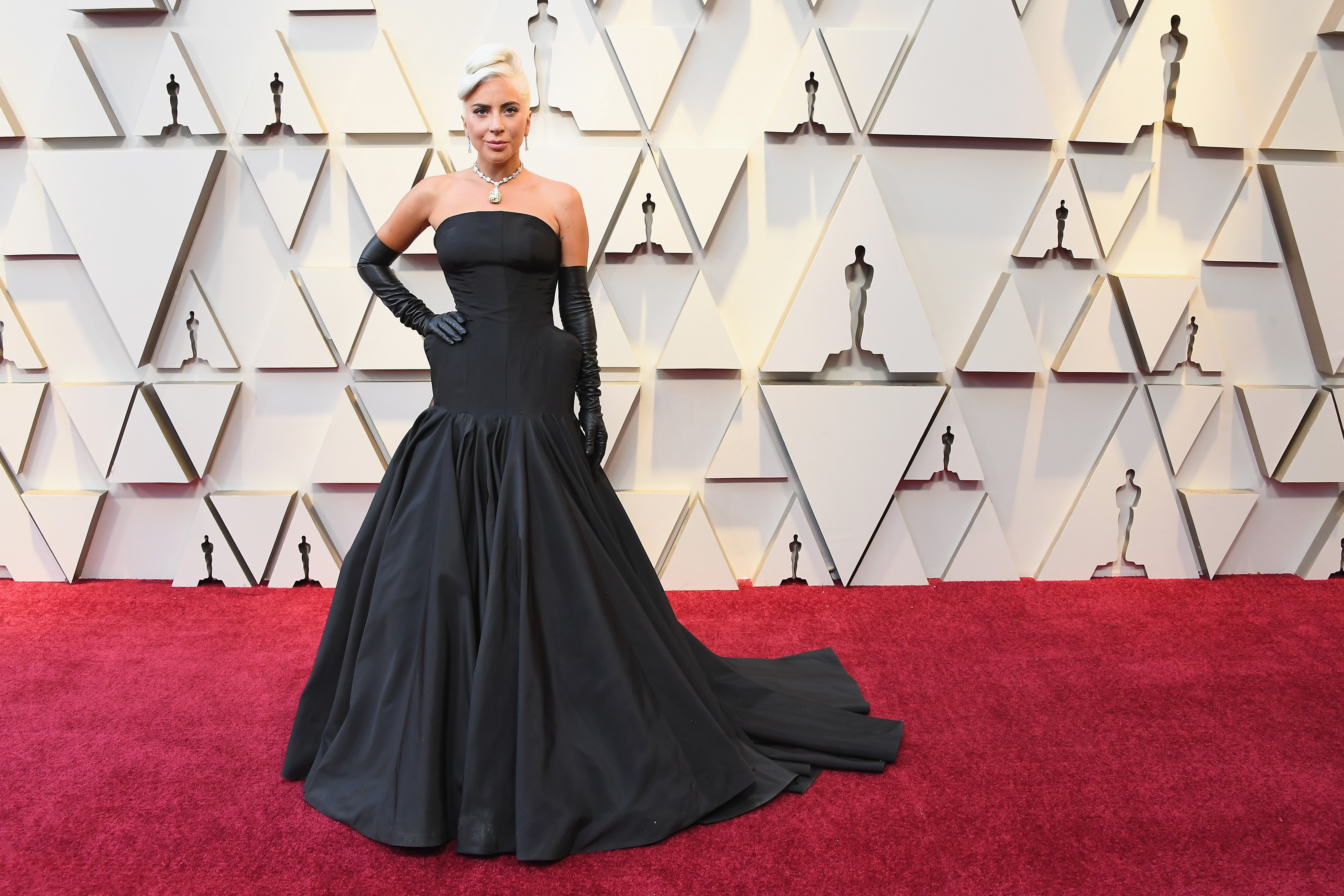 Lady Gaga paid homage to old Hollywood with a black strapless gown with an exaggerated hip and long sleeves.
With her platinum blonde hair, Gaga, who is nominated for best actress for her performance in "A Star Is Born," was reminiscent of Marilyn Monroe.
About that necklace: She donned a 128.54-carat Tiffany diamond necklace, which Audrey Hepburn wore in 1961, according to W Magazine.
7:59 p.m. ET, February 24, 2019
These Oscar bingo cards can help you get through Hollywood's night of unpredictability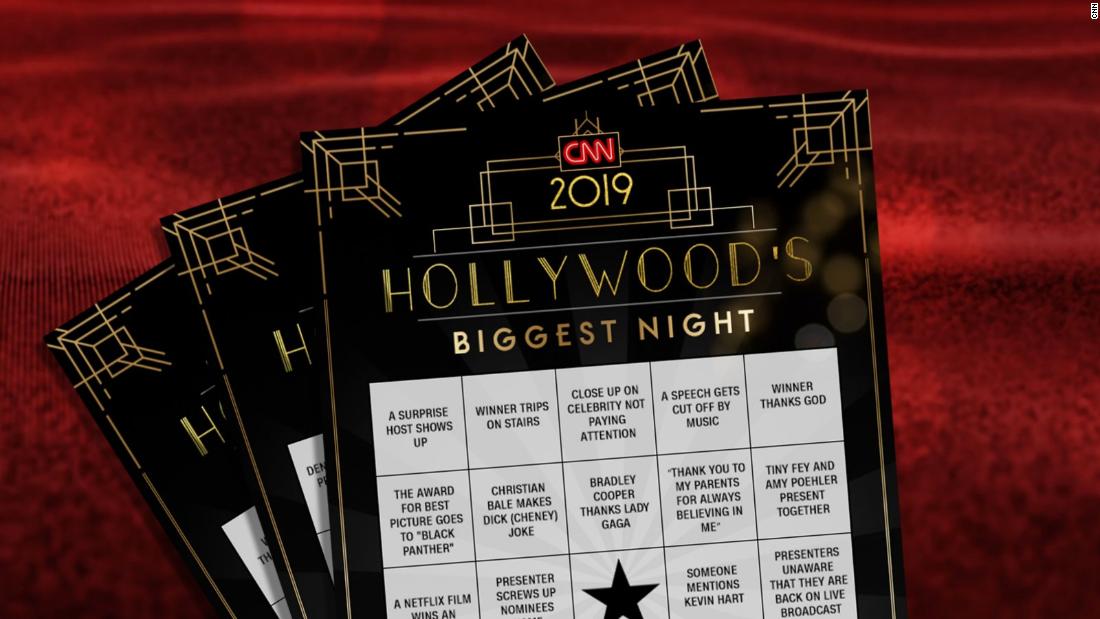 The 91st Academy Awards are shaping up to be one the most unpredictable broadcasts in Oscar history. With no official host running the show and a series of wild card nominations, there's no telling what's going to happen.
While we may not know who's going to win, we do know there's a good chance that God, the Academy, and Bradley Cooper will be thanked in acceptance speeches.
Need something to keep your viewing party guests entertained while the PricewaterhouseCoopers accountants are on stage? Use our 2019 Oscar night bingo cards.
Check out the cards here. You can also download them.