9:38 p.m. ET, May 6, 2019
The most over-the-top looks from a night of camp
Met Gala guests wore their interpretations of this year's theme — "Camp: Notes on Fashion" — as they hit the pink carpet at New York's Metropolitan Museum of Art.
We're wrapping up our live coverage, but in case you missed it, here's a look at the most insane, over-the-top and campiest looks of the night:
Pop star Lady Gaga arrived in a pink dress, but promptly stripped down to a black dress underneath, then another pink dress under that — and finally to her underwear.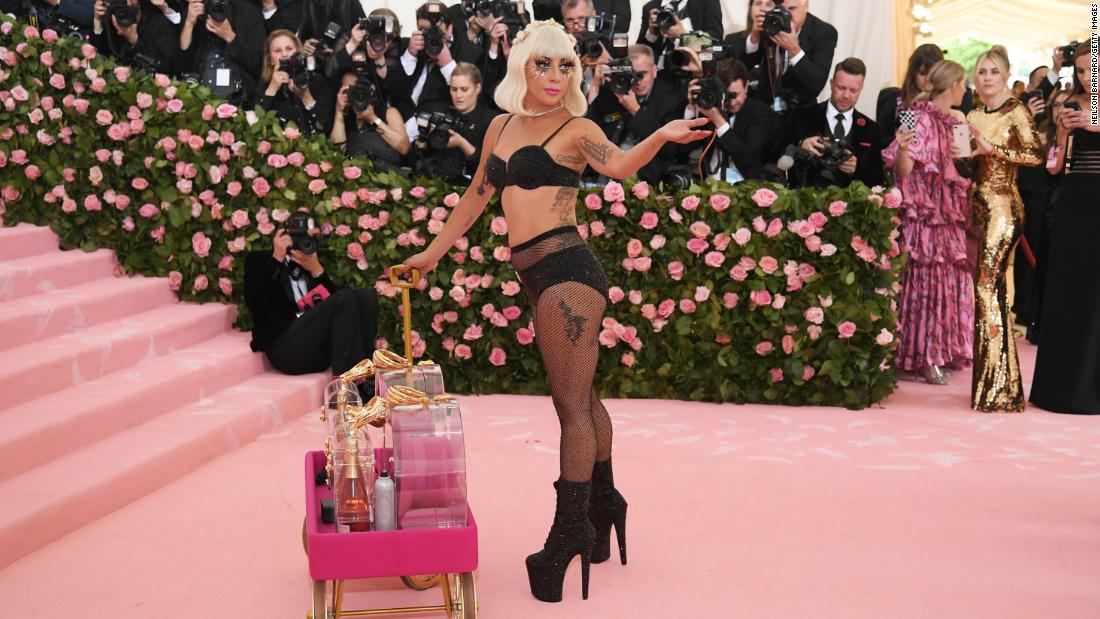 Dressed in a gold bodysuit and matching headpiece, actor Billy Porter was carried onto the red carpet by six shirtless men.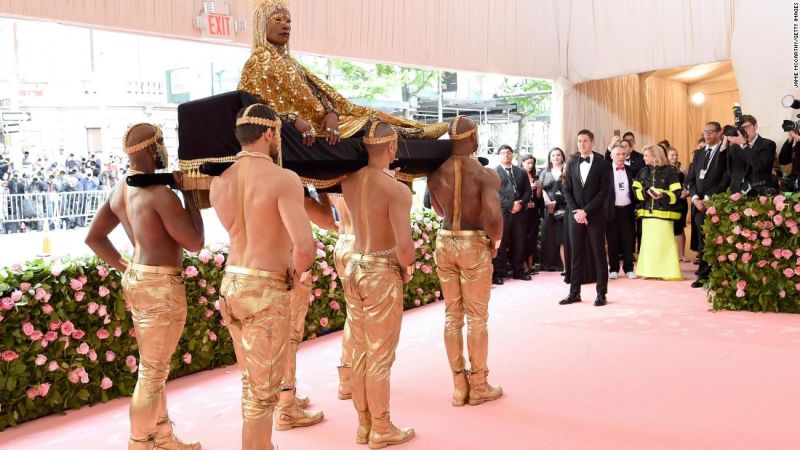 Katy Perry went as a life-sized chandelier with electric candles and dripping with crystals.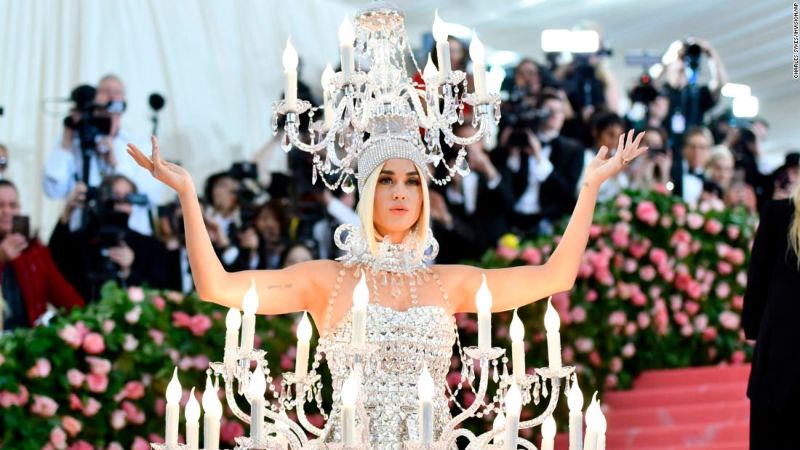 Wearing a red and crystal ensemble, Jared Leto arrived with an unusual guest: a replica of his own head.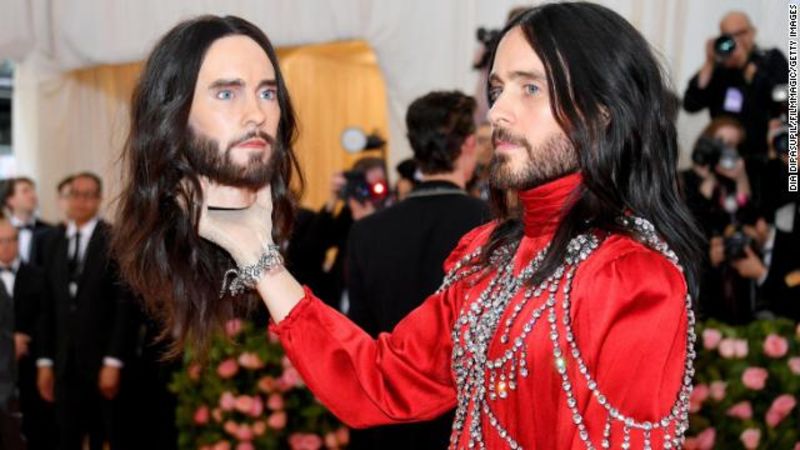 9:16 p.m. ET, May 6, 2019
Kacey Musgraves went as Barbie to the Met Gala
Singer Kacey Musgraves dressed up as Barbie for tonight's Met Gala at the Metropolitan Museum of Art.
Musgraves wore an all-pink Moschino look with perfectly coiffed blond hair. She carried a pink boa, pink cat-eye shades and a hairdryer.
Well, it looks like Barbie appreciated the gesture. A post on the iconic doll's Instagram account called it "the ultimate fashion flattery!"
9:08 p.m. ET, May 6, 2019
Emily Ratajkowski wore this feathery headpiece to the Met Gala
Model Emily Ratajkowski wore a custom nude and silver embroidered cut-out gown by Dundas.
She topped off the look with a crystal and feather headpiece by House of Malakai.
9:27 p.m. ET, May 6, 2019
Zendaya has a real-life Cinderella moment at Met Gala
Zendaya brought the house down at tonight's Met Gala with an entrance that rivaled Lady Gaga's. The actress, who wore a black Tommy Hilfiger gown, was walking up the stairs when her stylist, Law Roach, waved a wand and transformed her dress into a glowing version of the iconic baby blue gown worn by the Disney princess.
Speaking to Vogue, Roach said it's more than a dress, it is mirroring a real-life transformation for the actress, from the Disney Channel to her upcoming drama "Euphoria." "[It's] the total opposite of every character I think she's ever played and a huge stretch from 'K.C. Undercover,'" he said. "It's almost like this is the last hoorah and the last time people will identify her as a Disney princess — which isn't a bad thing."
8:54 p.m. ET, May 6, 2019
Cardi B's dress took more than 2,000 hours to create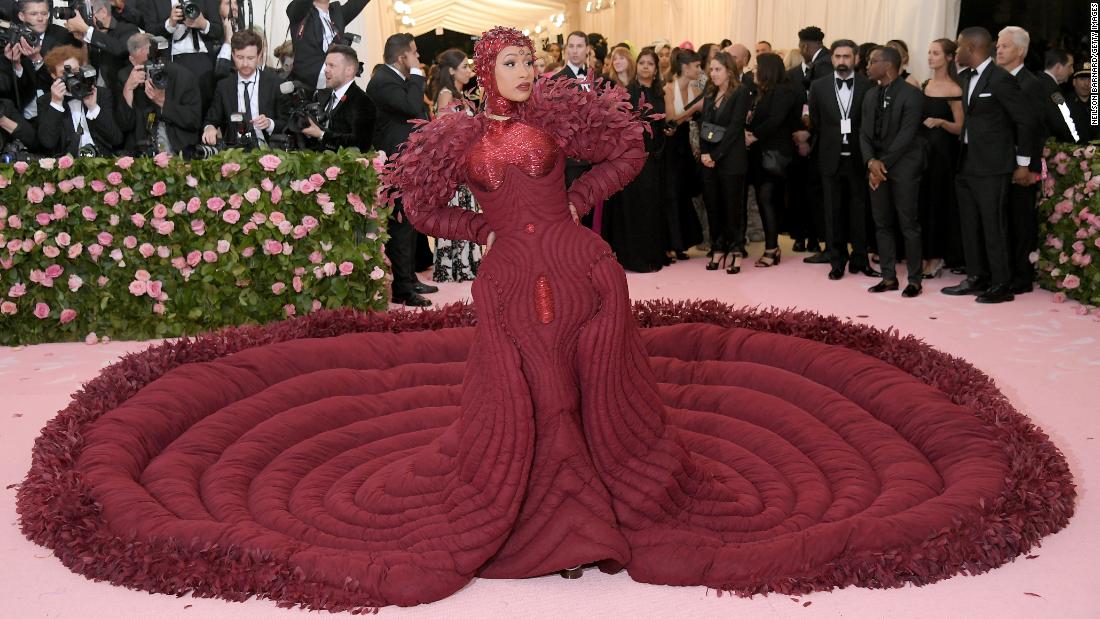 Rapper Cardi B showed up to the Met Gala in a dramatic burgundy gown that extended into a full quilted circular train.
The dress, which is trimmed in feathers, was designed by Thom Browne. She also has a matching headpiece on to complete the head-to-toe scarlet look.
According to Vogue, the dress is filled with down. It's decorated with 30,000 feathers, and it took 35 people more than 2,000 hours to make.
8:53 p.m. ET, May 6, 2019
Kendall and Kylie wear colorful Versace feather gowns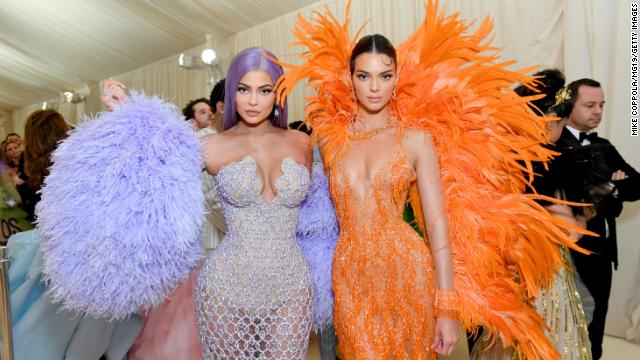 Kendall Jenner has come a long way since arriving at the 2014 Met Gala red carpet in a gown by fast-fashion retailer Topshop.
In the years since, she's used the event's red carpet to represent labels as diverse as Versace, Calvin Klein, Off-White and La Perla.
This year she opted for a glamorous orange feathered dress by Versace. By her side, her sister Kylie Jenner wore a purple figure-hugging gown also by the Italian fashion house, with hair colored to match.
The sisters stood out from the rest of their family. Their mother Kris Jenner wore a blue paintsuit and sister Kim Kardashian wore a corset designed by Thierry Mugler.
Here's a look at the whole Kardashian-Jenner gang:
4:40 a.m. ET, May 7, 2019
Kim Kardashian wears waist-cinching corset by Thierry Mugler
Kim Kardashian is wearing a dress by Thierry Mugler to tonight's Met Gala.
Mugler was fashion's hottest designer and rebel boy before he disappeared from fashion. Of course, Kim Kardashian had to be the one to bring him out of retirement.
(Cardi B made waves during the Grammy awards when she stepped out in a vintage Mugler design earlier in the year.)
Here's what you need to know about Mugler:
He's a former dancer: Mugler founded his fashion house in 1974 on an ethos of freedom and female empowerment, referencing everything from 1940s Hollywood costume design to Flash Gordon and the natural world. Combining the haute and demi-monde by bringing latex, rubber and PVC from fetish into the fashion mainstream, he sculpted clothes with extreme hourglass curves that shaped a generation and redefined power dressing.
Only a handful of stars get to wear his designs: He may still lend clothes from his 7,000-item archive to select stars, but for years, Mugler, now 70, turned down retrospectives at major museums in London, Paris and New York. Three years ago, however, he agreed to open the archives, working with curator Thierry-Maxime Loriot and the Montreal Museum of Fine Arts on a new exhibition, "Thierry Mugler: Couturissime."
Transformation is a recurring theme for Mugler: It's one that extends to the designer himself, who now goes by the name Manfred and has drastically changed his appearance through reported cosmetic procedures and extreme bodybuilding.
8:40 p.m. ET, May 6, 2019
Priyanka Chopra and Nick Jonas both wear glittery shoes on the pink carpet
Last month, Nick Jonas told "Entertainment Tonight" that his wife, Priyanka Chopra, would "set the tone" for the pair's Met Gala outfits.
The Bollywood star did just that, wearing a silver Dior Haute Couture dress with a rainbow feathered skirt and a thorny crown. Jonas complemented her in a white suit by Dior Men. Both of them wore glittery silver shoes.
The Met Gala has a special place in the pair's romantic history: They made their first public appearance together at the 2017 event, which they attended as guests of Ralph Lauren.
8:32 p.m. ET, May 6, 2019
These celebrities are wearing Valentino tonight
Actress Joan Collins, supermodel Naomi Campbell and model Adut Akech are all wearing Valentino to the Met Gala.
Campbell stole the show at Valentino's latest couture catwalk in Paris, which was praised for featuring mostly models of color.
Here's what Campbell wore tonight: