3:13 p.m. ET, February 21, 2019
Smollett's bond set at $100,000 and he must surrender his passport
Jussie Smollett's bond was set at $100,000 and the actor must surrender his passport.
Smollett appeared in front of State of Illinois Circuit Court of Cook County Judge John Fitzgerald Lyke Jr., moments ago.
3:05 p.m. ET, February 21, 2019
Smollett gave brothers $100 to buy supplies, according to texts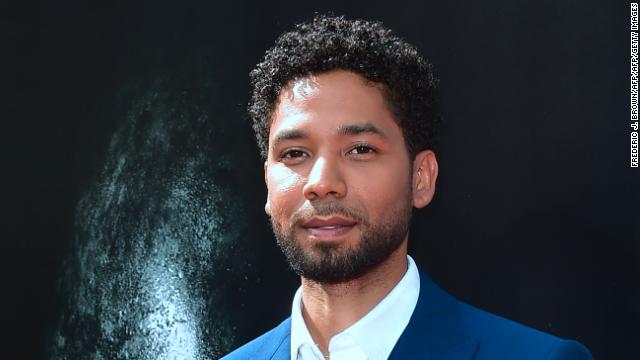 "Empire" actor Jussie Smollett gave the two brothers connected to the staged attack $100 to buy supplies, according to text message read in court.
Prosecutors said Smollett asked the brothers to stage the attack, and directed the brothers on what to say, including the MAGA comments. The staged attack lasted 45-seconds. At least a minute later, the brothers are seen catching a ride to leave the scene, prosecutors said.
Police said surveillance video from a beauty supply store captured the day before the assault, appears to show the brothers purchasing a ski mask, sunglasses, a red hat and other items. They paid for the items in cash, according to the owner.
Smollett was seen taking a deep breath as prosecutors continued to read the text messages in court.
The actor appeared in front of State of Illinois Circuit Court of Cook County Judge John Fitzgerald Lyke Jr. wearing the same clothes he wore in his mugshot.
2:48 p.m. ET, February 21, 2019
Jussie Smollett and his family are in the courtroom now
"Empire" actor Jussie Smollett is at the Cook County Courthouse and his bond hearing is underway, according to CNN's Nick Watt and Rosalina Nieves, who are in the courtroom.
Smollett, who was wearing a black puffy jacket, gave his name during the hearing as his family stood by.  
He was represented by an attorney from Geragos & Geragos law firm.
2:46 p.m. ET, February 21, 2019
Al Sharpton: Smollett should be held accountable "to the max" if accusation was fabricated 
Political and civil rights activist Reverend Al Sharpton, speaking to reporters, said Jussie Smollett, if liable, "ought to face accountability to the max."
"If Smollett is wrong, he ought to face accountability to the max. If it turns out another way, it ought to be that way," he said. "I think that what we have learned is that we have got to always look at these situations."
He was also asked if Democratic 2020 candidates Sens. Kamala Harris and Cory Booker had jumped too soon to show support of Smollett, prompting Sharpton to question why the attention was on them.
"I think many came out, including President Trump. So again, let's not segregate who came out. Donald Trump came out and said it was horrible. Now did he not? So why are you only asking me about Booker and, and her? Are we having segregated selection here? A lot of people came out," he told a reporter.
Harris and Booker both called Smollett's descriptions of the alleged attack an "attempted modern-day lynching." 
After the alleged attack, the President also responded, calling it "horrible." But today, Trump turned his criticism to Smollett following the actor's arrest, saying he made "dangerous comments."
2:22 p.m. ET, February 21, 2019
SOON: Jussie Smollett appears at a bail hearing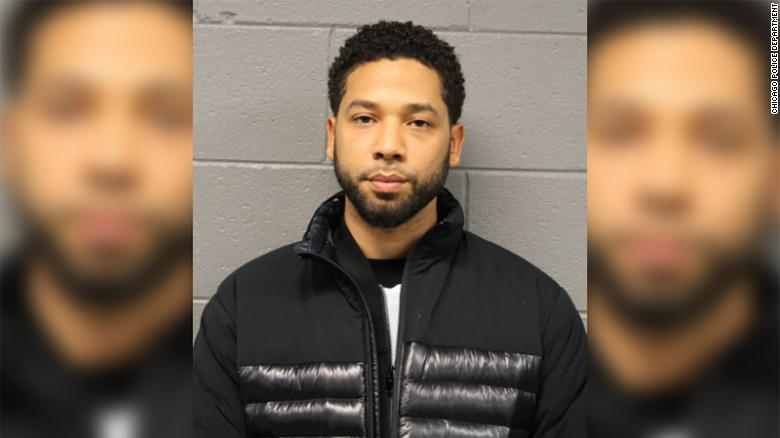 "Empire" actor Jussie Smollett — who faces a felony charge of disorderly conduct for allegedly filing a false police report claiming two men attacked him last month — is scheduled to have a bail hearing at 2:30 p.m. ET.
We'll be covering the hearing right here.
Under Illinois law, filing a false police report is disorderly conduct and punishable by one to three years in prison.
12:02 p.m. ET, February 21, 2019
FOX statement: "We are considering our options"
Fox Entertainment and 20th Century Fox Television released a new statement, saying they are considering their options following the latest in the Jussie Smollett case:
"We understand the seriousness of this matter and we respect the legal process. We are evaluating the situation and we are considering our options."
The companies produce "Empire," which Smollett stars in. 
11:24 a.m. ET, February 21, 2019
Trump calls out Smollett, says actor insulted millions of people with "racist and dangerous comments"
President Trump just tweeted about Jussie Smollett's arrest, calling him out for claiming his attackers were Trump supporters.
Read the President's tweet:
What Smollett alleged happened: In an interview with ABC that aired on last Thursday, Smollett said one of the attackers said, "'This MAGA country, n****r' and he punched me in the face so I punched his a** back."
"It feels like if I had said it was a Muslim or a Mexican or someone black, I feel like the doubters would have supported me a lot much more," Smollett said. "And that says a lot about the place where we are as a country right now.
The star theorized that he had been targeted because of his vocal criticism against President Trump and his administration, telling Roberts, "I come really hard against 45."