Director John Singleton has died
7:45 p.m. ET, April 29, 2019
Looking back at John Singleton's life and career
John Singleton, a versatile director who made a splash with "Boyz n the Hood" and went on to a variety of projects — including "2 Fast 2 Furious" — died Monday after suffering a stroke. He was 51.
We're wrapping up our live coverage, but if you're looking for more on Singleton's life and career, you can...
6:36 p.m. ET, April 29, 2019
Actress Aisha Tyler: "He broke stereotypes, he broke barriers"
Actress Aisha Tyler said late director John Singleton will not only be remembered for his films, but what he also did for filmmakers of color.
"He broke records, he broke stereotypes, he broke barriers," she tweeted.
6:21 p.m. ET, April 29, 2019
Actor Wendell Pierce pays his respects to Singleton
Actor Wendell Pierce tweeted about John Singleton's legacy, saying the late director "spoke of creating stories that will illuminate the humanity of our people, African Americans past & present."
"He celebrated the contribution we make to the human diaspora," Pierce said.
Read his tweet:
5:49 p.m. ET, April 29, 2019
How "Boyz n the Hood" defined John Singleton's legacy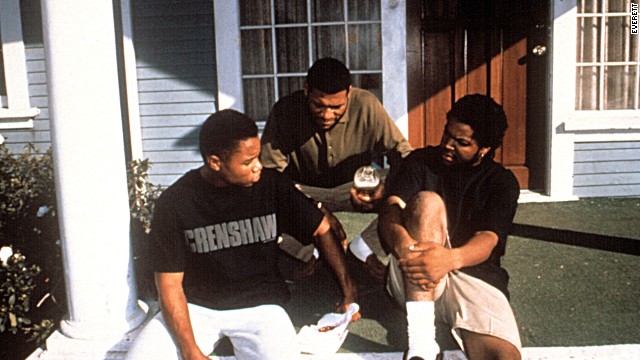 John Singleton was just 23 years old when he wrote and directed "Boyz n the Hood," becoming the first African American — and the youngest person ever — to receive an Oscar nomination for best director.
The groundbreaking nature of that film, a deeply personal look at growing up in South Central L.A., is by itself an enduring legacy.
The movie dealt with a young man, played by Cuba Gooding Jr., sent to live with his tough, protective father (Laurence Fishburne), delving into the tragic impact of drugs, gangs and violence on the youth, his friends (Ice Cube, Morris Chestnut) and their community.
The pioneering aspect of "Boyz n the Hood" extended beyond the nuanced view of African-American life that it portrayed. Marking the film's 25th anniversary, Chestnut observed that the movie "made Hollywood take notice that there's some real talent out there that is just untapped."
"Boyz" was heralded as a sign of progress — and the movie has served as a source of inspiration to young filmmakers. Yet Singleton's signature film also stands as a symbol of an ongoing process in making Hollywood more open to diverse stories, and the structural challenges even such talent has to overcome.
6:54 p.m. ET, April 29, 2019
"He died too young": Celebrities react to Singleton's death
Celebrities took to Twitter to express their sadness over the death of John Singleton and share their appreciation for the late director.
Read some of their tributes:
Samuel L. Jackson
John Carpenter
Ron Howard
Tracy Y. Oliver
Ava DuVernay
Jordan Peele
Whoopi Goldberg
Actress Jennifer Beals
Kevin Smith
5:09 p.m. ET, April 29, 2019
NAACP praises Singleton for showing African Americans "in complex, multidimensional roles"
The NAACP took to Twitter to remember John Singleton, calling him a "great director and storyteller" as word of his death spread.
The organization said Singleton was "never afraid to show African Americans in complex, multidimensional roles."
Read the NAACP's tweet:
5:05 p.m. ET, April 29, 2019
Here are some of John Singleton's most memorable films
Director John Singleton's roster of films expanded over decades and included major hits like "Boyz n the Hood."
But Singleton worked steadily in a variety of genres, directing dramas like "Rosewood" and "Baby Boy," a remake of "Shaft" starring Samuel L. Jackson and the action vehicle "2 Fast 2 Furious," the first sequel in "The Fast and the Furious" franchise, in 2003.
See Singleton's most memorable films: