James Holzhauer chases 'Jeopardy!' history
7:19 p.m. ET, April 29, 2019
Holzhauer's strategy is called the "Forrest Bounce." Alex Trebek isn't a fan of the technique.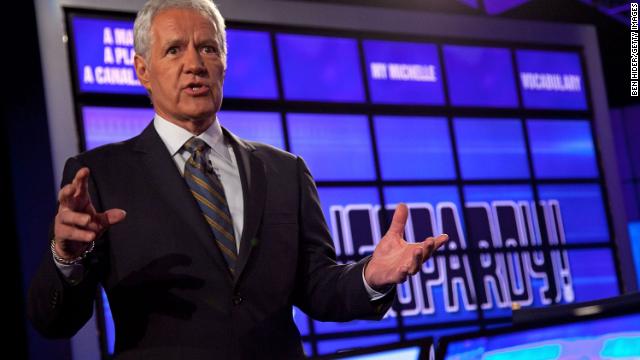 James Holzhauer is using the "Forrest Bounce" technique to win his way through "Jeopardy!"
How it works: The contestant jumps around from category to category, choosing tiles out of order to throw off his or her opponents.
Where it came from: Holzhauer is not the first to master the "Forrest Bounce." Previous contestants like Arthur Chu and Chuck Forrest (who the method is named after) have used it to both confuse opponents and rack up the most amount of money in a short span of time by starting from the bottom of each category, where the clues are hardest.
One thing to note: While effective if done right, it is not very popular among the show's staff, including host Alex Trebek, who has spoken out against the method.
Trebek argues that it disrupts the natural order of the show, which the writers work hard on preparing.
Reporting from CNN's Ramy Zabarah
7:14 p.m. ET, April 29, 2019
Why Holzhauer has such specific winning figures
"Jeopardy!" host Alex Trebek noted that twice in James Holzhauer's 17-game winning streak, he had a winning total of $9,812.
There's a reason for the oddly specific figure.
"On Sept. 8 2012, I got married," Holzhauer explained.
7:08 p.m. ET, April 29, 2019
James Holzhauer hit the Daily Double on his first pick
James Holzhauer's hit a Daily Double on his first pick of the show — and he got it wrong.
This was the $1,000 clue (the category was Breaks and Livers): "The portal vein brings venous blood to the liver while this artery bring oxygenated arterial blood."
Holzhauer got the question wrong — meaning his score dropped to -$1,000. Trebek even joked that it's unusual to see Holzhauer in the red.
But note — it's only the first round.
7:02 p.m. ET, April 29, 2019
Meet the other contestants James Holzhauer will face tonight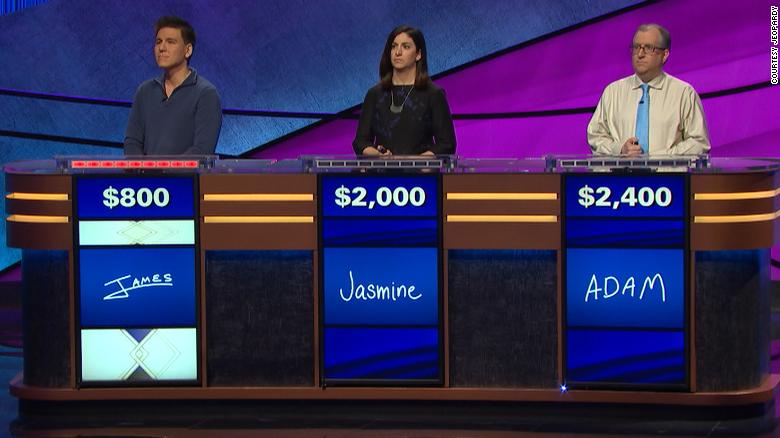 James Holzhauer, a resident of Las Vegas and professional sports bettor, is hoping to continue his winning streak tonight on "Jeopardy!" (He's won $1,275,587in 17 episodes.)
Here's who he's playing against:
Jasmine Leonas, a social media specialist
Adam Levin, a sports information director
7:01 p.m. ET, April 29, 2019
This is "Jeopardy!": Tonight's episode just kicked off
Monday night's episode of "Jeopardy!" just started on the East Coast. This marks James Holzhauer's 18th episode.
So far he's won $1,275,587.
"Welcome everyone to the James Holzhauer show," host Alex Trebek joked at the show's start.
6:55 p.m. ET, April 29, 2019
5 impressive stats about Holzhauer's winning streak
James Holzhauer, a professional sports bettor, is on a 17-game winning streak, and tonight he's competing in his 18th game.
Here's what we know about his winning streak, according to the shows website:
$75,035: The average amount per episode he's won
$1,275,587: How much he's won during his entire winning steak
97%: His response accuracy rate
37: The number of Daily Doubles he's gotten correct (out of 40)
94%: The percent of Final Jeopardy! questions he's gotten right
6:42 p.m. ET, April 29, 2019
What you need to know about "Jeopardy's" current record-holder, Ken Jennings
All eyes are glued on James Holzhauer as he chases "Jeopardy!" history.
But before Holzhauer can earn the highest winnings, he must beat Ken Jennings — the current-record holder.
Here's what we know about Jennings' winning streak:
Jennings earned more than $2.5 million during his 2004 run.
It took him 74 games.
The former software engineer was named as one of Barbara Walters' ten most fascinating people of the year, according to the game show's website.
He has written several books on a variety of topics, including trivia, geography, myths and more recently, comedy.