Latest: The 2019 Grammy Awards
10:58 p.m. ET, February 10, 2019
Let's talk about Jennifer Lopez doing the Motown tribute
Who thought it was a good idea that Jennifer Lopez perform a medley of Motown hits?
No, seriously, we need a word.
Had they not been reading the tweets for the past week? Twitter was not here for the idea when it was first announced.
Even during the performance folks seemed puzzled.
Lopez is an amazing dancer. We acknowledge that. And it was definitely a high-energy set.
And don't get it twisted: This is not at all a race thing. She's Latina, and the Motown legacy is a rich and diverse one.
One of the songs Lopez sang, "Square Biz," was by the late singer Teena Marie, who was white.
But having her join Smokey Robinson and Ne Yo to pay tribute to the legendary R&B label was a bit head-scratching.
It was sweet that she dedicated it all to her mom Lupe, though.
Don't at us if you disagree. Take it up with Twitter.
10:54 p.m. ET, February 10, 2019
You may have been the only person not on stage with Travis Scott
A line in Travis Scott's hit "NO BYSTANDERS" goes "The party never ends," and he proved that with his Grammy performance.
Scott performed most of the song in a cage, surrounded by a huge swarm of people who rushed the stage and pretty much turned it into a rave.
But how else was he supposed to crowd surf if he didn't have a ton of people up there with him?
Scott started out his performance a tad bit more mellow, singing another song with James Blake and Philip Bailey from Earth, Wind and Fire.
A cage, though? This year's show is oh, so many things.
10:36 p.m. ET, February 10, 2019
Diana Ross' 9-year-old grandson might have stolen the show
The Grammys are celebrating the legendary Diana Ross' 75th birthday.
But her 9-year-old grandson Raif-Henok Emmanuel Kendrick, who introduced her, might have stolen the show.
Host Alicia Keys welcomed the "distinguished little guy" to the stage. But Raif-Henok wasn't having it.
He quipped, "Did she say little guy? I'm almost 4 foot 9."
Raif-Henok went on to thank Keys and express his feelings about his "grand mommy Diana Ross."
"She is amazing and young people like me can look up to her for her independence, confidence and her willingness to be her unique self. She has shown the whole world that nothing is beyond our reach," Raif-Henok said.
Ross -- who has actually never won a Grammy, although they gave her a lifetime achievement award -- went on to perform "The Best Years of My Life" and "Reach Out and Touch (Somebody's Hand)."
10:52 p.m. ET, February 10, 2019
Lady Gaga slays "Shallow"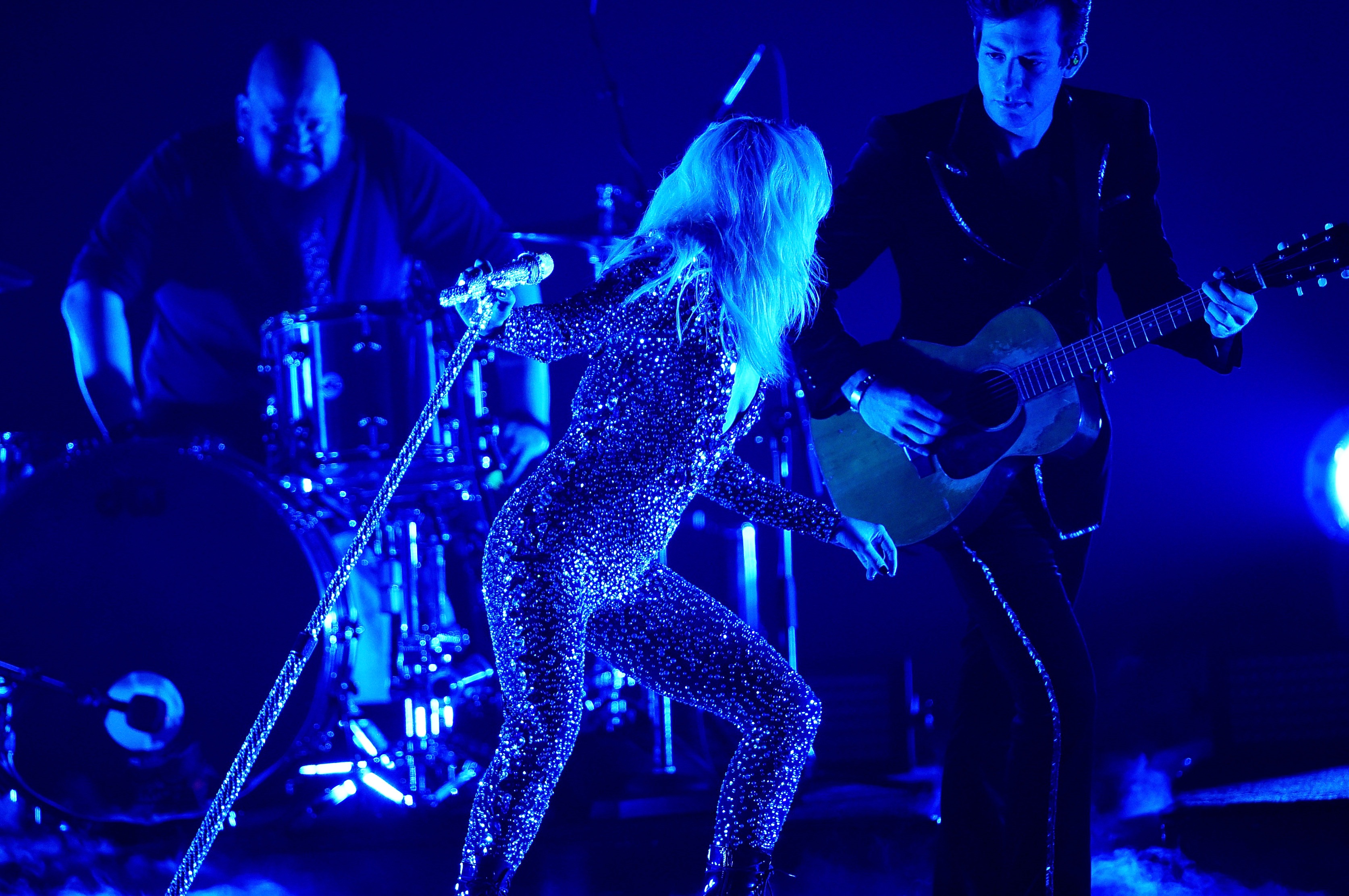 Let's be honest: This is Gaga's time to shine.
People knew her as a singer and fashion icon, but she stunned critics with the depth of her acting in "A Star Is Born."
It didn't seem to matter Sunday that she had lost to Glenn Close in the best actress category at the Golden Globes and Screen Actors Guild Awards.
The Grammys are her people, and Gaga was right at home inside the Staples Center.
She gave a full-throated, rock star performance of "Shallow," her big song from the movie.
Going full David Bowie/Ziggy Stardust in a sparkly body suit, platinum blonde hair and platform shoes, Gaga was mesmerizing.
Which is good news for the rest of us. She'll sing the song again in two weeks at the Oscars.
10:22 p.m. ET, February 10, 2019
Dan + Shay had us sipping "Tequila" before Drake got cut off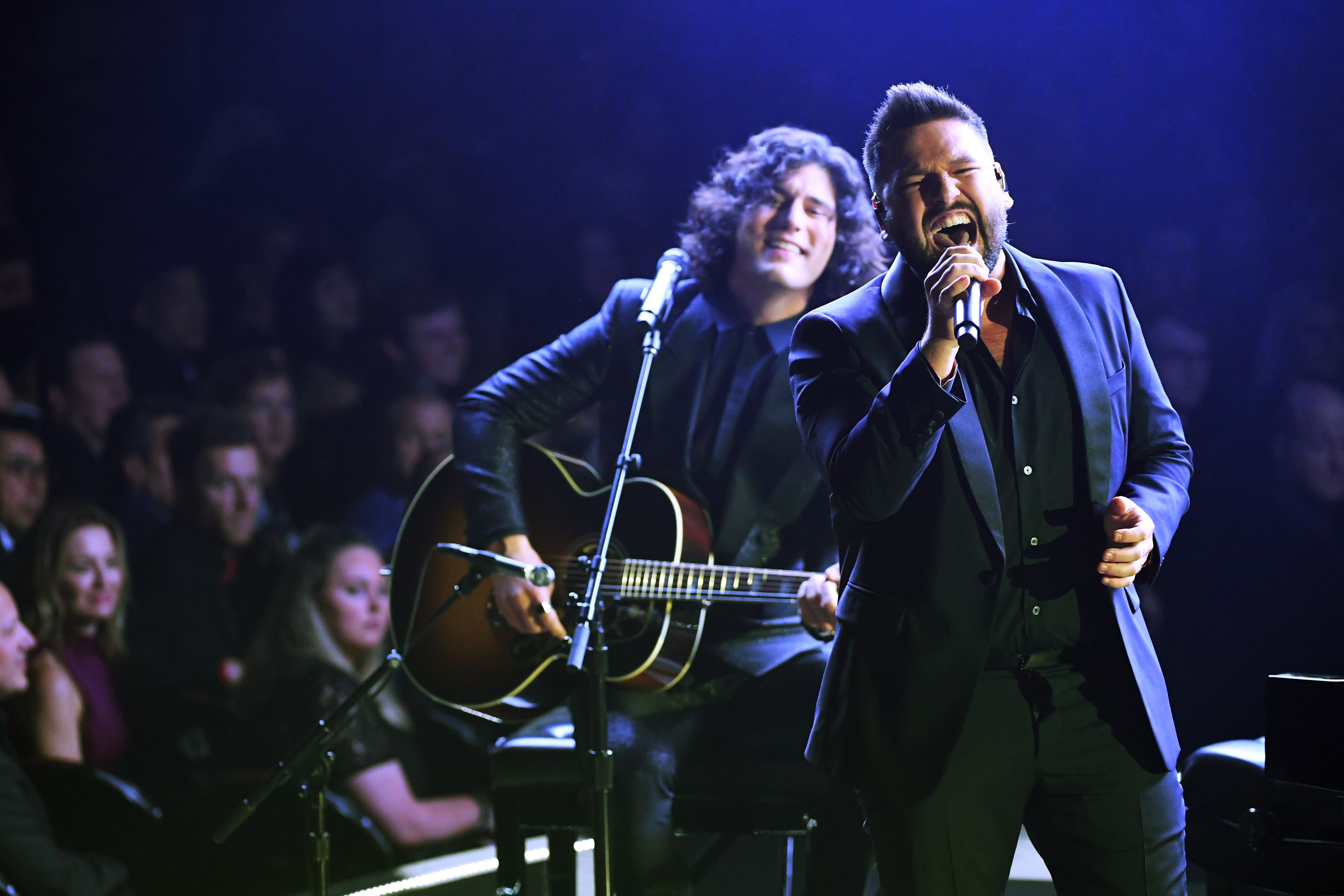 Country fans already know that Dan + Shay have perfect pitch.
They proved that with their performance of their single "Tequila" which earned them a standing ovation.
Earlier the song won them the best country duo/group performance Grammy.
They also presented the best rap song Grammy to Drake for "God's Plan."
Now Drizzy didn't perform, but unlike fellow winner Childish Gambino he did turn up to collect his trophy.
Drake had some deep things to say to the young people pursuing music.
That was until the producers cut him off mid-sentence and went to commercial.
Oops!
10:05 p.m. ET, February 10, 2019
Alicia Keys plays two pianos at once
Alicia Keys just took us to her super chill and timeless world, which she called "Club Keys."
The 15-time Grammy winner used her musical prowess to dazzle the audience with a performance packed with major hits.
Flanked by two pianos, Keys performed everything from Lauryn Hill's "Doo Wop (That Thing)" to Roberta Flack's "Killing Me Softly With His Song" to Kings of Leon's "Use Somebody."
At one point during her medley, Keys played on both pianos at the same time.
"Music is just, you know, those songs that just live inside of you. It lives inside of me. And you just love it so much because it was done so well that you wish you wrote it. That's how I feel about these songs. I wish I wrote them," she said.
10:31 p.m. ET, February 10, 2019
About the Grammys' women problem
Yes, the Recording Academy has historically had an issue with a lack of women among the Grammy winners and nominees.
But damn -- someone forgot to tell tonight's show that.
The women presenters and performers have been killing it all night.
From the impassioned words of Alicia Keys and Michelle Obama to the singular visions of Janelle Monáe and H.E.R. to the female-driven Dolly Parton tribute to Kacey Musgraves' killer ballad to Camilla Cabello reminding us of why we love Havana and East Atlanta, it's been a total ladies night.
Then there was Cardi B.
Her performance was a basically a full-on cabaret show. And maybe a preview of her forthcoming Las Vegas residency?
It was fire okkkurrrrr?
Cardi's husband Offset clearly thought so too, based on his expressions whenever the camera caught him in the audience.
So, yes, lack of diversity -- both with race and gender.-- has sometimes been a problem for the Grammys. But tonight's performances so far have once again underscored the point that there's so much talent to be recognized.
9:27 p.m. ET, February 10, 2019
Chris Cornell wins posthumous Grammy award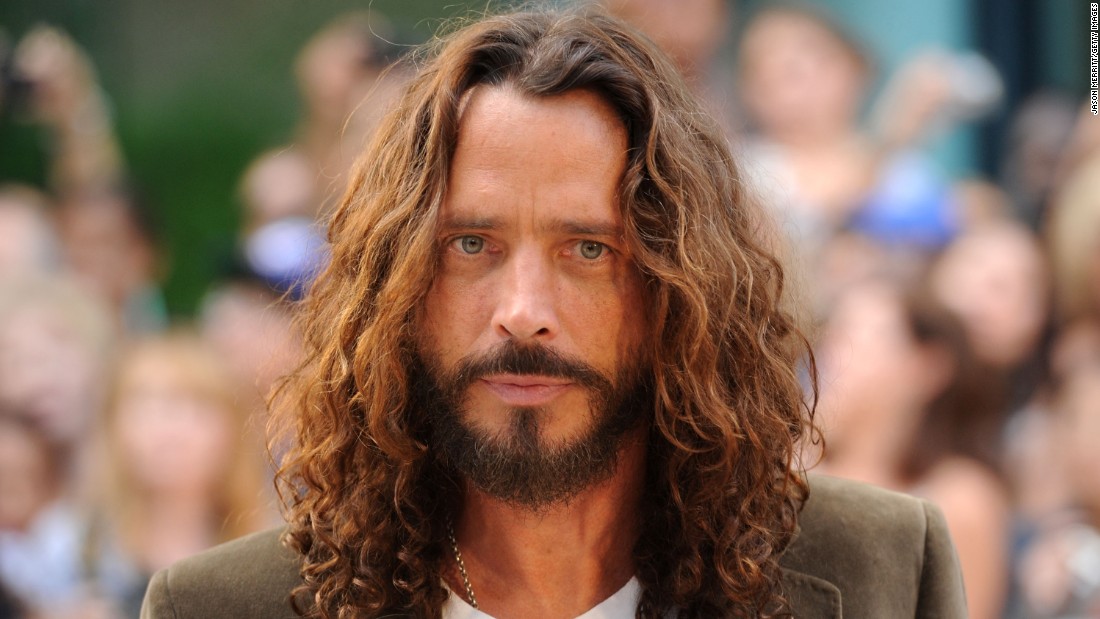 Chris Cornell won a Grammy award for best rock performance, almost two years after the Soundgarden singer's death.
Cornell's song "When Bad Does Good" took the top honor. Greta Van Fleet, Arctic Monkeys, Halestorm, and The Fever 333 were also nominated in the category.
Cornell, 52, died in May 2017. The official autopsy results ruled the cause of death as suicide by hanging.
10:32 p.m. ET, February 10, 2019
Here you come again, Dolly Parton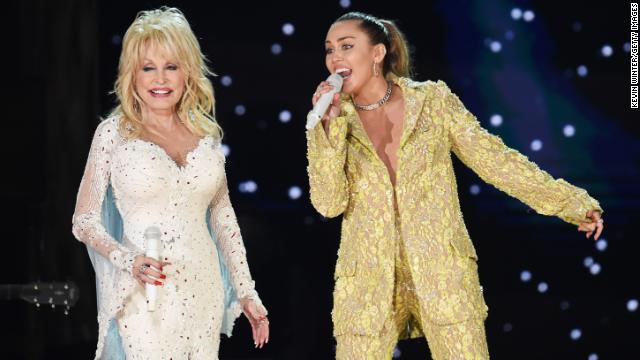 Dolly Parton's song catalogue is massive.
Don't believe it?
You need only to have checked out Sunday's Parton tribute, in which performers of all ages joined her in singing some of her biggest hits
It was worth it just to get a reprisal of Miley Cyrus singing "Jolene" with Parton. (The two once paired up to sing it on "The Voice.")
Miley catches lots of flack on social media sometimes, but the woman can SING (yes, all caps). And Dolly is Miley's godmother, don't you know.
Katy Perry, Kacey Musgraves, Maren Morris and Little Big Town also joined Parton on stage.
Of course it wouldn't be a true Dolly Parton tribute unless they sang "9 to 5." And they did.
The performance turned into a bit of a sing-along, with the audience on their feet and swaying to the beat.
It was enough to drive you crazy (with joy) if you let it.