Latest: The 2020 Grammy Awards
10:53 p.m. ET, January 26, 2020
Billie Eilish wins Song of the Year
Billie Eilish just won the Song of the Year Grammy for "Bad Guy."
The 18-year-old became one of the youngest to ever nab that award.
She was 17 when she was nominated.
"Why?" she said as she accepted the award. "Oh my God, so many other songs deserve this, I'm sorry."
Eilish also introduced her brother and collaborator, Finneas, whom she called her "best friend."
"This is a really, really big deal," he said. "We just make music in a bedroom together. We still do this. They let us do that."
11:03 p.m. ET, January 26, 2020
Rosalia has us wanting to learn flamenco dancing
Muy caliente!
Spanish singer-songwriter Rosalía performed in her native tongue and tore the stage up with her moves and backup dancers.
The moves were as enviable as the music was banging.
The Best New Artist nominee has hopped on tracks with the likes of James Blake and Travis Scott.
The latter may explain why she and Kylie Jenner are BFFs. Jenner is the mother of Scott's young daughter, Stormi.
10:43 p.m. ET, January 26, 2020
Nick Jonas had something in his teeth while performing and the secondhand cringe is real
Nick Jonas is about to be a "Sucker" for dental floss after the Jonas Brothers' Grammy performance.
Fans of the trio were quick to point out a small bit of food stuck in Nick's teeth, and yeah, that's basically a nightmare come true.
If it were us, we'd probably be hiding deep in a hole, never to be seen by humans again. But Nick is the King of Cool and was ready with quite the comeback.
You gotta love a man who eats his greens though. Kudos to you Nick.
10:49 p.m. ET, January 26, 2020
Ava DuVernay introduces the Nipsey Hussle tribute featuring John Legend and DJ Khaled
John Legend, YG, and DJ Khaled performed a medley of Nipsey Hussle songs alongside Meek Mill, Roddy Ricch and Kirk Franklin as a tribute to the late rapper.
Hussle won a posthumous award for "Racks in the Middle," which took home best rap performance.
But another departed Angeleno -- Kobe Bryant -- was heavy on everyone's mind.
Earlier in the evening, DuVernay paid tribute to the basketball star, writing on Twitter:
"I remember Kobe bringing his daughters to the WRINKLE IN TIME premiere and talking about its meaning for him as a father. He loved his girls so. LA weeps today, as do fans around the world. Goodbye, Kobe and Gianna. Our memories of you will live on and on."
10:22 p.m. ET, January 26, 2020
Cinderella gowns and elaborate nail art: Here are the best fashion looks from the Grammy red carpet
More is more at this year's Grammy Awards.
Billie Eilish taught us all what it means to color coordinate by rocking a lime green and black Gucci suit with matching hair and accessories.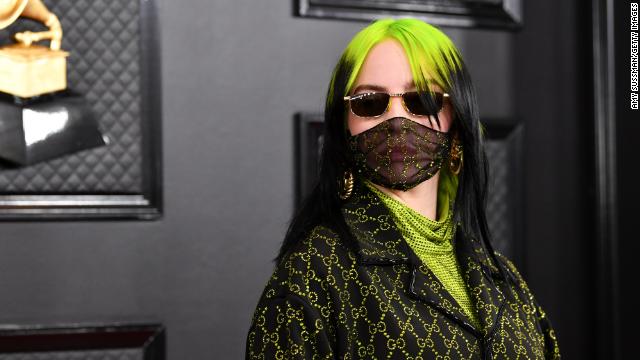 And model Shaun Ross gave us a sneak peek of heaven's pearly gates with a head to toe, pearl-encrusted ensemble.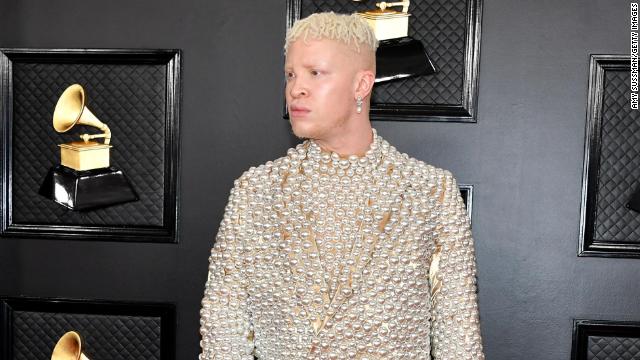 See all the best-dressed stars here.
10:14 p.m. ET, January 26, 2020
Of course Run-DMC crashed through a wall during Aerosmith's 'Walk This Way'
It was the "surprise" we were all hoping for. Aerosmith took the Grammys stage with a rowdy version of "Walk This Way" that brought down the house.
All because Run-DMC took the stage with them.
The rappers joined Steven Tyler for a lively performance of their "Walk This Way" cover (in the 1987 video, the two artists bash down a wall and join forces on the song) which also paid tribute to Kobe Bryant by waving his Lakers jersey.
10:26 p.m. ET, January 26, 2020
Demi Lovato returns for her first major performance since her overdose
Demi Lovato returned to the world stage Sunday night for a triumphant performance at the Grammys.
The 27-year-old singer got choked up and had to restart the song  "Anyone," which she debuted at the awards show.
Performing with tears streaming down her face, Lovato poured out her pain.
She said during an interview with "New Music Daily with Zane Lowe" that she penned the song days before she overdosed in 2018.
"I almost listen back and hear these lyrics as a cry for help," Lovato said during the interview. "And you kind of listen back to it and you kind of think, 'How did nobody listen to this song and think, 'Let's help this girl?'"
In December 2018 Lovato shared a health update with her fans, tweeting "All my fans need to know is I'm working hard on myself, I'm happy and clean and I'm SO grateful for their support."
Lovato is scheduled to song the National Anthem at the upcoming Super Bowl.
10:05 p.m. ET, January 26, 2020
Tyler, the Creator brought his mama to help accept his award
Tyler, the Creator said he didn't have a speech prepared for his Best Rap Album win for "Igor." He said he wasn't sure if he'd ever win a Grammy.
But he brought his mom on stage and gave her a massive shoutout.
"To my mother, you did a great job raising this guy," he said as his proud mama stood beside him.
Tyler, the Creator -- who has said he didn't aways feel accepted in the world of hip hop -- also thanked singer/producer Pharrell Williams.
"Growing up feeling left of center to a lot of stuff that I saw on TV, that man helped me to be comfortable with myself and has opened up doors that you guys cannot imagine," Tyler, the Creator said. "Before I met him, and when I met him."
9:50 p.m. ET, January 26, 2020
Billie Eilish's talent is otherworldly
In a world of computer-generated sounds and lip syncing, Billie Eilish blew us away.
With her brother Finneas accompanying her on piano, the 18-year-old sang a beautiful version of her song, "When the Party's Over."
The song in and of itself is lovely, but Eilish brought a different sense of stillness with her performance.
The ethereal moment was a testament to why Eilish has been the toast of the music industry this year.
At 17 she became the youngest artist ever to be nominated for major Grammy awards, including Song of the Year for "Bad Guy."