9:34 p.m. ET, September 22, 2019
Jharrel Jerome receives standing ovation for role as member of Exonerated Five
Actor Jharrel Jerome took home an Emmy for lead actor in a limited series or movie for his role in Netflix's "When They See Us," which tells the story of the five young men accused of assaulting a jogger in New York's Central Park in 1989.
"I feel like I should be in the Bronx right now waiting for my mom's cooking, Jerome said. "I have to thank my mom, my beautiful mother. I couldn't do it without her. ... But most importantly, this is for the men we know as the exonerated five."
Jerome paid respect to the Exonerated Five who were in the audience.
9:24 p.m. ET, September 22, 2019
"Chernobyl" takes home another award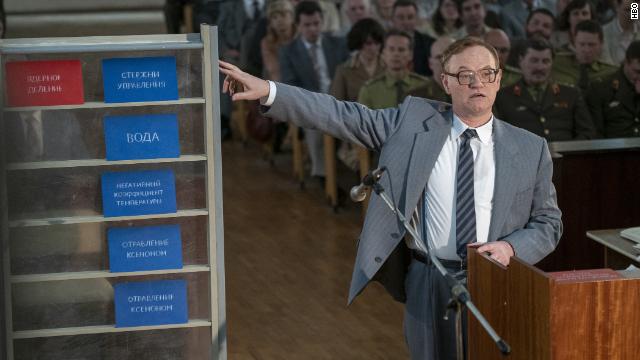 Craig Mazin won writing for a limited series for "Chernobyl."
He thanked the cast and crew of hundreds across Europe who worked on the project and honored those who suffered because of the nuclear accident at Chernobyl Nuclear Power Plant in 1986.
"I am very pleased to accept this in their memory," Mazin said.
9:20 p.m. ET, September 22, 2019
Ben Whishaw tells everyone he's hungover during his acceptance speech
Ben Whishaw took home an Emmy his role as Norman in "A Very English Scandal, a three-part British television miniseries on Amazon.
"I'm hungover," Whishaw during his acceptance speech for supporting actor limited series or movie. "I want to thank Steven Frears for being a wonderful director. I want to thank the magnificent actors and especially Hugh Grant."
9:11 p.m. ET, September 22, 2019
Johan Renck wins limited series director for "Chernobyl"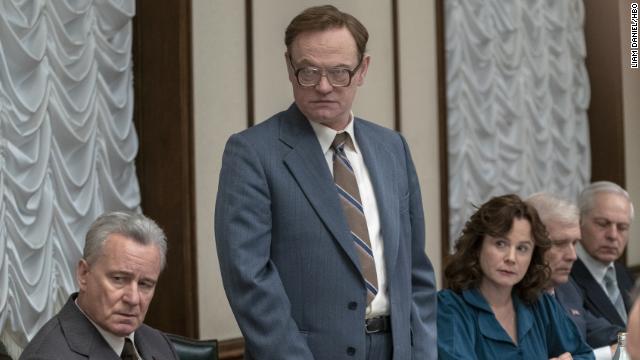 "Wow, thank you so much."
An overjoyed Johan Renck took home the award for "Chernobyl" and had a bit of fun with earlier winner Phoebe Waller-Bridge who had paid homage to her "Fleabag" family.
"I have the 'Chernobyl' family and my family's better than your family," he joked before going on to thank his wife and members of his "family."
We all love a little bit of healthy competition, don't we?
9:09 p.m. ET, September 22, 2019
Patricia Arquette recognizes trans community and late sister during Emmy win
Patricia Arquette, who played Dee Dee Blanchard in "The Act," took time during her Emmy speech for outstanding supporting actress in a limited series or movie to recognize the trans community.
Arquette specifically mentioned her late sister Alexis Arquette, an actress and transgender activist who died in September 2016.
"Trans people are still being prosecuted. I'm in mourning in every day of my life," Arquette said. "Give them jobs. They are human beings, let's give them jobs and get rid of this bias we have every where."
9:08 p.m. ET, September 22, 2019
Not everyone is loving the Emmy commentary
Minus a host, this year's Emmy Awards went with voice over commentary from comedian Thomas Lennon.
Let's just say not all the jokes landed.
"They will be setting cars on fire and burning a wicker man in Deerfield, Illinois, as this beloved daughter pockets another 39 cents of fake Emmy gold," he said when Alex Borstein won for comedy supporting actress.
When Phoebe Waller-Bridge bested Julia Louis-Dreyfus for best comedy actress win, he noted that Waller-Bridge would have to live "until the 107th Emmys" to get the number of wins the "Veep" star had.
He also threw some shade at Felicity Huffman and her legal troubles.
"The producers have asked me to give a special shout out to any of our previous lead actress winners who are watching tonight from prison," he said. "Hopefully those two weeks are going to fly right by. Keep your chin up."
But was it too much?
8:56 p.m. ET, September 22, 2019
"RuPaul's Drag Race" wins best reality competition
You better work!!
"RuPaul's Drag Race" snagged the Emmy for best reality competition and its host walked up to receive the award as if he was walking the runway.
Because that's how fab RuPaul is.
RuPaul also took the opportunity to throw some politics into his thankfulness for the Academy voting for his show.
"Speaking of voting and love, go register to vote," RuPaul said.
8:51 p.m. ET, September 22, 2019
Phoebe Waller-Bridge wins again: "I find acting really hard and really painful"
"Fleabag" star Phoebe Waller-Bridge has taken home Emmy gold once again for lead actress in a comedy series.
"I find acting really hard and really painful but it's all about this," Waller-Bridge said, holding her award. "This means a huge, huge amount to me."
Waller-Bridge won earlier tonight for outstanding writing in a comedy series.
8:44 p.m. ET, September 22, 2019
Bill Hader thanks "Barry" co-creator Alec Berg in speech
Actor Bill Hader took home Emmy gold for his role in HBO's "Barry."
Hader praised his co-creator Alec Berg during his acceptance speech for lead actor in a comedy series.
"I don't know where I'll be without you," Hader said.
Hader is also known for his stint on "Saturday Night Live" for which he received three Emmy nominations), "South Park," and his parody series "Documentary Now!," according to Emmys.com.