7:54 p.m. ET, September 22, 2019
"Veep" star Julia Louis-Dreyfus could make Emmy Awards history tonight
Julia Louis-Dreyfus of HBO's "Veep" could make Emmy Awards history with her ninth win this year, surpassing actress Cloris Leachman.
Leachman and Dreyfus both currently have eight statues to their name for individual performances. Dreyfus has an additional three statues for her work as an executive producer on "Veep."
In 2017, Louis-Dreyfus made history becoming the first actress to take home the best actress in a comedy award six times in a row for the same role, breaking a record set by Candice Bergen during her "Murphy Brown" years.
Since its first season, "Veep" has won 17 Emmys and been nominated 68 times, including this year's nine nominations.
7:49 p.m. ET, September 22, 2019
Here are some predictions for tonight's Emmy Awards
The Emmy Awards will likely feature plenty of big names and nostalgia. But the safest bet in handicapping the night might be that no matter who wins in key categories, there will be fewer viewers watching, perhaps than ever before.
Like the Oscars and other major award shows, tune-in for the Emmys has been fairly steadily declining, amid a plethora of similar showcases and viewing options. And a confluence of events could depress ratings further, after last year's telecast on NBC posted a record-low 10.2 million viewers, per Nielsen data.
The Emmys rotate among the major networks, and this year will air on Fox. The Fox telecast has traditionally been the lowest-rated among the four broadcasters, and won't be helped this year by airing opposite the Los Angeles Rams vs. Cleveland on NBC's "Sunday Night Football."
Taking those factors into account, it's possible the awards could dip below 10 million viewers. As for what victories that audience will see, there's a fair amount of suspense in several key categories, and particularly fierce competition in most, reflecting the abundance of worthy nominees.
So beyond the ratings scorecard, what will likely win, and what should? Here's a breakdown:
DRAMA SERIES. Will win: "Game of Thrones." Should win: "Succession."
COMEDY SERIES. Will win: "Veep." Should win: "Barry."
LIMITED SERIES. Will win: "When They See Us." Should win: "Chernobyl."
MOVIE. Will win/should win: "Deadwood: The Movie."
ACTOR/ACTRESS, DRAMA. Will win: Jason Bateman ("Ozark"), Sandra Oh ("Killing Eve"). Should win: Bob Oedenkirk ("Better Call Saul"), Oh.
ACTOR/ACTRESS, COMEDY. Will win: Julia Louis-Dreyfus ("Veep"), Bill Hader ("Barry"). Should win: Phoebe Waller-Bridge ("Fleabag"), Hader.
ACTOR/ACTRESS, MOVIE OR LIMITED SERIES. Will win/should win: Patricia Arquette ("Escape at Dannemora"), Mahershala Ali ("True Detective").
VARIETY/TALK SERIES. Will win: "Last Week Tonight With John Oliver." Should win: "Late Show With Stephen Colbert."
VARIETY SKETCH SERIES. Will win: "Saturday Night Live." Should win: "Who is America?"
7:32 p.m. ET, September 22, 2019
These celebrities are presenting at tonight's show
While this year's Emmy Awards will be host-less, there will be a whole roster of stars presenting tonight.
The casts of HBO's "Veep" and "Game of Thrones," along with the cast of "Keeping up with the Kardashians," will be on stage.
Adam Devine is expected to present a musical tribute to variety programming. Halsey is also set to take the stage for a performance to accompany the In Memoriam tribute.
Here's a look at some of tonight's presenters:
RuPaul
Amy Poehler
Maya Rudolph
Julia Louis-Dreyfus
Anthony Anderson
The cast of "Veep"
The cast of "Game of Thrones"
Cedric the Entertainer
Gwyneth Paltrow
Ike Barinholtz
Bill Hader
Max Greenfield
Lilly Singh
Phoebe Waller-Bridge
Angela Bassett
Ben Stiller
Viola Davis
Michael Douglas
Taraji P. Henson
Billy Porter
Terrence Howard 
Stephen Colbert
Jimmy Kimmel
Seth Meyers
Naomi Watts
Zendaya 
Peter Krause
Kim Kardashian West, Kendall Jenner, Kylie Jenner
7:19 p.m. ET, September 22, 2019
What the stars are wearing at this year's Emmy Awards
The cast of "Saturday Night Live," Pose's Indya Moore and other celebrities have arrived at the Microsoft Theater at LA Live for tonight's 71st Emmy Awards.
The show, which will air live on Fox starting at 8 p.m. ET, is expected to run three hours.
Here's a look at what the stars are wearing tonight:
Ryan Michelle Bathe and Sterling K. Brown
Indya Moore
Laverne Cox
Milo Ventimiglia
Chris Redd, Ego Nwodim, Heidi Gardner, and Melissa Villaseñor
The cast of "Schitt's Creek"
The cast and crew of "RuPaul's Drag Race"
Mandy Moore
Jodie Comer
7:09 p.m. ET, September 22, 2019
The carpet at this year's Emmys is purple
Celebrities have begun to make their way down the Emmy Awards' carpet at the Microsoft Theater in Los Angeles.
It's hard to miss this year's carpet because it's purple.
7:01 p.m. ET, September 22, 2019
How stars are getting ready for the Emmys
Hollywood stars gave their fans a preview of their red carpet routine hours before tonight's 71st Emmy Awards.
Tracee Ellis Ross took to Instagram to share a video of her pre-award show routine. Kelly Osborne gave a sneak peak of her purple hair and makeup.
Tracee Ellis Ross
Kelly Osborne
6:57 p.m. ET, September 22, 2019
"Game of Thrones" set a record with 32 nominations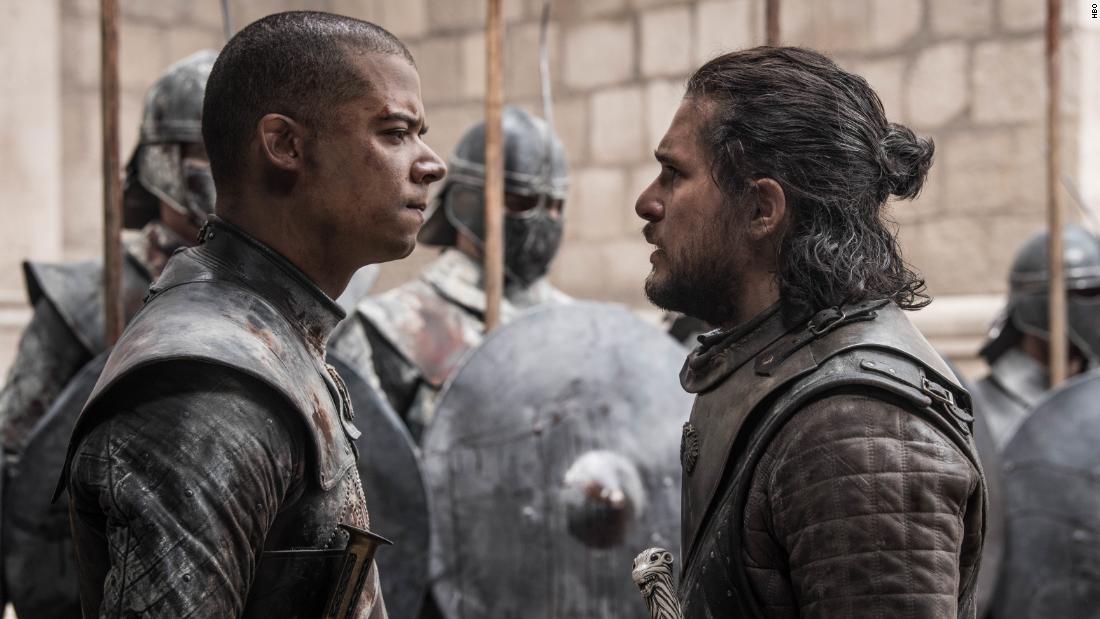 The HBO hit "Game of Thrones" set a new record this year for most nominations earned in a single year by any drama series. The show earned 32 nominations.
GOT already holds the record as the most Emmy-winning primetime series in history with 42. (HBO and CNN share parent company WarnerMedia.)
The show already amassed 10 wins — in categories that include visual effects, music, editing and makeup— at the Creative Arts Emmys this year. GOT's total stand at 57.
"Thrones" is already the most-honored series of all time, and the most-nominated drama, ranking behind only "Saturday Night Live" — which has the benefit of having been around for more than 40 years — among programs on the latter score.
7:42 p.m. ET, September 22, 2019
There won't be a host at the Emmys tonight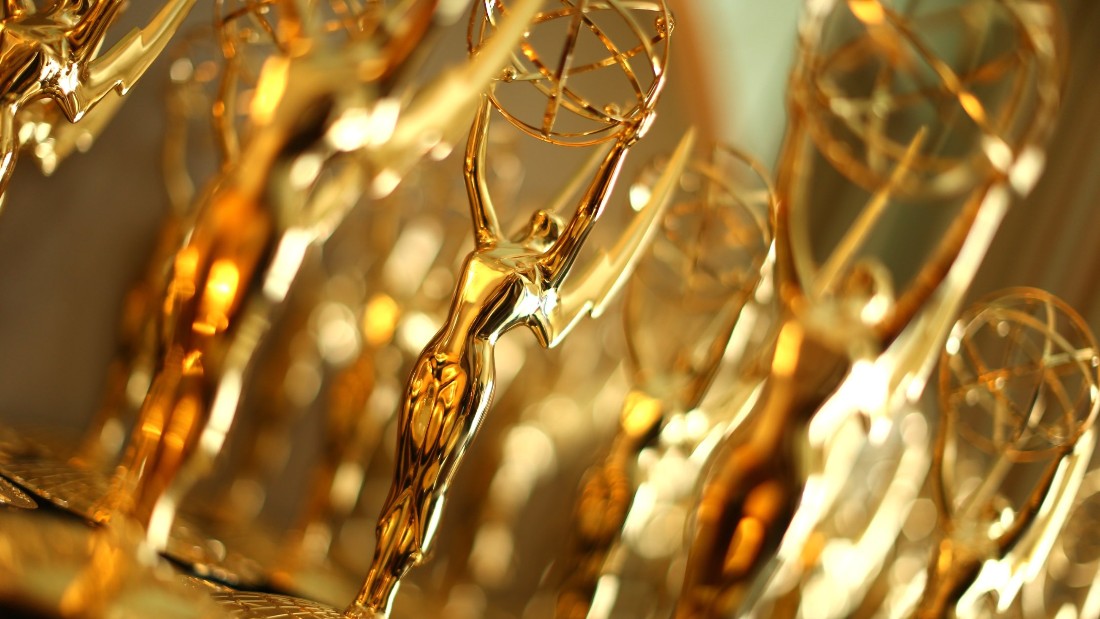 This year's Emmy Awards will be host-less, according to Fox Entertainment CEO Charlie Collier.
The decision was somewhat influenced by this year's Academy Awards, which went without an emcee for the first time since 1989.
Producers opted to concentrate on the large amount of shows that are ending because skipping some of the bits and gimmicks that come with a host means "that's 15 to 20 minutes you can't use to salute those shows," he said.
The last time the Emmys went sans host was in 2003, when the broadcast also aired on Fox.