Aretha Franklin's farewell and funeral
7:19 p.m. ET, August 31, 2018
Our live coverage of Aretha Franklin's funeral has ended. Scroll through the posts below to see the highlights of the Queen of Soul's star-studded remembrance.
6:56 p.m. ET, August 31, 2018
Franklin's casket escorted out of church as her song "Climbing Higher Mountains" plays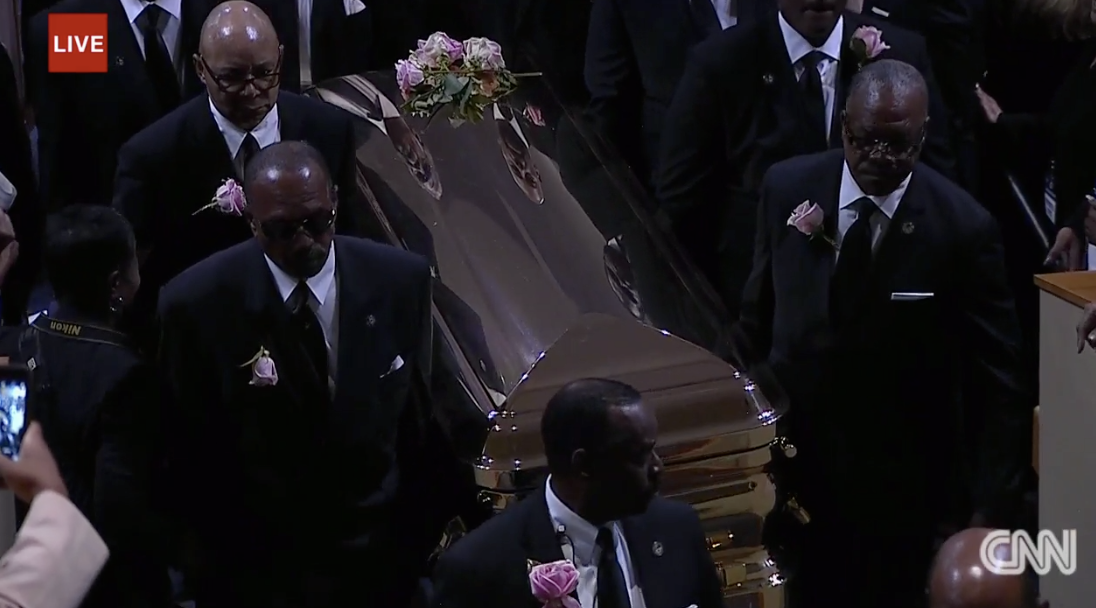 Aretha Franklin's casket was escorted out of Detroit's Greater Grace Temple after a nearly eight-hour funeral service filled with performances by superstar singers and remarks by friends and former presidents.
Mourners made their way through the center of the church as Jennifer Holliday and the Aretha Franklin Celebration Choir performed Franklin's hit "Climbing Higher Mountains."
Franklin will be entombed at Woodlawn Cemetery in Detroit.
7:19 p.m. ET, August 31, 2018
Stevie Wonder performs "As" in moving tribute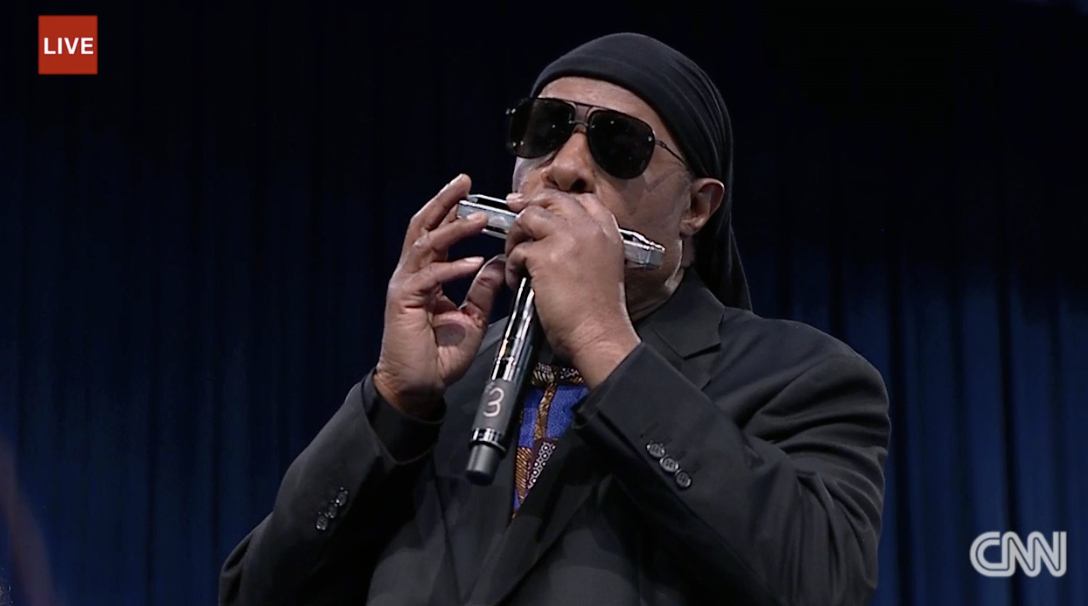 Stevie Wonder began his moving tribute to Aretha Franklin by playing the harmonica before singing, "As."
"The reason we are here today is because of love -- because of how much we love this woman," he said.
Wonder encouraged mourners to remember today's remarks and that the "greatest gift that we have been given in life itself is love."
"What needs to happen today not only in this nation, but throughout the world, is that we need to make love great again because black lives do matter, because all lives do matter. And if we love God, then we know truly it is our love that will make things matter when we make love great again. That is what Aretha said throughout her life."
Watch:
Note: The post has been updated to reflect that Stevie Wonder performed "As" at Aretha Franklin's funeral.
6:15 p.m. ET, August 31, 2018
Rev. Jasper Williams, Jr. delivers a soulful eulogy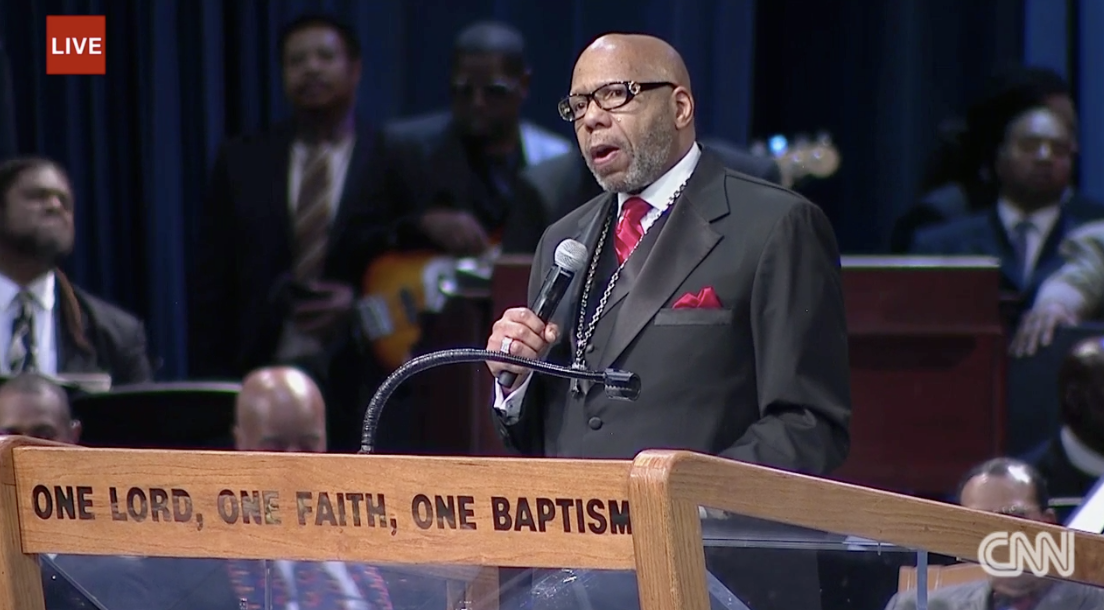 Rev. Jasper Williams, Jr., the senior pastor of Salem Baptist Church, said to understand legendary singer Aretha Franklin is to know her father, C.L. Franklin.
"He put her on a foundation so that she could rock steady, baby. That's what he did," Williams said.
He continued:
"You may not know about it. But I remember like it was yesterday, the flack, the criticism. How they talked about him, just because he wanted his daughter to live her life and to be who she came to be. He ain't no preacher. How can he be a preacher and he preaching the gospel and she's singing the blues? Back in that day and time, oh, how they talked about him. Everybody had thumbs down on C.L. Franklin, preaching the gospel and letting his daughter sing the blues."
C.L. Franklin was a superstar before his daughter became one. His unique style of preaching drew such a wide audience that his sermons were sold in record stores, and pastors around the nation rescheduled their Sunday evening services to avoid competing with his popular radio show. One preaching critic described his voice as "explosive and filled with a river of music."
5:52 p.m. ET, August 31, 2018
Georgetown professor slams Trump: "She worked above you. She worked beyond you"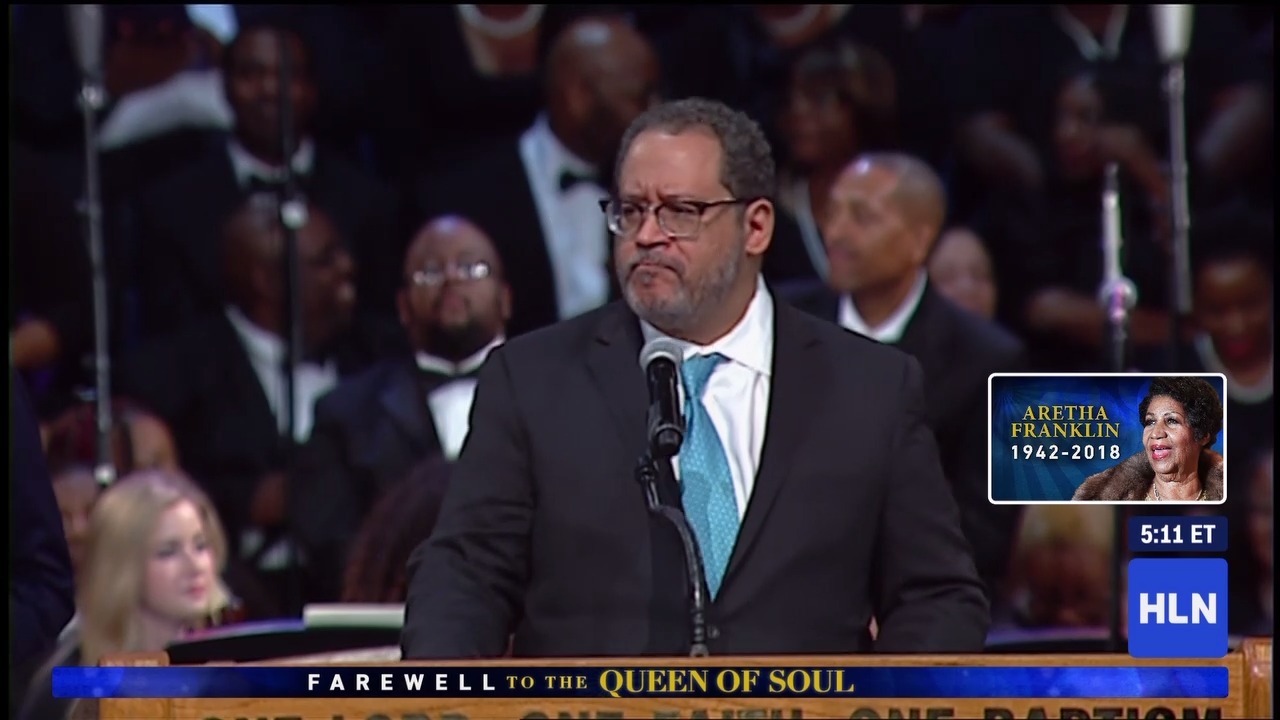 Michael Eric Dyson, professor of sociology at Georgetown University, sharply criticized President Trump over his comment that Aretha Franklin worked for him in the wake of her death.
This isn't the first time Trump got some flack over that remark today -- Rev. Al Sharpton did it too.
Speaking of President Trump, Dyson said, "this orange apparition had the nerve to say she worked for him. You lugubrious leech, you dopey doppelgänger of deceit and deviance, you lethal liar, you dimwitted dictator, you foolish fascist -- she ain't work for you. She worked above you. She worked beyond you. Get your preposition right."
Watch the moment:
5:45 p.m. ET, August 31, 2018
Jennifer Hudson belts out "Amazing Grace"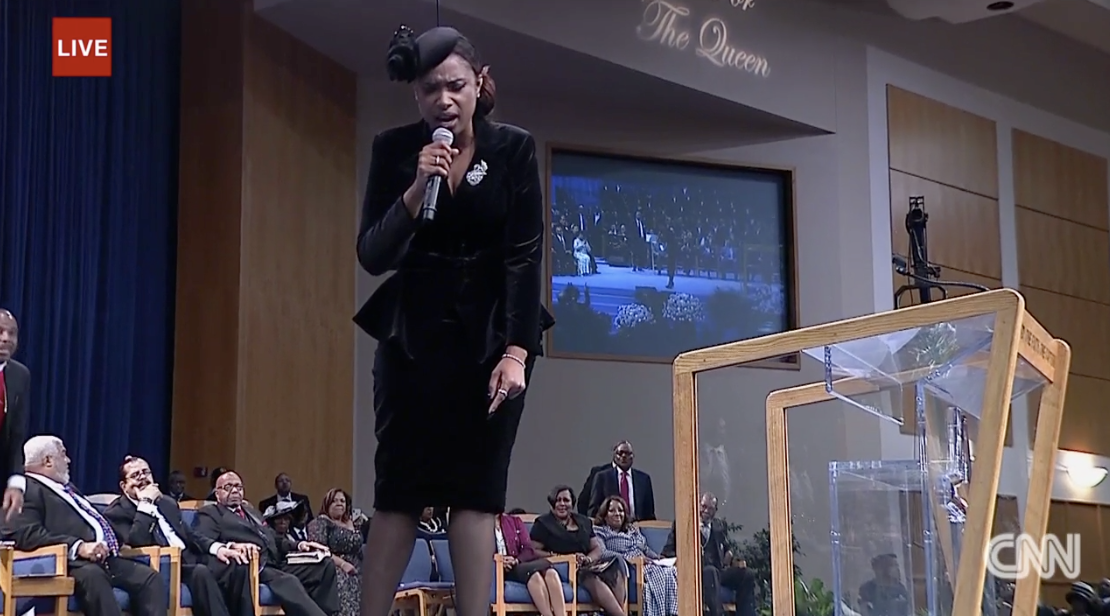 Two-time Grammy winner Jennifer Hudson paid tribute to Aretha Franklin with a stunning rendition of "Amazing Grace."
Her performance drew mourners to their feet, while others raised their arms in praise.
Watch:
4:55 p.m. ET, August 31, 2018
Isiah Thomas remembers how Aretha Franklin befriended his mom long before they met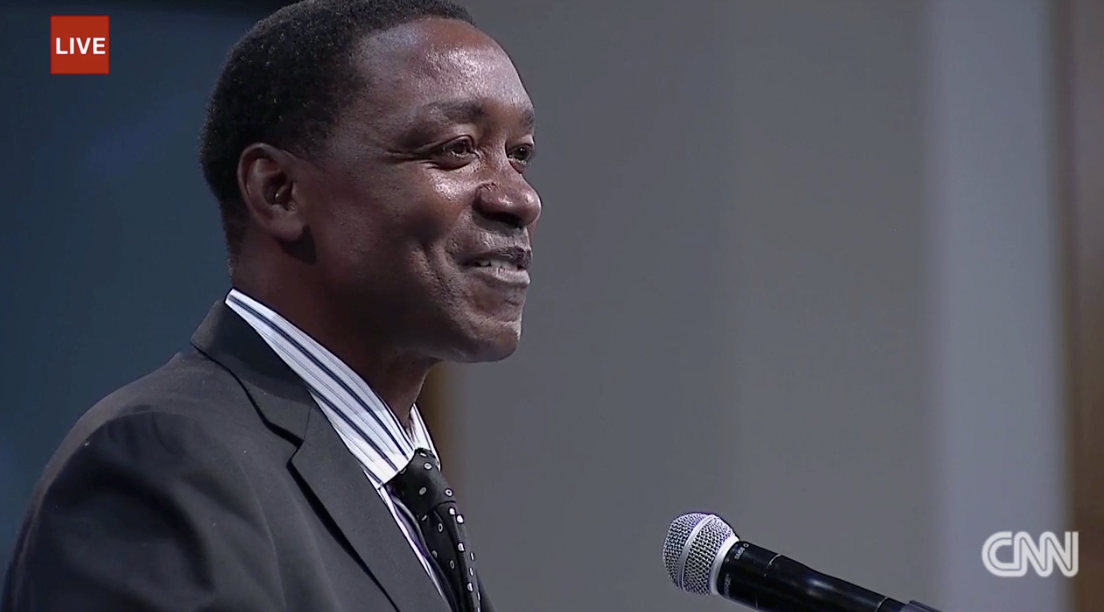 Isiah Thomas, a former NBA player with the Detroit Pistons and longtime friend of Aretha Franklin's, spoke of how she welcomed him to Detroit with open arms, taught him how to deal with celebrity, to pay his bills, and most of all, how she was always a strong, constant presence for his mother -- even before the two women met.
Growing up, "The music, 'I Say a Little Prayer for You,' meant a lot to us," Thomas said, telling a story how his mother would hum the lyrics in the kitchen while his father was out of a job.
Later, when Franklin would sit next to his mother at Pistons' games, Thomas would look up at them and "wonder if they knew how many nights they got my mom through and how many tears she shed listening to Aretha's music."
He added: "And to have my mom sitting right next to Aretha in the stadium was such a powerful and inspiring moment for me."
4:31 p.m. ET, August 31, 2018
Filmmaker Tyler Perry describes how his first conversation with Franklin went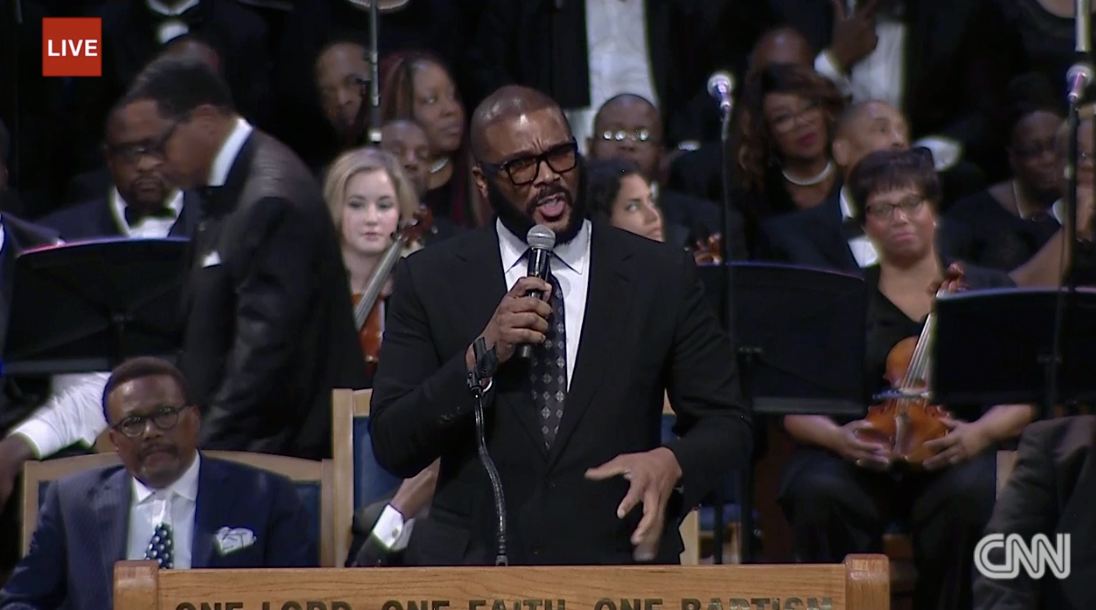 Actor and filmmaker Tyler Perry grew up listening to his mother blast Aretha Franklin's songs on the radio. Perry was able to gauge his mother's mood that day by the songs she played, he said.
Franklin had become a staple in his household, even though he had never met her. It came as a surprise one day when the music icon called him out of the blue.
He explained that Franklin introduced herself and said she loved Madea -- an elderly woman portrayed by Perry in a series of films and stage plays.
Perry then asked, "Well, you know she's not real, right?"
Franklin snapped back and said, "I don't care. I want to talk to her." So Perry responded in his Madea voice and said, "Hello."
Watch the moment:
4:32 p.m. ET, August 31, 2018
Fantasia kicks off her shoes and sings gospel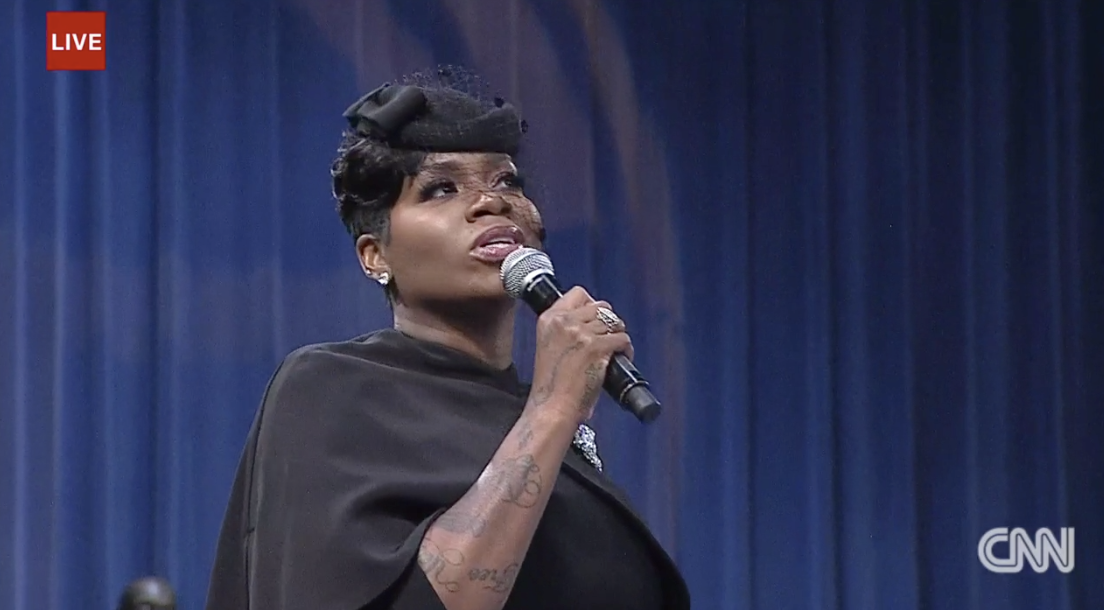 Fantasia Barrino-Taylor brought down the house with a powerful performance of "Precious Lord, Take My Hand." Franklin recorded a rendition of the song in 1956. It was said to be one of Martin Luther King Jr.'s favorite songs. She went on to lead the choir with a version of Carole King's 1971 hit "You've Got a Friend."
Before Barrino-Taylor began to sing, she said she wanted to take her shoes off and that she didn't think Franklin would mind.
Barrino-Taylor has been a fan of Franklin since she was a little girl and recently said that the first cassette she ever bought was of Aretha Franklin.