Aretha Franklin's farewell and funeral
4:31 p.m. ET, August 31, 2018
Filmmaker Tyler Perry describes how his first conversation with Franklin went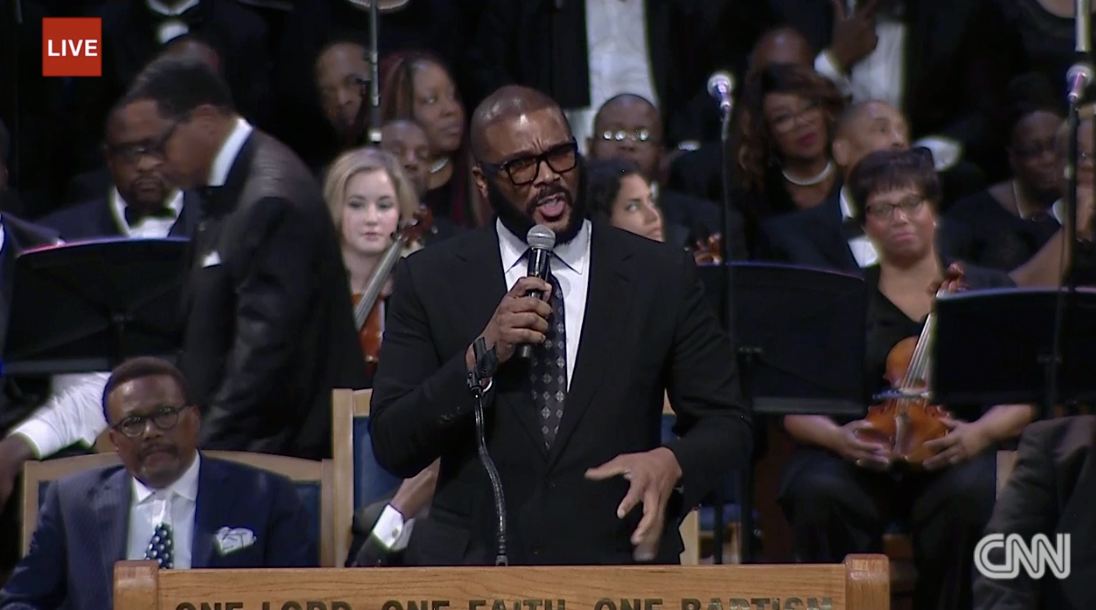 Actor and filmmaker Tyler Perry grew up listening to his mother blast Aretha Franklin's songs on the radio. Perry was able to gauge his mother's mood that day by the songs she played, he said.
Franklin had become a staple in his household, even though he had never met her. It came as a surprise one day when the music icon called him out of the blue.
He explained that Franklin introduced herself and said she loved Madea -- an elderly woman portrayed by Perry in a series of films and stage plays.
Perry then asked, "Well, you know she's not real, right?"
Franklin snapped back and said, "I don't care. I want to talk to her." So Perry responded in his Madea voice and said, "Hello."
Watch the moment:
4:32 p.m. ET, August 31, 2018
Fantasia kicks off her shoes and sings gospel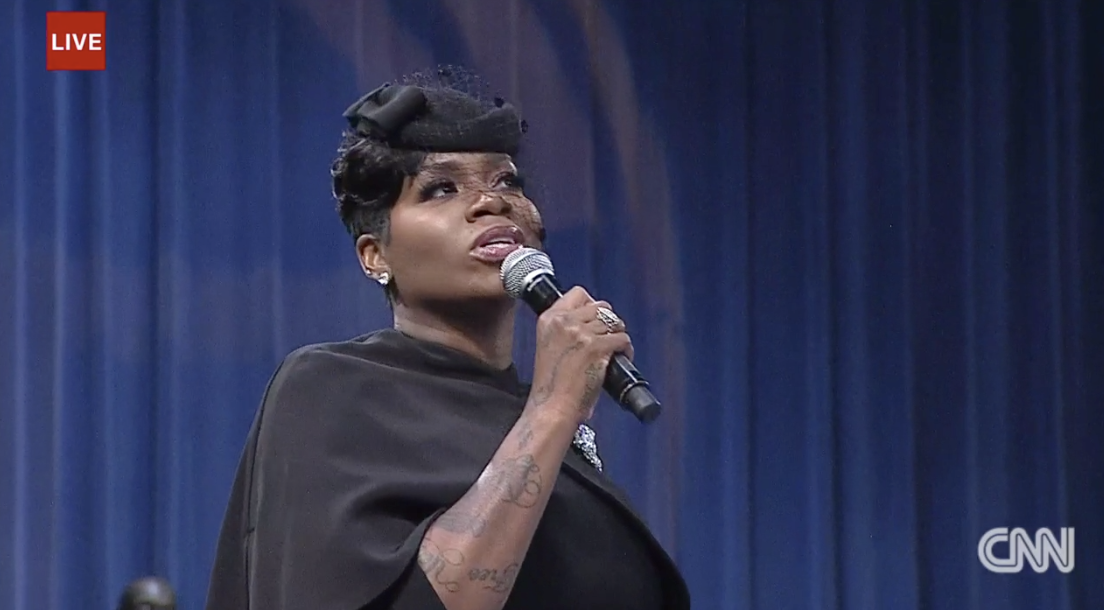 Fantasia Barrino-Taylor brought down the house with a powerful performance of "Precious Lord, Take My Hand." Franklin recorded a rendition of the song in 1956. It was said to be one of Martin Luther King Jr.'s favorite songs. She went on to lead the choir with a version of Carole King's 1971 hit "You've Got a Friend."
Before Barrino-Taylor began to sing, she said she wanted to take her shoes off and that she didn't think Franklin would mind.
Barrino-Taylor has been a fan of Franklin since she was a little girl and recently said that the first cassette she ever bought was of Aretha Franklin.
4:00 p.m. ET, August 31, 2018
Rev. Jesse Jackson recounts Aretha Franklin's rise out of the civil rights era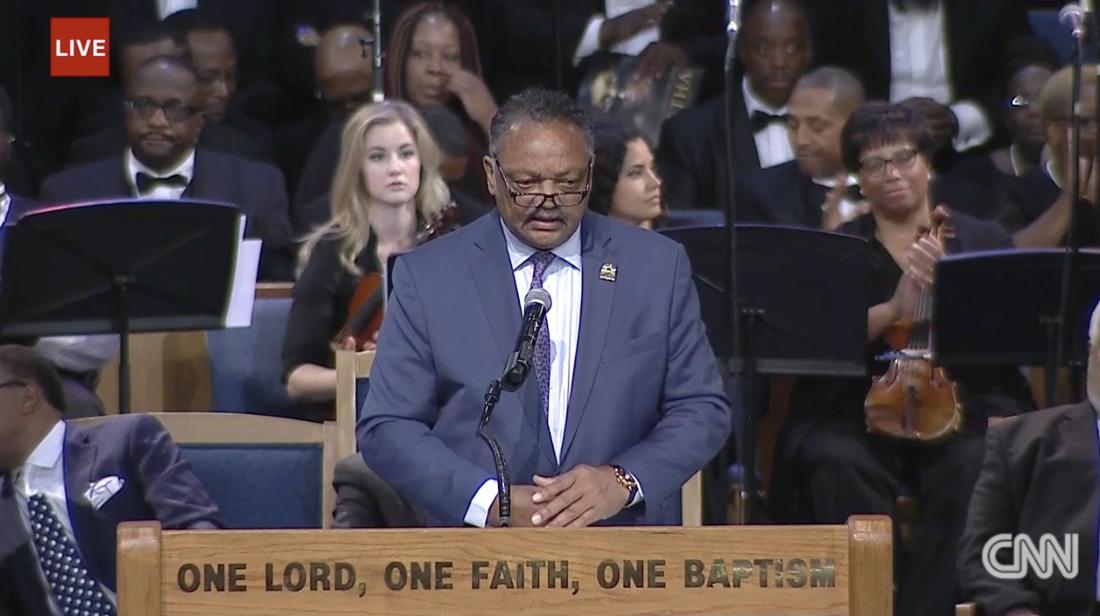 Rev. Jesse Jackson, a longtime friend of Aretha Franklin's, gave his much anticipated eulogy during her funeral service on Friday, in which he spoke of hearing her voice when she was just 14 and how he knew she had "perhaps the most remarkable voice that the world has ever heard."
Jackson, the civil rights icon, connected Franklin's rise to the South and the ugly racial history of America, and told how it informed her music and cemented her ties to her community.
"Aretha was our queen, she belonged and belongs to us," he said. And later, "Aretha came out of the bowels of our struggle."
Jackson also spoke about the importance of voting in elections, and said that if anyone left the sanctuary not registered to vote, "you will dishonor Aretha."
After all, Michigan was won by President Trump by just a few thousand votes, Jackson said, noting that 100,000 Detroit residents were unregistered.
"We have long lines to celebrate death and short lines for voting ... Long lines at the death of the icons and short lines for voting, something is missing."
Watch:
3:20 p.m. ET, August 31, 2018
Chaka Khan sings "I'm Going Up Yonder"
Chaka Khan was one of several high-profile performers who paid tribute to the "Queen of Soul" at her funeral.
Khan sang "I'm Going Up Yonder," originally sung by Tramaine Hawkins in 1994. Some of the lyrics include:
"I'm goin' up yonder/To be with my Lord/I can take the pain/The heartaches they bring/The comfort in knowing/I'll soon be gone."
3:07 p.m. ET, August 31, 2018
Judge Mathis: Franklin told me to "sock it to 'em" over Flint water crisis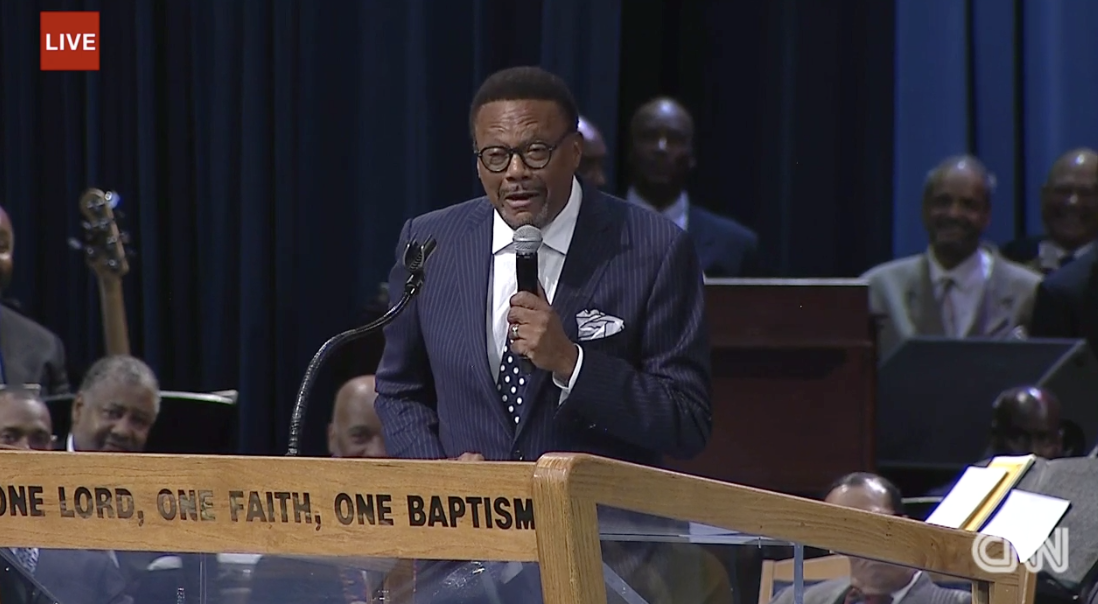 The last conversation TV show Judge Greg Mathis had with Aretha Franklin was about the water crisis in Flint, Michigan, where cost-cutting measures led to tainted drinking water that contained lead and other toxins.
They talked about how the distribution of bottled water had stopped in Flint. Mathis said he planned to visit Flint, but that he had some reservations because they called him out the last time he went there.
Franklin, he said, prodded him, saying, "You're supposed to be from Detroit. What are you scared of?"
When he finally agreed to go to Flint, Mathis said her last words to him were, "Yeah Greg, you go back up there and sock it to 'em."
Mathis went on to say that in honor of Franklin he is going to Flint to "sock to 'em, sock it to 'em, sock it to 'em."
2:56 p.m. ET, August 31, 2018
Rev. James Holley: "I was with Aretha when she passed"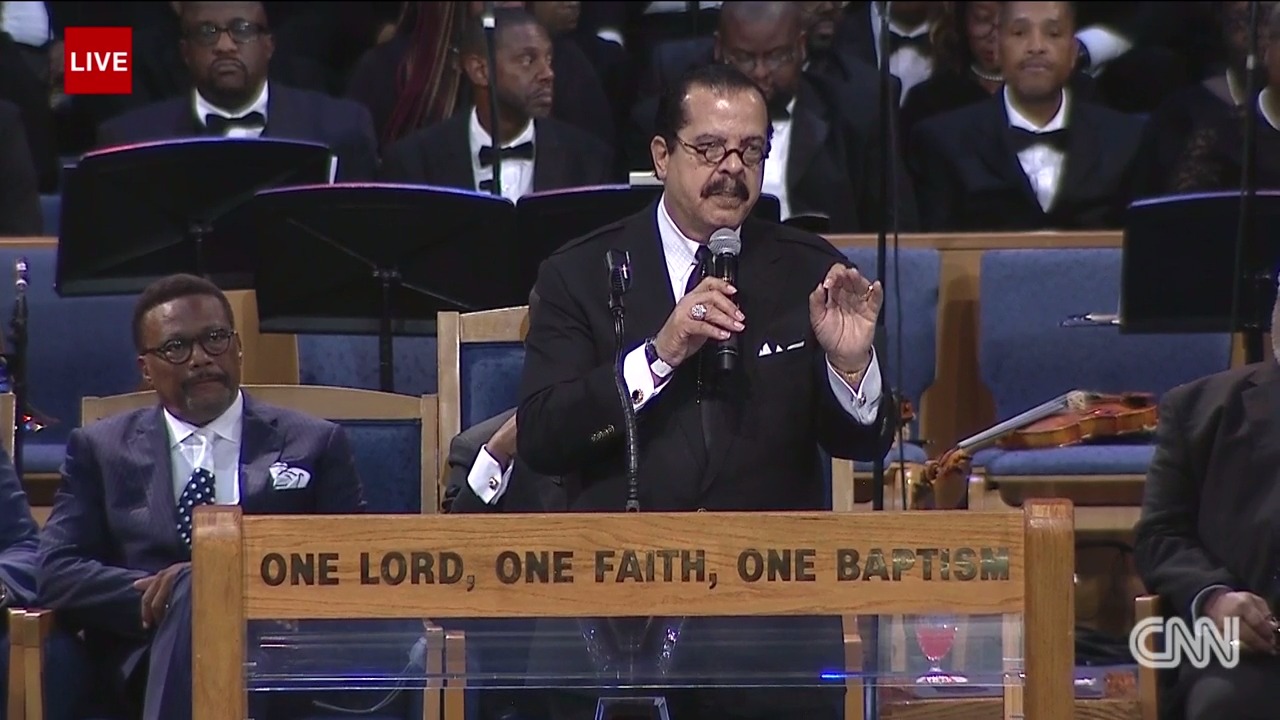 Rev. James Holley, retired pastor of New Light Missionary Baptist Church, said during his eulogy that he was with Aretha Franklin at her bedside when she died, like he had done with other members of her family.
"I was with her when she passed. I'm a blessed man, because of my relationship with the family. I love me Aretha. I really loved me some Aretha, and Aretha loved her some Jim Holley.
2:33 p.m. ET, August 31, 2018
Bill Clinton ends Aretha Franklin tribute with his smartphone and a microphone
President Bill Clinton ended his remarks at Aretha Franklin's funeral by letting the singer speak for herself.
Clinton first praised the values and virtues Franklin lived by and said, "She cared about broken people."
He continued: "She cared about people who were disappointed. She cared about people who didn't succeed as much as she did."
Clinton then put his phone to the microphone and played Franklin's 1968 hit "Think," which features Franklin singing about freedom.
Watch: