Aretha Franklin's farewell and funeral
5:52 p.m. ET, August 31, 2018
Georgetown professor slams Trump: "She worked above you. She worked beyond you"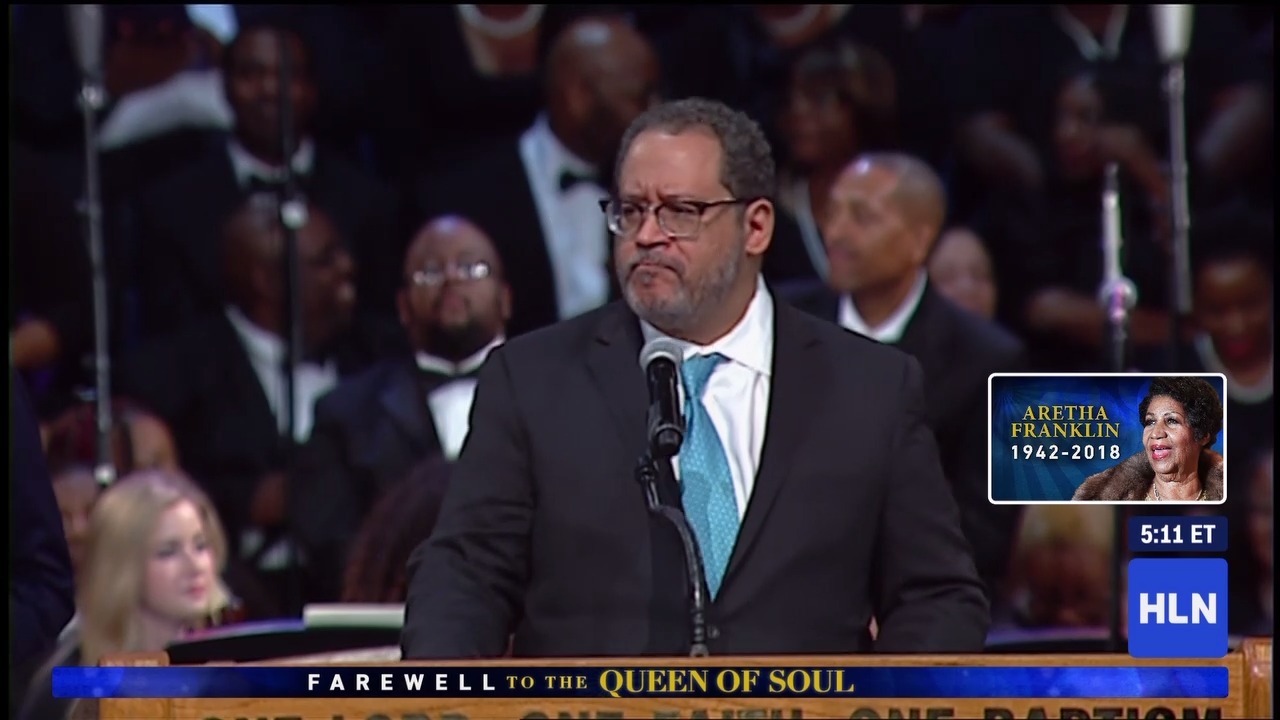 Michael Eric Dyson, professor of sociology at Georgetown University, sharply criticized President Trump over his comment that Aretha Franklin worked for him in the wake of her death.
This isn't the first time Trump got some flack over that remark today -- Rev. Al Sharpton did it too.
Speaking of President Trump, Dyson said, "this orange apparition had the nerve to say she worked for him. You lugubrious leech, you dopey doppelgänger of deceit and deviance, you lethal liar, you dimwitted dictator, you foolish fascist -- she ain't work for you. She worked above you. She worked beyond you. Get your preposition right."
Watch the moment:
5:45 p.m. ET, August 31, 2018
Jennifer Hudson belts out "Amazing Grace"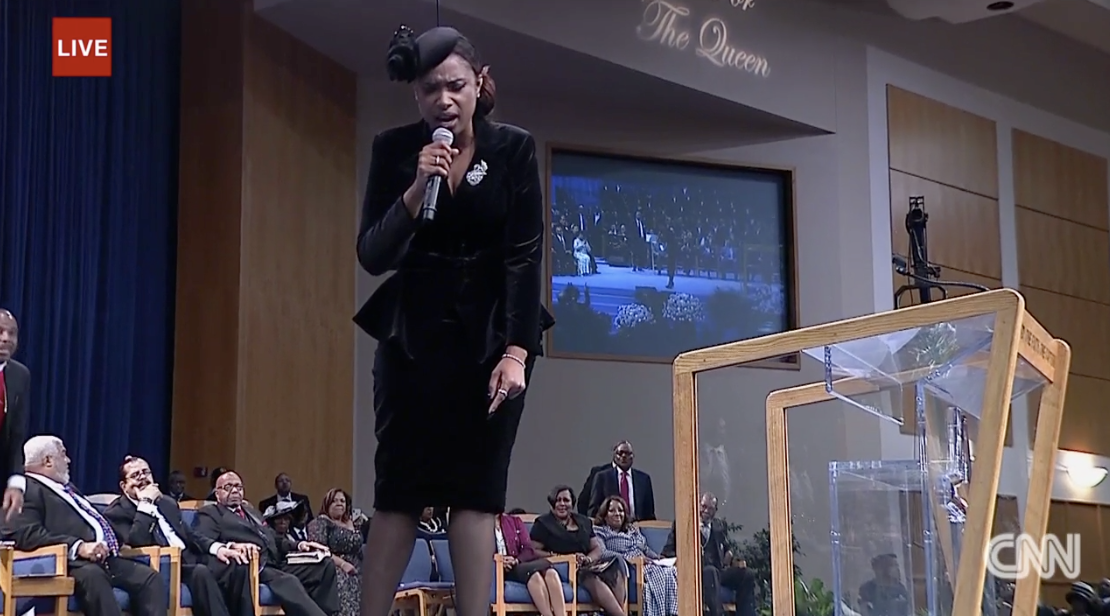 Two-time Grammy winner Jennifer Hudson paid tribute to Aretha Franklin with a stunning rendition of "Amazing Grace."
Her performance drew mourners to their feet, while others raised their arms in praise.
Watch:
4:55 p.m. ET, August 31, 2018
Isiah Thomas remembers how Aretha Franklin befriended his mom long before they met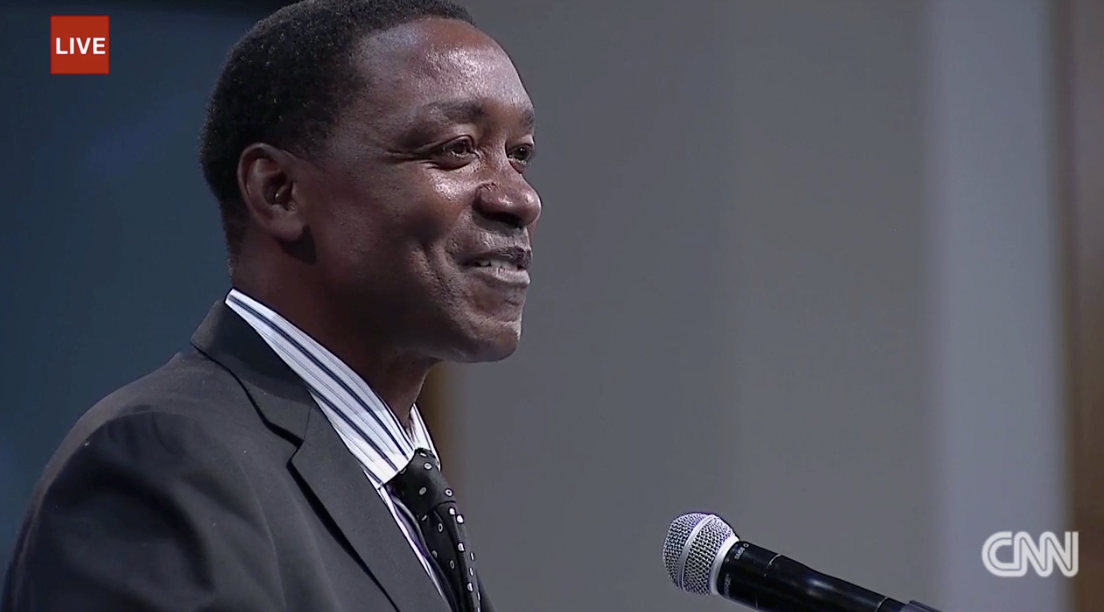 Isiah Thomas, a former NBA player with the Detroit Pistons and longtime friend of Aretha Franklin's, spoke of how she welcomed him to Detroit with open arms, taught him how to deal with celebrity, to pay his bills, and most of all, how she was always a strong, constant presence for his mother -- even before the two women met.
Growing up, "The music, 'I Say a Little Prayer for You,' meant a lot to us," Thomas said, telling a story how his mother would hum the lyrics in the kitchen while his father was out of a job.
Later, when Franklin would sit next to his mother at Pistons' games, Thomas would look up at them and "wonder if they knew how many nights they got my mom through and how many tears she shed listening to Aretha's music."
He added: "And to have my mom sitting right next to Aretha in the stadium was such a powerful and inspiring moment for me."
4:31 p.m. ET, August 31, 2018
Filmmaker Tyler Perry describes how his first conversation with Franklin went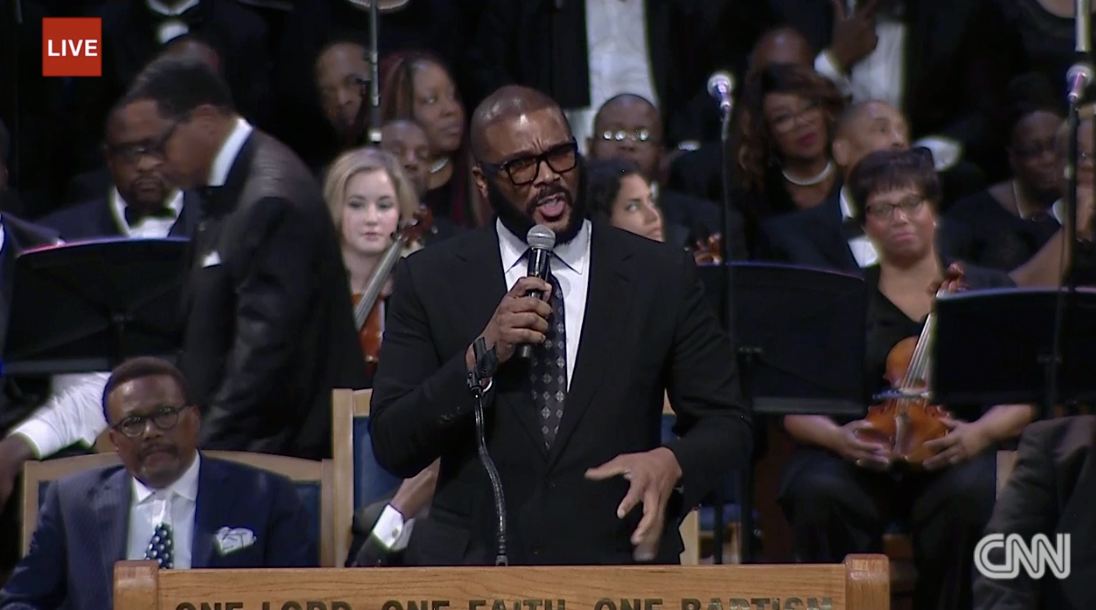 Actor and filmmaker Tyler Perry grew up listening to his mother blast Aretha Franklin's songs on the radio. Perry was able to gauge his mother's mood that day by the songs she played, he said.
Franklin had become a staple in his household, even though he had never met her. It came as a surprise one day when the music icon called him out of the blue.
He explained that Franklin introduced herself and said she loved Madea -- an elderly woman portrayed by Perry in a series of films and stage plays.
Perry then asked, "Well, you know she's not real, right?"
Franklin snapped back and said, "I don't care. I want to talk to her." So Perry responded in his Madea voice and said, "Hello."
Watch the moment:
4:32 p.m. ET, August 31, 2018
Fantasia kicks off her shoes and sings gospel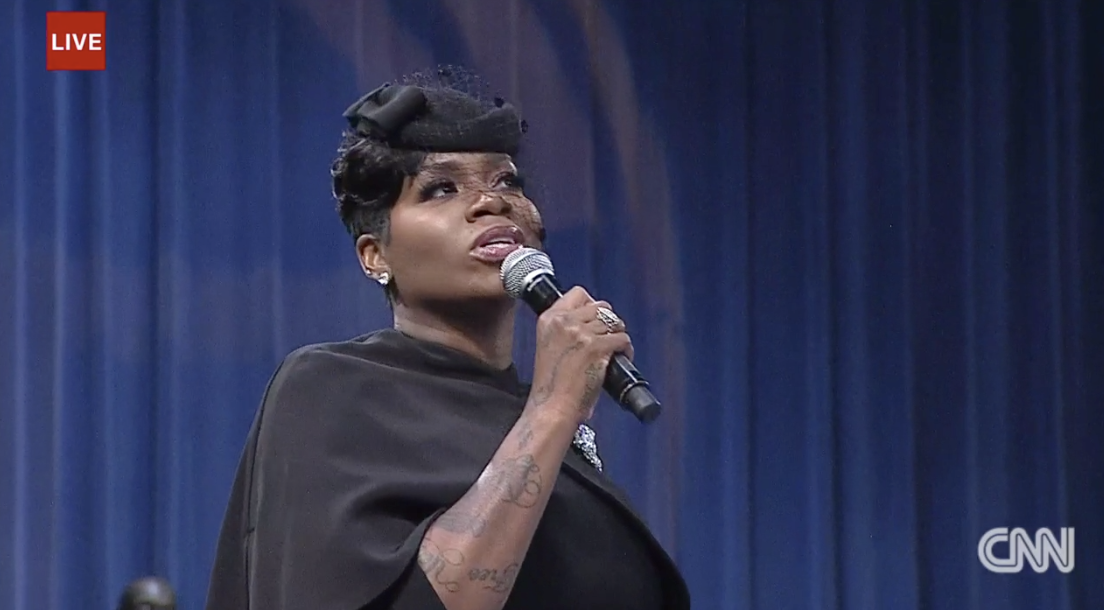 Fantasia Barrino-Taylor brought down the house with a powerful performance of "Precious Lord, Take My Hand." Franklin recorded a rendition of the song in 1956. It was said to be one of Martin Luther King Jr.'s favorite songs. She went on to lead the choir with a version of Carole King's 1971 hit "You've Got a Friend."
Before Barrino-Taylor began to sing, she said she wanted to take her shoes off and that she didn't think Franklin would mind.
Barrino-Taylor has been a fan of Franklin since she was a little girl and recently said that the first cassette she ever bought was of Aretha Franklin.
4:00 p.m. ET, August 31, 2018
Rev. Jesse Jackson recounts Aretha Franklin's rise out of the civil rights era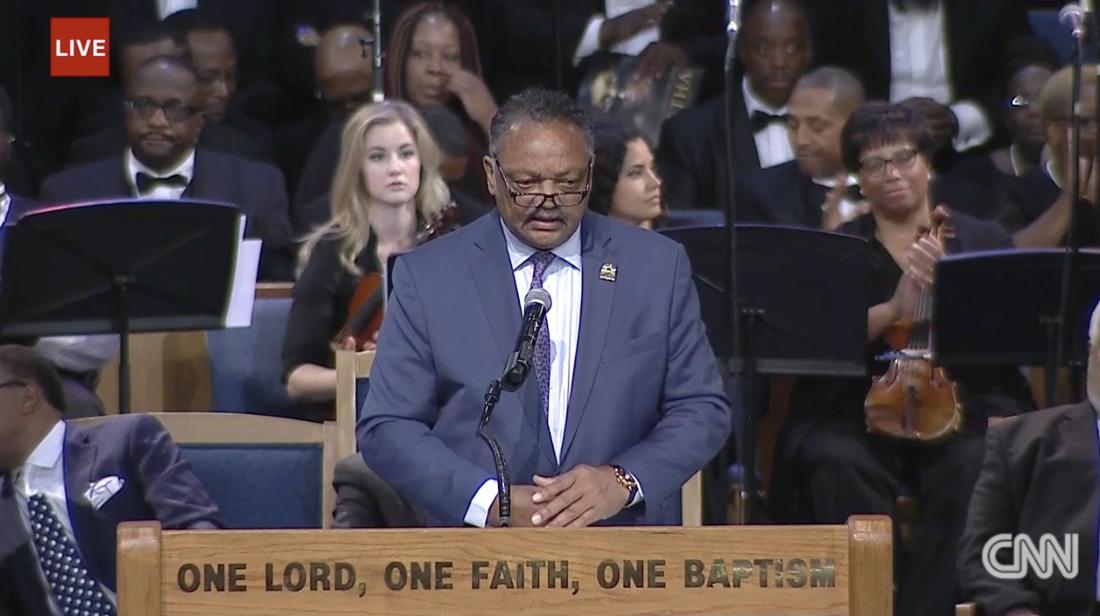 Rev. Jesse Jackson, a longtime friend of Aretha Franklin's, gave his much anticipated eulogy during her funeral service on Friday, in which he spoke of hearing her voice when she was just 14 and how he knew she had "perhaps the most remarkable voice that the world has ever heard."
Jackson, the civil rights icon, connected Franklin's rise to the South and the ugly racial history of America, and told how it informed her music and cemented her ties to her community.
"Aretha was our queen, she belonged and belongs to us," he said. And later, "Aretha came out of the bowels of our struggle."
Jackson also spoke about the importance of voting in elections, and said that if anyone left the sanctuary not registered to vote, "you will dishonor Aretha."
After all, Michigan was won by President Trump by just a few thousand votes, Jackson said, noting that 100,000 Detroit residents were unregistered.
"We have long lines to celebrate death and short lines for voting ... Long lines at the death of the icons and short lines for voting, something is missing."
Watch:
3:20 p.m. ET, August 31, 2018
Chaka Khan sings "I'm Going Up Yonder"
Chaka Khan was one of several high-profile performers who paid tribute to the "Queen of Soul" at her funeral.
Khan sang "I'm Going Up Yonder," originally sung by Tramaine Hawkins in 1994. Some of the lyrics include:
"I'm goin' up yonder/To be with my Lord/I can take the pain/The heartaches they bring/The comfort in knowing/I'll soon be gone."