Aretha Franklin's farewell and funeral
12:45 p.m. ET, August 31, 2018
Al Sharpton criticizes Trump for saying Franklin worked for him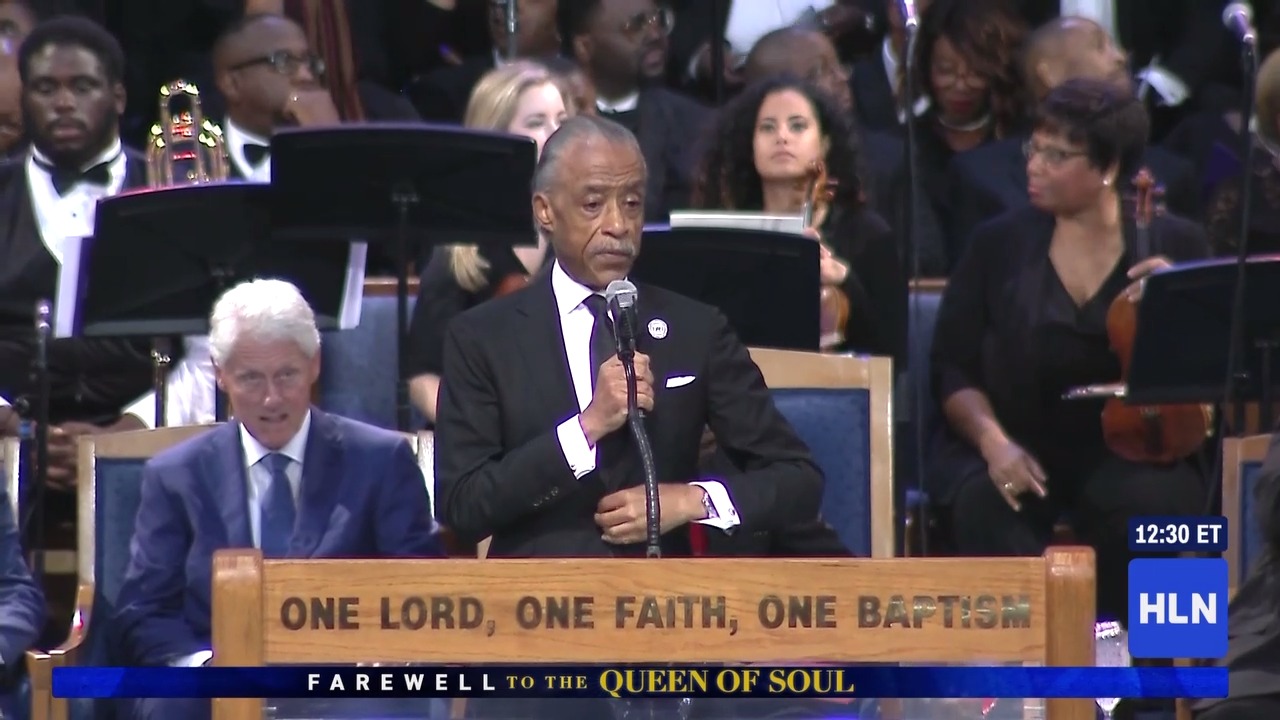 The Rev. Al Sharpton sharply criticized President Donald Trump at Aretha Franklin's funeral over something Trump said in the wake of the soul singer's death.
"You know, the other Sunday on my show, I misspelled "Respect" and a lot of y'all corrected me," Sharpton said. "Now I want y'all to help correct President Trump to teach him what it means. And I say that because when word went out that Ms. Franklin passed, Trump said, 'She used to work for me.' No, she used to perform for you. She worked for us," Sharpton said to loud applause.
What Trump said: "I want to begin today by expressing my condolences to the family of a person I knew well. She worked for me on numerous occasions. She was terrific — Aretha Franklin — on her passing."
12:37 p.m. ET, August 31, 2018
Ariana Grande performs Franklin's hit "Natural Woman"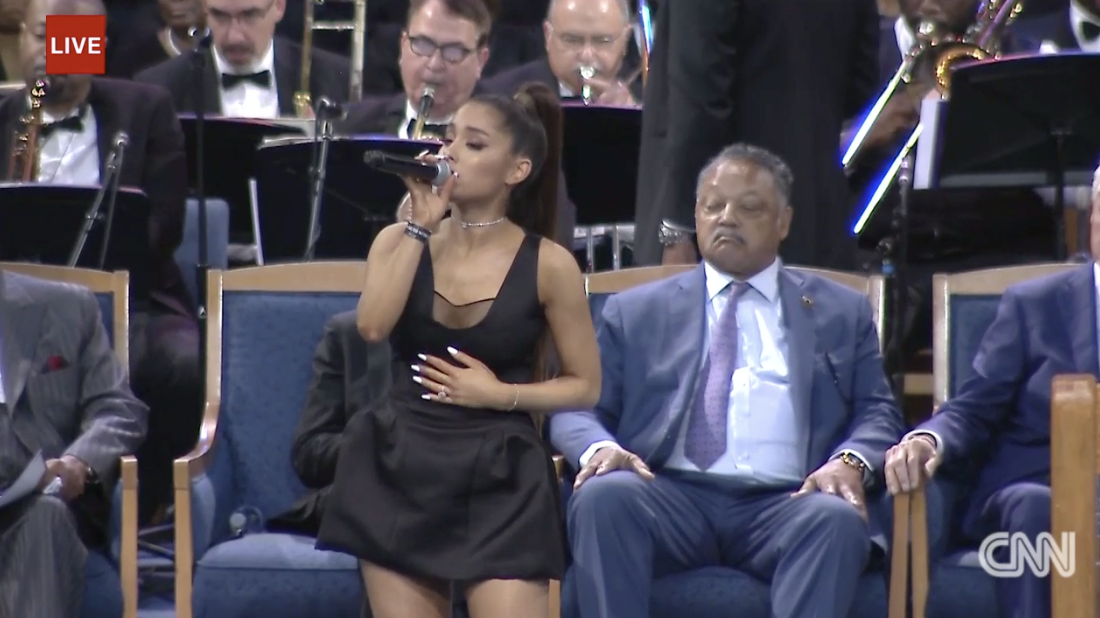 Pop singer Ariana Grande belted out Aretha Franklin's "Natural Woman" while on stage at the music legend's funeral.
Mourners stood from their seats to dance and sing along with Grande, as she glided across the stage. Grande was a last-minute addition to the long list of superstar singers set to perform today.
Watch the moment:
12:17 p.m. ET, August 31, 2018
Detroit mayor says city will name a park after Aretha Franklin
Detroit Mayor Mike Duggan wants to rename Chene Park after music legend Aretha Franklin.
Duggan said he is sending a proposal to Detroit's city council on Tuesday to rename the waterfront park after the "Queen of Soul."
"Our beautiful waterfront jewel will be Aretha Franklin park and when performers from generations to come from around the world come here they will be reminded they are performing at the home of the "Queen of Soul," he said.
Detroit City Council President Brenda Jones then took the mic and said a resolution would be passed tomorrow and a law would follow to ensure the park would forever remain Aretha Franklin Park.
12:05 p.m. ET, August 31, 2018
Faith Hill performs at Aretha Franklin's funeral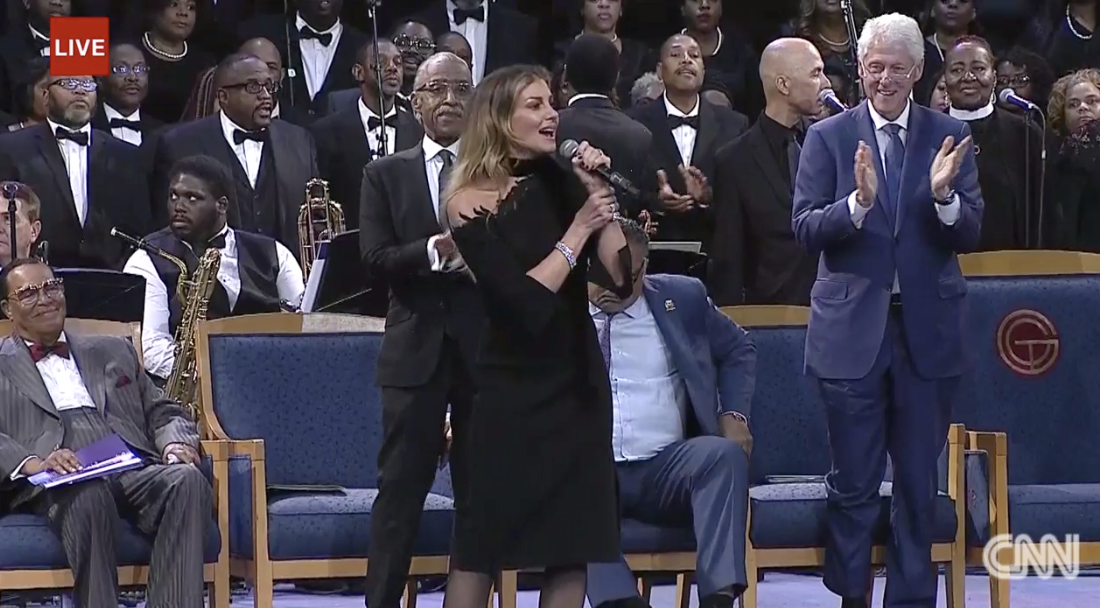 Faith Hill was the first celebrity performer to sing during Aretha Franklin's funeral at Greater Grace Temple.
Hill performed "What a Friend We Have in Jesus."
Hill and her husband, Tim McGraw, were known to perform Franklin's hit duet with George Michael, "I Knew You Were Waiting (For Me)," during many of their concerts.
Following Franklin's death, Hill took to social media to say, "The choir of angels now have the greatest voice of all time to lead, praise and join in to sing before Jesus."
12:03 p.m. ET, August 31, 2018
"She was first Detroit's, then America's," pastor says
E.L. Branch, pastor of the Third New Hope Church, paid tribute to Aretha Franklin with a stirring prayer of comfort.
"She was first Detroit's, then America's, then the world's, thank you lord for Aretha," he said.
Franklin's music, he said, "captivated our minds and hearts with rapturous rhythm and life-giving lyrics."
Branch described Franklin as a generous woman who fed the homeless and hungry.
11:50 a.m. ET, August 31, 2018
How Franklin's family is honoring her civic activism
Aretha Franklin's niece Sabrina Owens said she drew inspiration from the various parts of her aunt's life to aid in the planning for Franklin's funeral.
Franklin's songs and appearances with Martin Luther King Jr. helped to make her one of the faces of the Civil Rights Movement and her niece said she thought of Detroit's first black mayor, Coleman A. Young, and civil rights icon Rosa Parks' services when she decided to have Franklin lie in repose at the Charles H. Wright Museum of African American History.
A tribute concert that was held Thursday celebrated her dedication to the industry she inhabited for more than six decades, and Owens said the funeral service itself will pay homage to Franklin's gospel roots and her love of church.
So how are they holding it all together and getting it all done? Owens said it's all come together with a bit of divine assistance.
"We are being guided by the hand of God," Owens said. "Guided by God and by Aretha Franklin."
12:05 p.m. ET, August 31, 2018
Aretha Franklin's funeral has officially begun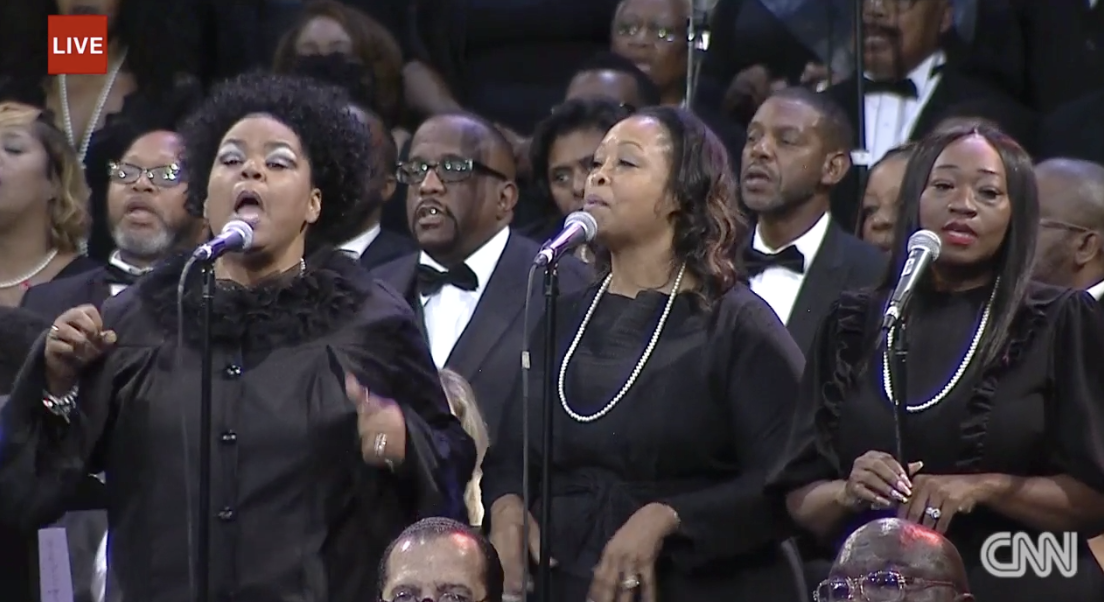 The funeral for Aretha Franklin began around 10:40 a.m. ET. An uplifting musical tribute by the "Aretha Franklin Celebration Choir" kicked things off and received a standing ovation.
A few moments later a procession of members of the Detroit Police Force, clergy and family members made their way down the center aisle of Detroit's Greater Grace Temple towards Franklin's open casket.
The Rev. Al Sharpton, Jesse Jackson and former President Bill Clinton are among those sitting on the stage. Each of them are expected to speak during the service.
10:41 a.m. ET, August 31, 2018
The Welsh Guard pays tribute to the "Queen of Soul"
The Band of the Welsh Guards, famous for their red tunics and bearskin, performed a tribute to Aretha Franklin during the Changing of the Guard ceremony at Buckingham Palace this morning.
Tourists flocking to the iconic London location were treated to a version of the 1967 Aretha Franklin hit "Respect."
Watch:
10:22 a.m. ET, August 31, 2018
Aretha Franklin's funeral dress is gold
Aretha Franklin is wearing a long sequin gold gown and gold high-heels to match her gold casket for today's funeral service at the Greater Grace Temple.