Remembering Aretha Franklin
4:46 p.m. ET, August 16, 2018
Looking back at Aretha Franklin's life and career
Aretha Franklin, whose gospel-rooted singing and bluesy yet expansive delivery earned her the title "the Queen of Soul," died this morning in her Detroit, Michigan, home. She was 76.
We're wrapping up our live coverage, but if you're looking for more on Franklin's life and career, you can...
4:08 p.m. ET, August 16, 2018
3 Aretha Franklin fans explain what she means to them
Fans have gathered at Aretha Franklin's star at the Hollywood Walk of Fame to pay their respects to the singer. A memorial is growing at the star, with mourners placing flowers and photos near it.
CNN talked to some of those fans, and what Franklin means to them:
Reesha Archibald: "I think she left a strong legacy of really being a real musician … and she's an activist, too, so I think she left a legacy of using your platform for good, using your platform for touching people … and I'm just so blessed to be able to have lived while she lived."
Alphonso Buie: "She talks about what's going on in the times, whether it's civil rights or just about being a person trying to deal with life, love and happiness. I think she really relates to people on those levels. She sang about things that weren't necessarily popular. You weren't supposed to sing about heartbreak or being in love with someone who's in love with someone else ... I think that's how she's able to relate and span across different cultures … It's a beautiful thing — music — I think it's the universal language and that's how she's able to relate."
Lois (who did not give her last name): "Her voice just touched everybody. When I think about it, I get chills on my arms. And her song 'A Natural Woman' — that's exactly what she was."
3:57 p.m. ET, August 16, 2018
U2 says "thank you" to the Queen of Soul
Irish rock band U2 took to Twitter to pay tribute to Aretha Franklin, hours after the iconic singer's death.
"R.E.S.T.I.N, civil rights activist, Queen of Soul, thank you from Bono, The Edge, Larry and Adam," U2 tweeted. 
3:16 p.m. ET, August 16, 2018
Gospel singer CeCe Winans: "There will never be another Aretha Franklin"
Gospel singer CeCe Winans remembered music legend Aretha Franklin's dedication to Detroit and her roots in church music.
In a statement, Winans said Franklin "left a mark that cannot be erased."
Read her statement:
"There will never be another Aretha Franklin. Her imprint on the music culture has left a mark that cannot be erased. With all of her success she never forgot Detroit or her roots in the church and gospel music. Many have stood on her shoulders and the entertainment world owes a lot to this incredible gift. My prayers are with the family!"
3:10 p.m. ET, August 16, 2018
12 things you need to know about Aretha Franklin
Music legend Aretha Franklin once entertained the idea of becoming a judge on "American Idol" and had her own record label.
Here are a few other things you might not have know about Franklin:
She had a four-octave vocal range.
The singer/songwriter was a self-taught pianist, who learned without knowing how to read music.
She sang her first solo at the New Bethel Baptist Church in Detroit in 1954.
Franklin was extremely private, she rarely discusses her personal life or her father's death. Her father was shot by burglars in 1979 and remained in a coma until his death in 1984. Rev. Jesse Jackson presided over his funeral.
Due to an in-flight turbulence incident in 1982, she has an extreme fear of flying.
Franklin performed at the inaugurations of three presidents: Jimmy Carter, Bill Clinton and Barack Obama.
Franklin, a high school dropout, has two honorary doctorates of music, from Berklee College of Music and Yale University.
She achieved a milestone in music history in 2015 by becoming the first female to earn her 100th hit on Billboard's Hot R&B song chart with "Rolling in the Deep (The Aretha Version)."
Franklin once substituted for an ailing Luciano Pavarotti at the 1998 Grammy Awards. She performed "Nessun Dorma" by Puccini, unrehearsed.
She appeared in "The Blues Brothers" and in the sequel "The Blues Brothers 2000."
Franklin sang "Amazing Grace" at the Festival of Families, one of the events sponsored by the Vatican for Pope Francis' visit to Philadelphia.
She announced last year that she was retiring from performing in concert after the release of one more album.
2:40 p.m. ET, August 16, 2018
Watch Aretha Franklin sing at President Obama's inauguration
Music legend Aretha Franklin's performance at former President Barack Obama's inauguration in January 2009 captured a historic moment in America — the US had just elected its first African-American president.
Franklin belted "My Country 'Tis of Thee" as Obama, his family and others watched.
While the performance riveted onlookers, Franklin later went on to tell then-CNN host Larry King that she was not pleased with her singing. She said the cold weather affected her voice.
"I was delighted and thrilled to be there. That was the most important thing, not so much the performance, but just to be there and to see this great man go into office — the promise of tomorrow coming to pass," she said at the time.
And about that hat: Franklin told King she got the bow-style hat at a millinery in Detroit.
Watch a portion of her performance:
2:05 p.m. ET, August 16, 2018
Fans lay flowers at Aretha Franklin's star in Hollywood
Fans flocked to the Hollywood Walk of Fame today to pay tribute to the late music legend Aretha Franklin.
Flowers, photographs and other mementos adorned Franklin's star in Hollywood, California.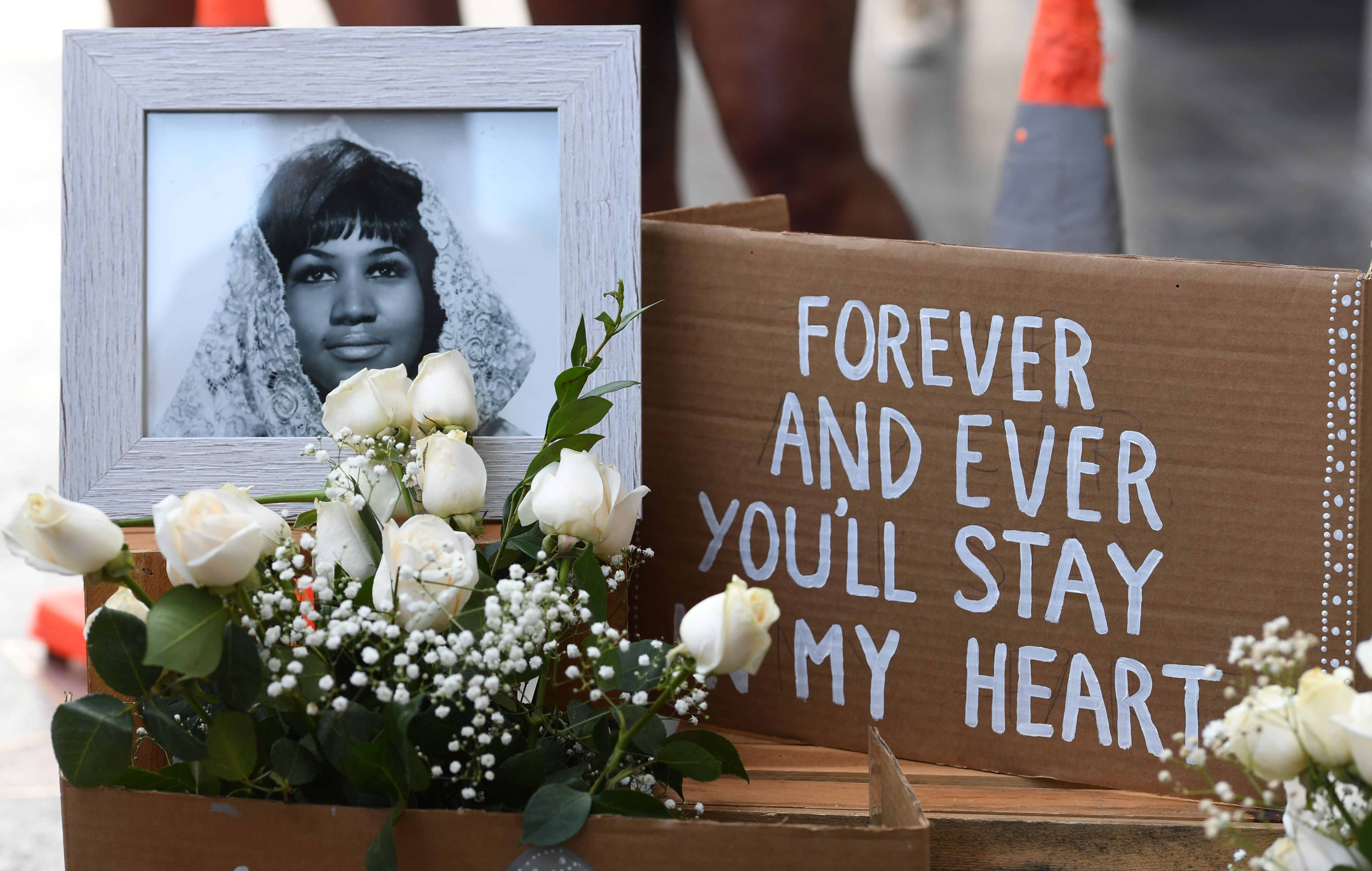 1:25 p.m. ET, August 16, 2018
She got the Presidential Medal of Freedom in 2005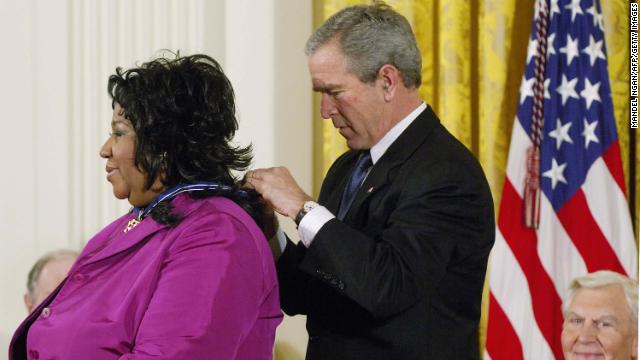 Aretha Franklin was awarded the Presidential Medal of Freedom by President George W. Bush in November 2005.
Here's how the Bush administration described Franklin's honor at the time:
"The Queen of Soul, Aretha Franklin has recorded more than 20 number-one singles and revolutionized American music. Her instantly recognizable voice has captivated listeners ever since she toured with her father's gospel revue in the 1950s. She is among our Nation's greatest musical artists and has captured the hearts of millions of Americans. The United States honors Aretha Franklin for her lifetime of achievement and for helping to shape our Nation's artistic and cultural heritage."
The legendary singer was also named a winner of the National Medal of Arts by the National Endowment for the Arts in September 1999.
1:13 p.m. ET, August 16, 2018
Oprah: "We'll miss you Queen"
Media mogul Oprah Winfrey paid tribute to legendary singer Aretha Franklin by sharing a photograph of the pair with the caption, "We'll miss you Queen."
The photo appeared to be taken on the set of her award-winning "The Oprah Winfrey Show."
Read Winfrey's tweet: