The 2019 Golden Globes Awards
10:04 p.m. ET, January 6, 2019
Christian Bale wins best actor, thanks "satan" for inspiration on playing Dick Cheney
Christian Bale, who played former Vice President Dick Cheney in "Vice," won best actor for his performance.
Bale thanked Adam McKay, the Oscar-winning screenwriter of "The Big Short," for hiring him for the part.
"He said, 'I've got to find someone who can be absolutely charisma-free and rivaled by everybody ... thank you for all the competition. I will be cornering the market on charisma-free (sic)," Bale said.
He then asked the audience, "What do you think, Mitch McConnell next? That could be good couldn't it?"
Bale went on to thank "satan," "for giving me inspiration on how to play this role."
"Vice" tells the story of how Cheney, in his role as vice president to George W. Bush (played by Sam Rockwell in the film), "became the most powerful man in the world" and reshaped "the country and the globe in ways that we still feel today," according to a description from the studio.
10:18 p.m. ET, January 6, 2019
What it's like backstage
Though you're watching the action on stage, there is a lot going on backstage. The official Globes account shared these photos of some of the winners and presenters.
10:08 p.m. ET, January 6, 2019
"Hot damn!" Patricia Clarkson won a Golden Globe
Patricia Clarkson snagged the best performance by an actress in a supporting role in a series, limited series or motion picture made for television for "Sharp Objects."
Clarkson took to the stage and uttered a "hot damn."
She thanked her parents, her co-star Amy Adams and especially her director.
"You demanded everything of me except for sex, which is exactly how it should be in our industry," Clarkson said.
10:07 p.m. ET, January 6, 2019
"Green Book" wins Mahershala Ali a Golden Globe
Mahershala Ali was awarded the best supporting actor in a motion picture award for his role in "Green Book."
He thanked Donald Shirley, the real life musician he portrayed in the film.
"I just want to thank him for his passion, his virtuosity, the dignity with which he carried himself that inspired me every day," Ali said.
The film also won for its screenplay.
9:58 p.m. ET, January 6, 2019
Sandra Oh just made history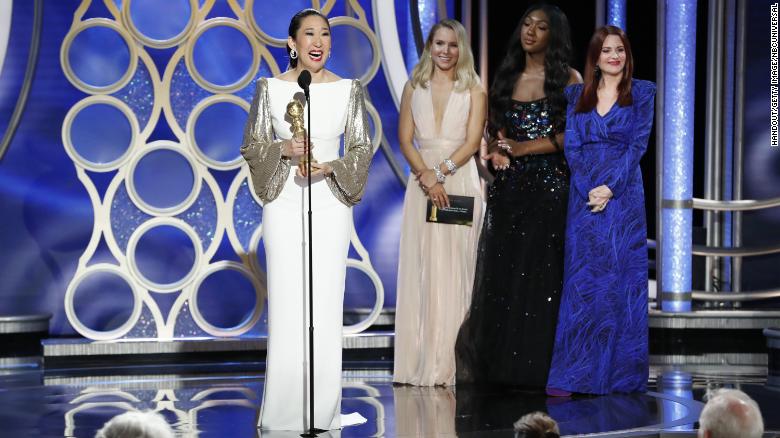 Sandra Oh, who is also hosting the Golden Globes, won for her performance in "Killing Eve," adding her name to Globes history.
Oh is the first Asian woman to host a major awards show and to win multiple Globes.
During her speech, she thanked her mother and father, who were both in the audience.
9:28 p.m. ET, January 6, 2019
Regina King has a challenge for Hollywood
"This is so fantastic."
Regina King was talking about her win for supporting actress in a motion picture for "If Beale Street Could Talk," but she could have been talking about her challenge to Hollywood.
For the next two years, she has vowed to only produce projects that employ 50 percent women.
It's an answer to the disparity the industry has seen with women not having as many opportunities as men, and she referenced "Times Up times 2."
Your move, Hollywood.
9:15 p.m. ET, January 6, 2019
Taylor Swift and Idris Elba was a lot of pretty on the stage
Can Taylor Swift act?
Asking for a friend because she and Idris Elba were looking mighty good together presenting at the Globes.
We are thinking Elba as James Bond and Swift as a Bond woman (we don't call them "Bond girls" anymore).
Oh, and they presented the best original score award to Justin Hurwitz for "First Man" and "Shallow" from "A Star is Born" for original song.
It seemed fitting that Lady Gaga would mention the struggle of women in music to be taken seriously as Swift has been highlighting that fight for years.
After the accolades, there was a proud dad moment as Elba introduced Miss Golden Globe 2019, his daughter Isan.