The 2019 Golden Globes Awards
10:39 p.m. ET, January 6, 2019
"The Kominsky Method" wins best comedy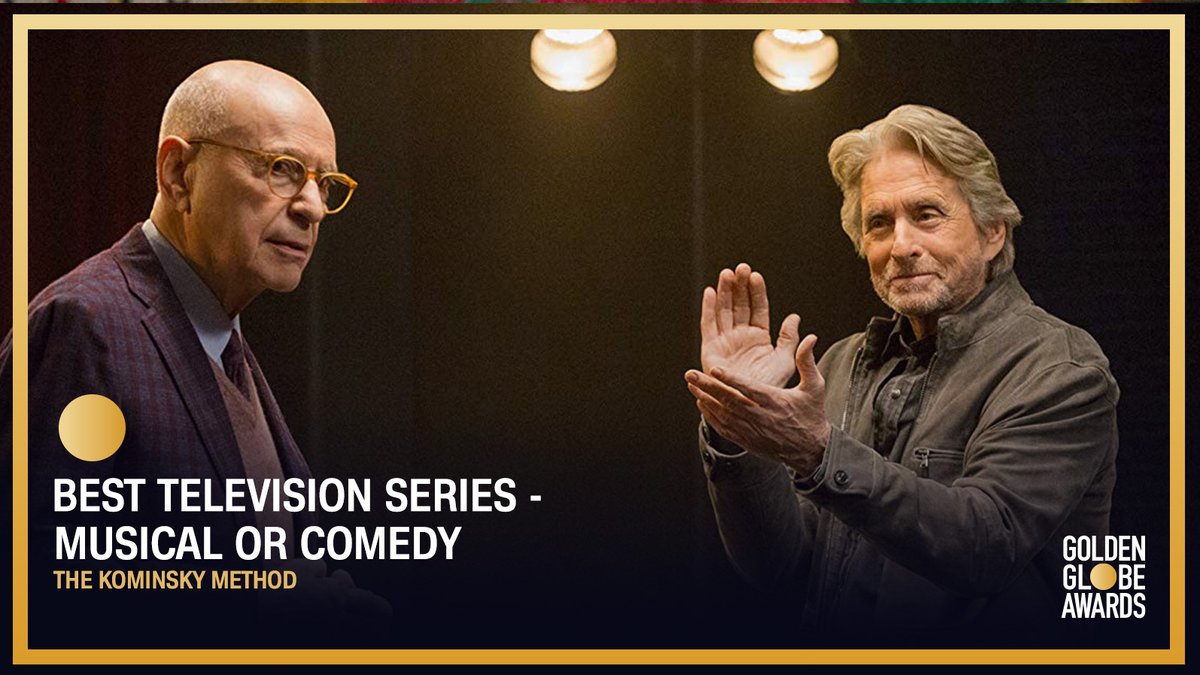 "The Kominsky Method" was awarded best TV series - musical or comedy.
Creator Chuck Lorre had to catch himself to correctly thank its producers, Warner Media, the new company now owned by AT&T.
We get it, Chuck, we work for them too. (CNN's parent company is also AT&T.)
Michael Douglas earlier won for best actor in a musical or comedy for his role on the show.
11:04 p.m. ET, January 6, 2019
Rachel Brosnahan takes home a Globe for "The Marvelous Mrs. Maisel" 
Actress Rachel Brosnahan nabbed a win for her performance in "The Marvelous Mrs. Maisel."
She thanked the "incredible village" it takes to produce the show.
"Our village is a matriarchy," Brosnahan said.
She celebrated that women hold leadership positions across the show.
10:24 p.m. ET, January 6, 2019
Twitter thirsty for the Fiji water woman
Quick, somebody get her a contract!
Twitter lit up Sunday night about the woman handing out Fiji Water on the Golden Globes red carpet.
At the very least she won for meme of the night after Twitter dubbed her "Fiji Water Girl" and couldn't stop talking about her standing there in the background, poised with bottles of water to quench the throats of the stars.
The true winner was probably Fiji Water, which was one of the sponsors of the night.
Seriously, whoever directed her to just stand there behind every celeb needs a raise.
Here's the thing though: How interesting is your awards show when one of the most exciting things is the person holding bottled water?
10:32 p.m. ET, January 6, 2019
Alfonso Cuarón wins best director for "Roma"
Alfonso Cuarón just won the best director category for his film "Roma."
Cuarón, who won a best director Oscar for "Gravity" in 2014, thanked the Hollywood Foreign Press Association, his partners and actresses Yalitza Aparicio and Marina de Tavira, who starred in the Netflix film.
He also paid tribute to his family and his home country, Mexico, for shaping and creating him.
"Muchas Gracias, Mexico," he said.
10:52 p.m. ET, January 6, 2019
Jeff Bridges receives one of the most coveted awards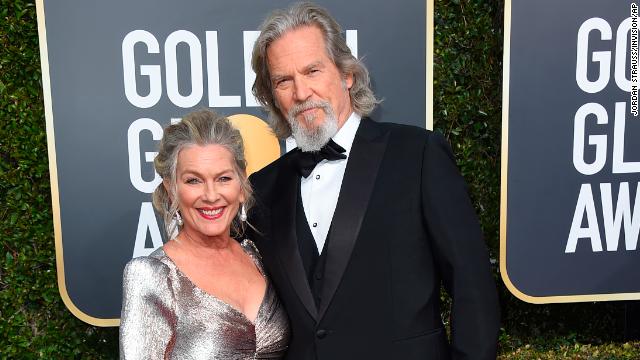 Jeff Bridges received the Cecil B. DeMille Award for his lifetime work and achievements. 
During his acceptance speech he thanked his late father, Lloyd Bridges, and pulled up his sleeve to reveal his cuff links.
"They were your dad's, too!" Bridges said.
Bridges, who has starred in films like "The Big Lebowski" and "True Grit," has received five Globe nominations. His first came in 1984 for "Starman," followed by nominations for his performances in "The Fisher King" and "The Contender."
Bridges won a Golden Globe for best actor in 2009 for "Crazy Heart." His fifth nomination came in 2016 for "Hell or High Water."
Previous honorees of the Cecil B. deMille Award include: George Clooney, Robert De Niro, Audrey Hepburn, Harrison Ford, Jodie Foster, Martin Scorsese, Steven Spielberg, Meryl Streep, Barbra Streisand, Denzel Washington and Oprah Winfrey.
10:26 p.m. ET, January 6, 2019
Darren Criss wins for "American Crime Story"
Darren Criss feels like he finally made the varsity.
He won for best performance by an actor in a series, limited series or motion picture made for television for "The Assassination of Gianni Versace: American Crime Story."
The former "Glee" star has been hailed for his performance as Andrew Cunanan, the man who killed famed designer Versace.
Criss thanked plenty of people, including his mom, "a firecracker of a Filipino," as he gave a nod to the importance of representation in Hollywood.
10:05 p.m. ET, January 6, 2019
Brava, "Roma"
Netflix's film "Roma" won for foreign language film.
Director Alfonso Cuarón accepted the award and shared a big hug with presenter Antonia Banderas.
"Gracia, familia. Gracias, Mexico," Cuarón said during his acceptance speech.
He won an Oscar for best director for "Gravity" in 2014.
10:04 p.m. ET, January 6, 2019
Christian Bale wins best actor, thanks "satan" for inspiration on playing Dick Cheney
Christian Bale, who played former Vice President Dick Cheney in "Vice," won best actor for his performance.
Bale thanked Adam McKay, the Oscar-winning screenwriter of "The Big Short," for hiring him for the part.
"He said, 'I've got to find someone who can be absolutely charisma-free and rivaled by everybody ... thank you for all the competition. I will be cornering the market on charisma-free (sic)," Bale said.
He then asked the audience, "What do you think, Mitch McConnell next? That could be good couldn't it?"
Bale went on to thank "satan," "for giving me inspiration on how to play this role."
"Vice" tells the story of how Cheney, in his role as vice president to George W. Bush (played by Sam Rockwell in the film), "became the most powerful man in the world" and reshaped "the country and the globe in ways that we still feel today," according to a description from the studio.
10:18 p.m. ET, January 6, 2019
What it's like backstage
Though you're watching the action on stage, there is a lot going on backstage. The official Globes account shared these photos of some of the winners and presenters.