Studio comedies are a dying breed.
It's not just comedies — mid-budget movies, things like courtroom dramas, horror movies, etc, have been on the decline for years, in favor of wide-appealing blockbusters like superhero movies and Christopher Nolan flicks.
It's a far cry from the 1990s, a decade many experts point to as the peak of the mid-budget film, when Hollywood studios were investing in all kinds of these genre films. Think of the most famous Black films or your favorite romantic comedy — many probably came from that decade.
Now, these movies still get made, they just tend to forego the traditional red carpet rollout in favor of quietly appearing on one of the myriad of streaming services fighting for our attention. Every so often, though, you want a bit of a blast from the past, a jolt of nostalgia in the midst of the constant onslaught of new content.
So settle into your comfiest chair and grab some popcorn. Here are our picks for the best comedies from one of the defining decades in American cinema.
'Home Alone' (1990)
This is a film that needs little introduction. Directed by Chris Columbus, who went on to direct "Mrs. Doubtfire," this film about a boy accidentally left behind while his family goes on Christmas vacation has become synonymous with the holiday season. But the beguilement it brings is a fun time year-round.
Macaulay Culkin, who plays Kevin, was just 10 years old when the movie was released and is a joy to watch as he runs around causing chaos. And the stunts featured in the movie are legendary, though Columbus later said they were nerve-racking to film, saying: "Every time the stunt guys did one of those stunts it wasn't funny. We'd watch it, and I would just pray that the guys were alive. And then they would get up and they were absolutely fine, and then we would watch the playback on video and then we were relaxed enough to laugh." Trust us, the film is worth revisiting — if only to make the stunt guys' sacrifices worth it.
'Sister Act' (1992)
"Sister Act" took the comedy world of the 1990s by storm, becoming one of the most financially successful comedy movies of the decade and inspiring a sequel, released the very next year. The film, featuring Whoopi Goldberg at her best, follows a lounge singer (Goldberg) who goes into witness protection at a convent. Of course, hilarity ensues.
At its core, though, the film is about how women care for each other. Just as the nuns work to protect Golderg's character from any trouble, she works to bring the nuns out of their shells and revitalize the church. "Sister Act" is the type of movie that does it all, leaving tears of laughter on your cheeks and a sense of warmth in your heart. Though it's been decades, a third movie is in production, a testament to the longevity of the movie's joyousness.
'My Cousin Vinny' (1992)
It's a courtroom drama meets comedy, with a dash of cultural clash. Two New Yorkers are arrested in Alabama for a murder they didn't commit. They call family for legal help, and end up turning to, well, Vinny, played by Joe Pesci, and his fiancée, played by Marissa Tomei (who later won an Oscar for her role).
This group of Italian Americans is pitted against the hyper-Southern atmosphere of rural Alabama. It's a classic formula, but it's a formula for a reason, one that's deftly delivered by the entire cast and crew. But the movie isn't only funny, it's meticulously authentic. Director Jonathan Lynn holds a law degree from Cambridge University, and legal experts have praised the film's accuracy. This is the rare educational comedic flick worth staying awake for.
'Mrs. Doubtfire' (1993)
After a divorce, an actor (Robin Williams) disguises himself as a nanny in order to spend more time with his kids. The story is a strange one, hence the initial mixed reviews at the time of its release, but the film has since grown to become a beloved classic. Williams' physical comedy was enough to carry this film to greatness, making more than $440 million worldwide and earning a spot on the American Film Institute's list of the 100 greatest comedies of all time.
'Dumb and Dumber' (1994)
Not many people would embark on a cross country road trip to return a suitcase full of money, but that's exactly what Jim Carrey's and Jeff Daniels' well-meaning but very, very dumb characters do in this movie.
The slapstick tendencies of the film may not work for everybody, but the charming performances by Carrey and Daniels are the fuel that keeps this comedy going. Though Roger Ebert gave the film a mixed review, he recalled a moment with a parakeet that made him "laugh so loudly I embarrassed myself." Every joke may not hit, but the ones that do will leave you holding your abdomen and gasping for air.
'Clerks' (1994)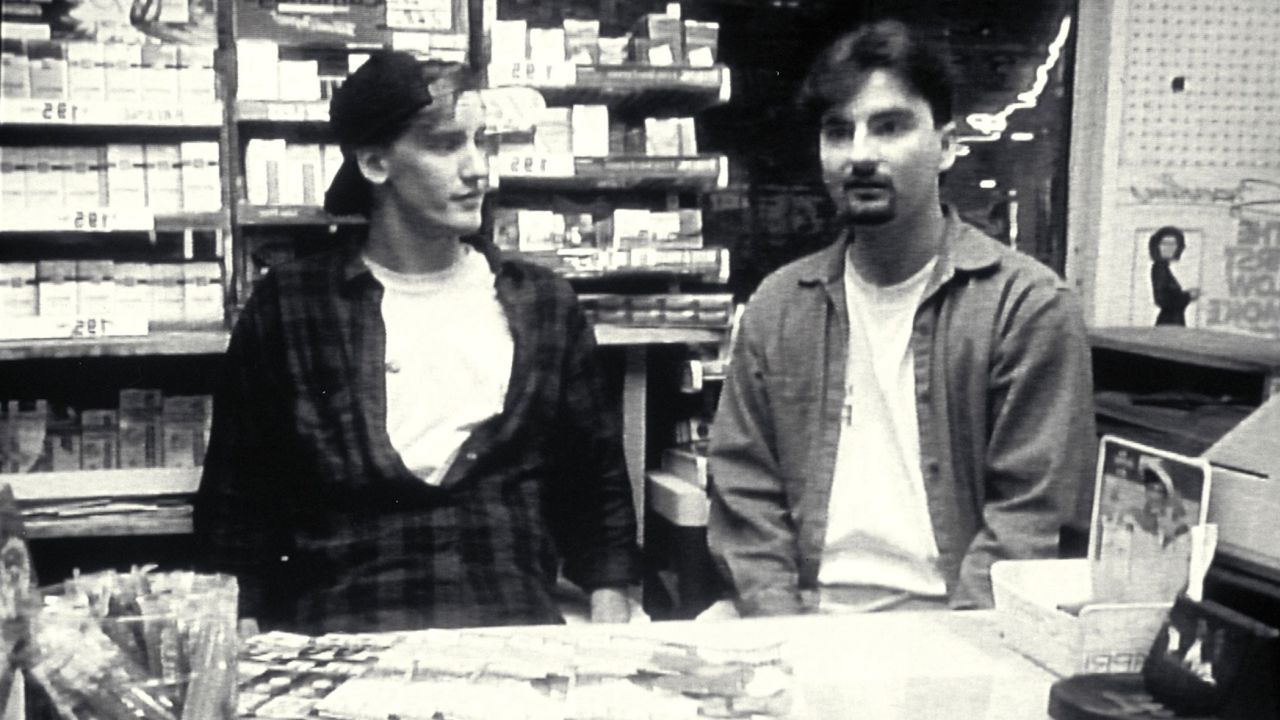 Kevin Smith may now be a household name in Hollywood, but in 1994 he was a broke 23-year-old with 10 maxed out credit cards, a sizable comic book collection, and a few donations from family members — all of which, once the comics were sold, added up to $27,575. This is how "Clerks" was born.
A movie about two convenience store clerks going about their day — chatting about their sex lives, dealing with customers and so on — "Clerks" developed a cult following, as many praised the movie's authentic depiction of early-20s malaise. The movie has no sex or violence, but its talk was enough to initially earn it an NC-17 rating, which was later reduced to R. Still, the film picked up awards at festivals like Cannes and Sundance. Rolling Stone called it "savvy, smartass and screamingly funny," and "the comedy event of the year for the slacker in all of us." Not a bad use of $27,575.
'Friday' (1995)
Like its title implies, "Friday" takes place over the course of a single day, during which two unemployed best friends in South Central Los Angeles try to repay a debt to their weed dealer. Chris Tucker and Ice Cube star in the film, and the result is one to remember.
Not only did this film's success inspire multiple sequels, its premise was groundbreaking at the time. Films set in South Central — like "Boyz n the Hood" and "Menace II Society," both released just a few years prior — were primarily tragically violent stories about life in the hood. "Friday" presents a more lighthearted side, offering a slice-of-life tale that relishes in the quirky idiosyncrasies of the neighborhood. "We were just like, 'Yo, we need to create something to show how the hood really is, from our vantage point.' That's how it started," Ice Cube, who also co-wrote "Friday," told Complex in an oral history of the project. Thank goodness they did.
'Clueless' (1995)
What is there to say about "Clueless," the 1995 adaptation of Jane Austen's "Emma," that hasn't already been said? This movie, a coming-of-age comedy about a wealthy high school student who decides to give a new student a makeover, was a sleeper hit upon its release, and it has gone on to become a cult classic, known for its quippy lines ("You're a virgin who can't drive!"), iconic fashion and heartwarming story.
With "Clueless," director Amy Heckerling, working in what was still a very male-dominated industry, set a sky-high standard for the genre, winning over even the most reluctant of viewers. Her story about teenage women rang authentic and true, and still continues to delight audiences.
'Romy and Michele's High School Reunion' (1997)
Buddy comedies were common when "Romy and Michele" came around, but the buddies were not often two blonde women in their late 20s, with the sole mission of inventing fake lives to impress their high school classmates at their 10-year reunion. "Romy and Michele," in that regard, was groundbreaking representation for air headed silly antics everywhere.
And that's what this movie is. Headed by Lisa Kudrow, of "Friends" fame, and Mira Sorvino, "Romy and Michele" brought a level of girliness to the testosterone-driven buddy comedies of the time. That isn't to say the film is all laughs, no substance. Both Kudrow and Sorvino imbue their characters with depth and intention, making their characters "both real and enormously sympathetic," according to a Los Angeles Times review of the film. Think of your favorite antics-driven female-led media, shows like "Two Broke Girls" and "Broad City," and movies like "Someone Great." They stand on Romy and Michele's shoulders.
'Good Burger' (1997)
Even those who have never seen the movie know its refrain: "Welcome to Good Burger, home of the Good Burger, can I take your order?"
The movie follows slacker high schooler Dexter Reed (played by a baby Kenan Thompson), who sees his summer vacation whisked away when he is forced into a summer job at a burger joint to pay for wrecking his teacher's car. The Nickelodeon movie, based on a recurring "All That" sketch, was not critically successful by any means, but it resonated with '90s kids everywhere. And sure, it may not be the best movie of all time, but it's a delicious helping of nostalgia served with a side of fries. What could be better than that?
'The Big Lebowski' (1998)
This delightful cult comedy about mistaken identity and a crime gone askew has all the makings of a good laugh.
Simmering with kooky characters, strange hallucinative sequences and surprising visuals (including one shot filmed from inside a rolling bowling ball), "The Big Lebowski" is the type of movie that keeps audiences guessing. The wild ride earned four out of four stars from critic Roger Ebert, and still today fans gather at Lebowski Fests across the US, dressed in costumes to celebrate the Coen brothers' film. The hype is worth it.
'Slums of Beverly Hills' (1998)
The title of the movie almost sounds like an oxymoron — does one of the ritziest neighborhoods in Los Angeles even have slums?
The answer, though, is yes, and Natasha Lyonne's character, teenage Vivian Abromowitz, and her family spend their lives traversing them for access to prestigious public schools. The movie, a coming-of-age film in unusual circumstances, may not have made much of an impact at the time of its release, but has since developed into a cult classic. And it's hilarious, with renowned comedic actor Alan Arkin playing the divorced patriarch and Marissa Tomei starring as a cousin who ran away from a drug rehab center. At the time, The Washington Post called it "engaging cranberry-juice cocktail of coming-of-age laughs and low-calorie pathos," which, if you ask us, sounds like the best type of concoction.
'Rush Hour' (1998)
Jackie Chan was already a star in Asia and had worked in Hollywood when he appeared alongside Chris Tucker in "Rush Hour," but the success of the movie — which grossed more than $240 million worldwide and spawned multiple sequels — helped his fame skyrocket throughout the globe.
Chan has, however, stated his distaste for aspects of the film. In 2002, he told the Los Angeles Times, "I don't like the way I speak English, and I don't know what Chris Tucker is saying," and went on to note that it's an "American-style" movie, with far fewer fight sequences than his Hong Kong films. Still, there's a reason why audiences flocked to the movie like bees to honey, and though some of the jokes don't hold up, Tucker and Chan still shine.
'But I'm a Cheerleader' (1999)
To put it bluntly, this movie was not well received during its initial release in the late '90s. Variety called it "shallow, only mildly entertaining," while the New York Times claimed it was too "campy."
But, as a story about a cheerleader who is forced to attend gay conversion camp and falls in love with a fellow camper, this film may have simply been ahead of its time. Now, the movie, starring Natasha Lyonne and directed by Jamie Babbit, is widely praised for its exploration of gender roles, heteronormativity and sexual identity, at a time when many teen comedies stayed far away from the topic. Its campiness is part of the fun — RuPaul's appearance as an "ex-gay" is sure to incite some giggles, if Lyonne's wide-eyed ogling of her fellow cheerleaders while making out with her boyfriend doesn't do the trick.
'Election' (1999)
Allegedly former President Barack Obama's favorite political movie, this film about a high school presidential election also perfectly satirizes our political system.
Reese Witherspoon plays an over-eager student, whose sole purpose is to seemingly win her high school's student body presidency. Then there's the person trying to stop her: Her nemesis teacher, played by Matthew Broderick, who believes Witherspoon's character isn't as noble as she'd like to seem. The fight between teacher and student would be enough, but the film goes deeper, analyzing the morality of everyone involved in the entire process. It's why The Washington Post called it "the satire of the season, a hilarious, razor-sharp indictment of the American Dream." That's quite a feat for a teen comedy.