Justice Department tells court Trump does not object to unsealing search warrant
Updated 3:40 PM ET, Fri Aug 12, 2022
Former President Donald Trump's legal team has agreed the historic search warrant that authorized the seizure of federal records from his home at Mar-a-Lago should be released. The Justice Department had told the court it believes that unsealing the confidential investigative documents is in the public interest. The DOJ said it supports releasing four documents: The search warrant itself, two attachments that describe at least to some extent what is being searched and why, and a receipt handed to Trump's legal team documenting what was seized from the property.  Remember: The magistrate judge overseeing the case will still need to formally order the unsealing before the documents are released. The National Archives pushed back Friday on former President Donald Trump's unsubstantiated claim that his predecessor, former President Barrack Obama, "kept 33 million pages of documents, much of them classified" upon leaving office.  "The National Archives and Records Administration (NARA) assumed exclusive legal and physical custody of Obama Presidential records when President Barack Obama left office in 2017, in accordance with the Presidential Records Act (PRA)," NARA said in a statement. "NARA moved approximately 30 million pages of unclassified records to a NARA facility in the Chicago area where they are maintained exclusively by NARA. Additionally, NARA maintains the classified Obama Presidential records in a NARA facility in the Washington, DC, area. As required by the PRA, former President Obama has no control over where and how NARA stores the Presidential records of his Administration," the statement from National Archives said.  Earlier Friday, Trump alleged that Obama not only kept classified records but that many of them are related to nuclear weapons. Trump made the claim after The Washington Post reported the FBI sought documents related to nuclear weapons when it searched his Mar-a-Lago residence this week.  The FBI recovered 11 sets of classified documents from its search of former President Donald Trump's Mar-a-Lago residence earlier this week, including some materials marked as "top secret/SCI," The Wall Street Journal reported on Friday. The newspaper reported that FBI agents removed about 20 boxes from Trump's resort and residence in Palm Beach, Florida, including binders, sets of classified government materials, photographs and at least one handwritten note. Federal agents reportedly seized one set of "top secret/SCI" documents — the highest level of classification. Agents took four sets of "top secret" documents, three sets of "secret" documents and three sets of "confidential" documents — the lowest level of classification, the Journal reported. It's not known what these classified documents were specifically about. Among the items taken from Trump's resort was a document about pardoning Roger Stone, a staunch Trump ally who was convicted in 2019 of lying to Congress during its probe of Russian interference in the 2016 election. Trump had pardoned Stone before leaving office, shielding Stone from a three-year prison term. It's unclear how the Stone-related document seized during the search is tied to the broader criminal probe into Trump's potential mishandling of classified materials. During the search, FBI agents also recovered a document about the "President of France," according to the WSJ report, which didn't provide other details about the document. Read more here. Former President Donald Trump is reportedly nearing a decision on when to announce a 2024 bid to return to the White House, but his legal troubles continue to build — not just with the recent FBI search at Mar-a-Lago. Multiple federal and state investigations are ongoing regarding the Jan. 6, 2021, attack on the US Capitol, his efforts to overturn the 2020 presidential election, his handling of confidential documents and his family business. Civil lawsuits accusing Trump of defamation and spurring on US Capitol rioters also remain on the docket. Aside from the the investigation into Trump's handling of White House documents, here's an updated list of other notable investigations and lawsuits he is facing: Jan. 6 and overturning the election: House select committee and Justice Department The House select committee investigating the US Capitol attack has uncovered dramatic evidence of Trump's actions before and on Jan. 6, especially efforts to use the levers of government to overturn the election. The Justice Department is watching —and has an investigation of its own — so while there's an outstanding question if the committee will recommend any charges for DOJ, it's not a requirement for the feds to act if the committee does make a referral. 2020 Election: Efforts to overturn Georgia results Fulton County, Georgia, District Attorney Fani Willis is overseeing a special grand jury investigating what Trump or his allies may have done in their efforts to overturn President Joe Biden's victory in Georgia. Willis, a Democrat, has informed all 16 of the individuals who signed an "unofficial electoral certificate," which was ultimately sent to the National Archives in late 2020, that they may be indicted in the probe. Trump Organization: New York Attorney General criminal and civil investigation Trump this week took the Fifth at his deposition in New York Attorney General Letitia James' investigation of his namesake business in response to hundreds of questions. The investigation is nearing the end and James' office said it needed to question the Trump family to determine who had responsibility for the financial statements at the center of the investigation. Donald Trump Jr. and Ivanka Trump also recently were deposed and did answer questions. Eric Trump was questioned in 2020 and declined to answer more than 500 questions. Keep reading here. The federal criminal investigation into former President Donald Trump's potential mishandling of classified documents ramped up this week in significant and unprecedented fashion, with the FBI executing a search warrant at Trump's home at his Mar-a-Lago resort. The Justice Department inquiry is about documents that Trump removed from the White House as his term was ending in January 2021. Earlier this year, officials from the National Archives and Records Administration, known as NARA, recovered 15 boxes of presidential documents from Mar-a-Lago. Trump's lawyers previously worked with NARA to voluntarily turn over some documents, but the Mar-a-Lago search clearly indicates a new phase of the probe. Trump has denied all wrongdoing and claims the investigation is a politically motivated sham, intended to derail his potential bid to return to the White House. Here's a timeline of the key moments from the investigation: May 2021: An official from NARA contacts Trump's team after realizing that several important documents weren't handed over before Trump left the White House. In hopes of locating the missing items, NARA lawyer Gary Stern reaches out to someone who served in the White House counsel's office under Trump who was the point of contact for record-keeping matters. The missing documents include some of Trump's correspondence with North Korean leader Kim Jong Un, as well as the map of Hurricane Dorian that Trump infamously altered with a Sharpie pen. Fall 2021: NARA grows frustrated with the slow pace of document turnover after several months of conversations with the Trump team. Stern reaches out to another Trump attorney to intervene. The archivist asks about several boxes of records that were apparently taken to Mar-a-Lago during Trump's relocation to Florida. NARA still doesn't receive the White House documents they are searching for. January 2022: After months of discussions with Trump's team, NARA retrieves 15 boxes of Trump White House records from Mar-a-Lago. NARA says in a statement that some of the records it received at the end of Trump's administration were "torn up by former President Trump," and that White House officials had to tape them back together. Not all the torn-up documents were reconstructed, NARA says. Feb. 9, 2022: News outlets, including CNN, report that NARA asked the Justice Department to investigate Trump's handling of White House records and whether he violated the Presidential Records Act and other laws related to classified information. The Presidential Records Act requires all records created by a sitting president to be turned over to the National Archives at the end of their administration. Feb. 18, 2022: NARA informs the Justice Department that some of the documents retrieved from Mar-a-Lago included classified material. NARA also tells the department that, despite being warned it was illegal, Trump tore up documents while he was president, and that senior officials in the Trump administration did not properly preserve their social media messages, draft tweets and deleted tweets. April and May 2022: On April 7, NARA publicly acknowledges for the first time that the Justice Department is involved, and news outlets report that prosecutors have launched a criminal probe into Trump's mishandling of classified documents. Around this time, FBI agents quietly interview Trump aides at Mar-a-Lago about the handling of presidential records as part of their widening investigation. May 12, 2022: News outlets report that investigators subpoenaed NARA for access to the classified documents retrieved from Mar-a-Lago. The subpoena, which is part of the process to allow investigators to take possession of the documents from the NARA, is the first public indication of the Justice Department using a grand jury in its investigation. June 3, 2022: Four investigators, including a top Justice Department counterintelligence official, visit Mar-a-Lago seeking more information about classified material that had been taken to Florida. The four investigators meet with two of Trump's attorneys, Christina Bobb and Evan Corcoran, and look around the basement room where the documents are being stored. Trump briefly stops by the meeting to say hello to the officials, but he does not answer any questions. June 8, 2022: Trump's attorneys receive a letter from federal investigators, asking them to further secure the room where documents are being stored. In response, Trump aides add a padlock to the room in the basement of Mar-a-Lago. Aug. 8, 2022: The FBI executes a search warrant at Mar-a-Lago — a major escalation of the classified documents investigation. The search focused on the area of the club where Trump's offices and personal quarters are located. Federal agents remove boxes of material from the property. The search was the first time in American history that a former president's home was searched as part of a criminal investigation. Aug. 11, 2022: After three days of silence, Attorney General Merrick Garland makes a brief public statement about the investigation. He reveals that he personally approved the decision to seek a search warrant, and pushes back against what he called "unfounded attacks on the professionalism of the FBI and Justice Department." Garland also announces that the Justice Department will ask a judge to unseal some of the search warrant documents. Trump says in a late-night post on his Truth Social platform that he will "not oppose the release of documents" related to the search. House Speaker Nancy Pelosi said Friday it is "important" to determine the seriousness of the documents that may have been taken by the FBI from former President Donald Trump's home in Mar-a-Lago, in the wake of The Washington Post reporting the classified nature of some of the materials. "I think what is important now is to know the seriousness of what these documents were about, alleged to be about. We don't know. Hopefully we'll see more but we don't want to see too much more because that might endanger our security," Pelosi said. "There are laws against the improper handling of this material. There are laws against that, and we have to recognize that. This information as it is coming across, and we'll know more later, is highly classified, well above top secret," she added.    The FBI search at Mar-a-Lago this week came months after federal investigators served an earlier grand jury subpoena and took away sensitive national security documents from former President Donald Trump's property during a June meeting, people familiar with the matter tell CNN. The speaker said that she hasn't been briefed at all on the Monday FBI search at Mar-a-Lago or the documents they recovered from the former President's residence.  "I don't know any more than is in the public domain," she said. "This isn't declassified. It's just improperly handled. Now what is it? We'll see. We'll see in the unsealing, and that may not tell us everything still, because of the serious nature of all of this."  When Pelosi was asked about threats against FBI and law enforcement after the search warrant was executed, she replied: "We need no more evidence than a presidential incitement of an insurrection on the Capitol to know about causing concern about the safety of members of Congress, of our Capitol, of our Constitution and of our law enforcement."  Here's what other Democrats are saying about the search: Praise for Garland and law enforcement: Rep. Adam Schiff, the House Intelligence Committee chairman, lauded Attorney General Merrick Garland's request to unseal the FBI search warrant used at Mar-a-Lago. "I'm glad that the attorney general is seeking to have the warrant disclosed, and it looks like that will happen now that the former President has raised no objections," the California Democrat told reporters. "Hopefully that will give the public a sense of why the Justice Department made the decision they did. I have great confidence that Garland considered all of the factors in making the decision." Schiff said that the committee will decide whether it will investigate the FBI's search of Mar-a-Lago. Maryland Democratic Rep. Jamie Raskin also voiced support for Attorney General Merrick Garland. "I have respect for the independence of the law enforcement function," Raskin said. "I have great respect for the Attorney General Merrick Garland, who was my constituent, and I don't heckle my constituents." Jan. 6 investigation: Raskin, a House Jan. 6 committee member, also said the committee would not likely seek anything from the Justice Department regarding the FBI's search of Mar-a-Lago.  "Yeah, I just don't know the answer that question. I guess I don't, I don't really see it." Raskin said. "Our charge under House Resolution 503 is to provide a comprehensive statement about what happened on Jan. 6. Positive-minded meant to make recommendations to fortify American democracy against coups, insurrections, political violence and efforts to usurp the will people." "We have enough concrete work ahead of us. You know, we don't need to multiply the hypotheticals," Raskin said.  House Minority Leader Kevin McCarthy called on Attorney General Merrick Garland to release more information beyond just the search warrant on Mar-a-Lago, but dodged questions about whether he thinks there's any circumstances in which the search would be justified.   "The one thing I will tell you, you know, you want to have confidence in your agencies and secrecy just undermines confidence," McCarthy told reporters. "For the attorney general to do this is unprecedented. What was the timing issue? Why was it needed at this moment? Why don't they release the subpoena? Why don't they release the documents?" McCarthy, who had just exited a meeting in his office with members of the House Freedom Caucus, said he has not spoken to former President Donald Trump since The Washington Post reported that the FBI was searching his home for sensitive nuclear documents.  When pressed on whether there was anything that would justify such a search, McCarthy said, "We'll see what it is."  It's a notably more muted response from McCarthy, who days earlier was openly threatening Garland with investigations and urging Republicans to be "loud" in speaking out against the FBI search.  McCarthy also dodged a question from CNN about whether he condemns his members who have attacked law enforcement and whether he has spoken to those members privately, saying, "Look, I support law enforcement. I condemn the Democrats for defunding the police."  McCarthy also told CNN he still believes Trump should wait until after the midterms to announce a presidential bid, but doesn't think the latest Trump controversy is going to overshadow the GOP's midterm messaging on inflation and the economy.  "No, it hasn't changed at all," he said of his thinking about the timing of a Trump announcement. "The No. 1 thing that he wants, and America wants, is to put this economy back on track." McCarthy also cast doubt on The Washington Post report about Trump being in possession of highly sensitive nuclear documents.  "Just from my own knowledge, being part of the Gang of Eight, if I'm in the SCIF, and I'm provided information, no information leaves there. It would seem very hard for me to think whatever information the President has sitting in the Oval Office or something else, is at the high level of what people are talking about," McCarthy said.  Ohio Rep. Mike Turner, the top Republican on the House Intelligence Committee, urged at a news conference on Friday that Attorney General Merrick Garland and FBI Director Christopher Wray explain "the imminent national security threat upon which they based their decision" to search former President Trump's Mar-a-Lago home and for more information regarding an informant that reportedly helped the FBI. "There were many other options available to them," Turner said. "We believe that after the release today that these questions will still remain unanswered." Turner praised Garland for requesting that the search warrant and property receipt from the search be unsealed, but he criticized the FBI's "method" in searching the former president's Florida home. "We're very concerned of the method that was used in raiding Mar-a-Largo in the nine hours that transpired while they were in the former president's home," said Turner. "We are glad that Attorney General Garland has begun the process of releasing some of the information to the American public." "But it will still leave many unanswered questions," he added. Turner said the Republicans would send a letter to Wray today asking about an informant who reportedly gave a tip to investigators about the possibility of additional classified documents at the Palm Beach club.  "We are also very concerned about the disturbing reports that there was an informant, perhaps somebody even undercover, at Mar-a-Lago or around former President Donald Trump," said Turner. "What is the relationship between the FBI and the person that has reportedly been utilized in this process?" Other Republicans on the House Intelligence Committee portrayed the news of the FBI search of Mar-a-Lago as the latest in a string of actions by the Justice Department targeting Trump and protecting Democrats. New York Rep. Elise Stefanik, a member of GOP leadership, called the Monday search "a complete abuse and overreach of its authority." "As the American people know, unfortunately, this is the same agency leadership that protected Hillary Clinton, James Comey and continues to protect Hunter Biden. The same agency leadership that perpetrated the false Russia hoax for years," she claimed. In response to a question from CNN's Daniella Diaz, Turner separated himself from Trump supporters calling to "defund the FBI." "We support our men and women in uniform who are in law enforcement," said Turner. "And we request that anybody who's made outrageous statements like that that you question them and not us." Asked if there's a situation that would warrant the FBI searching Trump's home, Turner said, "it would be very, very narrow of anything that just has the umbrella of nuclear weapons in it, that would rise to the level of an immediate national security threat." When pressed, Turner added, "There are a number of things that they could show us, and I don't want to speculate on what those would be, that would obviously rise to the level of maybe you didn't have any options. But I'd be very, very, very surprised as to what those are considering the breadth of what they could have done besides this, including going to court, trying to enforce the subpoena, demanding that the documents be produced in court." "It would be highly unusual for a President to have anything even in the Oval Office that rises to the level of imminent necessary threat," he added. Utah GOP Rep. Chris Stewart said the American people would wonder if the search was political in nature until the Justice Department released more information, pushing back on questions on whether it would be appropriate for the FBI to seize highly classified documents, even those related to nuclear weapons. "I think it's naive to assume that the American people would not wonder if it's political. Of course they're going to wonder that. Look what's happened over the last five years. And look at the premise of most of your questions," said Stewart. "'Was it nuclear?' Hey, heck maybe it was aliens," he added. "That's the point. We don't know. We're asking them to tell us. And until they tell us, then we're going to have questions like this. And the presumption is going to be that it is political. There's a way to de-politicize this. Give us the information." In addition, GOP Rep. Jim Jordan, the top Republican on the House Judiciary Committee, told reporters while entering the House chamber he believes Garland and Wray should address the search of Mar-a-Lago with lawmakers.  "Merrick Garland and Chris Wray should be in front of us today, we're all here. The Republicans on the Judiciary committee are here, why don't they come talk to us today?" Jordan said. US Attorney General Merrick Garland's Thursday announcement that the Justice Department has filed a request that the search warrant and property receipt from FBI's search of former President Donald Trump's Mar-a-Lago residence be unsealed is a neat gambit. Search warrants are generally kept under seal to protect the reputation of the person they apply to. But Trump himself broke news of the search, thereby shattering his own expectations of privacy, in order to orchestrate a political firestorm to discredit the investigation. And if Trump fought to keep the document sealed, he would look even more like he has something to hide. "This is a pro move," Phil Mudd, a former FBI and CIA official, said of Garland's actions. "This is not the movement of a pawn. This is a movement of something between a rook and a queen." If Trump decided to contest the unsealing of the warrant — a step that could neutralize GOP claims that the ex-President is a target of political victimization — his lawyers would have to explain why in court. The judge in the case, who has received death threats and abuse on social media from Trump supporters, could still decide to support the Justice Department's motion, even if the former President wants to keep the information secret. Garland's play is a clear attempt to push back on the fury from Republican officials over the unprecedented search warrant at the former President's home. Lawmakers, media pundits and Trump supporters have unleashed unhinged claims that the US is now nothing more than a police state, with a Gestapo-like secret police, and has descended into tyranny. Read more from CNN's Stephen Collinson here. US Attorney General Merrick Garland said the Justice Department has filed a motion requesting the search warrant and property receipt for former President Donald Trump's Mar-a-Lago property be unsealed. Trump and his legal team now have until 3 p.m. ET on Friday to respond. The news comes days after the FBI executed the search warrant as part of an investigation into the handling of presidential documents, some classified. Garland's remarks on Thursday follow days of silence from the Justice Department with regard to the search, as is the department's normal practice for ongoing investigations.  Some background on the investigation: The Justice Department inquiry is about documents that Trump removed from the White House as his term was ending in January 2021. Earlier this year, officials from the National Archives and Records Administration, known as NARA, recovered 15 boxes of presidential documents from Mar-a-Lago. Investigators subpoenaed NARA for access to the classified documents retrieved from the property in May 2022 and visited Trump's attorneys in June when they asked them to secure the room where the documents were. The search on Monday was an escalation of the investigation. Here's what else you need to know: About the warrant: Garland said the warrant for federal agents to search Trump's house was authorized by a federal court on Aug. 5 "upon the required finding of probable cause." He said copies of the warrant were given to Trump's attorneys who were at Mar-a-Lago when the search happened on Aug. 8. Garland's decision: The attorney general said he "personally approved" the decision to seek a warrant for the FBI to search Mar-a-Lago. He said the department "does not take such a decision lightly." What could be in the unsealed documents: CNN's legal analyst Elie Honig said the warrant typically will list logistical information: place to be searched, a general description of items to be searched for, the name of the judge, a deadline by which the DOJ has to execute the search. But it also sometimes has an attachment, which typically will list the laws that the DOJ has probable cause to believe were violated. The second document is the inventory or the receipt which describes the items that were removed. Violent rhetoric: In his remarks, Garland also addressed "unfounded attacks on the Justice Department agents and prosecutors," in the wake of the search in Florida and an attempted breach of the FBI's field office in Cincinnati on Thursday. FBI Director Christopher Wray sent a message to employees, saying their "safety and security" are a "primary concern." In the intensifying legal battle, former President Donald Trump has until 3 p.m. ET today to officially signal whether he will contest US Attorney General Merrick Garland's move to release FBI documents over the search of his Mar-a-Lago residence. In a statement on his Truth Social network late Thursday, Trump said he would not oppose the release of documents related to the "unAmerican, unwarranted and unnecessary raid and break-in" of his home. He did not say exactly which documents he would be ready to see released. The FBI search was legally authorized by a warrant approved by a judge who would have had to have found probable cause that a crime had been committed. Former President Donald Trump said in a late-night post on his Truth Social platform that he would not oppose the release of the documents related to the FBI search on his Mar-a-Lago home. "Not only will I not oppose the release of documents related to the unAmerican, unwarranted, and unnecessary raid and break-in of my home in Palm Beach, Florida, Mar-a-Lago, I am going a step further by ENCOURAGING the immediate release of those documents, even though they have been drawn up by radical left Democrats and possible future political opponents, who have a strong and powerful vested interest in attacking me," he wrote. The FBI sought to locate classified documents related to nuclear weapons, among other items, when agents searched former President Donald Trump's Mar-a-Lago resort in Palm Beach, Florida, this week, people familiar with the investigation told The Washington Post.   The people did not offer additional details to the Post about "what type of information the agents were seeking" or whether any such documents were recovered, according to the paper. The revelation adds key context to the Justice Department's extraordinary decision to search the home of a former president.  As CNN previously reported, the criminal investigation started with concerns about missing documents raised by the National Archives, which made a criminal referral to the Justice Department upon discovering highly sensitive documents among the materials retrieved from Mar-a-Lago in January. The 15 boxes contained some materials that were part of special access programs (SAP), a classification that includes protocols to significantly limit who would have access to the information, according to a source familiar with what the Archives discovered in the boxes. That led to FBI interviews with aides to grand jury subpoenas to this week's court-authorized search and seizure of documents.  Though Attorney General Merrick Garland has declined to share specific details about the search, he said Thursday that he "personally approved" the decision to seek a warrant for the search of Trump's Florida home.  Read more here.
READ MORE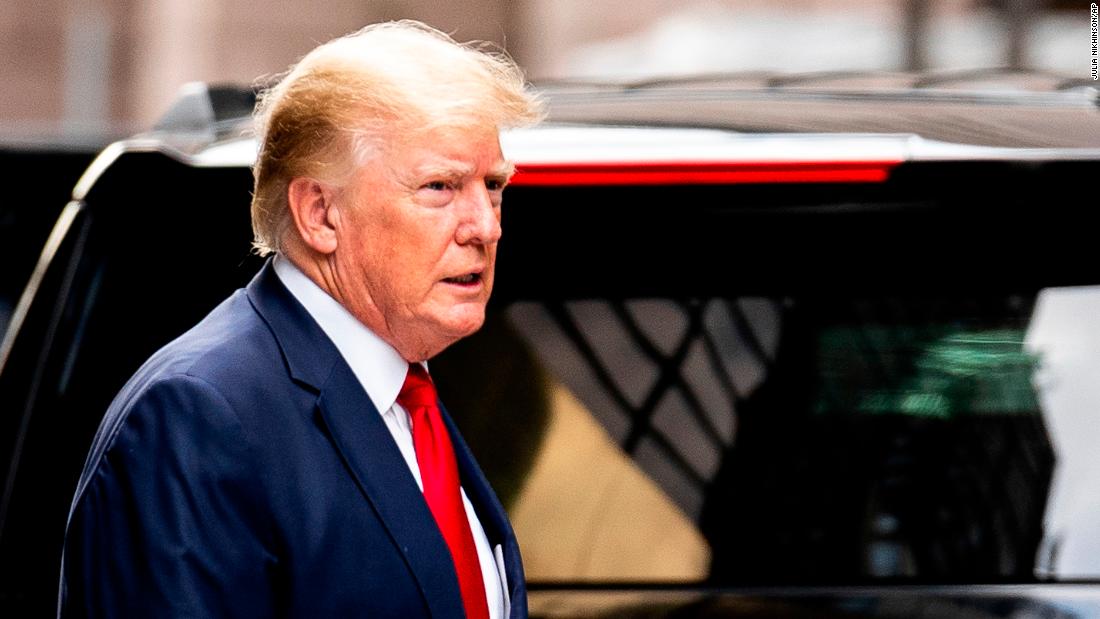 DOJ tells court Trump's legal team agrees to the release of Mar-a-Lago search warrant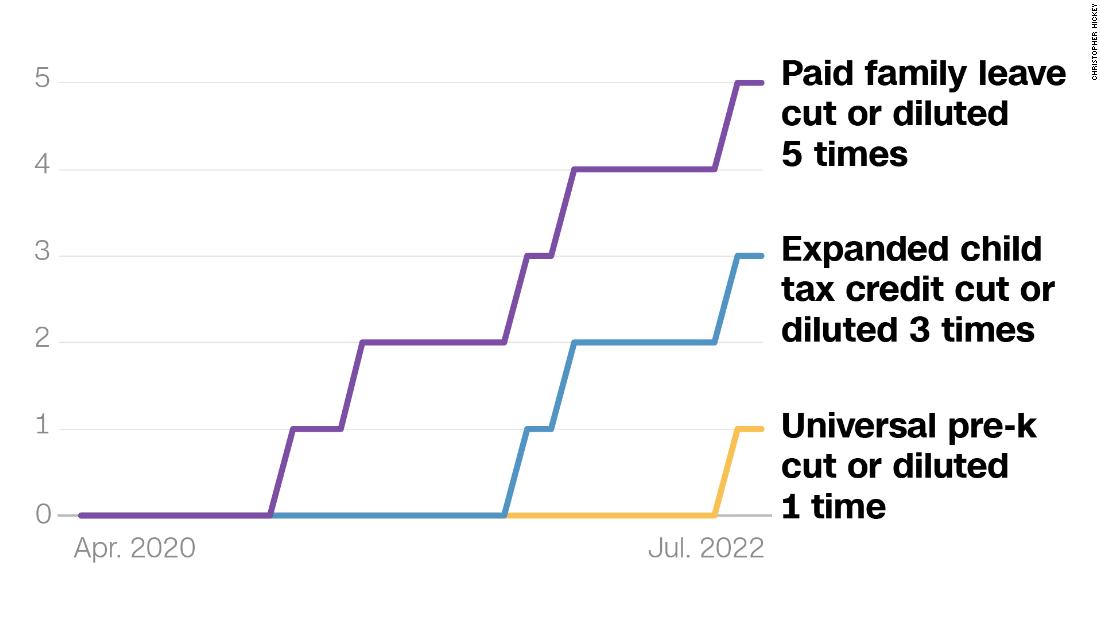 Not the year for women and parents: Child care provisions were cut from the Inflation Reduction Act. It's not the first time.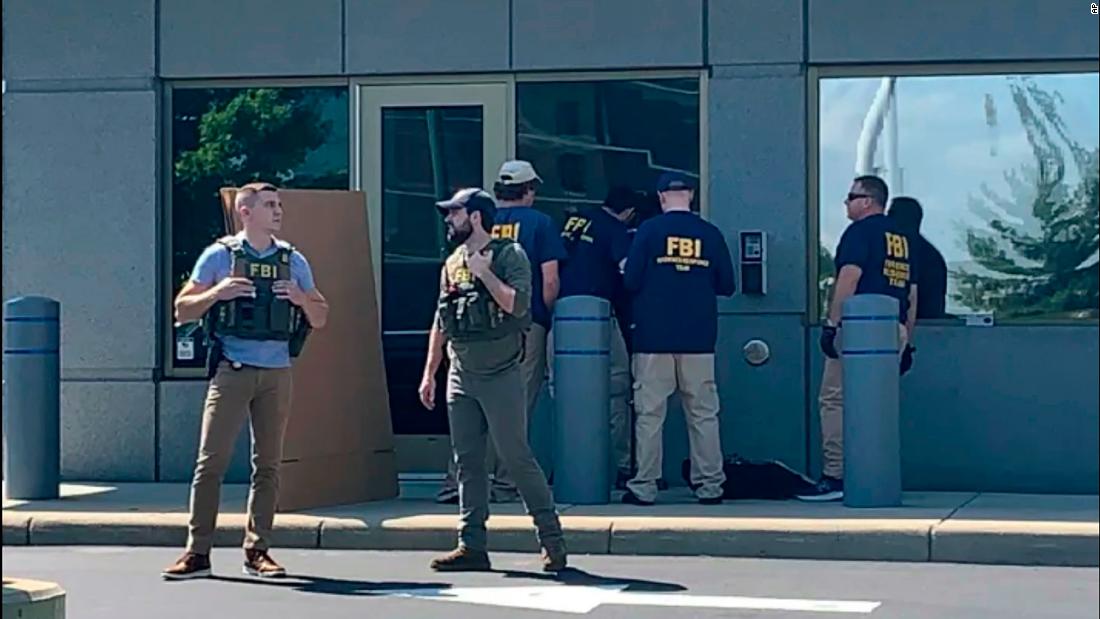 An armed man tried to enter the FBI's Cincinnati office and was fatally shot after a standoff with police. Here's what we know