You may be busy packing your bags for your next trip and daydreaming about oceanfront cocktails and catnaps in the sun. But your commitment to oral hygiene shouldn't go on vacation just because you're leaving home.
Thankfully, there are dozens of top-tier travel toothbrushes and toothbrush travel cases that will make maintaining your dental care on the go easier than ever. Before we dive into which are our favorites, let's take a look at what you should look for in the ideal toothbrush for traveling.
What to look for in a travel toothbrush
Size
Portability and size should play a major role in deciding what toothbrush is right for you. If you tend to throw a full-size travel cosmetic bag into your checked luggage, you can opt for a full-size toothbrush. But, if you pride yourself on just bringing a carry-on backpack with you when you travel, it might be better to go petite.
Foldable design
Speaking of petite, the ever-popular folding travel toothbrush is a fan favorite for a reason. The hinged design takes up half the space of a regular-size toothbrush without sacrificing ease of use when fully extended.
Manual vs. electric
If you already have an electric toothbrush at home, you might feel like a manual toothbrush just for travel feels like a downgrade. While electric toothbrushes are scientifically proven to better prevent tooth decay, if you're planning a long-haul adventure, it might be more reliable to go with something that doesn't require batteries or regular charging.
Dual voltage
That said, if you do opt for an electric toothbrush, it might be worth looking into one that offers dual voltage. With this functionality, you won't need to tie down a travel adapter or risk burning out your toothbrush when charging it abroad.
Antimicrobial
Shopping for a toothbrush with antimicrobial properties is key, especially if you tend to throw your toothbrush into the depths of your bag when commuting. Antimicrobial bristles hinder bacterial growth between uses, ensuring your mouth stays as healthy as possible.
Britsle type
Toothbrush bristles are available in soft, medium and hard varieties. Most people prefer a medium bristle variety, but if you tend to brush hard you might want to opt for a softer bristle to help protect your gums and enamel. Pay attention to the bristle type when picking out a new travel toothbrush.
Below, we've rounded up some of our favorite dentist-approved travel toothbrushes on the market right now that'll make maintaining your oral hygiene on the go easy and stress-free.
From antimicrobial designs that'll keep your mouth feeling fresh and clean to battery-powered devices designed for next-level cleaning and care, here's exactly where you'll want to be looking if you're hoping to upgrade your travel toothbrush.
Manual travel toothbrushes
$41.94 $32.67 at Amazon
The Tour Travel Brush by Radius is a well-loved manual option that is both made in the US and eco-conscious, thanks to the removable and replaceable brush head. The innovative brush also offers a sanitary "jackknife" design that allows you to stash the brush head directly into the handle, eliminating the need for a toothbrush travel holder altogether. The fan-bristled brush head is both wide-reaching and relatively soft, which will facilitate a whole-mouth clean without irritating gums or enamel.
$12.99 $9.99 at Amazon
Looking for an even more eco-friendly option? This set of bamboo and charcoal toothbrushes is made from sustainably sourced and biodegradable materials that are additive-, coloring- and BPA-free. The bamboo charcoal fiber bristles are soft and springy to use, and they actually work to polish and brighten your teeth. What's more is that this set of full-size toothbrushes also comes with a bamboo travel toothbrush case for easy transport.
 $5.49 $2.69 at Amazon
The Gum Travel Toothbrush looks like a regular drugstore-variety travel toothbrush on the surface, but at a closer glance, this antibacterial brush is one of the best compact travel options we've seen. The specially coated bristles help the brush stay clean and bacteria-free between brushes, while the built-in travel cap protects bristles from damage. And, at the low price point of $2.69 for two toothbrushes, this is the perfect option to stock up for all your future travels.
$14.99 $8.99 at Amazon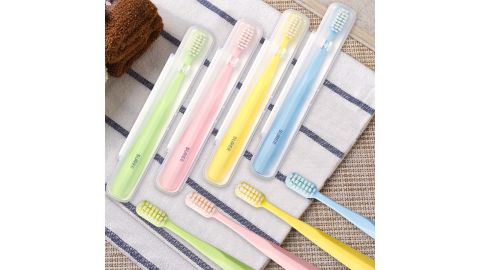 This extra-soft toothbrush set was crafted for sensitive teeth — and it also happens to be one of the cutest travel toothbrush options on this list. The extra-soft and fine bristles won't harm enamel or cause gum irritation but still ensure a whole-mouth clean, while the 22-hole design allows the brush head to dry out much faster than the average toothbrush, helping to keep it clean. The brush set of four comes in a variety of cute pastel colorways, and each brush comes with its own travel case.
$12.99 $8.97 at Amazon
This travel toothbrush might not look like the most compact option at first glance, but it can cut down your travel toiletry bag bulk in a major way. The three-in-one design allows you to load the hollow built-in tube with enough toothpaste to leave the full tube at home. Meanwhile, the built-in brush head case doubles as a fully extendable arm for comfortable brushing. The kit comes with an extra cleaning brush to clean the toothpaste tube after use.
Electric travel toothbrushes
We could all brush a little smarter — and the Colgate Hum Toothbrush is one of the easiest ways to learn to brush better. The innovative Bluetooth brush comes with a free mobile app that offers guidance and suggestions based on your existing brushing habits. The smart brush also comes with a compact — and quite stylish — toothbrush travel case so you can bring your team of virtual dentists on the road with you.
Looking for a toothbrush that combines both the effectiveness of an electric brush head and the convenience of being compact? The Quip Sonic Toothbrush is a winner in our books. This compact toothbrush offers a slim plastic handle and removable and replaceable brush head with a built-in tongue scraper for added effectiveness. It's operated by replaceable AAA batteries, which means you won't need to worry about carrying cords and power adapters with you. It also comes with a slim travel case that doubles as a mirror mount or stand.
It can be hard to find an electric toothbrush that'll hold up when traveling, but the Philips One Sonicare Rechargeable Toothbrush can last for up to 30 days on a single USB charge. The micro-vibrations and tapered bristles were designed for optimal oral health, but the compact shape and USB charger make it a clear winner when it comes to navigating international travel.
$49.95 $36.95 at Amazon
Featuring an industry-leading motor that produces more than 40,000 vibrations per minute, the AquaSonic Vibe Series was made for those who want next-level cleaning abilities for a fraction of the price of bigger brand-name brushes. The AquaSonic comes with an ultra-sleek and waterproof travel case — and, most importantly, it can run for a full month on a single charge. This set comes with a whopping eight brush heads, meaning you'll be well stocked on travel toothbrush essentials for years to come.
The Voom Sonic Go looks more like a sophisticated department store lipstick tube than a travel toothbrush — just look at the art deco-inspired turquoise blue and bright red colorways. The sleek design is only made better thanks to the dentist-recommended sonic cleaning technology and compact travel toothbrush case. It's AAA battery-operated, so no need to pack extra cords and power adapters with you when you're traveling internationally.
Looking for a travel credit card? Find out which cards CNN Underscored chose as our best travel credit cards of 2022.