CNN Underscored reviews financial products such as credit cards and bank accounts based on their overall value. We may receive a commission through the LendingTree affiliate network if you apply and are approved for a card, but our reporting is always independent and objective. Terms apply to American Express benefits and offers. Enrollment may be required for select American Express benefits and offers. Visit americanexpress.com to learn more.
Friends always ask me, "How do you constantly afford to travel with your family to some amazing destinations?" My husband and I explain to them that while we're not multi-millionaires, we are rich in another currency: travel rewards. Thanks to terrific sign-up bonuses and using the best credit card every time we make a purchase, I explain that just about anyone can embark on a family vacation nearly for free too.
My family of four recently traveled to Aruba for a full week in the sun over the December holidays. Our trip included a flight to Aruba with American Airlines, a flight home with Delta Air Lines, a five-night stay at the Hyatt Regency Aruba Resort Spa and Casino and a two-night stay at the Renaissance Wind Creek Aruba Resort. If we were to have paid cash, this seven-night trip would have cost us a grand total of $7,815. But, thanks to using travel rewards on the bulk of our trip, we were able to travel for just more than $200 out of pocket.
So how did we do it? And how can you accrue the necessary travel rewards to re-create a similar vacation? Here's everything you need to know.
Booking flights to and from Aruba
Flight to Aruba with American Airlines
While each airline's policy differs, many open their booking window a full 330 days in advance of travel. And if you're looking to travel around a busy time period, such as the holidays or spring break, booking as far in advance as possible is the best way to use the fewest number of points. And since many airlines allow you to cancel award reservations for no fee, there's often no harm in booking a flight even if your plans aren't yet concrete.
This is precisely what I did. The day flights became available for the dates we wanted to travel to Aruba, I booked our outbound flight with American Airlines. Although the flight times were less than desirable, it cost me only 11,000 AAdvantage miles, plus $15.60 per person. For a total of just 44,000 miles and $62.40, I was able to book my family of four to Aruba. These one-way flights would have otherwise cost us a total of $1,064 if we didn't use travel rewards, making our American Airlines miles worth over 2.2 cents apiece — a great redemption.
If you're planning on flying with American Airlines, you should start accruing miles within the American Airlines AAdvantage loyalty program. Thanks to airline credit cards, you can be on your way to earning free flights in no time. And fortunately, American Airlines offers many credit cards within its program to earn valuable miles.
For example, you can earn between 10,000 and 65,000 miles with several American Airlines-branded cards to get you started. With the Citi® / AAdvantage® Platinum Select® World Elite Mastercard®, you can earn 50,000 bonus miles after spending $2,500 within the first three months of account opening. Or, consider the Citi® / AAdvantage® Executive World Elite Mastercard®, which is offering 50,000 bonus miles after spending $5,000 within the first three months of account opening.
Additionally, if you have the Bilt Rewards credit card, you can transfer points earned at a 1-to-1 ratio to American Airlines. This is one of the few transferable programs that partners with American, making it a great option if you're looking for a flexible credit card. Bilt is also one of the best credit cards for paying rent.
Flights home from Aruba with Delta Air Lines
About four weeks prior to our vacation, Delta's nonstop flight home from Aruba dropped significantly in cost: 9,000 Delta SkyMiles, plus $73 in taxes and fees, or $160 per passenger. I opted for paying the $160 price per passenger since I had a $500 Delta voucher from a prior flight fiasco. This means I only spent a grand total of $140 for all four of us to fly home from Aruba — an absolute steal especially during such a busy time period.
If I didn't have the $500 Delta voucher, I still would have paid for the ticket, since redeeming Delta SkyMiles for this particular ticket wouldn't have been a great value. Because the taxes and fees alone were $73 per passenger, I would've spent 9,000 miles per person to ultimately save $87.
Another alternative would have been to use the Chase travel portal to book the flight and redeem Ultimate Rewards points earned from the Chase Sapphire Preferred® Card or Chase Sapphire Reserve® credit cards. With these credit cards, you can redeem points at a fixed rate where the points are worth between 1.25 and 1.5 cents apiece, depending on the card.
But if you find a flight where redeeming Delta miles is worthwhile, you'll find accruing Delta miles to be incredibly easy. With seven Delta-branded credit cards, you can accrue Delta SkyMiles in little to no time.
Additionally, Delta is a transfer partner of the American Express Membership Rewards program, which opens up even more opportunities to earn Delta miles. For example, once you earn the 60,000 points after spending $4,000 within the first six months of card membership with the American Express® Gold Card, these points can then be transferred directly to your Delta Sky Miles account at a 1-to-1 ratio.
Booking hotels in Aruba using travel rewards
5-night stay at the Hyatt Regency Aruba Resort Spa and Casino
My family has stayed at the Hyatt Regency Aruba in the past and we loved it, so there was no doubt in our mind that we wanted to stay at this property again. It's one of the more luxurious resorts on Palm Beach and features a three-tier pool complex, a two-story waterslide, a swim-up bar, complimentary beach palapas and numerous kids activities. But pricing can be through the roof and award availability can be tough to come by, so you need to be flexible and plan far in advance. Fortunately, I booked early and I was able to snag a five-night award stay at this property.
With the World of Hyatt award chart, point redemptions are fixed based on their category, but there's also peak and off-peak pricing depending on the time of year you're looking to travel. Peak pricing was in full effect during our winter break vacation, thus costing 29,000 World of Hyatt points per night. Although we spent a total of 145,000 points for the stay, this was significantly better than the jaw-dropping $4,907 if we paid out of pocket — a terrific redemption.
To step it up a level, we were able to apply a Hyatt Suite Upgrade Award to our reservation, allowing us to stay in a two-bedroom suite — a king bed in one room and a bunk bed in the other. That award was thanks to our top-tier Hyatt Globalist status, which we earned with the help of our World of Hyatt Credit Card. With this card, you'll receive complimentary Discoverist elite status and then earn two elite-qualifying nights toward status for every $5,000 you spend. Not only did this credit card perk help allow us to earn — and redeem — a suite upgrade at this property through Globalist status, but it also granted us complimentary breakfast, club lounge access and two free floats per day.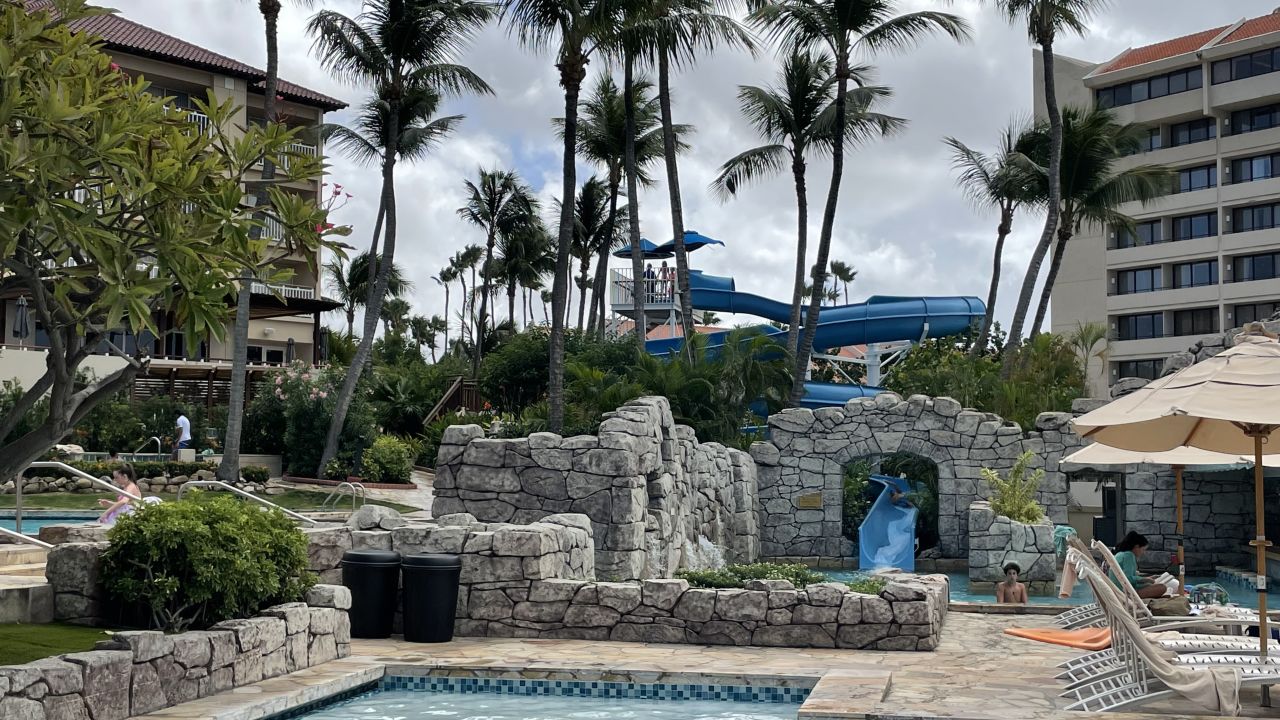 In addition to the World of Hyatt Credit Card, you can also earn Hyatt points through one of the many Chase Ultimate Rewards credit cards, as points transfer to 14 different travel partners, including Hyatt, at a 1-to-1 ratio. This includes the Chase Sapphire Preferred, Chase Sapphire Reserve and Ink Business Preferred® Credit Card. Or, if you have one of the no-annual cards, such as the Chase Freedom Flex℠ or Chase Freedom Unlimited®, and pair it with a premium Chase Ultimate Rewards-earning card, you can then transfer your points to Hyatt at the same 1-to-1 ratio.
This means if you were to apply for the Chase Sapphire Preferred and earn 60,000 bonus points after spending $4,000 in the first three months, those can be transferred to become 60,000 World of Hyatt points. As a Category 6 property, the Hyatt Regency Aruba ranges from 21,000 to 29,000 points per night, allowing you to redeem your 60,000 points for two to three nights at an incredible Caribbean resort. Hyatt also waives all resort fees when you redeem your points, which means you truly won't have to pay any out-of-pocket fees — another perk of using points versus paying the cash rate.
2-night stay at the Renaissance Wind Creek Aruba Resort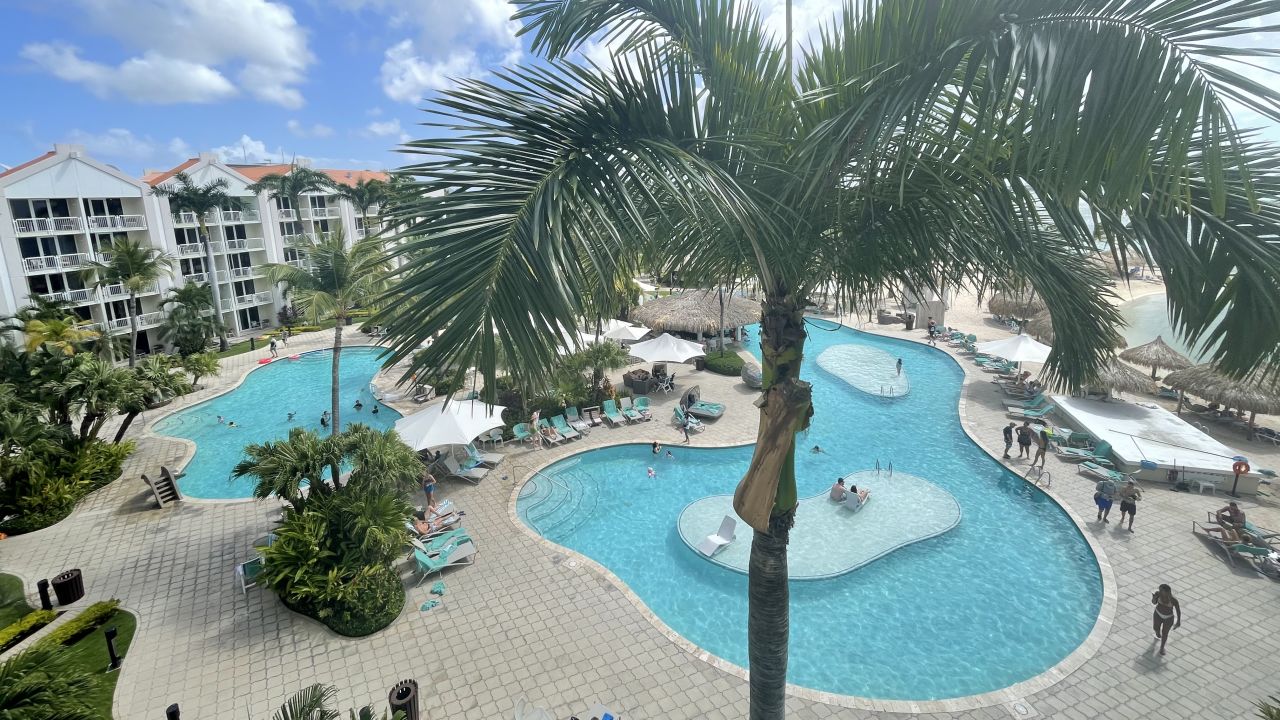 We split up our Aruba vacation for two reasons: The Hyatt Aruba only had award availability for five nights and we wanted to try something new. This led us directly to the Renaissance Wind Creek Aruba Resort — a property in a completely different area with its own private island. And since Renaissance is part of Marriott, it was quite easy to stay for free using Marriott Bonvoy points.
The resort is located in Oranjestad, the capital of Aruba, offering two different properties: an adults-only property and a family-friendly property that are about a five-minute walk from each other. The family-friendly location offers a large pool complex, a sandy beach and a lagoon for swimming. Despite being right in the capital, the property offers a true resort feel, with a swim-up bar, restaurant and many loungers (both at the pool and the beach). The adults-only property is right in the marina, offering its own pool and access to the family-friendly pool and beach. From both the family-friendly and adults-only resort locations, there's a ferry that will take you to Renaissance Island, the resort's 40-acre private island where you can feed flamingos and iguanas, go snorkeling and just truly relax.
During our stay, the hotel cost 60,000 points per night, but for the suite (which is the only option when traveling with a family), there's an upcharge of either 15,000 points or $80 per night. I opted to pay the entire amount in points, costing us 150,000 Marriott Bonvoy points in total for our two-night stay. The cash rate for our two-night stay would have cost us $1,204 in total. However, you might find even more value when redeeming points for a five-night stay at a property like the Renaissance Wind Creek Aruba since Marriott offers the fifth night free for award redemptions.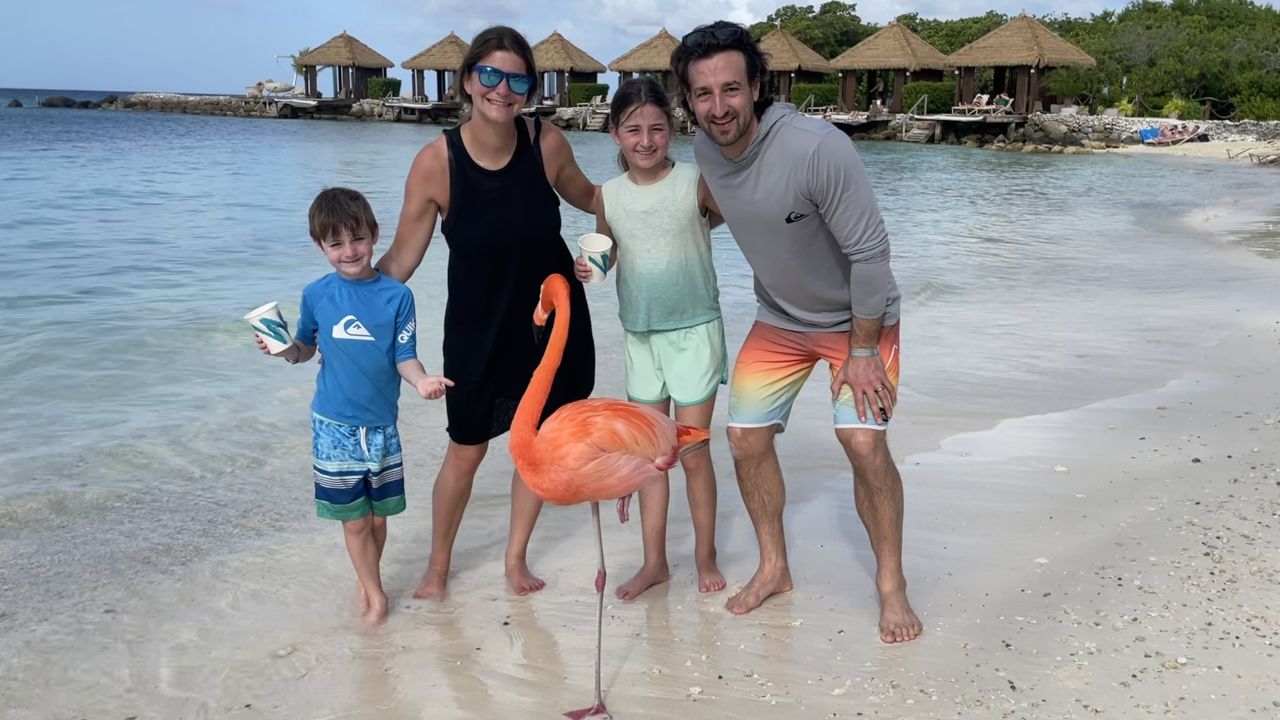 Marriott's own co-branded credit cards offer great opportunities to increase your account balance. With five different credit card options, there's bound to be a card that works best for your needs — all while earning Marriott points. For example, with the Marriott Bonvoy Brilliant® American Express® Card, you'll receive a free night award on your cardmember anniversary year, which is valid at a property up to 85,000 points per night. Plus, the card comes with an enticing welcome bonus offer of 95,000 Marriott Bonvoy points after spending $5,000 in purchases in the first three months.
Bottom line
Ultimately, my family had an amazing vacation for a grand total of just $202.40 for flights and hotels out of pocket. Thanks to travel rewards and a flight voucher, we were able to save nearly $8,000 on the price tag of this vacation. While we've been accruing travel rewards for well over a decade, it's never too late to start. With the right credit card and some strategic planning, you can also take an unbelievable trip in the near future at little to no cost.
Looking for a travel credit card? Find out which cards CNN Underscored chose as our best travel credit cards currently available.
Editorial Disclaimer: Opinions expressed here are the author's alone, not those of any bank, credit card issuer, airlines or hotel chain, and have not been reviewed, approved or otherwise endorsed by any of these entities.
Note: While the offers mentioned above are accurate at the time of publication, they're subject to change at any time and may have changed, or may no longer be available.