CNN Underscored reviews financial products such as credit cards and bank accounts based on their overall value, but does not review all financial companies or all available financial offers. We may receive compensation for sending traffic to partner sites, such as CreditCards.com, and this compensation may impact how and where links appear on this site. Terms apply to American Express benefits and offers. Enrollment may be required for select American Express benefits and offers. Visit americanexpress.com to learn more.
When it comes to travel, one of the worst parts of the experience is hidden fees. Whether you're suddenly charged $50 to check a bag on a flight or for internet when you get to a hotel, it's never pleasant to be charged more than you were expecting to pay.
Most notably are resort fees, which can make a relatively affordable vacation cost hundreds of dollars more than you planned. This is partly because resort fees are tough to spot, so many people don't realize they'll have to pay them until it's too late. Not only that, but these fees can be drastically pricey at times, and sometimes, they can be even more expensive than the nightly hotel rate itself.
But what are they exactly, and how can you avoid them?
What are resort fees?
Resort fees, which can also be called destination fees, are an additional amount of money charged by hotels or resorts for specific amenities. The resort fee amount varies by property and location, but the fixed amount is typically charged on a daily basis.
The majority of resort fees cover perks like free internet services, gym entry and access to the resort pool if there is one. The reason travelers find these fees so frustrating is because they cover perks that should be included in the nightly rate of the hotel. Plus, when hotels make the daily fees hidden, they can come as a surprise to travelers.
Hotels, resorts and travel booking sites are notorious for making resort fees difficult to identify. For example, when you look for hotels in Las Vegas on Expedia, the site shows that taxes and fees are included in the nightly rate. In fact, it even says "includes taxes and fees" on the search page.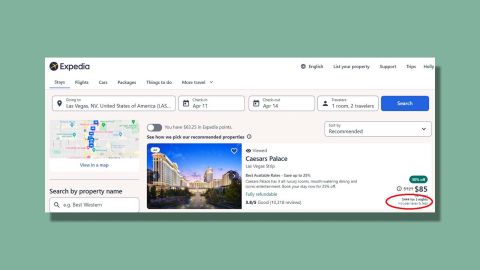 Paying $85 per night to stay at Caesars Palace sounds like a pretty good deal, but when you actually go to book this hotel, the resort fee suddenly makes its appearance — along with another round of taxes that weren't included in the original $85-per-night quote.
All of a sudden, the nightly rate with taxes and fees — including a resort fee of $52.10 per night — goes up to more than $147 per night. That steal of a deal you thought you had suddenly appears to be anything but the case.
While several lawsuits have come into play to tackle the issue of resort fees, for now, the onus continues to be on the traveler to seek out fees and avoid them if they can. At the very least, we should all strive to know about resort fees and destination fees so we can plan for them.
But how do you avoid resort fees altogether? There are actually quite a few ways to do just that if you're willing to put in some effort and be fairly flexible with your travel plans.
Book an award stay with hotel loyalty points
One of the best strategies for avoiding resort fees comes when you use hotel points to cover the cost of your stay. However, it's important to note that not all hotel points can help you avoid paying those pesky resort fees. You have to earn points with the right hotel loyalty program.
As a general rule, the Hilton Honors and World of Hyatt programs are best for avoiding resort fees on award stays. That's because in most cases, Hilton and Hyatt will waive the fees when you use points to cover the cost of your stay.
This means you could book a hotel like the Grand Hyatt Baha Mar in Nassau, Bahamas, for just 20,000 World of Hyatt points per night without having to fork over the hotel's $59 daily resort fee. That's a pretty great deal considering the nightly rate at this hotel starts at $300 this summer. So, if you were to pay the $300 nightly rate, that would be bumped up to close to $360 per night when you factor in the daily resort fee you'd have to pay if not using points.
The same is true for most Hilton Honors stays paid for using points. Take the Hilton at Resorts World Bimini, also in the Bahamas, for example. Nightly rates at this hotel start at around $370 for this summer, but you're also required to pay a $25 nightly resort fee.
If you pay with Hilton Honors points instead, the same room starts at 60,000 points per night without any added resort fees. Ultimately, a free stay is best, especially when you avoid a resort fee.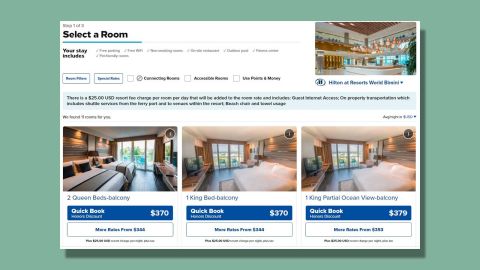 If you like the idea of using hotel loyalty points to score free stays and avoid resort fees, you can earn Hilton Honors points or World of Hyatt points with a broad range of hotel credit cards. Not only do most hotel credit cards offer a generous welcome bonus offer worth up to a few free nights on their own, but you can also earn hotel points as you make purchases with your card. And, of course, there's the "traditional" way of earning hotel points by staying at the chain's properties.
Hilton Honors credit cards
It's also worth noting that the Hilton Honors program is a transfer partner of American Express Membership Rewards. This means you can earn Amex points with cards like the American Express® Gold Card or The Platinum Card® from American Express and then transfer them to your Hilton Honors account when you're ready to redeem. Note that you may not be getting the best value from your Amex Membership Rewards points by doing this, but if you're close to a redemption and need the points, it could make sense.
World of Hyatt credit cards
World of Hyatt Credit Card: Earn up to 60,000 bonus points — 30,000 points after spending $3,000 in the first three months, plus up to 30,000 additional points by earning double points per dollar spent for the first six months from account opening. This card comes with a $95 annual fee.
World of Hyatt Business Credit Card: Earn 75,000 bonus points after spending $7,500 on purchases in the first three months of opening the account. This card comes with a $199 annual fee.
When it comes to racking up Hyatt points, you have another big advantage here too. The World of Hyatt program is a transfer partner of Chase Ultimate Rewards, so you can start by earning points with cards like the Chase Sapphire Preferred® Card or the Chase Sapphire Reserve® and then transfer your rewards to Hyatt when you're ready to make a redemption. Points transfer from Chase to Hyatt at a 1-to-1 rate, meaning one Chase point transfers instantaneously to become one Hyatt point.
Earn elite status with a hotel brand
Another way to avoid resort fees involves earning elite hotel status, but there's a catch. The one major hotel brand that waives resort fees for top-tier members is World of Hyatt, and this perk applies only to Hyatt Globalist members.
You can become a Hyatt Globalist member by staying 60 nights in Hyatt hotels, earning 100,000 base points in the World of Hyatt program or planning 20 eligible meetings or events within a year. Once you rack up 1,000,000 base points during your entire membership life span, you'll get Hyatt Globalist status for life.
Either way, this status gets you waived resort fees on hotel stays you actually pay for and not just award nights, as we outlined above. This benefit can come in handy at properties like the Hyatt Regency Coconut Point Resort and Spa in Bonita Springs, Florida, where a $37 nightly resort fee applies on top of the regular paid rate and other taxes and fees.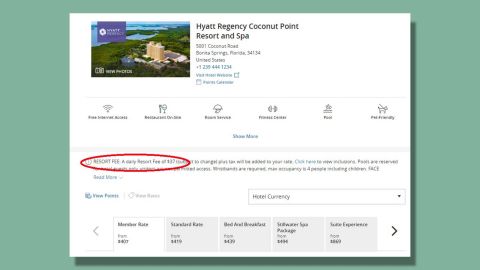 Ultimately, having status could save you big time in the long run. Hyatt's Globalist status is a surefire way to improve your hotel stays. Along with waived resort fees, Globalist members can take advantage of room upgrades (including standard suites), 4 p.m. late checkout, club access or breakfast, priority access to rooms and more.
The World of Hyatt Credit Card comes with complimentary Discoverist status in the World of Hyatt program. While that status alone won't grant you waived resort fees on paid nights, the card also comes with 5 World of Hyatt Tier-Qualifying Night Credits each calendar year. In other words, that cuts the number of nights you need to reach Globalist status down to just 45.
Use flexible travel credit to cover incidental expenses
If you're set on staying at a property with resort fees but you don't have hotel elite status or loyalty points to lean on, there are other ways to get resort fees covered for free. For example, you could pick up a flexible travel credit card that allows you to redeem points for statement credits in order to cover travel incidentals.
The key to this strategy is picking a card that allows you to redeem for statement credits in any increment you want since resort fees can vary by property and night.
The Capital One Venture credit card is one card that makes sense with this strategy. This card starts new users off with 60,000 miles after they sign up and spend $3,000 on purchases within three months of account opening. In the meantime, users can earn a flat 2 miles for every dollar they spend as well as 5 miles per dollar on hotels and rental cars booked through Capital One Travel.
Although this card comes with a $95 annual fee, the welcome offer on this card is worth $600 in travel statement credits or other rewards. Capital One is also a good option for redeeming miles to cover purchases in any increment, so it's perfect for getting hotel resort fees or destination fees off your bill.
Check out Costco travel packages
Here's another way to potentially get resort fees out of your life: Costco. With some travel packages from Costco Travel, many properties will include resort fees, mandatory tipping charges and other fees in your total booking cost.
Take the current Costco offer for a vacation package at the Wailea Beach Resort in Maui, Hawaii. Seven nights at this property for two travelers in July 2022 would set you back $6,148.52 through Costco Travel. However, the $45 daily resort fee is included in the cost of the booking.
At this point, you're probably thinking that Costco Travel just jacks up the price to make up for it, but that's not the case. In fact, the same booking made directly with the hotel this summer would set you back $7,865.71 for the same dates as of time of publication, and you would still have to pay the $45 daily resort fee directly at the hotel.
While savings via Costco Travel may not always be the case, it's always worth checking your options. If the hotel you're eyeing is available via Costco Travel or a similar service, it could be worth cross-checking the pricing options — and to see if the resort fee is waived or included in the cost of your rate.
Look for hotels and resorts that don't charge resort fees
Finally, you can always keep your eye out for hotels and resorts that don't charge a resort fee or a destination fee of any kind. Generally speaking, this will require you to be flexible on where you stay and to potentially stay away from some of the most popular properties in certain destinations known for charging hidden fees.
In Las Vegas, for example, there are plenty of hotels off the strip that don't charge a resort fee of any kind. Some Las Vegas properties with no resort fees include Marriott's Grand Chateau, Desert Rose and the Four Queens in downtown Las Vegas.
When you're traveling to big cities that commonly charge "destination fees," such as New York, you'll want to take a similar approach. Instead of staying close to Times Square or Central Park, look for properties without destination fees that are just outside the most popular tourist areas of the city.
In tropical travel destinations, all-inclusive resorts are a good choice for avoiding resort fees. Not only do most all-inclusive properties come without any hidden fees, but they also include your meals, drinks and some of your entertainment within the nightly rate. Best of all, you can book an all-inclusive resort stay for free — including without any resort fees — by using points and miles. This makes all-inclusive hotels a really good value if you find the right property, particularly if you're traveling with hungry kids in tow.
When it comes to resort fees, your best bet is to keep an eye out for them so you can budget accordingly. Better yet, use some of the tips we've provided to skip resort fees for good.
Looking for a travel credit card? Find out which cards CNN Underscored chose as our best travel credit cards of 2022.