CNN Underscored reviews financial products based on their overall value. We may receive a commission through our affiliate partners if you apply and are approved for a product, but our reporting is always independent and objective. Terms apply to American Express benefits and offers. Enrollment may be required for select American Express benefits and offers. Visit americanexpress.com to learn more.
When Taylor Swift announced her Eras Tour on social media in November 2022, I was ready. I had promised my two daughters (ages 11 and 13) we would see Swift in concert at any cost, even if we had to travel from our home base of Indianapolis to make it happen. I also vowed to get tickets regardless of the price tag, which I didn't think would be a big deal.
My oldest "Swiftie," who recently claimed she's in the top 10 Taylor fans by download on Spotify, initially worried we wouldn't have a shot at scoring seats.
"It's totally going to sell out, Mom," she exclaimed. But, my kids don't always realize how many tricks this middle-aged mom actually has up her sleeve.
The thing is, I didn't have to go to any crazy lengths to get Taylor Swift tickets this year, and I don't have to pay out-of-pocket for a hotel stay, either. Here's how travel rewards helped us to lower our travel costs in order to make my kids' concert dreams come true.
World of Hyatt points to the rescue
Once all the details of Swift's Eras Tour were public, I quickly realized the show wasn't coming to our hometown of Indianapolis. That said, several other concert options were within driving distance by the likes of Chicago, Cincinnati and Nashville.
After poring over the available show dates and locations, I quickly decided our best bet to see Taylor Swift — and likely for the lowest travel cost — was trying for one of the shows at Paycor Stadium in Cincinnati, Ohio. The venue is only a few hours from our house, so we could skip the high costs of airfare to see the show. Especially this summer when airfare is sky-high and travel demand is through the roof, we were lucky to find a show close enough to us that would allow us to drive.
Because I knew we were banking on getting tickets for one of the two dates in Cincinnati, however, I decided to make my move before anyone else — and before concert tickets even went on sale. After taking stock of my current stash of hotel loyalty points, I did some digging and found available rooms at the Hyatt Regency Cincinnati for the dates of her shows at Paycor Stadium. And, while cash rates weren't yet outrageous, I decided to save the money to use on tickets to the show and redeem my points for free nights.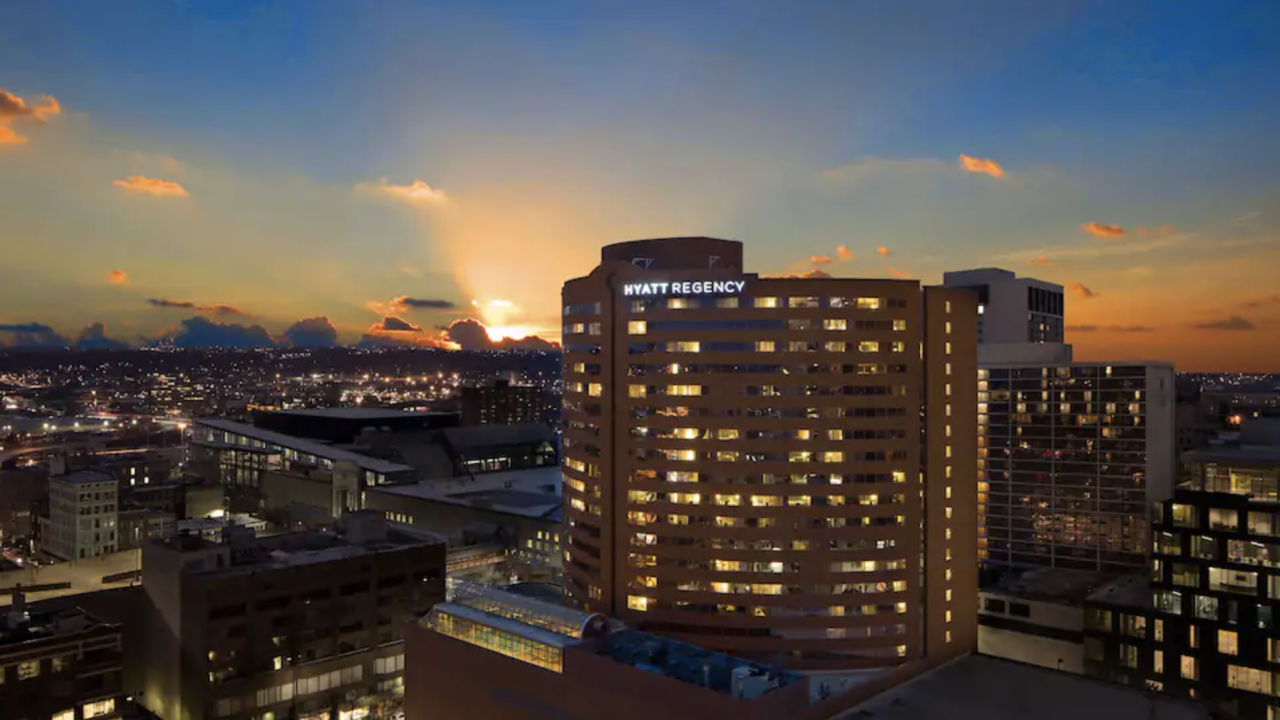 Not only did this property set me back just 9,500 World of Hyatt points per night, but it's within walking distance of the concert venue. Meanwhile, the property is now entirely sold out for her show dates, and hotels close to the venue are also either sold out or going for $700 to $800 per night — or more.
Thankfully, it's easy to earn World of Hyatt points — even if I didn't have enough in my account when I started searching. That's because the World of Hyatt program is a transfer partner of Chase Ultimate Rewards. In other words, you can transfer Chase Ultimate Rewards points — earned from cards like the Chase Sapphire Preferred® Card and Chase Sapphire Reserve® — to Hyatt at a one-to-one rate.
The Chase Sapphire Preferred is one of our favorite travel credit cards out there, thanks to its point-earning structure and low annual fee of just $95. It currently comes with a welcome bonus offer of 60,000 points, which you'll get after spending $4,000 in the first three months. In other words, I could have used that 60,000-point welcome bonus to transfer points to Hyatt and redeem them for our two-night stay at the Hyatt Regency Cincinnati — and still had 41,000 Chase Ultimate Rewards points to use on our next trip.
Ultimately, saving the cash that I would have otherwise spent on our nightly rate at the Hyatt Regency Cincinnati meant that I was able to spend that money on our tickets to actually see the Eras Tour.
How my Capital One Venture X saved the day for tickets
Now that I had a hotel squared away, I actually had to get tickets to the Eras Tour. We needed four seats, and I didn't really want to be in the nosebleeds. Thanks to my Capital One Venture X credit card, we were in luck.
Both my husband and I have a Capital One Venture X card, which means we were both eligible for the Capital One ticket presale event, which was available to eligible Capital One credit and debit card holders. While this wasn't the first presale event, it was scheduled for just after the Ticketmaster presale, meaning there was a high likelihood that we could still nab some decent tickets.
If you haven't heard by now though, the entire sale event was a huge debacle. First, demand during the Ticketmaster presale was enough to crash the site entirely, leaving fans scrambling. When the Capital One presale event eventually kicked off after a delay, we found ourselves more than 2,000 people back in the queue to purchase.
When we were able to finally get through the queue, my house quickly became a hectic scene. After patiently waiting, we were eventually able to add tickets to our cart and frantically input credit card information to secure the tickets.
But it worked, and just in time since all Capital One presale tickets for Cincinnati were sold out within a few minutes after our purchase. We ultimately got four seventh-row tickets to the exact show we wanted, and I knew my kids would be ecstatic! (Spoiler alert: they were!)
By buying first-hand tickets for a lower rate than if we were to have to go the resale route, we were able to make this unforgettable night a reality for our family. Just by holding on to the right credit card for presale access, we were able to score face-value tickets that are now going for $1,500 each — or more — on resale sites.
The event was a reminder of how useful it can be to have diversified credit card options in your wallet. While Capital One was able to offer presale tickets to the Taylor Swift Eras tour, the likes of Chase, Citi and American Express often have their own advance purchase options for big events like this.
Bottom line
At the end of the day, we paid the retail cost for our tickets and redeemed hotel points for a stay that would otherwise cost at least $700 per night. I couldn't ask for a much better outcome than that, and it's all thanks to having the right credit cards and travel rewards in hand.
Now, I get to be a real hero to my kids and not the "Anti-Hero" Swift croons about. And in case you're wondering, yes, my kids are more than willing to put up with my dumb jokes and puns as long as they see the show.
Looking for a new travel credit card? Check out CNN Underscored's list of the best credit cards currently available.