For much of the travel industry, 2021 showed true signs of recovery. Flights were full, hotels were booked and demand for future bookings skyrocketed. And, for our editorial team, some felt the time was right for a vacation.
Whether that trip was to visit the rolling hills of Tuscany, the sandy beaches of Puerto Rico or even a cross-country road trip, read on for some of our favorite trips this year.
Where we stayed: Conti di San Bonifacio Wine Resort in Tuscany; Terrace on the Cathedral Airbnb in Florence
Italy is our favorite travel destination, with Florence being our favorite city. We stayed — for the second time — at this lovely Airbnb a step off the Piazza del Duomo. It has amazing views, and is so central you can walk anywhere in the city in a few minutes. After I popped the question to my now-fiancee, we celebrated at our favorite place in the world: Conti di San Bonifacio in Tuscany. Amazingly relaxing setting in the Tuscan hills, fantastic wines made on site and top-class food are the highlights here. — Scott Simone, deputy editor
Where we stayed: L'Auberge de Sedona
After a year spent mainly in my natural-light-less NYC studio apartment, I really wanted my first post-quarantine vacation to be in a wide-open space. That's why for my birthday this past March, my newly vaccinated mom and I opted to spend a long weekend in Sedona, just a four-hour drive from her home in Las Vegas. The hotel itself was phenomenal, browsing the kitschy town was incredibly fun and the food at pretty much every restaurant was divine, but I most enjoyed the time we spent in nature: On my birthday, we drove two hours to the Grand Canyon, where we biked along the South Rim and marveled at the unreal sights. — Chelsea Stone, senior editor
Where we stayed: DoubleTree by Hilton San Juan
Last summer I went to Puerto Rico for the first time and my experience was nothing less than amazing. I stayed at the DoubleTree by Hilton San Juan for four days and three nights, went ziplining in the rainforest, relaxed on the beach, went to the Bacardi Factory and explored Old San Juan. I highly recommend visiting Puerto Rico. Get a rental and submerge yourself in the culture. You won't regret it! — Sarai Thompson, social media coordinator
Where we stayed: Beach Blanket Lifestyle Airbnb
I flew out to Redondo Beach, California, this summer with my mom to see some family, which was both my first post-Covid trip and the best vacation I've been on this year. I got to do a little bit of everything, including walking up and down the beach every day, hitting up Hollywood to see some friends and even sneaking away to Disneyland to see the new Avengers Campus because I'm a huge nerd. But what really made the trip so memorable was our Airbnb, which was a gorgeous, relaxing little beach house that quickly felt like a second home rather than just somewhere to sleep while on vacation. I'm already excited to go back — not just to California, but to that same rental that we had a very hard time leaving. — Mike Andronico, senior tech writer
Cross-country road trip
After being stuck in our NYC apartment for the entirety of 2020, my partner and I knew we needed a car so we could escape the city. So we flew to California, got their car and drove it back across the country to NYC in the summer of 2021. We camped out all across the US for a little over a week, but our favorite spot on the road trip was definitely Utah. — Kai Burkhardt, associate editor
Where we stayed: Marriott Resort & Stellaris Casino
In April, for my teenaged kids' spring break, we went to Aruba for our first time and stayed at the Marriott Resort & Stellaris Casino — completely on points. The resort is a Category 7 property within the Marriott Bonvoy program, which means it requires 50,000 points per night on off-peak dates, 60,000 points per night on standard dates or 70,000 points per night on peak dates.
It was kind of the perfect balance of adventure and decadence for our family. The first half we spent pretty much entirely at the resort, lounging on the (rather crowded) beach or by the pools (the adults-only was a nice respite we took advantage of) and eating at the on-site restaurants, which were decent if a little overpriced.
We grabbed a boat to snorkel one afternoon, rented a jet ski another, both right from the many vendors on the beach. But after we'd had our fill, we rented an off-road Jeep from the hotel and drove just a few miles away to the island's north coast and explored the miles of beaches, hills and sandy trails Aruba has to offer. We finished up with a bite at Zeerovers, a famous little place on the southwest coast of the island where they were literally pulling fish out of the sea for our meal. — Mike Bruno, editorial director
Where we stayed: Turtle Bay Resort
We loved that the Turtle Bay Resort was a sprawling property with over 1,300 acres to explore — especially during Covid-19 when sightseeing was not as simple. And because it's surrounded by water on all sides, it's a profoundly relaxing place. We also loved that big wave surfers come here to ride the waves and since the property is open to anyone, the locals come and hang out regularly. This tempered the more conservative vibes and gave us a much more laid-back pace. Great for adults and kids because everything is self-contained. Seriously, we fell completely in love with this place on so many levels. — Tobey Grumet, contributing editor
Taking advantage of the whole working remotely situation, my fiance and I took a trip over to France for two weeks. While we worked normal hours the entire time, we got to enjoy extended mornings swimming in the sea, perusing the city's open-air farmers' markets and — one weekend — enjoyed a prolonged tour of the area's wineries. — Scott Simone, deputy editor
I spent the better part of the summer bouncing around Alaska, sleeping in tents and adjusting to what seemed to be a never-setting sun. From hiking to ice caves in Juneau, watching whales in Seward, kayaking in Valdez's Prince William Sound, flying to find bears in Homer, fishing during the salmon run and surviving a night alone in the mountains of Denali National Park, Alaska proved to be the ultimate destination for amateur and professional outdoor adventurers alike. — Jillian Tracy, editorial coordinator
Where we stayed: Hotel Emma at Pearl
This year, my wife and I went to San Antonio, Texas, for a quick weekend getaway. We love visiting San Antonio because there's so much to do — starting with the Riverwalk, great Mexican food, shopping and historic downtown, The Alamo. It's really a great place to visit and it won't cost you an arm and a leg.
Hotel Emma was built inside a refurbished 19th-century brewery. It's got a modern industrial vibe, complete with huge brewing vats that have been cut out and made into booths in the bar. Rooms feature exposed brick walls, antique tile and clawfoot tubs, among other things. It's really a place frozen in time. We loved it! — Jesse Black, senior video producer
Where we stayed: Artemis Deluxe Rooms
This summer, my fiance and I crossed another Greek island off our bucket list: the small island of Milos. To get there, we flew from London to Santorini and spent two nights on the famous island before taking a ferry to our final destination of Milos. The island itself is stunning, with a rolling volcanic landscape, idyllic villages plotted along the coast, picturesque beaches with turquoise blue waters and, of course, amazing food. Our stay at Artemis Deluxe Rooms was nothing short of incredible. It was the perfect — and much-needed — summer vacation. — Emily McNutt, senior travel editor
Where we stayed: WM Farmer & Sons
During March, when everyone started getting vaccinated and it felt safe to wander from the one bedroom we'd been stuck in for a year, my now-fiancee and I took a jaunt to Hudson — one of our favorite towns. It's a tiny, homey village, but is replete with not only great antique shops, but surprisingly good restaurants that rival the best NYC has to offer all packed into a few ultra-walkable square miles. — Scott Simone, deputy editor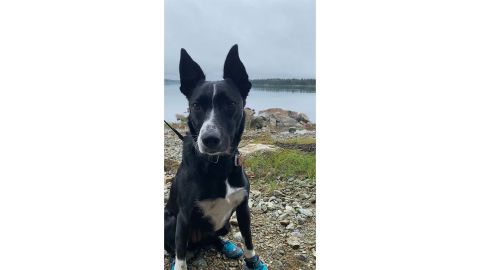 After grabbing my partner's car from California, we used it to go camping in New York, New Jersey and Pennsylvania a bunch. But our favorite trip of the summer was when we went all the way up to Acadia National Park in Maine. We loved all the hiking and kayaking, plus this was the first big trip we took our new dog Miso on, so it was definitely a special one. — Kai Burkhardt, associate editor
Looking for a travel credit card? Find out which cards CNN Underscored chose as our best travel credit cards of 2021.