Delta Air Lines continues to invest in its network of Sky Club airport lounges. The airline is opening new lounges, expanding and refreshing existing lounges as well as launching a brand-new network of Delta One business-class lounges exclusively for premium passengers.
The latest is its brand-new lounge at Los Angeles International Airport (LAX), which opened its doors in April 2022. Not only is it the largest Sky Club to date, but it's also one of the nicest, and the perfect place to spend some time before your flight.
With seating for more than 500 passengers, the new Sky Club at LAX is located between Terminal 2 and Terminal 3. It's part of the airline's $2.3 billion expansion at LAX, offering a new security screening in its own corridor between the two terminals. It offers more than a whopping 30,000 square feet of space, featuring updated and modern furnishings and decor.
Some Delta Sky Clubs around the country — specifically those that have been around for more than a few years — can feel old, dark, worn-down and drab. However, the new LAX Sky Club is bright, modern, fresh and the ultimate location to relax before your flight from Los Angeles. The LAX Sky Club's design touches include curved ceiling details to represent the Pacific Ocean, a staple of the Los Angeles locale. And, throughout the lounge, the space can even feel more like an art gallery with beautifully curated pieces of art from local Los Angeles-based artists.
But, this new Sky Club goes beyond the surface of what's inside. In fact, perhaps the highlight of the lounge is outside it. That's because the lounge has its own Sky Deck, an outdoor terrace with a full bar, plenty of seating options and some of the best views at LAX.
You can sit in the Southern California sunshine, watch some planes and munch on some of the food options at the Sky Club. And, in the off chance there's bad weather in the forecast, a retractable roof will keep you dry.
Speaking of food, there's plenty to choose from. For such a large space, Delta elected to split its food offering between two distinct buffet areas: one at the entrance and one at the rear of the lounge, which also has its own dedicated dining room area.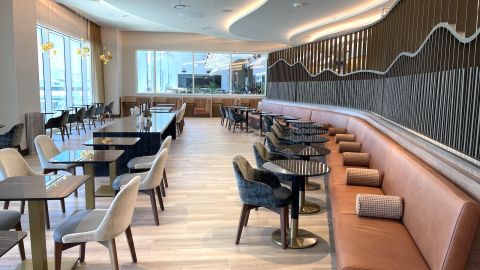 On the buffet menu, you can expect to find a rotating list of food options curated by local chefs. For example, between June 1 and June 30, the lounge will feature dishes from Los Angeles-based Akira Back. Then, from July 1 to Sep. 30, you'll be able to find steak and fish options by David Slay. And to round out the year, Delta is turning to LA-based Danielle Duran-Zecca for a pop-up food selection.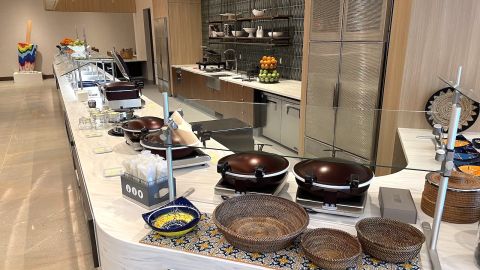 Meanwhile, at the bar — or rather, two bars, split between inside and outside options — you'll find a range of specially curated drink options. As with most Sky Clubs, you can expect wine, beer, well liquor, soft drinks and coffee to be included without charge (the exact offerings vary based on location). However, you can also opt to purchase any of the club's more premium wines, beers and liquors, as well as any of its specially crafted cocktails. If you've got a load of Delta SkyMiles on hand, you also have the option to use your miles rather than cash.
The lounge is full of other spaces that are ideal for kicking back before your flight. There's a dedicated "coffee grotto" area, a quiet and relaxing place to rest or eat. And it just so happens to be one of the more Instagrammable spots in the lounge, too. According to Delta, the nook "pays tribute to the glamor of Hollywood's golden age," thanks to the imported Italian tiles that line the walls of the space. The light and airy space glistens and is perfectly welcoming for those looking for a bright and quiet place to relax.
Aside from all of the common spaces to work and play — yes, there are power outlets at nearly every seat so you can stay charged during your travels — there are other amenities, too. In fact, there are eight individual showers that you can reserve on a first-come, first-served basis, which are cleaned in between each use. It's the perfect way to freshen up on a long layover before your next flight.
Delta's newest Sky Club at LAX is one of its best — if not the best — Sky Clubs yet. It's got plenty of modern accents with a nod to a more premium, elevated travel experience. You won't find the older interiors that you see at some other Sky Clubs, though Delta Managing Director of Sky Clubs Claude Roussel says the airline is working to update those, too.
If you're interested in getting into this new Sky Club on your next trip to, from or through LAX, you'll need to ensure you have access. Check out our ultimate guide to Delta Sky Clubs for more information on how you can access this lounge — and others within Delta's network — on your next trip.
Looking for a travel credit card? Find out which cards CNN Underscored chose as our best travel credit cards currently available.