CNN Underscored reviews financial products based on their overall value. We may receive a commission through our affiliate partners if you apply and are approved for a product, but our reporting is always independent and objective. Terms apply to American Express benefits and offers. Enrollment may be required for select American Express benefits and offers. Visit americanexpress.com to learn more.
Boston-based travelers, you're in for a treat.
Chase will open its first US Chase Sapphire Lounge on May 16 at Boston Logan International Airport (BOS). The lounge is the first of its kind in the US, and more are slated to open at New York-LaGuardia (LGA) and Philadelphia (PHL), among other major airports, in the coming years. These US lounges join the likes of the first Chase Sapphire Lounge at Hong Kong International Airport (HKG), which opened in 2022.
CNN Underscored got a sneak peek of the Boston lounge, and it's a welcome addition to Boston's airport. You'll find the lounge near Gate B40 in the Terminal B to C connector, so it's easy to access if you're flying American Airlines, JetBlue or United Airlines. The lounge covers a huge 11,640 square feet and has all the amenities you'd expect from a modern airport lounge: a fully stocked bar, food and plentiful seating. Plus, there are a handful of interesting features that make the lounge special.
Let's take a look at how you can access the Chase Sapphire Lounge and what to expect on your first visit.
How to access Chase Sapphire Lounges
First things first: You need access to the lounge. Anyone with a Priority Pass membership can enter any Sapphire Lounge one time per year. Some of our favorite credit cards with Priority Pass memberships include:
Note that your Priority Pass membership card is separate from your credit card. You must enroll in the Priority Pass perk and get a Priority Pass card when you are approved for any of these credit cards. You must then carry it with you for access to participating lounges, such as the Chase Sapphire Lounges. Alternatively, you can register your Priority Pass card through the network's app and access lounges with the provided QR code.
Interested in visiting more than once a year with a Priority Pass membership? You'll need a Chase Sapphire Reserve. Entry for Sapphire Reserve card holders is free and unlimited in the number of times you can access. If you live in Boston, this could be a worthy investment if you fly in and out of Terminal B or Terminal C on a regular basis. Plus, the card will give you unlimited access to other Chase Sapphire Lounges as they open around the world.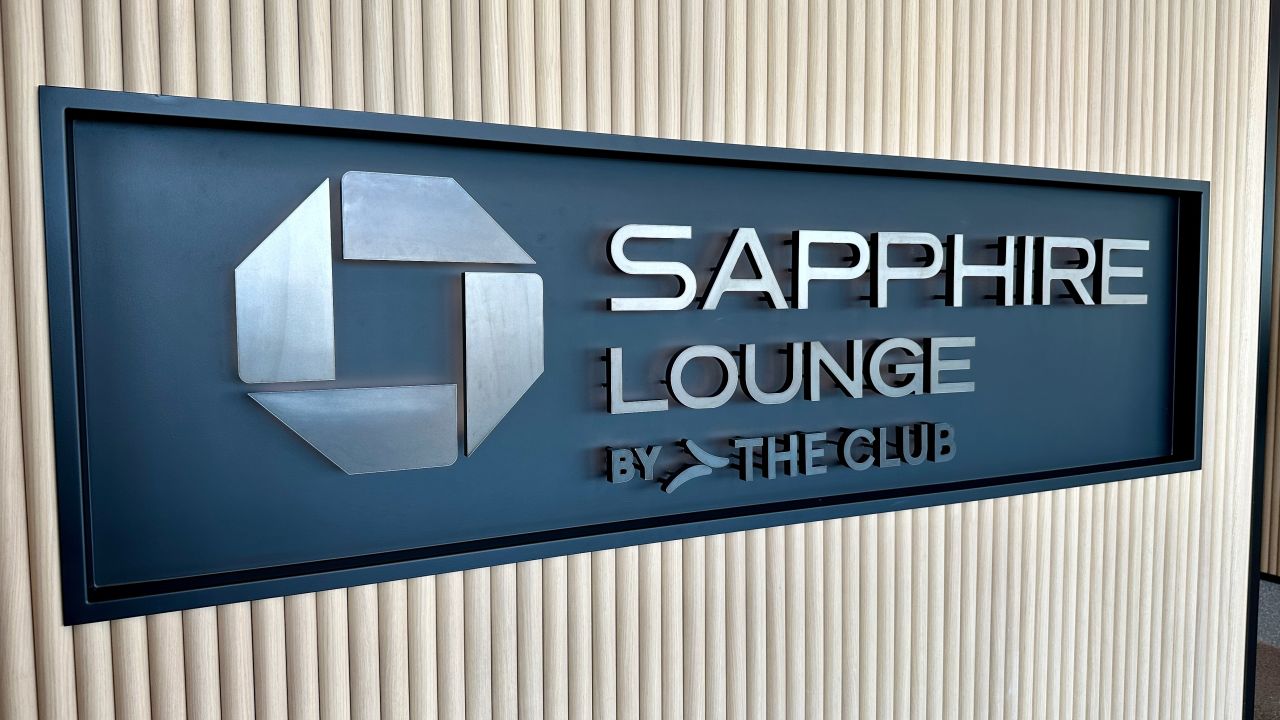 Chase Sapphire Reserve card holders must have their credit card and Priority Pass card or QR code to enter the lounge. They can bring up to two guests with them when entering the lounge.
Beyond lounge access, the Chase Sapphire Reserve is a great credit card for frequent travelers. In fact, we've dubbed it the best card for travel purchases. The Sapphire Reserve currently comes with a sign-up bonus of 60,000 Chase Ultimate Rewards points, which you'll get after spending $4,000 in the first three months. Those points can get you free flights and hotel stays — or save them for a big, once-in-a-lifetime redemption. In addition to the bonus points and lounge access, Sapphire Reserve card holders also get a $300 travel credit each account anniversary year, a fee credit for Global Entry, travel insurance protections and much more.
Related: How you can access some of the world's best airport lounges.
Entering the Boston Chase Sapphire Lounge
The Sapphire Lounge in Boston Logan Airport is located by gate B40 in the Terminal B to C connector. This means you can easily access the lounge when flying a variety of airlines, including JetBlue, which departs from Terminal C, and Alaska Airlines, American Airlines, Air Canada and United Airlines, which depart from Terminal B.
Once you arrive at the lounge, continue up the elevators to the check-in desk. The lounge was empty when we visited, but we expect it to get busy once the lounge is fully open. Plan accordingly and arrive early if you want to enjoy a meal during peak travel times. The Boston Sapphire Lounge will be open daily from 5 a.m. to 11 p.m.
Seating areas in the Boston Chase Sapphire Lounge
Clocking in at nearly 12,000 square feet, there is no shortage of seating in the Chase Sapphire Lounge at Boston Logan Airport. When you turn right after entering the lounge, you're greeted with restaurant-style accommodations stretching from the buffet to the bar and taproom.
Meanwhile, those preferring a more comfortable seat can opt for the lounge chairs and couches behind the check-in counter. This is a more conversational area and is decorated with travel books, artwork and other knickknacks.
There's also plenty of bar seating. Seating is split between the cocktail bar and the taproom, meaning travelers who enjoy all kinds of tipples will be pleased with the options available. Both are packed with different types of seats (high-tops, booths and barstools) and should be plentiful enough to withstand peak travel times.
You'll also find various couches, stools and lounge chairs around the Boston Sapphire Lounge. The options wrap around from the dining area to the bar and beyond, so you shouldn't have an issue finding a spot that works for you.
If you're looking to work on a laptop, there are two booth-style tables on the far side of the lounge. These are outfitted with power outlets and make for a good place to collaborate or take a quick Zoom call with a decent level of privacy.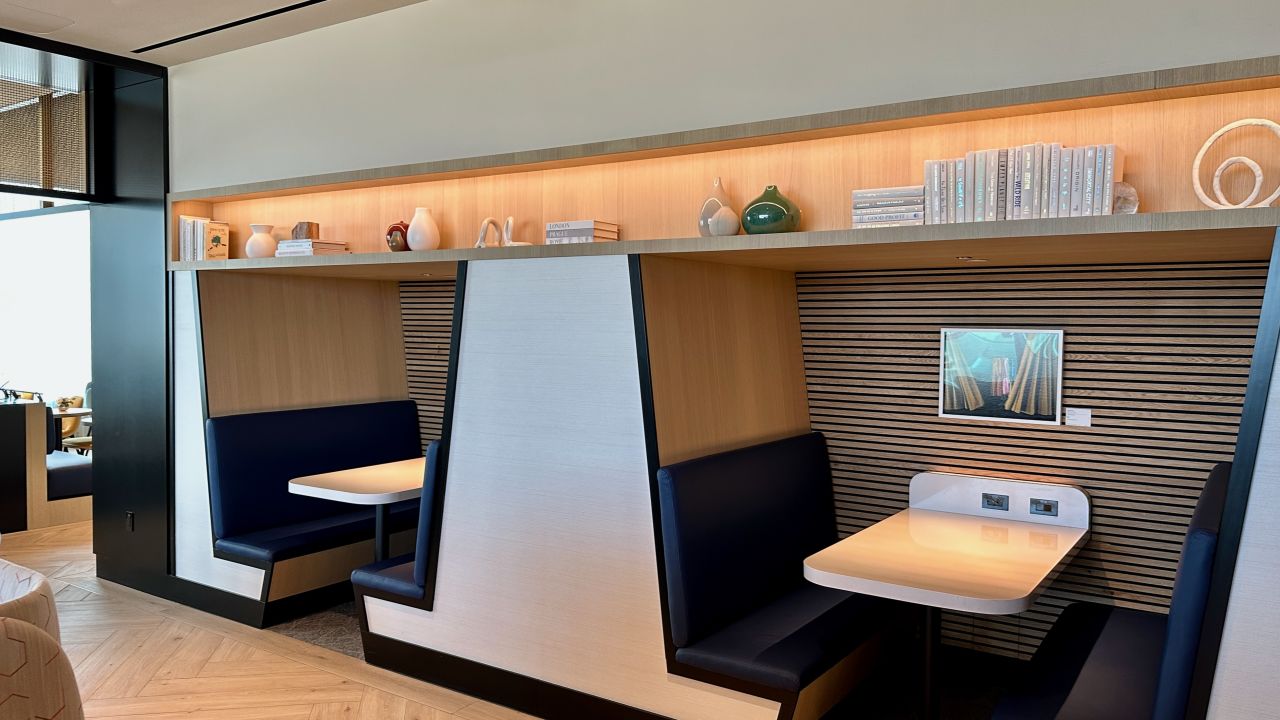 Food and drink at the Boston Chase Sapphire Lounge
Food and beverage is the highlight of the Boston Sapphire Lounge. Food is available in the buffet area toward the front of the lounge, and some options are available on a made-to-order basis. You can order food right to your table by scanning a QR code.
Acclaimed Boston chef Douglass Williams, who is behind the city's MIDA and APIZZA eateries, designed several dishes for the menu that rotate throughout the day. When we visited the Sapphire Lounge, we sampled some of the available food and it was delicious. I recommend trying the Sapphire Burger if you want something substantial before your next flight. You'll also find meatball subs, soup and a variety of other food.
There are two bars in the lounge. One is a taproom, which features beers from various Boston breweries. All beers are served on draft, with two IPA, one lager and one cider on offer at the time of writing. This is a nice touch and a way for Chase to incorporate Boston's vast brewery scene into the airport lounge.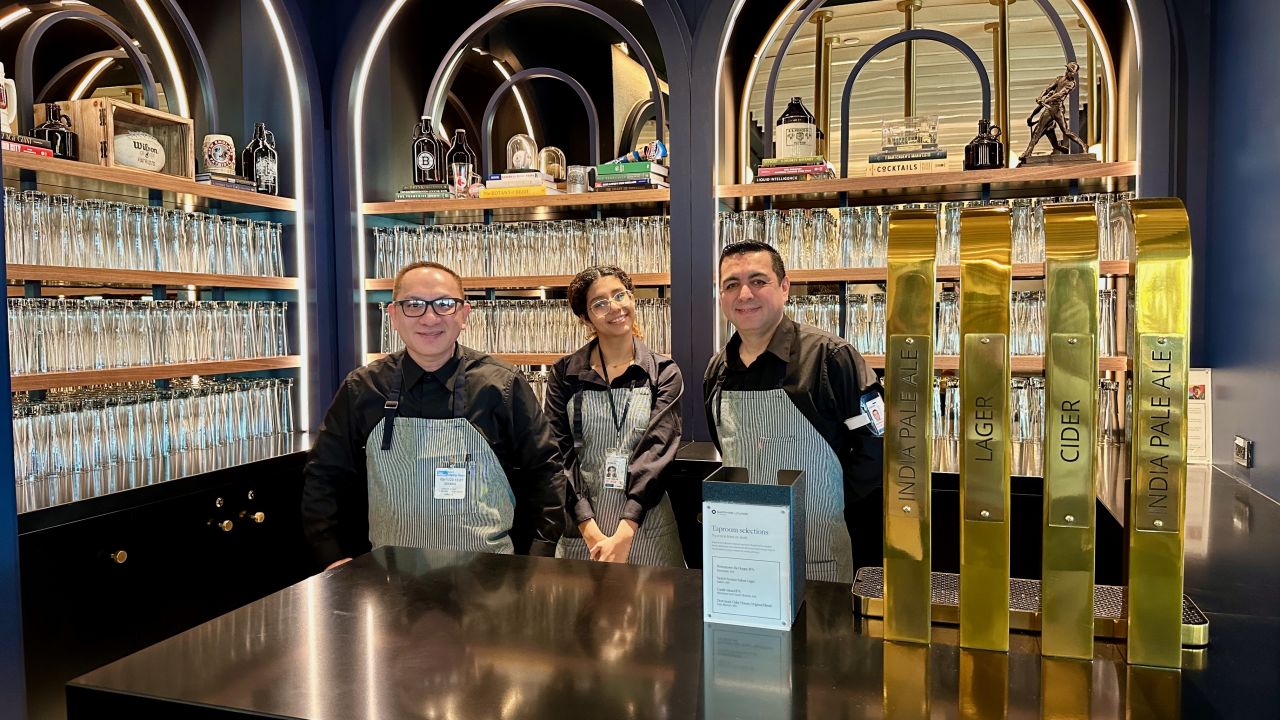 There is also a standard bar that serves a range of specialty cocktails, bottled beers and wine. There are five specialty cocktails on offer, or you can order whatever classic cocktail you'd like. The taproom and bar are located right across the aisle from each other.
You'll also find two beverage stations around the lounge: one in the main dining room and another in the seating area toward the back of the lounge next to the aforementioned booths. These are stocked with espresso machines, drip coffee, soft drinks and water taps. And yes, the espresso machines have an oat milk option.
Soft drinks are self-serve and include standard Coca-Cola products as well as interesting options like Olipop craft soda and Spindrift seltzer water. It's nice to see the Sapphire Lounge offer interesting nonalcoholic beverages, something we don't often see from other airport lounges.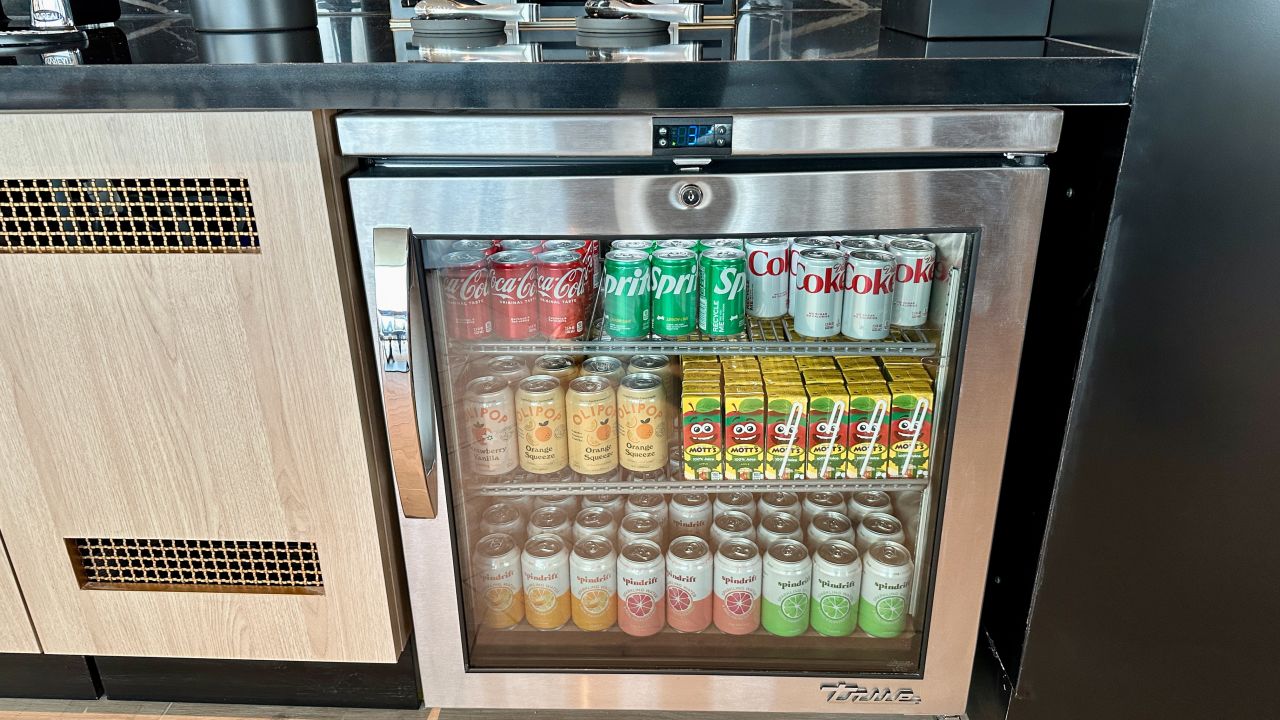 As you'd expect with most of the premium lounge networks, food and beverage are complimentary in the Sapphire Lounge.
Special features of the Boston Chase Sapphire Lounge
Beyond the standard lounge amenities, there are a couple of special features to be aware of on your first visit. A dedicated children's room has toys and other activities to entertain little travelers. The room is secluded from the rest of the lounge and will be a great place for parents to keep their children occupied before departure.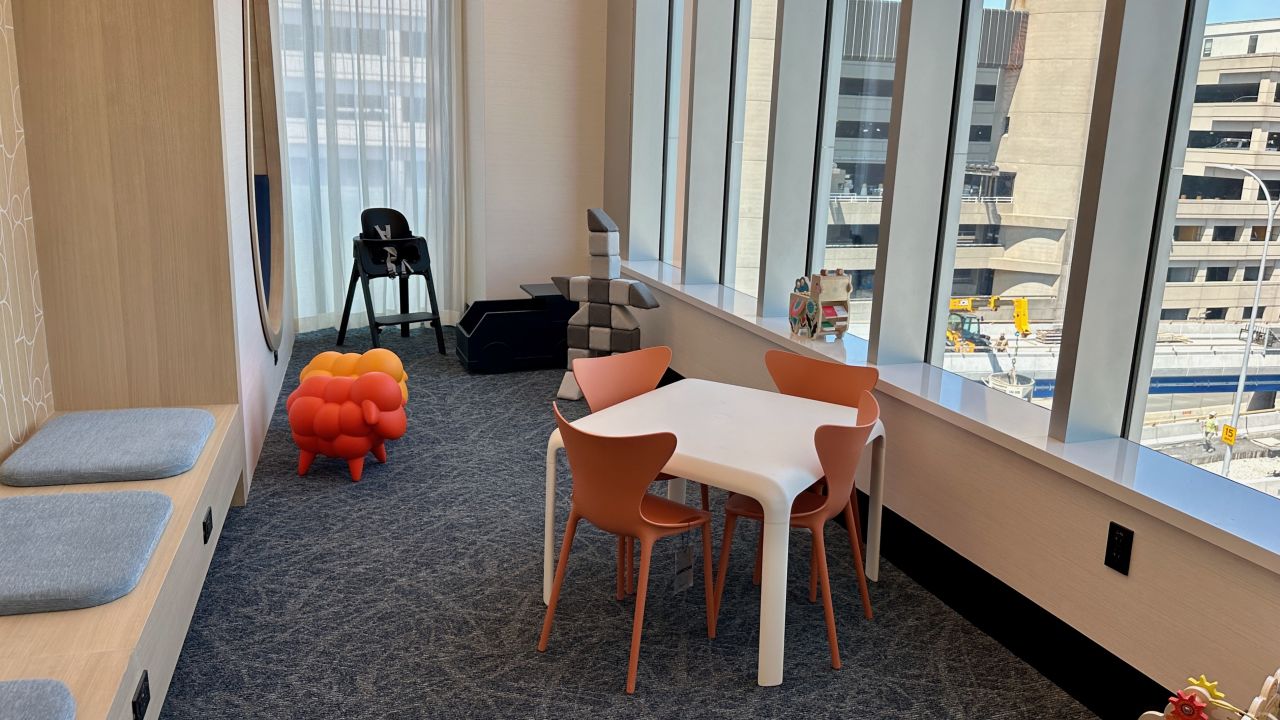 There's also an on-site wellness center with two massage chair booths and three guided meditation areas, all of which are private. This is a great place to relax before a flight, especially if you're coming straight from a stressful meeting or on a layover from a long-haul flight.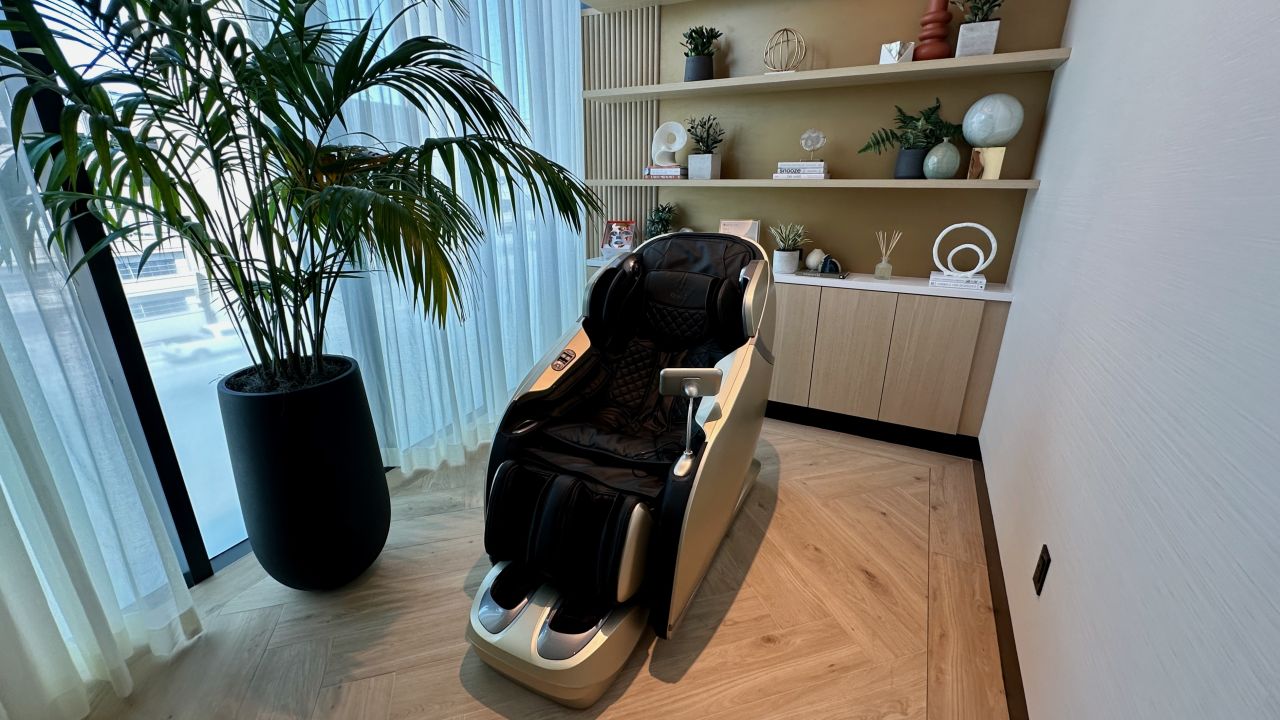 There's also a shower stall on the left-hand side of the lounge. You can reserve this from your phone using a QR code at the entrance to the Sapphire Lounge. It has a private toilet, a shower and luxury toiletries. For travelers who are departing on an international flight and want to freshen up beforehand, this is a great perk to have in the lounge.
Bottom line
The first Sapphire Lounge in the US opens to the public in Boston Logan International Airport on May 16 — and it's a sight to be seen. It's one of the nicest domestic airport lounges we've seen recently, offering excellent food, plenty of seating and a variety of unique amenities like a wellness center and a taproom with local Boston beers. Plus, its modern design and finishes put the lounge miles ahead of the competition from an aesthetic point of view.
Anyone with a Priority Pass membership can access this lounge (or any future Sapphire Lounges) once per year. If you want to visit more frequently, you'll need the Chase Sapphire Reserve card in your wallet. As the lounge Sapphire Lounge network expands to other airports, this could become a big selling point of the credit card.
Click here for rates and fees of the American Express Platinum card.
Looking to earn travel rewards? Check our CNN Underscored's list of the best travel credit cards currently available.
Get all the latest personal finance deals, news and advice at CNN Underscored Money.