CNN Underscored is constantly testing products — be it coffee makers or office chairs — to find the absolute best in each respective category.
Our testing process is rigorous, consisting of hours of research (consulting experts, reading editorial reviews and perusing user ratings) to find the top products in each category. Once we settle on a testing pool, we spend weeks — if not months — testing and retesting each product multiple times in real-world settings. All this in an effort to settle on the absolute best products.
This year, we tested dozens of travel-related products — from carry-on luggage to sleep masks — to find the best products you need to whip up any coffee with ease.
Carry-on luggage
Best carry-on luggage: Away Carry-On ($225; awaytravel.com)
The Away Carry-On has everything you want in a suitcase: durability, thoughtful organization, smart features and chic design, all at a fair price point to boot. It stood up very well to our abuse, handling being kicked, jumped on and dropped down stairs with only minor scuffing and zero lasting dents. It also utilizes smooth YKK zippers, an aluminum telescopic handle and four double Hinomoto spinner wheels, which in our testing glided seamlessly on pavement, hardwood and grass alike.
Runner-up: Delsey Chatelet Hard+ 21-Inch Spinner ($256, originally $321.48; amazon.com)
The Chatelet got especially high marks for durability, thanks to its Bayer virgin Makrolon polycarbonate shell, Hinomoto wheels and aluminum handle. The outer shell is thicker and has less give than Away's — making the case heavier and less flexible overall, but also less dent-prone. In fact, the Chatelet essentially ignored all our attempts to damage it. The shell also has a lightly textured diamond pattern meant to reduce the appearance of scratches and scuffs, and it was indeed more scuff-proof in our tests than the Away.
The most Instagrammable carry-on luggage: Calpak Ambeur Carry-On ($156, originally $195; calpaktravel.com)
The Calpak Ambeur is a seriously gorgeous bag that clearly had a lot of thought put into its design details. Its sleek, monochromatic exterior is endlessly Instagrammable, and even the wheels and telescopic handle match the rest of the case. The Calpak Ambeur also had some of our favorite top and side handles of the bunch, with a squishy cushioned grip that made for an ultra comfortable carry. To top things off, the bag is also exceedingly light at just 6 pounds.
Best affordable carry-on luggage: Samsonite Omni PC Hardside 20-Inch Spinner ($109.99, originally $149.99; amazon.com)
Polycarbonate is among the best hardside suitcase materials, but you'll usually have to pay a premium for it. Not so with the Samsonite Omni, which has a fully polycarbonate shell yet can be snagged for about $100. The micro-diamond texture is similar to that of the Delsey Chatelet, and prevented any serious scuffing in our testing — without Delsey's bulk. The Omni weighs just 6.8 pounds and has a huge 41-liter capacity. This is a very sturdy bag with plenty of space, and also comes with Samsonite's 10-year warranty.
• Read more from our testing of carry-on luggage here.
Checked luggage
Best checked luggage: Away Medium ($295; awaytravel.com)
The Away Medium suitcase was the most well-rounded piece of luggage we tested, outdoing the other bags in many of our most important tests. It's solidly durable, with only a few scuffs from its trip down the stairs. It also has an incredible interior compression system, is easily maneuverable and is even comfortable to carry for those times you need to lift it in and out of the car.
Best budget checked suitcase: Samsonite Freeform Medium Spinner ($159.99; samsonite.com)
The Samsonite Freeform Medium Spinner performed quite well in our tests, especially when taking into account that the other bags that performed as well cost closer to $300. The Freeform's wheels are smoother than the ones on the Away suitcase, and with an expandable zipper on the outside, it can fit more than our overall winner, while weighing nearly a pound less.
• Read more from our testing of checked luggage here.
Travel pillow
Best travel pillow: Cabeau Evolution S3 ($39.99; amazon.com)
The Cabeau Evolution S3 updates the standard U-shaped travel pillow design with raised sides that gently cradled our head and neck when we used it. The S3's flat back also rested relatively flush against our seat, preventing our head from uncomfortably jutting forward, while an adjustable front clasp let us slightly tighten or loosen the neck opening to our liking, which makes it possible to tailor the pillow to travelers of different sizes.
• Read more from our testing of travel pillows here.
Sleep mask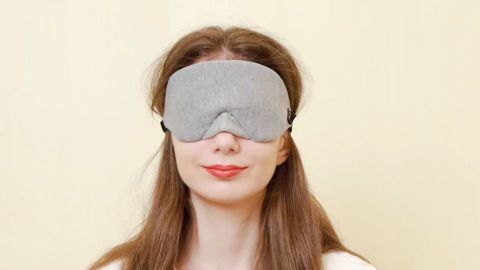 Best sleep mask overall: Mavogel Cotton Sleep Eye Mask ($9.98; amazon.com)
Let's get right to our favorite thing about this mask: the adjustable nose wire. Similar to the nose wire in the masks that we have become all too familiar with in the last year, the Mavogel's nose wire lets you get the perfect light-blocking, lock-in-place fit. Many masks had a slight crack of light around the nose bridge. This mask, though, formed the best seal around the edges, blocking out more light than any other mask we tested.
• Read more from our testing of sleep masks here.
Portable chargers
Best portable charger: Anker PowerCore 13000 ($49.99; amazon.com)
The Anker PowerCore 13000 packs a ton of value. You can quickly charge a lot with the PowerCore 13000; it can bring an iPhone 11 to full charge two and a half times, or two Samsung Galaxy S20s from empty to more than 90%. And you won't be sitting by idly for too long, either, as the PowerCore 13000 takes just 41 minutes to charge an iPhone 11 to 50%, tying for fastest charging in our testing.
The most portable: Belkin Power Pocket 5K ($24.15, originally $29.99; amazon.com)
The Belkin Power Pocket 5K was the smallest and lightest charger we tested: just 5 inches long, 2.5 inches wide and a half-inch thick. There are few places this battery won't fit, yet many devices it'll charge.
The charging capacity of the Power Pocket 5k is modest, but it did come closest to living up to its claimed output out of all the models we tested. While its maximum capacity is stated to be 5,000mAh, we measured it at about 3,655mAh. That's 73% of the expected value, which is 12% better than average in our testing. While its capacity isn't huge, it's more than enough to bring an iPhone 11 or Samsung Galaxy S10 battery back to full life. The only significant downside we could find was the charging speed: It takes a little more than 51 minutes to charge an iPhone 11 to 50%.
Best portable charger for iPhone: Belkin Boost Charge Power Pocket 5K ($32.70, originally $39.99; amazon.com)
The Belkin Boost Charge Power Pocket 5K offers a bit less capacity than the Belkin Power Pocket 5K, but it's a match made in heaven for iPhones — and it charges faster, too.
Along one side of the Belkin Boost Charge resides a USB Type-A port and a Lightning port (MFi-approved) to charge the battery. This is the big deal here — that's the very same kind of port that your iPhone and iPad has. In other words, as long as you have a Lightning cable to charge your iPhone (we're going to assume you do), you have a cable to recharge your battery, too. Consolidating cables is a big win in our book. This charger also pairs better alongside a smartphone because it's lighter than the Anker 13000 and sports more of a rectangular shape, so it fits a bit more snug in the hand.