CNN —
CNN Underscored reviews financial products such as credit cards and bank accounts based on their overall value, but does not review all financial companies or all available financial offers. Terms apply to American Express benefits and offers. Enrollment may be required for select American Express benefits and offers. Visit americanexpress.com to learn more.
Update: Some offers mentioned below are no longer available.
For business travelers, there may be no greater airport oasis than an American Express Centurion Lounge, and the long-awaited new Centurion Lounge location at New York's JFK International Airport opened to the public on October 9. CNN Underscored got a sneak preview of the latest luxury spot for road warriors.
At over 15,000 square feet, the new JFK location is now the largest Centurion Lounge in the world, and it's also the first one that has two complete floors open to guests. It's located at JFK's Terminal 4, which is home to Delta Air Lines and over two dozen international carriers.
Passengers can find the lounge immediately after clearing the main security checkpoint by turning and walking to their left. The iconic blue doors quickly come into view, along with a handmade, custom mosaic art mural designed to invoke New York City's subway murals announcing "The Centurion."
Since the lounge is beyond security, passengers traveling on airlines not departing from Terminal 4 will find it difficult to use the lounge without an extremely early arrival at JFK or a very long layover. There's no way to access the lounge from within the secure area at JFK's other terminals, which means one would need to exit security, take the AirTrain to Terminal 4, re-clear security at Terminal 4, and then do it all in reverse after visiting the lounge to get back to your flight.
Upon entering the lounge, American Express card members check in at the Member Services desk, which will look familiar to anyone who has been to one of the other lounges in the Centurion network.
Health and safety protocols have been implemented at all lounges, which include partitions between guests and check-in representatives, as well as the option for contactless mobile check-in. While in the lounge, all guests will be required to wear masks, and capacity will be restricted to allow for more space between people.
Once checked in, guests walk into an initial small seating area where the tall exterior windows of Terminal 4 are immediately apparent.
However, in the lounge, these windows no longer look out onto the airport's tarmac. That's because an entire building has been added to Terminal 4 to house this lounge. Several windows have been removed and a passageway has been cut to provide access to the new building.
Once you proceed through the passageway and past the elevator, you'll arrive at the primary seating area on the upper floor of the lounge, with daylight pouring in through the new windows.
This area is relatively narrow but very long, with all types of different seats, couches and tables available.
As with all the lounges in the Centurion network, the JFK lounge is both luxurious and invitingly comfortable at the same time. "Cubby" seats are at the far end of this area, where guests can relax and have a modicum of privacy.
A bar and a buffet are also here, and both will be open when the lounge opens. However, rather than having guests serve themselves, a lounge representative will be stationed at the buffet to assemble food plates upon request.
The menu at the JFK Centurion Lounge is designed by Executive Chef Ignacio Mattos, a four-time James Beard Award nominee. Mattos has created signature dishes inspired by New York's vibrant restaurant scene, such as a caciocavallo and egg sandwich with tomato marmalade, fennel salad with castelvetrano olives and provolone and steak with romesco and taleggio sauce.
Guests will be able to order drinks at the bar themselves, but the seats will be removed to encourage social distancing.
The bars in the JFK lounge will feature local wines from New York selected by Centurion Lounge wine director Anthony Giglio, while the coffee comes from Irving Farm New York.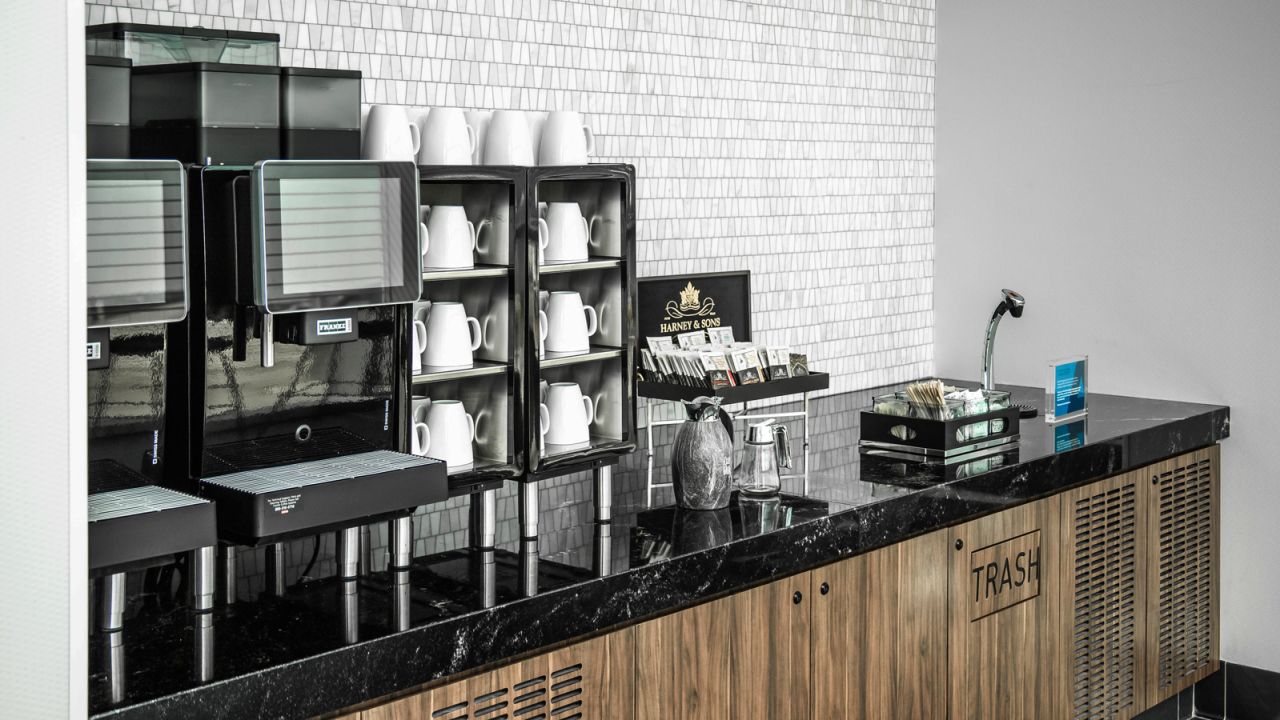 Other features of this upper floor of the JFK lounge include a work area where business travelers can focus on their laptops, as well as a number of individual rooms that provide private space for solo travelers or a couple.
These individual rooms, which number six throughout the lounge, are each influenced by a different New York City landmark or iconic design period, and are named for the year they were inspired by. These spaces are first come, first serve, so if you see one available, grab it while you can.
It might seem like everything we've seen up to this point would make for an impressive lounge all by itself, but we're literally not even half done. Because accessible by either stairs or elevator is an entire second floor of the lounge.
This lower floor starts with another similarly-designed primary seating area, again with floor-to-ceiling windows providing voluminous daylight.
Guests will enjoy the views of the tarmac from this lower level as planes arrive and depart from the Terminal 4 gates.
There's also a complete bar and buffet available on this floor, so sitting on the lower level doesn't means you have to climb upstairs every time you need food or a drink. As with the upstairs bar and buffet, food will be served by lounge representatives and the bar seats will be temporarily removed.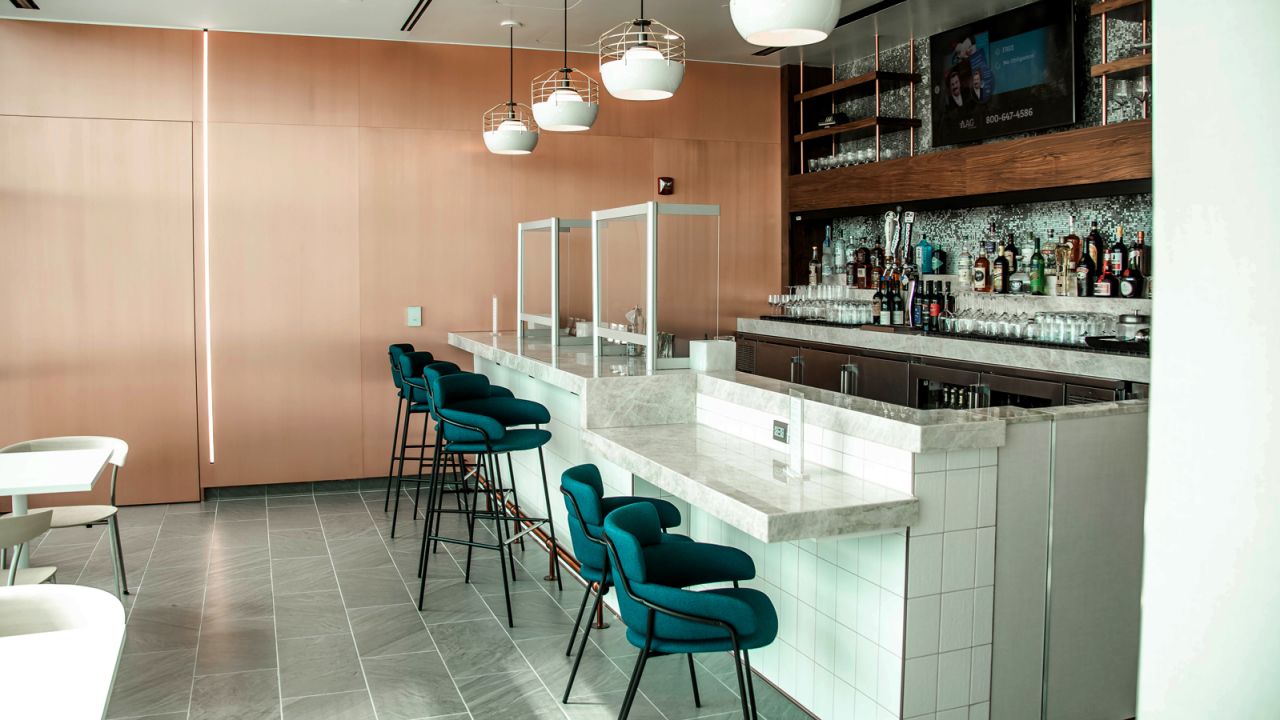 As you may have noticed, many of the details in the JFK Centurion Lounge have been inspired by its New York City location. But the lounge's biggest New York-style surprise is hidden behind the copper-paneled wall at the far left side of the photo above. Just follow the cracks in the wall, push open its concealed door and you'll find yourself in the lounge's "1850" speakeasy.
Named after the founding year of American Express, this third bar and seating area is modeled after a Prohibition-era speakeasy, and will serve a rotating set of cocktails developed by Centurion Lounge mixologist Jim Meehan — such as an espresso martini and boulevardier — that are a nod to some of the city's greatest bars.
The remaining areas on the lower floor of the JFK Centurion Lounge include additional seating areas and individual rooms. With plenty of space throughout, it shouldn't be a problem to find a place to settle in.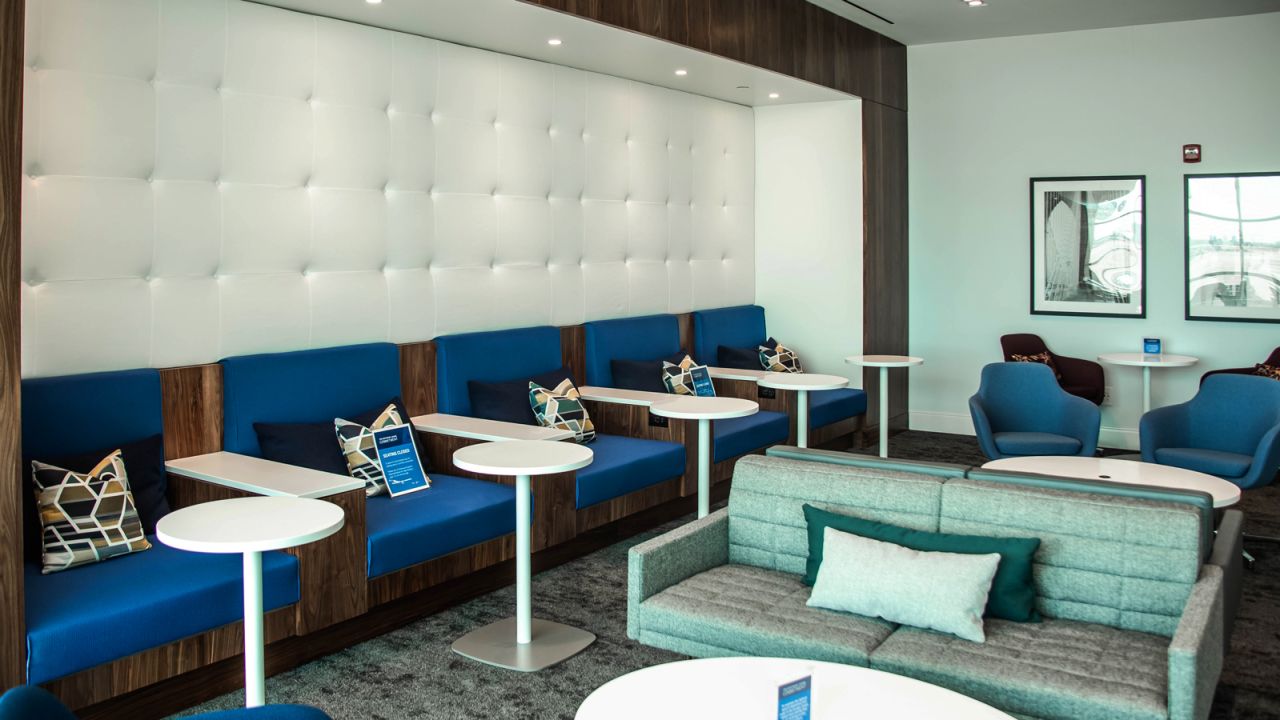 However, it's important to note that during the pandemic, approximately half of the seats that would normally be available to guests will be blocked to ensure social distancing. These seats are noted by signs, with other seating areas reserved for groups traveling together who want to sit together.
Also, to the immediate right of the initial seating area when you first enter the lounge is the multipurpose room. While there isn't a dedicated family room in this lounge as there is in some other Centurion locations, this colorful room could be a good place for families or groups to congregate (while still keeping social distancing requirements in mind).
Before departing the lounge to head to your flight, you may want to partake in the lounge's Equinox Spa. Located on the left side of the initial seating area when you first enter the lounge, the spa features the Equinox Body Lab, which is normally only accessible within Equinox clubs.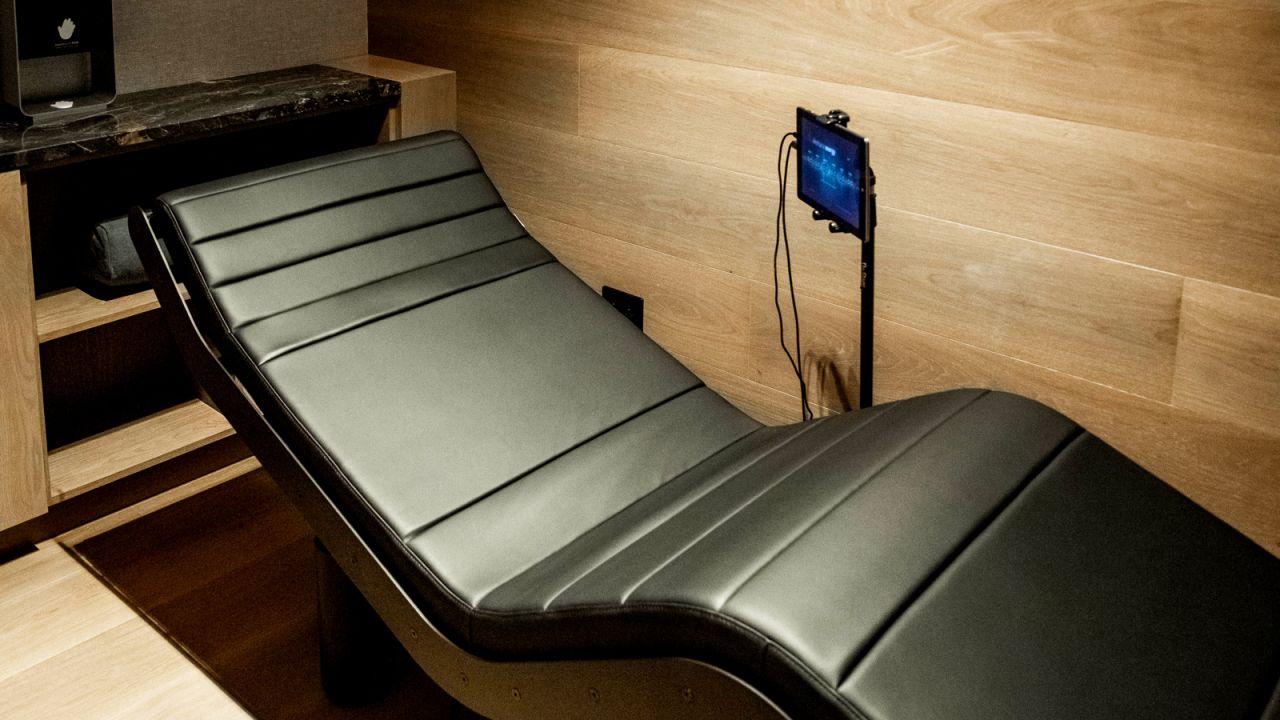 Underscored amex centurion lounge jfk equinox gallery
According to Amex, the Body Lab offers performance-driven restorative therapies including custom, self-guided meditation and stretching sessions using the Variis by Equinox app, a vibro-acoustic chair to help fliers relax before takeoff and more. When the lounge first opens, these sessions will be offered to individuals in a self-led format to prioritize health and safety.
Finally, like many other Centurion Lounges, two shower rooms have been built into the JFK lounge, but the pair will remain closed during the pandemic. Once they do eventually open, guests will need to make a reservation at the Member Services desk to use them.
The new Amex Centurion Lounge at New York's JFK airport is yet another exceptional jewel in the issuer's lounge network. There is simply no one else who does airport lounges in the United States as well as American Express does them. While travel may be at an ebb at the moment, eventually planes will fill the skies again, and this lounge will undoubtedly be one of the most popular spots at JFK.
Even when travel resumes, you don't have to be a full-time road warrior to get your money's worth from the Centurion Lounges. If you see yourself flying even a few times in 2021 and your travels regularly take you through one of the cities on the Centurion Lounge list below, having access to the Amex Centurion Lounges may very well be a worthwhile investment.
How to access an Amex Centurion Lounge
Despite their name, you don't need to hold the exclusive American Express Centurion Card to gain access to Amex Centurion Lounges. In fact, you can get into the most comfortable and relaxing spot at the airport with any of the following Amex cards:
Customers holding The Platinum Card® from American Express or the Business Platinum Card® from American Express are allowed to access any of the Centurion Lounges worldwide.
Customers holding the Delta SkyMiles® Reserve American Express Card or the Delta SkyMiles® Reserve Business American Express Card are allowed to access any Centurion Lounge worldwide, provided that they have same-day travel on a Delta flight.
In addition, card members holding the invitation-only Centurion® Card from American Express (colloquially known as the "Amex Black Card") or the American Express Business Centurion® Card can access any Centurion Lounge, and without time limits.
As a general rule, card members can access the Centurion Lounges up to 3 hours prior to departure of their first flight, and at any time between connecting flight itineraries of 24 hours or less. Only invite-only Centurion card members can use Centurion Lounges upon arrival at their final destination.
You may find the enforcement of the 3-hour rule selective based on crowds. Smaller Centurion Lounges, such as Seattle, are frequently overcrowded and more restrictive on entry requirements, while bigger lounges with more space can be more generous with time. There are also capacity restrictions in effect at all Centurion Lounges to maintain a safe environment during the pandemic, though wait lists are available if you can't get in immediately.
Amex Platinum card members are also entitled to bring two complimentary guests into a Centurion Lounge with them, and may purchase access for additional guests at a rate of $50 per guest, per visit (subject to capacity). Delta Reserve card members don't have complimentary guest privileges, but may bring up to two guests at a rate of $50 per guest, per visit.
Related: Travel with luxury perks using the American Express Platinum card.
For large families, the best deal may be to get an Amex Platinum card and then add authorized user cards to the account. You'll pay a fee of $175 to add up to three authorized users, but each of those users not only get Centurion Lounge access of their own, but two additional complimentary guests as well. So if your family travels often, the cost could easily be worth it.
Read CNN Underscored's complete guide to the Amex Centurion Lounges with reopening dates.