CNN —
After a prolonged period of rumors and teasers, Microsoft's duo of next-generation consoles — the Xbox Series X and the Xbox Series S — are official.
The Series S is an all-digital console that comes at the relatively wallet-friendly price of $299. There's no disc drive, meaning you'll download games. The Series S, therefore, is kind of like the poster child for the Xbox Game Pass.
At $499, the Xbox Series X has more hardware inside and the addition of a disc drive. It runs the same games as Series S, supports backward compatibility and delivers a full 4K experience directly from the console. (You can read our full review of the Series X here.)
So the Series S is a bit less powerful but still delivers a next-gen experience that feels like the ideal option for the masses — that is, anyone not playing in massive multiplayer competitions or concerned with the amount of horsepower inside. You still get access to many historic Xbox titles with a sharp 1440p visual experience.
The downside? There's not a major game for this next-gen family yet — no Spider-Man here, like on PS5 — and it seems like Game Pass is a requirement.
A clean and shockingly small build
The Series S is tiny. An Xbox One it is not.
At just 4.25 pounds, you can easily maneuver it around. You can stand it vertically or lay it flat. It's about the thickness of a long novel, so finding a spot for it in your home won't be hard.
Compared to the Xbox Series X, which looks like a compact gaming PC, the Series S feels like the proper size. And at its $299 price point, Microsoft isn't skimping on what comes in the box.
You, of course, get the Series S, the Xbox Wireless Controller (with two AA batteries), a power cable and an HDMI cable.
The Series S features a solid amount of ports as well. On the rear side, you'll find the power port, an Ethernet jack, two USB-A ports, an HDMI output and a storage expansion slot. The front side features a single USB-A port and a pairing button for the remote tucked right beside it. The Xbox logo on the front not only glows, but it's also the power button for Series S.
The vent is housed in a giant black circle with cutouts. At times, we could hear the fan kick in, but for the most part, it ran pretty quietly. If a game did get hung up, though, we heard a hum from it. The best news is that we didn't feel any extreme heat, and the Series S ran quite cool throughout our testing.
Setup is pretty easy as well — you can set up directly via the Series X or through the Xbox app on your Android or iOS device. The latter isn't a new feature with Series S, but it's pretty handy and ensures your Xbox account is linked from the start. Via the app, after giving the console power and connecting it to the TV via HDMI, it took about 15 minutes for it to be complete.
A familiar controller that's powered by AA batteries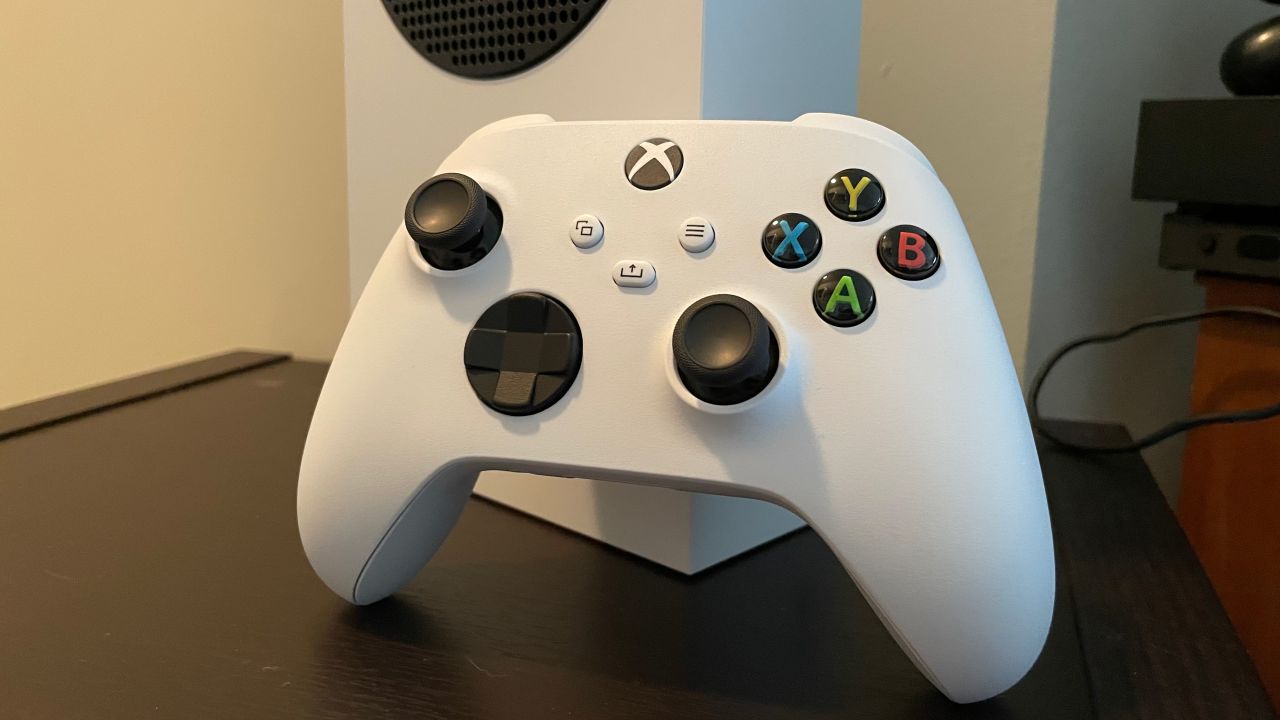 Not much has changed with the latest Xbox Controller. It looks similar to the next generation that debuted with the Xbox One family.
The big change: There's a dedicated button for sharing content like screengrabs and clips.
Our big qualm with it is that Xbox is still using AA batteries. When the power runs out, you need to pop in more batteries. There's a USB-C port at the top, but Xbox makes you buy the rechargeable battery pack for $24.99. That port is pointless unless you buy the accessory. It's 2020 -— just give us an easier way to charge and a way to help the environment. And, for transparency, the Series X doesn't come with this kit, either; that's even more upsetting with a $499 price tag.
The controller still adds to an engaging in-game experience. In racing or driving-focused games like Forza Horizon 4, pushing down on the left trigger to go fast will have the controller vibrating as you shift gears. You'll also feel different levels of vibration depending on the terrain and the vehicle.
A fast interface with zippy load times
The Series S doesn't change the Xbox experience all that much. A little bit on the hardware here: There's a custom CPU inside the Series S that's derived from eight separate cores. Those cores each clock in at 3.6 GHz. Microsoft pairs this with a dedicated 10GB of RAM and a four teraflop GPU (graphics processing unit). It's all seriously impressive even at the $299 price point.
And all the data is being pulled from a 512GB NVME solid-state drive (SSD). This means it's faster to access the data stored and there aren't physically moving parts inside. But be warned: With a 512GB SSD inside and this being a digital-only console, storage space goes fast. Making matters worse is that only 364GB of that 512GB will be user-accessible space for storing games and apps. That's not as big as we'd like to see and will leave you looking at expandable storage. You can still plug in external drives to expand the storage, but you'll find those to be slower, which results in longer loading times for opening titles stored on them.
The ideal way to expand the storage on the Series S (or a Series X, for the matter) is with a license storage expansion. In this case, Seagate makes a 1TB Expansion Card that plugs and slots itself directly into the back of the console. And since it's the same storage type as the physical storage, it feels like a part of the console, and load times are vastly improved.
And the interface on Series S is classic Xbox. Tiles are front and center, which provide easy access to games and apps. Titles you use the most will live closer to the top. You can scroll vertically to access different tabs like the Windows Store, Game Pass and even specific games. You get quick access to your profile in the top left and see three core stats in the top left: microphone status, controller battery level and the time.
Loading and starting a game like Forza clocked in at 14.5 seconds. With title likes Yakuza: Like a Dragon, Forza Horizon 4, Gears 5, Star Wars: Squadrons and Ori and the Will of the Wisps, the general start time for a title was between just 12 and 17 seconds.
The other impressive thing is that many titles support Quick Resume, so if you close out of Dirt 5 to browse the interface for a bit, reopening Dirt 5 takes about two seconds. If you want to switch back to another title like Madden NFL 2021, the switch takes about 10 to 20 seconds. That change isn't instant, as the console does quickly save your work.
The Series S is a bit quicker than the original Xbox One and still zips past the One S and One X with load times. You just need to make sure titles support the innovative new software experiences. With most experiences, we found the S to be 2.5x faster over the original, about 1.5x faster than the One S and slightly faster at .5 over the One X. (We calculated these from a range of tests and averaged the totals.)
Better yet, the faster experience translates to powering on the console as well. In most of our tests, either a power button push or a hold-down press on the controller delivered a console start time of just 5.65 seconds (when averaged out). You'll also notice faster restart times and a stronger connection when downloading titles. For instance, games that take up about 40GB were able to download in about an hour and a half. This also depends on your home internet connection, since it needs to connect to the cloud.
Gaming is smooth and engaging even at 1440p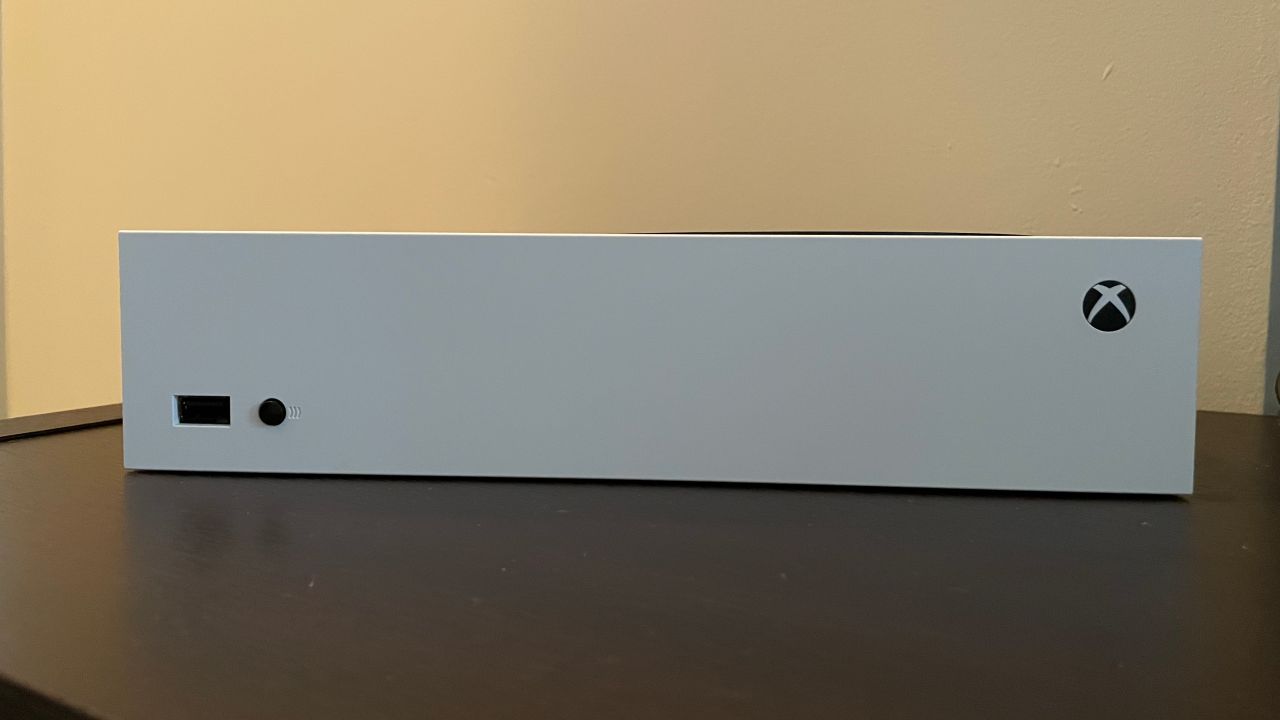 For the most part, gaming on the Series S is fluid across the board. It might not have a crazy amount of teraflops (a measurement for graphics performance, like horsepower in a car) inside, but unless you're a streamer or a professional player, the Series S is likely plenty for you.
The big question mark surrounding the console, though, revolves around the big flagship games. Cyberpunk 2077 and Halo are both arriving post launch day after both receiving delays. Halo was pushed further back into 2021. Classics like the original Halos, along with newer titles like Gears 5 and Forza, have been refined to run smoother and faster on the Series S. That means better load times and lower latency visuals. To play those games, you either need a Game Pass subscription or to have previously purchased the titles. Keep in mind that the Series S is backward compatible with literally thousands of games, which is a big selling point.
If you're looking forward to playing flagship titles (when they eventually arrive), the Series S is setting you up for success on day one. Most titles, including Gears 5 and Forza Horizon 4, ran smooth with minimal latency and shimmering graphics on a plethora of TVs. The Series S has a maximum of 1440p at 120 frames per second. It gets tricky, as most games will likely opt for 60 frames per second (or even less). This is a decision made on a game-by-game basis and is likely due to power constraints internally. While 1440p is kind of in the middle of resolutions (better than 1080p HD but a few steps behind 4K), it's not all bad news, as many TVs will upscale the content to a true 4K experience. We tested the Series S with a multitude of TVs: Vizio M-Series, LG CX, Sony A8H, Sony X900H, TCL 6-Series and Samsung Sero. In our testing, all were upscaled and delivered more detail versus when upscaling was turned off. In the end, it pays to upscale, as it doesn't sacrifice colors or contrast levels.
Many titles are optimized for Series S, meaning they'll take advantage of the improved hardware inside to deliver stunning graphics and faster experiences. Those titles include Forza Horizon 4, Gears 5, Gears Tactics, Sea of Thieves and The Toursyt. Even if a game is not optimized for the Series S, it still runs well with strong graphics across the board. For the most part, it excels past the One, One S and meets the One X. A title like Watch Dogs: Legion, which was not optimized, was still smooth — although it did quit out in the middle of a mission.
With all of our tests, the Series S was pushing out 1440p at varying frame rates with a maximum for 120 frames per second. But if you're dying for 4K quality, fear not, as your TV likely upscales the content. The result is an experience closer to 4K. Titles like Forza Horizon 4 looked stunning, especially when racing in the fall. You can see a wide range of warm colors forecasted on the ground, with sleek cars zooming across the screen.
All in all, though, the Series S delivers an engaging, compelling and downright fun experience. If you're just here to have a good time, the Series S fits the bill.
Bottom line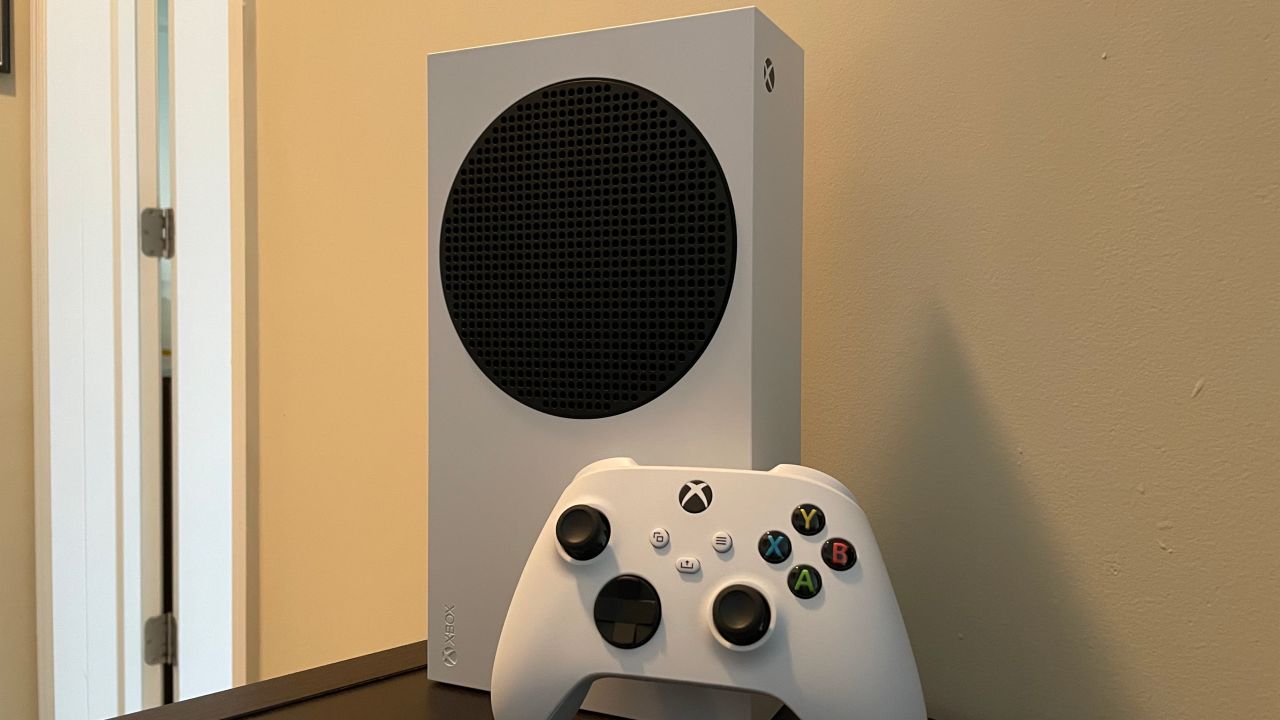 At $299, if you're cool with no native 4K and a digital-only environment, the Series S is likely the Xbox for you.
It delivers a lot of value, and when you factor in the fast experience we've had (along with a TV that can upscale to 4K), you're getting a splendid gaming experience. As long as you're not competing on a world stage, the Series S is plenty.
The Xbox Series S launches on November 10 for $299.99. Many retailers are taking preorders, but know that stock is fluctuating and we recommend checking back if the console is sold out. Those retailers include Amazon.com, Best Buy, B&H Photo, GameStop, Microsoft Store, Target and Walmart.