Don't knock cold weather adventure until you try it. Hikes during the winter and shoulder seasons — which include March, April, September, October and November — are some of the best times to hit the trail. With fewer crowds and the ambiance of snow-covered trees, hiking in the winter provides a sense of serenity that's vastly different than what you'll experience in the middle of summer. You'll just want to make sure you have the right winter hiking gear before you head out, including winter hiking boots.
Best known for its high-performance backpacking and hiking boots, footwear company Vasque launched the Coldspark UltraDry insulated hiking boots for those who love staying active even in cold weather. These lightweight hiking boots provide unmatched insulation with a fraction of the weight you'd find in a regular winter boot. Designed with a proprietary inner lining that's both breathable and heat retaining, these boots trap heat but let moisture out if your feet start to sweat. They also repel water, so you don't have to worry about wet feet if it's snowing or lightly raining on your hike.
For hikers who live in a snowy state or want to adventure during the chilly shoulder season months, the Vasque Coldspark UltraDry winter hiking boots are for you.
Stay warm no matter if you're heading out for a multi-day winter backpacking trip or a day hike during the shoulder season. Designed with insulation and breathability top of mind, the Vasque Coldspark UltraDry hiking boots are lightweight and supportive, and they keep your feet toasty while hiking in cold temperatures.
What to consider before buying winter boots
We've covered winter hiking essentials worth investing in, how to sleep comfortably while camping in cold weather and the best down jackets to stay warm outdoors. When it comes to buying winter hiking boots, there are a few specific considerations to keep in mind:
Weather
To pick out the best winter boots for your cold weather adventures, you'll want to know the ins and outs of weather patterns where you're hiking — especially during wintertime. Will your trail climb into high altitudes where snow can fall at a moment's notice? Are shoulder season snowfalls common in the region you're recreating? Is it common to run into single-digit or below-zero temperatures during the day or at night when you're backpacking? It's important to understand weather patterns and typical forecasts no matter where you hike to make sure you're prepared with the proper gear, including protective and insulated boots. By doing so, you can choose a pair of boots adequately insulated to keep your feet warm while you're on the trail.
Use case
Winter boots are of course meant for winter hiking. However, if you choose wisely, you can find a pair of cold weather hiking boots that will also work well during warmer months like the shoulder seasons in fall and spring. Think about the time of year you plan to use these boots and if it's worth the investment in going all in on a heavy-duty winter boot or choosing a boot that can flex between seasons. Shoulder season winter boots, like the Vasque Coldspark UltraDry we review here, are a perfect example of boots you can wear during three seasons (fall, winter, spring) instead of only one.
Price point
It's not uncommon for winter boots to run at higher price points. That's because, with added insulation and cold weather design technology, you're paying for greater security in knowing these boots will keep you warm no matter the elements. Consider buying your winter hiking boots in the off-season, like the end of spring or summer, when the previous year's models of boots go on sale. Or invest in a pair of boots you know are built to last. As my mother always taught me: You get what you pay for.
What we liked about them
The Vasque Coldspark UltraDry hiking boots were built to keep your feet warm on the trail without the weight of a traditional winter boot. Reflective insulation traps heat inside, and an outer membrane repels water for a comfortable hiking experience on short and long trails alike.
Extremely warm
My feet have never felt warmer while hiking in a pair of boots. While walking around my neighborhood and putting in miles on more rugged trails, my feet radiated with heat inside of these insulated hiking boots. Vasque designed the Coldspark with a proprietary heat-reflective and breathable lining to better insulate your foot while on the move. Think of it as an emergency blanket wrapped around your feet. The technology, which Vasque calls Retain, is a thin reflective heat barrier comparable to 200 grams of traditional insulation. This means you get the same warmth as thick insulation but in a thinner, lighter, more agile boot.
I hiked in these boots in both frigid temperatures in the middle of winter and during the spring shoulder season in temperatures around the mid-30s. In January, when temperatures in Chicago dipped into the single digits, I wore these boots on a hike along a snow-covered woodchip trail at my neighborhood park that runs along the Chicago River. My feet were chilly when I first slipped them into the boot, but as soon as I started hiking, I could feel the boots start to heat up. The few inches of snow on the ground were no match for these winter hikers. Around the mile mark, I noticed the Coldsparks really started to trap in the heat around my foot with the friction and warmth radiating inside. My feet stayed completely warm for the rest of the 3-mile hike.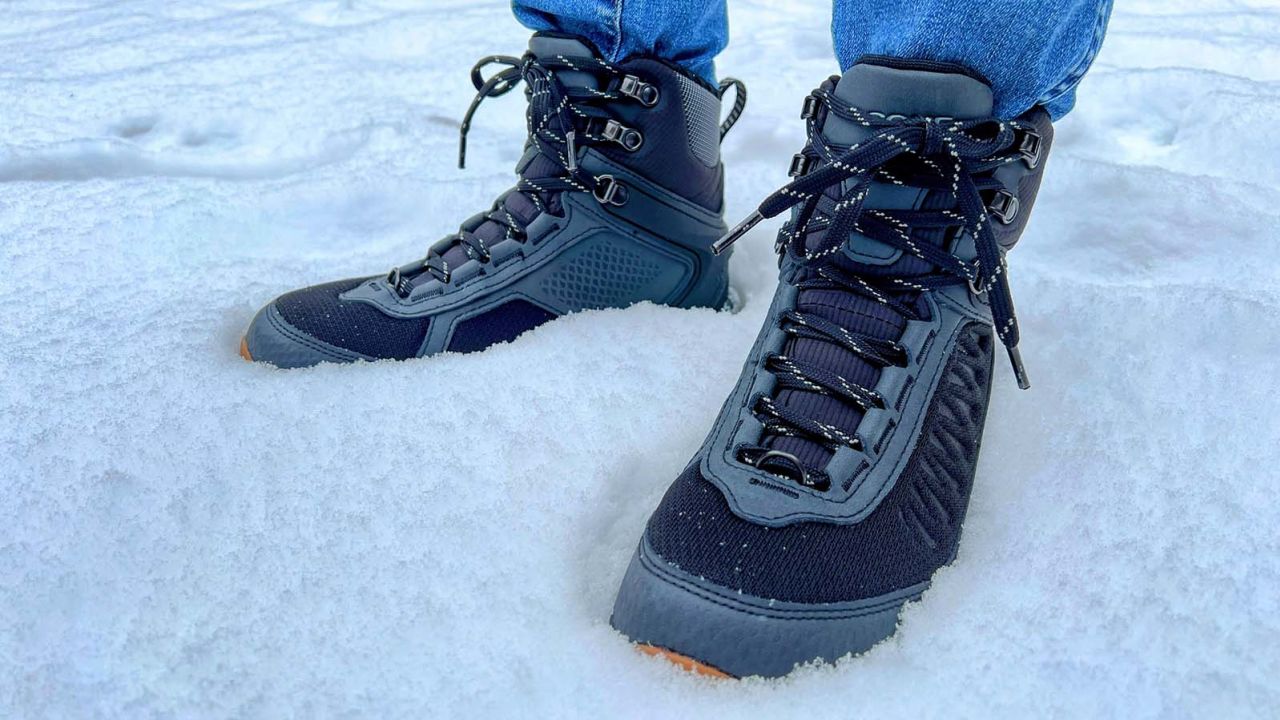 The other perk of these boots is how versatile they are in all various temperatures. At the end of March on a 35-degree day, I wore these boots on a 4-mile hike in the Palos Trail System southwest of downtown Chicago. As I hiked the muddy trails in the chilly spring weather, the Coldsparks radiated with heat. It felt as though I had insulated jackets wrapped around my feet or that there might be a heat pack shoved inside my boot. Also, even with over 15-mile-per-hour winds during this hike, I couldn't feel any air coming in through the top of the upper fabric of the boot.
If you are wearing these boots above 40-degree weather, it's likely that your feet will sweat uncomfortably. If your feet tend to run cold and you plan to hike in the Coldsparks during the middle of winter, you can opt to order a half size larger than your normal shoe size to accommodate thicker wool socks. However, since these boots are super lightweight, it's also nice to wear these in warmer weather during the spring and fall shoulder seasons without having to wear thick winter socks.
Lightweight and agile
Usually, hiking in frigid temperatures requires wearing heavy, clunky and thick insulated boots to stay warm. That's not the case with the Vasque Coldspark hikers. As we mentioned, Vasque's Retain technology — an inner liner that's designed to trap heat inside the boot while you hike — keeps your feet warm without extra weight. This breathable lining also keeps moisture out of the inside of the boot. If your feet sweat inside or if water builds up on the surface of the upper fabric, you won't have to worry about unwanted wetness in or on the boots.
The Coldsparks weigh 1 pound, 14 ounces per pair and fit more like a comfortable tennis shoe hiker than an insulated winter hiking boot. In addition to being lightweight, these boots feature a soft outer fabric for added pliability and flexibility while you move. Walking over root-covered and rocky ground was a breeze in these boots. The sole flexed with the terrain beneath my foot and the upper section of the boot moved with my foot and ankle as I passed over and around obstacles. The soft outer lining also made for a comfortable fit around the top and side of the boot, and I appreciated that the Coldsparks fit slim around my foot. No extra fabric or padding that adds unnecessary weight and bulk to these boots.
Impressive ankle protection
Even with so much flexibility and pliability, my ankles always felt secure and supported in these boots. The Vasque Coldspark UltraDry boots have an over-2-inch ankle, and the collar sits high above the ankle joint. This may take some time to get used to if you don't typically wear high-top boots. However, once you acclimate to the height, you'll love how secure these boots fit around your foot and ankle. Three speed hooks, or shoe lace hooks that run up the ankle to the collar of the boot, provide extra security and stability around your ankle. This boot has more speed hooks than I've seen on other high-top hiking boots in this category. I appreciated the ability to customize their fit by using the laces and speed hooks to tighten each to my liking. The Coldsparks also fit comfortably right out of the box, which is something I don't often say about most boots. Typically boots require weeks if not months to break in.
What we didn't like about them
Not waterproof
Despite Vasque marketing these boots as waterproof, they definitely did not repel water as promised. Vasque's UltraDry technology claims to combine both moisture-controlling and waterproof materials to make a boot that keeps both water and perspiration out of the boot. The boots also feature waterproof treated leather on the boot's upper and ankle to add even more water resistance.
While hiking in the spring shoulder season, I stepped in a puddle of water in the middle of the trail. The splash sent water over the top of my boot. I instantly felt the water seep into the boot, through my wool sock and onto my foot. Snow, slush and rain also got into this boot when worn during extended periods of time or in heavy precipitation. For a boot that's marketed as "UltraDry," I was disappointed that these boots did not keep my feet dry from external elements.
I did find, though, that as my feet sweat inside these boots, moisture was able to escape out of the upper fabric on the top of the boot. This added breathability is reassuring, especially during shoulder seasons when daytime temperatures can rise and warm feet can result in unwanted sweat inside your boot.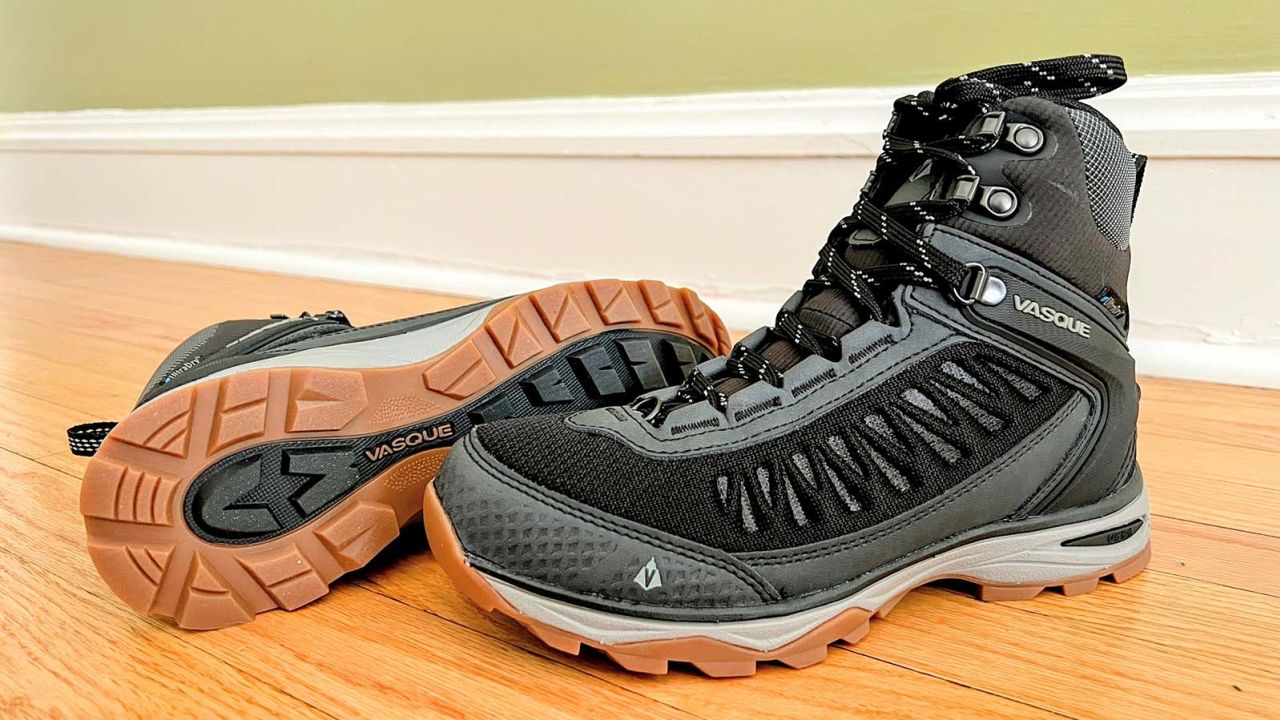 Lack of traction
The Coldsparks feature multidirectional outsole lugs, which Vasque claims help maximize traction in icy and wet conditions. However, I don't agree. There were multiple times when hiking in these boots both during the middle of winter and the shoulder season that I ran into slippery situations. While hiking on a 35-degree day after the snow melted, I came across a patch of flat rocks on a shared mountain biking and hiking trail. Immediately upon stepping on the rocks, I lost traction. I could feel my feet start to slip on top of the wet rock and I swiftly hopped off into the mud to regain traction. Likewise, while hiking in the middle of winter in temps in the low teens, I felt my feet slip many times on icy patches of densely packed snow. Hiking on wet or fluffy snow and in the mud, however, I felt perfectly secure in these boots.
Thin midsole and insole
Cushion is definitely not a selling point of these boots. During the winter while hiking in snow, I didn't find the lack of cushion to be a problem. But while hiking in the shoulder season on muddy and snowless trails, I could feel rocks and roots underneath my feet. The Coldsparks are lined with Dual-Density EVA foam. It's an incredibly lightweight material, but this type of midsole and insole provides less support than other boots I've worn like the Moab 3 x Unlikely Hikers or the Hoka Anacapa Mid GTX. These more cushy boots certainly won't keep you as warm as the Vasque ColdSpark UltraDry, though, so keep that in mind.
If you're going on a long-distance hike or backpacking trip that varies between rocky and snowy trail, you might consider swapping out the insole of the Vasque Coldsparks with something that will add more cushion.
How they compare
It's hard to beat the Vasque Coldspark UltraDry boot's weight-to-warmth ratio. However, if you're looking for a more waterproof winter hiking boot option, consider Merrell's Moab 3 Thermo Mid Waterproof ($160) boots. This is the waterproof and insulated version of its classic Moab 3 hiking boot. Like the Vasque Coldspark UltraDry, these boots are lined with insulation but have a much more durable outer shell for extra protection from water. The Moab 3 Thermo Mids, lined with 200 grams of Primaloft synthetic insulation and covered in a waterproof membrane to seal out water, are both warm and moisture-proof. They also make great three-season boots, especially during spring when the weather is unpredictable and rainstorms are common.
Searching for a boot that provides more traction but can still stand up to cold weather? Altra's Lone Peak ALL-WTHR Mid 2 waterproof hiking boots are known for their TrailClaw canted lug design on the outsoles for added traction. The lugs are strategically placed beneath the metatarsals for ample stability and leveraging your body weight to better grip rocky and slick terrain. They're also extremely comfortable, thanks to 5mm of cushioned footbed and thick foam midsoles.
If you're less concerned about weight in a winter boot, check out the more expensive Salomon Quest 4 Gore-Tex ($230), which weigh 2 pounds, 6.4 ounces per pair, or the Danner Arctic 600 Side-Zip ($240), which weighs 2 pounds, 5 ounces per pair. Both pairs are slightly heavier but promise a similar level of performance and insulation as the Vasque Coldsparks. The Salomon Quest 4 boots are best for long-distance hikes and winter expeditions, while the Danner Arctic 600 boots are great for trail-to-town adventures in the wintertime.
Bottom line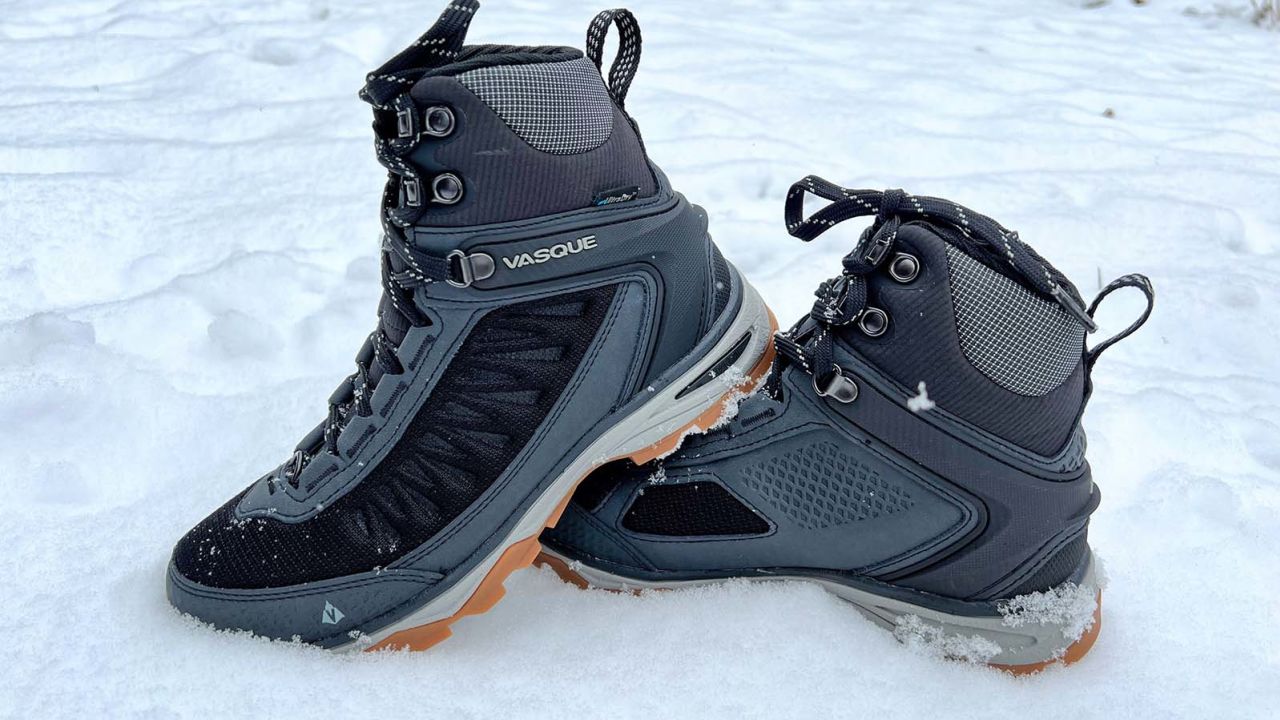 The Vasque Coldspark UltraDry insulated hiking boots are a top pick if you're in search of a quality pair of boots that will stand up to winter temperatures. These versatile winter boots can also flex into fall and spring seasons, thanks to their lightweight design and breathability.
A great choice for hikers looking for a three-season boot built for adventures near and far, the Coldspark boot is great for backpacking trips and day hikes to walking around the neighborhood in snowy weather.
With a flexible outer fabric yet extremely supportive high-top ankle, the boots provide comfort and stability on snow-covered or muddy terrain. Take these boots on for a cold weather spin in early spring, late fall or the middle of winter — and you won't have to worry about freezing toes along the way.