A well-made bagel is a beloved thing, but cutting it, alas, is not. Bagel-related injuries, or BRIs, have become part of pop culture, ever since a 2008 Wall Street Journal article reported that the breakfast food was the fifth-most common cause of emergency room visits — accounting for nearly 2,000 injuries per year — according to a government analysis of data on "fingers cut by knives."
No one wants to become a statistic.
The Urban Trend Hometown Bagel Knife makes enjoying these killer carbs foolproof, and leaves you with an evenly sliced bagel every time. Unlike a lot of bagel-slicing gadgets on the market, which use a guillotine-like action (that I admit is probably pretty satisfying), this tool has a serrated blade so you don't have to apply a lot of pressure and it's less likely to dull over time. It works equally well on rolls, bread, English muffins and any other carb that fits in the blade opening. This bagel knife is also completely handheld, so you can slice bagels anywhere without fear, and it can be easily tucked away in a drawer when not in use, limiting countertop clutter.
This product not only solves a universal kitchen problem, but also your fingertips, by offering a safe, fast, convenient way to prep a favorite breakfast food. And that peace of mind alone is worth the $20 price tag.
The Urban Trend Hometown Bagel Knife does one job, but it does it very well. It's sturdy, it's easy to use and clean and it won't clutter your countertop. If you love carbs (and your fingers), this tool is a must-have.
How I found the Urban Trend Hometown Bagel Knife
No one ever thinks it will happen to them, and as a cook who is confident in my knife skills, I was even more overconfident than most people about my bagel-slicing abilities. But I, regrettably, am one of those BRI statistics. I ended up needing several stitches in my thumb for a deep cut and it made me wary enough to consider a single-use kitchen tool, something I try to avoid. But my family does enjoy bagels. I've even made my own from scratch.
While researching the options, the Urban Trend Hometown Bagel Knife caught my eye because it was handheld, and so it seemed the least intrusive to my limited kitchen storage space. Most other bagel slicers are designed like mini guillotines, with two separate pieces, and although they seem like they'd be fun to use, I preferred the compactness of a single tool (and fewer parts to clean).
I'll admit, when the bagel knife arrived it wasn't quite as compact as I'd imagined. But the bulky design is necessary for accommodating large and thick bagels (the best kind) and still giving you a decent length of handle to grip. At 14 inches long and 2 inches wide, it's definitely manageable; it's just a lot more significant than the kitchen knives I'd been using, so be prepared for that.
Still, for $20 on Amazon with free next-day shipping for Amazon Prime members, the knife turned out to be a worthwhile investment for both my health and my kitchen.
Why it's a score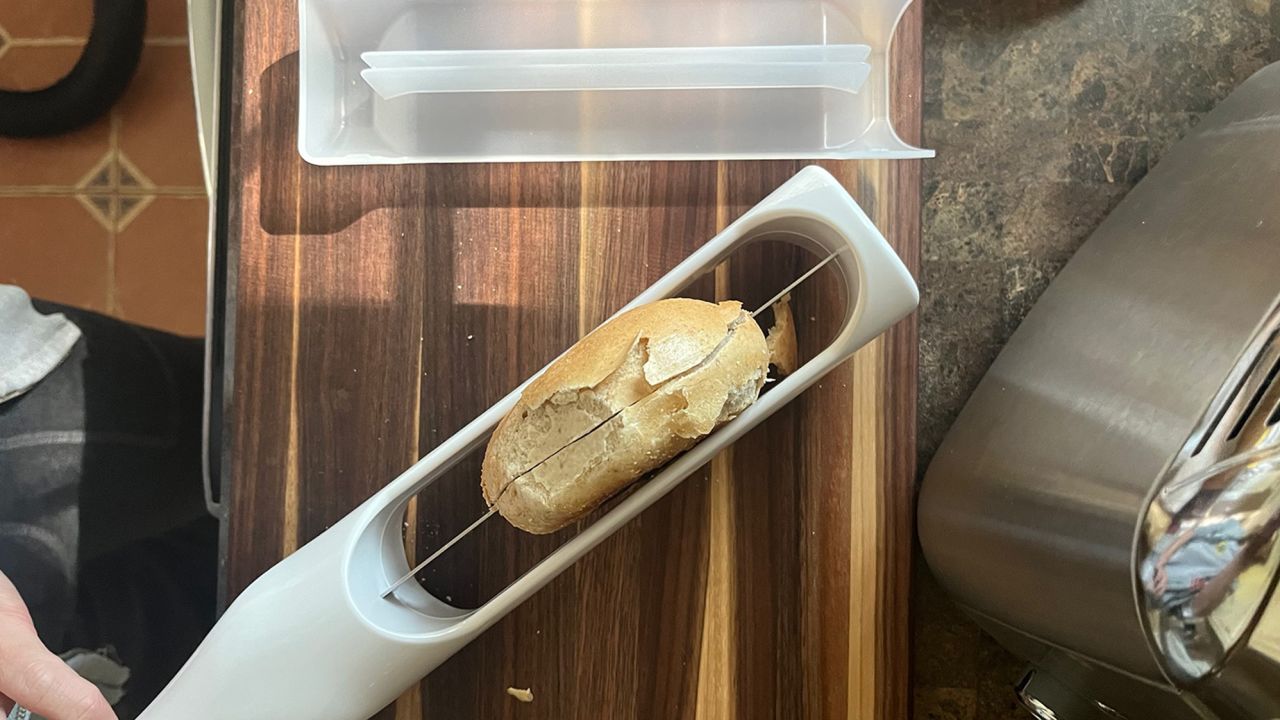 Design-wise, the Urban Trend Hometown Bagel Knife is as space-conscious as it can be without sacrificing functionality, and I think more aesthetically appealing than a miniature guillotine on my countertop. The finish could be a little higher-end instead of basic shiny white plastic. The underside of the handle — a matte neon green in a satiny finish, which makes it easier to grip — also seems to be a questionable color choice, but seeing as this tool isn't going to be on display, I can overlook the lack of a sleeker design. However, the frosted plastic blade guard is a nice touch.
The main reason I invested in this tool, though, was purely functional, and that's where it shines. A serrated stainless steel blade is centered in the tool's plastic head, inaccessible unless you reach up inside to touch it. (Note: Do not do this.) A standard bagel fits neatly inside the opening (at 6 inches long by 1 3/4 inches wide, it can accommodate nonstandard bagels as well), and a simple sawing motion slices it into two perfect halves.
Being mostly concerned about the safety of my fingers, I hadn't given much thought to the precision cutting action of this tool. But now that I've experienced it, I greatly appreciate the fact that I can avoid bagel mishaps from sloppy freestyle slicing: the too-skinny bagel, the lopsided bagel, the dreaded double cut. The Urban Trend Hometown Bagel Knife makes it impossible to do anything other than cut a bagel directly down the center into two even halves, so it's excellent if you have kids (or adults) who pick fights over who gets which half of the bagel. Speaking of kids, my 8-year-old was able to use this completely unassisted, with no instructions, just intuition, to slice bagels, so that's an excellent testament to how easy and safe this tool is.
The stainless steel blade makes easy work of a bagel's chewy, tough crust, but it can also handle more delicate breads without ripping them. And because it's serrated, it won't dull or need re-sharpening. The included blade guard helps protect the blade as well as your fingers, because knives often dull when jumbled around in a drawer with other utensils.
Overall, the Urban Trend Hometown Bagel Knife is a nifty tool that performs to expectations, and can be an absolute necessity if you enjoy bagels even a few times a year. And let's face it, spending $20 is preferable to spending your morning at urgent care instead of brunch.