Turtle Beach has long been a top player in gaming audio — its Stealth 700 Wireless has dominated our best gaming headset picks for years — but now the company is looking to go even bigger. The new $330 Stealth Pro is Turtle Beach's highest-end gaming headset yet, introducing a slick new look, immersive noise-cancellation and virtually endless battery life while refining the excellent sound and customization we've come to expect from the brand.
This combination makes for one of the best gaming headsets we've tested yet, particularly for competitive gamers and folks who like fine-tuning their sound. However, all these perks don't come cheap, and the Stealth Pro has some serious competition in the $300-and-up arena. So is it worth the high price? Here's what I think after many, many hours of gaming on Turtle Beach's latest.
If you're looking for a high-end gaming headset with active noise cancellation and tons of customization features, the Stealth Pro is one of the best options out there.
What we liked about it
A sleek, super-comfy design
The Turtle Beach Stealth Pro doesn't look like a Turtle Beach headset, and I mean that as a compliment. While many of the company's products are unapologetically gamer-y (read: big, bulky and filled with colorful highlights), the Stealth Pro dons a sleek silver-and-black look that's more in line with a traditional pair of over-ear headphones. I think the SteelSeries Arctis Nova Pro Wireless do a better job masquerading as a pair of everyday cans, but I was still happy to break out the Stealth Pro on a flight — and had zero fears of getting any funny looks.
More importantly, the Stealth Pro feels great, with plush memory foam ear cushions that felt snug yet breathable — by comparison, the still-comfy Stealth 700 Gen 2 tends to put more pressure on my head. They feel a bit heavy compared to the more svelte Arctis Nova Pro, but I still had no problem wearing them for hours, whether I was blasting through Metroid Prime Remastered on a plane or getting spooked in Resident Evil 4 on my couch.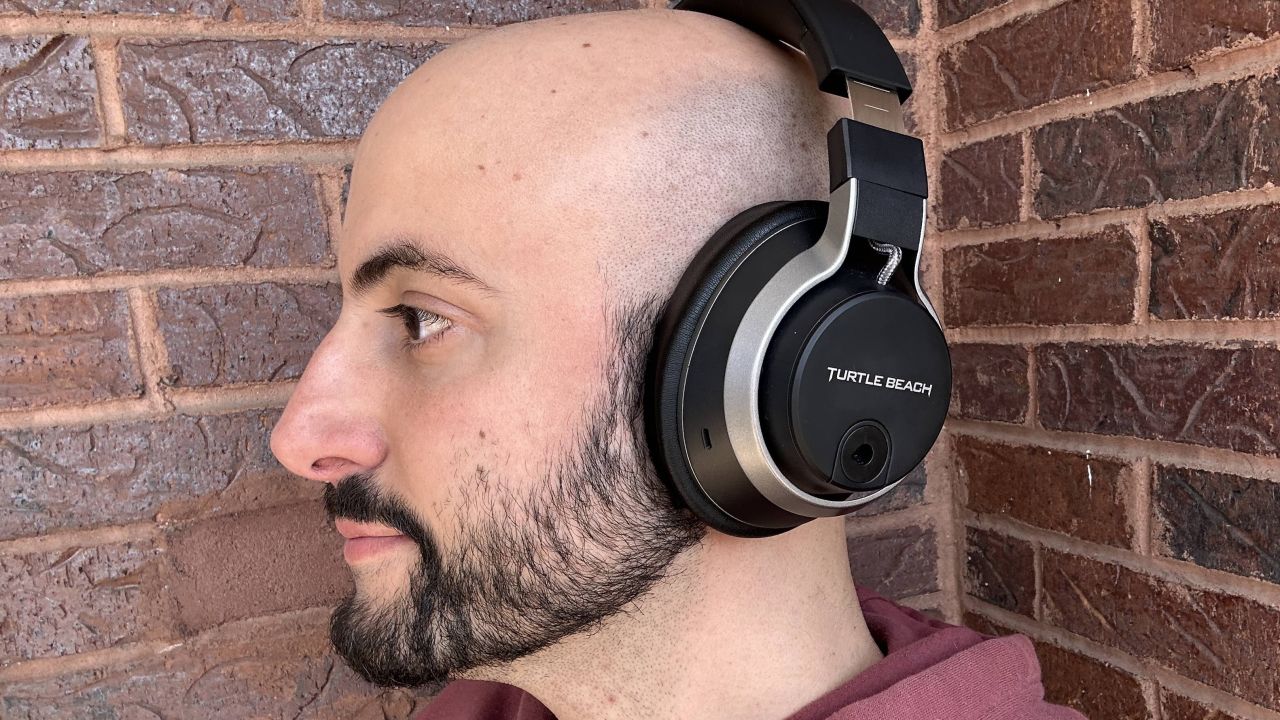 The Stealth Pro packs plenty of on-ear controls, including buttons for power, Bluetooth and the company's signature Superhuman Hearing mode just under the right earcup as well as a customizable dial and action button on the earcup itself. I didn't always have an easy time reaching the main three buttons, but this layout is a big improvement over the Stealth 700, which crammed way too many sliders and easy-to-mix-up buttons on a single side. Plus, thanks to the headset's excellent companion app, I rarely had to fuss with them at all (but more on that later).
The Stealth Pro's flexible microphone is removable for when you're gaming solo, and its left earcap cover snaps off easily once it comes time to swap between its rechargeable batteries. I still prefer retractable mics (like the ones on the Nova Pro Wireless and Stealth 700) over detachable ones since you won't have to worry about any parts going missing, but snapping the Pro's mic on and off wasn't much of a hassle.
Great overall gaming sound and ANC
The Stealth Pro pumps out high-end sound that's befitting of its high price tag, making it easy to get immersed in my favorite cinematic games while allowing for plenty of competitive awareness when I hopped into the online battlefield. Being able to hear exactly where every undead growl was coming from made Resident Evil 4 even more tense, while the bone-crunching action of Mortal Kombat 11 came through in full, disgusting detail. When using the Stealth Pro and Stealth 700 side-by-side in these games, the Pro sounded noticeably crisper and cleaner.
But Turtle Beach headsets really shine when it comes to giving you a competitive edge in online shooters. This is thanks to the company's signature Superhuman Hearing feature, which is designed to highlight noises like gunshots and footsteps, letting you stay well aware of your enemies. And this feature works as well as ever on the Stealth Pro, letting me easily pinpoint teammates and foes while frantically running around the multiplayer battlefields of Overwatch 2. You can even fine-tune Superhuman Hearing in the Turtle Beach Audio Hub app, whether you want to adjust its intensity or turn on specific presets that emphasize gunshots or footsteps.
One thing to consider is that Superhuman Hearing generally sacrifices immersion for function, creating a tinny sound that highlights just the sounds you need when you're competing. That said, the effect sounds more natural on the Pro than it does on the Stealth 700, and does a nice job amplifying those high-frequency noises while still creating a pleasant overall soundscape. The Stealth Pro is largely comparable to the Arctis Nova Pro in terms of overall quality, though I found that game noises were generally louder and livelier on Turtle Beach's headset.
The Stealth Pro is Turtle Beach's first gaming headset with active noise cancellation, which is a great feature to have if you're gaming on the go (or in a household filled with noisy kids and pets). It held up pretty well in my testing, quieting everything from the buzz of an airplane and the clack of nearby construction to a significant degree. I found the Arctis Nova Pro's ANC to be a bit smoother and more consistent when gaming with my air conditioner on full blast, but both did a similarly good job keeping outside noise levels low. Better yet, the Pro's ANC is highly customizable, with five levels of adjustable noise cancellation or ambient sound depending on how much noise you want to block out or let in.
The Stealth Pro got me through everyday calls just fine, and produced impressively crisp and clear voice recordings. By comparison, the Stealth 700 was fuzzier and picked up more background noise, while the Nova Pro Wireless came through just a bit louder and cleaner than the Stealth Pro. Still, you won't have to worry about being heard by your teammates. Turtle Beach's new headset even has an internal microphone for when the main one is detached, which is ideal for taking calls when you're on the go. While this mic has a more tinny sound and picks up more background noise, it's still impressively clear for something internal, and should get you quick phone chats without issue.
Handy companion app, lots of features and wide compatibility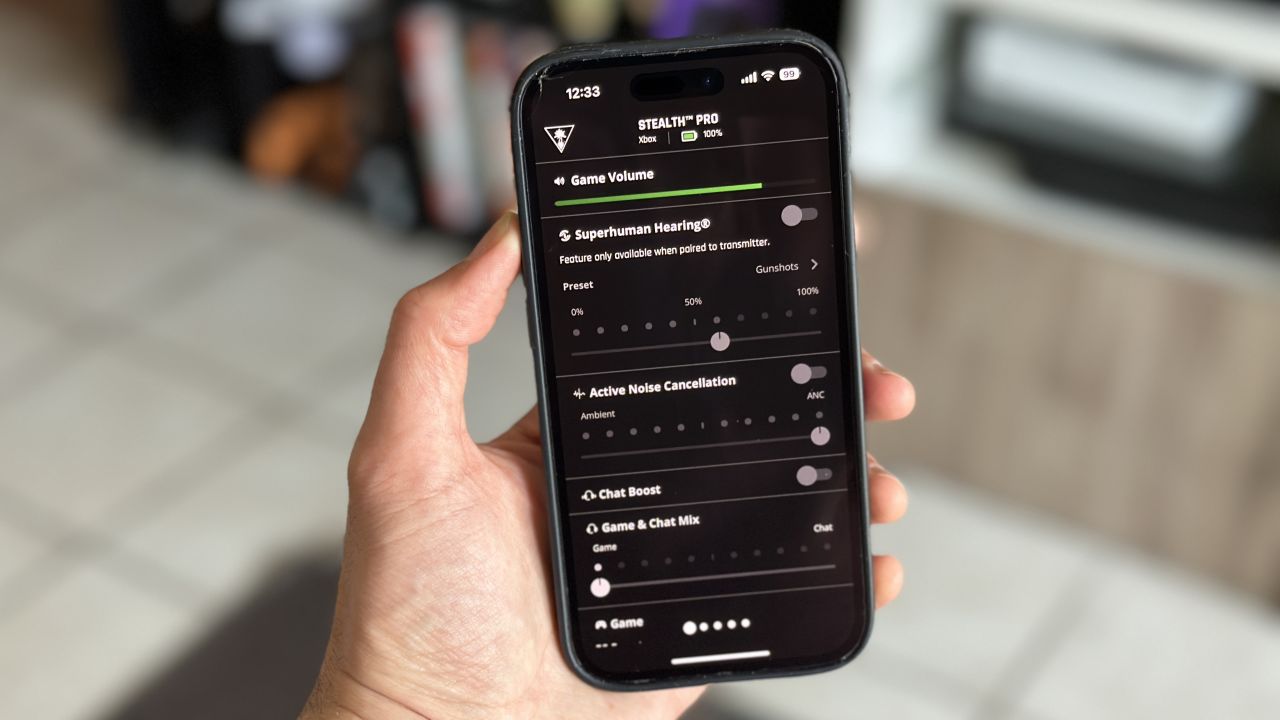 The Turtle Beach Audio Hub app (available for both mobile and PC) has long been one of my favorite things about the company's headsets, and it's better than ever in 2023. This app lets you tweak and toggle just about all of the headset's features with a few quick taps, from basic volume and ANC adjustments to a wealth of sliders that let you hear your games — and be heard on the microphone — exactly how you want to.
The app offers a number of custom sound presets for your game audio, your mic output and even any connected Bluetooth devices (such as your phone), which is ideal for, say, enjoying neutral sound for games while amping up the bass once you switch over to some music. You can customize the earcup wheel to adjust all kinds of volumes and levels, as well as program the side button to do things like activate ANC or cycle through game presets.
There's a staggering amount of personalization on offer, and it's all presented on a clean app that I found easy to swipe through to make adjustments on the fly. Being able to toggle Superhuman Hearing or tweak my ANC right on my phone mid-match was a huge convenience, especially considering the headset's on-ear controls aren't exactly the best. The Arctis Nova Pro Wireless is similarly customizable, but you'll have to adjust it via either the SteelSeries Engine software on your PC, or by using the wireless transmitter box that connects to your console or computer. The latter's dial-based controls aren't the most convenient for making adjustments, and unless you're gaming at a desk, you'll have to get up any time you want to tweak things like sound profiles or noise cancellation.
The Stealth Pro also gets props for being fully compatible with virtually every gaming platform out there. Its included USB transmitter (which also serves as a charging station for the swappable battery) worked with my PS5, Xbox Series S, Nintendo Switch and Mac alike, thanks to a handy switch that allows it to toggle between Xbox and general USB compatibility. This is a refreshing upgrade from many older wireless headsets, which, largely due to Microsoft policy, force you to choose between an Xbox or a PlayStation/Switch version of a headset. However, it's worth noting that you'll need to buy the Xbox-branded version of the Stealth Pro for this wide compatibility — the PlayStation model won't work with Xbox devices.
Like many modern high-end headsets, the Stealth Pro can be connected to both USB and Bluetooth devices at the same time — something that allowed me to fire up a podcast from my phone while still enjoying game audio during a Halo Infinite session.
Virtually endless battery life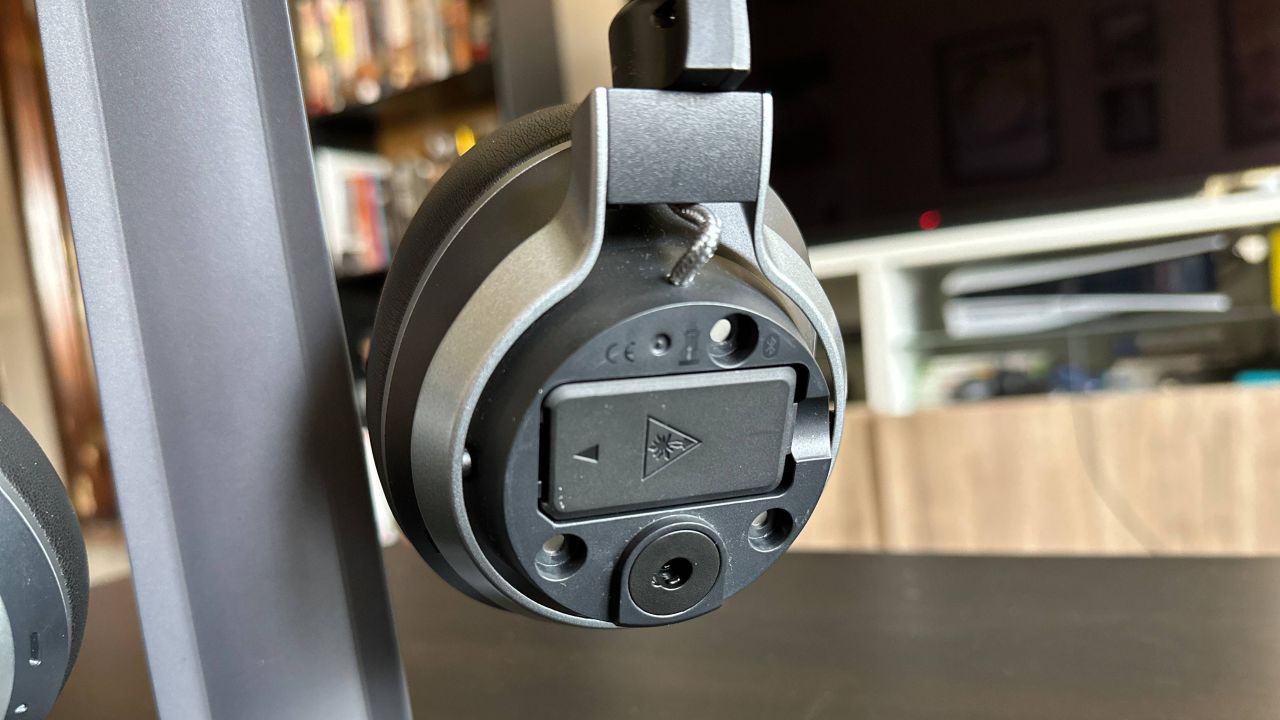 As long as you're gaming at home, the Stealth Pro will virtually never run out of battery. That's because the headset comes with two removable, rechargeable batteries — one that sits inside your headset, and the other that stays charging in the included USB base station. Once you're out of juice, simply swap the two, and you're good to go for another few days. Each battery is rated for 12 hours of gameplay, which lines up with my testing; I was able to get through several days of heavy playtime before having to swap the batteries out. And if you forget to charge your spare pack, you'll get about 3 hours of game time from a 15-minute charge.
This isn't a new feature — the SteelSeries Arctis Nova Wireless also offers swappable batteries, which are rated for a longer runtime of 22 hours each. However, I found removing the ear plate and swapping the batteries in and out of the base station just a bit easier on the Stealth Pro. And when you always have a spare waiting, the Pro's lower overall endurance isn't much of a dealbreaker.
What we didn't like about it
It's expensive (and has tough competition)
I can't say that the Stealth Pro isn't worth the money, but $330 is still a lot for a gaming headset. It's still cheaper than the $350 Arctis Nova Pro Wireless — which offers a similar combination of features including ANC and swappable batteries — but if you can live without those two things, you can get a whole lot for much cheaper.
The Turtle Beach Stealth 700 Gen 2 Max (our favorite wireless gaming headset) retails for $200 and is frequently on sale for much less these days, offering very good sound quality, more color options and most of the same customization features for a fraction of the price. And if you mostly care about ANC (and can live without Xbox compatibility) Sony's Inzone H9 offers excellent noise canceling and lots of great personalization options for a little less at $300.
At the same time, there are a lot of good reasons to spring for the pricier Arctis Nova Pro Wireless. Its sleeker and lighter, has longer overall battery life and has the unique advantage of having a transmitter box that can be connected to two devices at once (such as your PlayStation and Xbox, or PlayStation and PC). If you're a multi-platform gamer, that means you'll never have to do any cable swapping as you bounce between systems.
How it compares
| | | | |
| --- | --- | --- | --- |
| Active noise cancellation | Yes | Yes | Yes |
| Swappable batteries | Yes | Yes | No |
| Battery life (rated) | 12 hours per pack | 22 hours per pack | 40+ hours |
| Compatibility | Xbox, PlayStation, Nintendo Switch, PC, Mac, mobile | Xbox, PlayStation, Nintendo Switch, PC, Mac, mobile | Xbox, PlayStation, Nintendo Switch, PC, Mac, mobile |
| Microphone | Removable boom microphone & concealed mic for calls | Retractable | Retractable |
| Bluetooth/dual wireless support | Yes | Yes | Yes |
| Companion app | Mobile and PC | PC only | Mobile and PC |
| Color options | Black | Black | Black, pink, teal, white |
| Price | $330 | $350 | $200 |
Bottom line
If you're willing to splurge on a $330 gaming headset that has great sound, active noise cancellation and tons of features, you'll get your money's worth from the Stealth Pro. It's comfy enough to wear all day, is loaded with customization options (particularly for competitive gamers) and offers practically unlimited endurance thanks to its swappable battery packs. Its companion app is also second to none, making it easy to tweak things on the fly.
That said, if I were spending my own money, I'd probably spring for the $350 SteelSeries Arctis Nova Pro Wireless. It's lighter, sleeker and more comfortable, and I can keep it hooked up to my PlayStation and Xbox at the same time. And if your budget is under $200, the Stealth 700 Gen 2 Max has many of the Pro's excellent features for a fraction of the price. But if having great wireless sound, active noise cancellation and an easy way to customize both are important to you, the Stealth Pro delivers.