CNN Underscored reviews financial products such as credit cards and bank accounts based on their overall value. We may receive a commission if you make a purchase, but our reporting is always independent and objective.
Our quick take: TurboTax offers a customer-friendly, easy-to-use platform to complete your tax return online, and doesn't require you to pay anything until you're actually ready to file. But more complex returns may require purchasing a more advanced version of the software or live help options, which can get expensive.
Pros:
Upfront questions help you immediately determine the TurboTax version needed to complete your taxes.
Import tax documents from employers and financial institutions.
Easy-to-use and helpful search feature.
Stop at any time and restart where you left off.
With the online version, you don't pay for the program until your taxes are complete.
Cons:
More expensive compared to competitors.
To speak with a tax expert, you must pay for an add-on service.
Best for: People with extremely simple returns who can utilize the free version of TurboTax, or those with more complex taxes who need the ability to access uncommon tax forms and enter all their information seamlessly.
Start your taxes with TurboTax and find out if you can file your tax return for free.
Digging into TurboTax
TurboTax is a software program that allows you to prepare your tax returns — both state and federal — without needing to hire an accountant. TurboTax offers four different options to allow all taxpayers to use the program, regardless of the complexity of their taxes.
The most basic version of TurboTax is actually free as long as you file by March 31, 2022. But if you need more than just the simplest return, TurboTax pricing depends on the complexity of your return, and ranges from $59 to $119 to file a federal return. You'll also pay an additional $49 per state return filed, though again, for the most basic returns, there's no cost for the first state filed as long as you file by March 31.
Right from the start, TurboTax will guide you by asking basic questions about your situation, such as owning a home, owning a small business, having rental property and so on. This makes the process incredibly easy from the beginning, since you don't have to guess which version of the program to use.
TurboTax will then go through your tax forms with you page by page, making it very clear as to what information is needed. You also have the option to utilize the help of a tax expert, where you can get additional guidance, but for an additional cost. This includes the TurboTax Live service where you can ask questions in real time, as well as the TurboTax Live Full service, which allows you to fully offload your tax return to a professional.
With TurboTax, you don't need to pay for the service until you file your taxes, unless you purchase the program through a third-party such as Amazon. This allows you to use TurboTax risk-free to ensure you're happy with the service — if you're not, you can swap to another tax preparation program before you file. And as you go through the process, you'll see your tax refund (or amount due) in real-time.
Click here to start your taxes with TurboTax and only pay when you file.
Advantages of TurboTax
TurboTax is as easy as they come. From its easy-to-follow process to its search feature, the program will ensure that you have as simple an experience as possible in filing your taxes. Right from the start, you can pull in your tax forms from last year by importing a PDF file from any other major tax preparation company. Or, if you used TurboTax last year, all information is saved and can be easily accessed.
The program also allows you to auto-populate a lot of the information needed to fill out your tax forms. The numbers from your W-2 form, for instance, can be uploaded simply by entering your employer ID and the dollar amount from box 1. Or, if your employer's ID number isn't recognized, you can take a photo of your W-2 form using the TurboTax mobile app. This not only saves you time, but also helps prevent data entry errors.
Importing additional tax information, such as 1099 forms, is also simple, as TurboTax partners with many financial institutions. By logging into your respective bank or investment website from your TurboTax account, you can seamlessly gather the necessary data needed to complete your taxes. And similar to your W-2 forms, if your financial institution isn't on the list, you can take a photo to import the data.
If you have any trouble finding where to enter a form throughout the process, TurboTax has a great search feature that allows you to enter the name of the form and immediately be taken to it. This is helpful for those with more complicated tax returns, where every form might not be initially presented.
Although TurboTax makes filling out your tax forms yourself a relatively painless process, it offers two additional paid services to make completing your taxes even easier: TurboTax Live and TurboTax Live Full. Filing your taxes with TurboTax Live costs between $79 and $199, depending on how complicated your taxes are, while TurboTax Live Full runs from $199 to $389. However, those using TurboTax's basic program can utilize both of these extra features for no additional cost, as long as you file by March 31, 2022.
TurboTax Live is an add-on help feature that gives you access to a tax expert through the program's chat function. While completing your taxes, if at any point you have a question, you can connect with your Live representative and they'll help you with any of your tax preparation concerns.
In addition to answering questions and helping you with your forms, you can also have a tax expert review your return line-by-line with this feature before you file. A TurboTax Live representative is available between 8 a.m. and 10 p.m. Mountain time, seven days a week, although you may have to wait a few minutes for the next representative to be available.
Now, if you'd prefer to fully offload your taxes, you can utilize TurboTax Live Full instead. A dedicated tax expert will complete your taxes from start to finish — similar to handing them over to an accountant. You'll meet with your expert on a live video call to discuss your tax situation, and documents can easily be sent by taking a photo and uploading them securely via the program. Through the TurboTax software, you can also track the progress of your return at any point.
Once your taxes are complete, you'll do a final review of your return with your tax expert, and the expert will then file your taxes on your behalf.
Get live help from tax professionals when you file your return with TurboTax.
Disadvantages of TurboTax
Despite TurboTax offering a hand-holding experience, the software can be expensive. In fact, TurboTax is more expensive than most other tax software programs. When compared to three other tax preparation systems — H&R Block, TaxSlayer and TaxAct — TurboTax was as much as double the price in some situations.
Additionally, while the software offers the opportunity to import many of your forms and information, if your taxes are more complex or you have minimal tax preparation knowledge, you risk the chance of missing deductions. As with any tax software program, your return will only be as good as the information you include.
And while TurboTax offers a great search feature, there's still the chance that unclear topics and questions will arise, causing you to spend time researching the issue. Of course, you can utilize TurboTax's Live help features by paying the extra fee (unless you have an extremely basic return filed by March 31), but at that point you might find it easier to hand your taxes over to a local accountant. You'll have to compare the costs to see which option is more economical.
Other tax software similar to TurboTax
Although in our tests, TurboTax was the best overall tax software of 2022, there are many other competitors that are similar in nature. We tested three other well-known tax programs — H&R Block, TaxSlayer and TaxAct — to see which ones performed the best.
In our testing, we found that TurboTax was one of the better options, especially if you have complex taxes, such as running your own business, having numerous deductions or owning lots of real estate. However, as we noted earlier, TurboTax can be significantly more expensive than the other options, so you'll need to decide if all the bells and whistles are worth the higher price point.
If you want the least expensive program but one that still performs well, you might consider TaxSlayer, while H&R Block offers the most forms with its basic version, which might help you keep costs down if you find yourself needing a step up from the free version in other tax programs. And from our testing, TaxAct was one of the more difficult programs to use, and unlike the others, you'll have to pay to file your state return even if you can use the free federal option.
Fortunately, none of these tax programs charge you a fee to use their software until you file your return, so you can always try one program to see if it works for you without an upfront cost. And while it's time-consuming, you can also enter your tax information in multiple programs to see which one gives you the best result.
Pay nothing upfront to find out how much your refund is this year with TurboTax.
Should you do your taxes with TurboTax?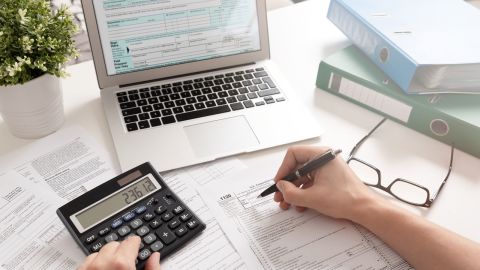 If you're comfortable with paying a slight premium or you have a simple enough tax situation that you can utilize the basic free version of the program, then TurboTax is a great choice. The software provides a simple way to complete your taxes, while allowing you to easily input many of your tax forms by connecting to your employer's network and financial institutions.
And if you find that you still need more help, you can add on the TurboTax Live service at any point, or even hand the entire return over to a professional to do via the TurboTax Live Full option. So while completing and filing taxes can be a daunting task, TurboTax will help ensure a smooth and seamless process.
Learn more about TurboTax and file your tax return today.
Get all the latest personal finance deals, news and advice at CNN Underscored Money.