Misplacing, burying or outright losing things is a fact of life. Fortunately, there's tech to help us locate our belongings when we inevitably have a lapse. Tile has been one of the bigger players in this market of tracking tech until Apple came in with the AirTag. However, there's still room in the market for Tile's low-cost Mate tracker, particularly because Apple's AirTag only works within the Apple ecosystem.
The Tile Mate is a simple device that helps owners find it in two ways. The tracker broadcasts a Bluetooth signal, and when it pings a device running Tile's app, the Tile network can get a rough GPS location of the tracker based on the phone it pinged. The owner can use the GPS location data to get close enough to the tracker to establish a Bluetooth connection with their own phone. Once connected directly to the Tile Mate tracker, it can play a ringtone to help in its retrieval. Users can also use a button on the Mate tag to ring their missing phone in the event that's the lost item.
If you're an Android user looking for an easy way to track down your lost stuff, the Tile Mate is a great buy.
How I found the Tile Mate
When it comes to trackers, there aren't many big names in the market. Tile's been at it for some time, and the Mate is the company's entry-level option. To understand the market, it was all but essential for CNN Underscored to check out the core product from one of the bigger players, so that's exactly what we did. While Tile has other trackers with different designs enabling longer Bluetooth range, louder speakers or an easier fit into a wallet, they all fundamentally perform the same type of tracking, so the Tile Mate serves as a logical starting point for assessing the company's value.
Why it's a score
The Tile Mate isn't complicated. I was able to get it set up in short order, with the creation of a Tile account being the most time-consuming part of the setup. It's a simple pairing process to get started. Since the Tile Mate frame has a hole punched in it, it's also convenient to connect to a key ring, so that's what I did.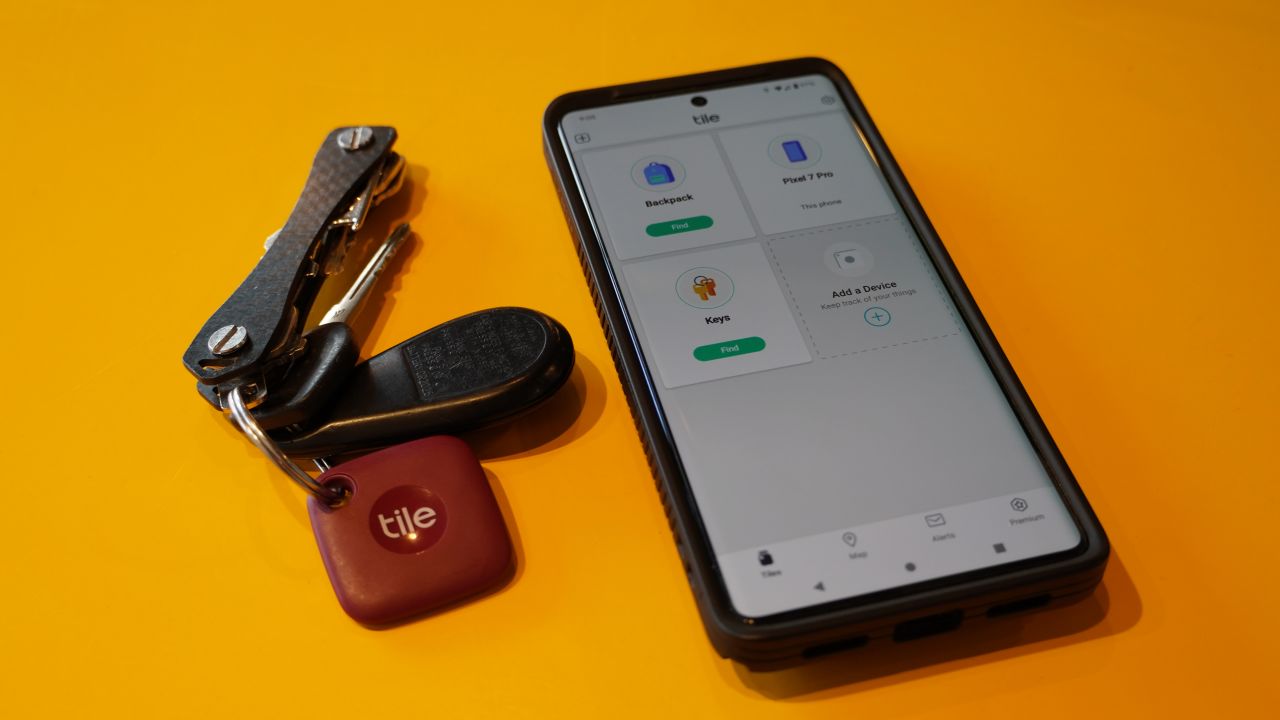 With the Tile Mate in place on my keys, finding them when I can't remember where I've tossed them in my room or whether they're in one of the many coats on the coat rack becomes as simple as pressing a button in the app and then hunting down the sound. The app also provides a signal strength indicator in case the tracker is too far to hear but close enough to get a Bluetooth signal.
The small speaker on the Tile Mate isn't exactly blaring when it plays its ringtone, but I was able to hear it through a small cubby door to where it sat inside the pocket of a thick, winter coat. In a quiet room, the ringer is plenty. I could hear it down a 40-foot hallway, where the tracker sat around a corner tucked underneath a couch cushion.
The Mate advertises a 250-foot Bluetooth range, but my phone struggled to establish a connection from that far even with the Mate sitting on the ground outdoors in clear line of sight. When I was within 40 steps of the Mate (roughly 60-80 feet), I could connect and toggle the ringtone, which was just audible amid the sound of cars cruising by. In more favorable conditions — with the Mate dangling from a tree branch — the Bluetooth signal reached me from 90 steps away, or about 180 feet. From 80 steps away I could faintly hear the ringtone over the sound of the cars going down the street. The Bluetooth signal strength indicator provides surprisingly granular feedback, but only if you're paying attention to the actual radar-style screen. There's a verbal indicator as well, but it took a dozen steps to let me know whether I was getting hotter or colder. It could be useful in a pinch, but would get tedious to use regularly.
If you manage to get too far from the tracker, there's still recourse for finding the Tile Mate. The Tile app includes a map to show roughly where the Mate was last spotted. The map notes how many people are on the Tile Network in the area. In my case, this puts a pretty sizable circle covering a huge swathe of Chicago, including the entire northeast side from River North up to Edgewater and many northwest neighborhoods. In all, that includes easily a few hundred thousand people. Within that circle, it identifies only 7,969 Tile members. That same circle likely includes more than 10 times as many Apple devices that could ping an AirTag on the Find My network. Despite the seemingly sparse user base, I did see the Tile Mate accurately pinged on the map when I went to a gym several miles away from home (with my own phone's Bluetooth disabled to force the system to rely on the Tile network).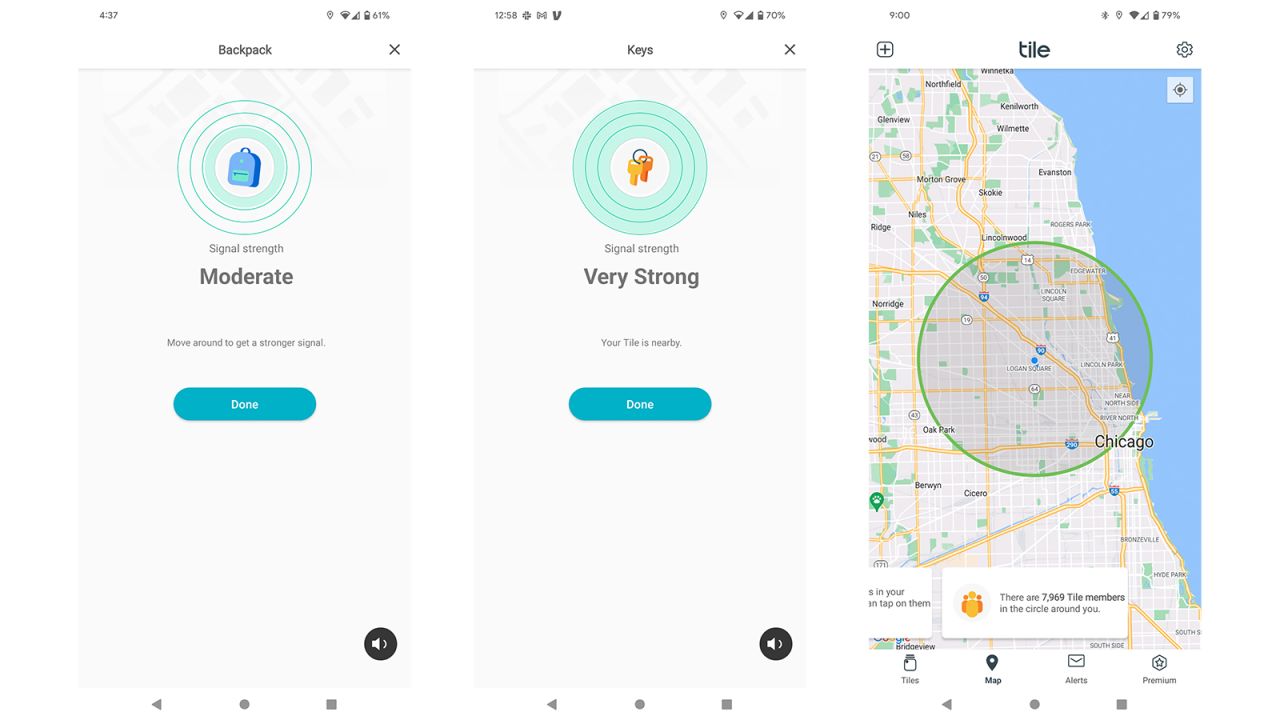 Tile offers a premium subscription (who doesn't these days) for $2.99/month or $29.99/year. This comes with a $100 reimbursement (per year) for lost items Tile can't find, free battery replacement (for devices with replaceable batteries, which the Mate isn't), 30-day location history for trackers and a warranty to replace damaged trackers. The subscription also includes a feature to alert you if you disconnect from your tracker so you can more quickly react to a misplaced device — of all, this one feels like it should be a standard feature.
At $25, a single Tile Mate tracker doesn't feel like a major outlay to be able to better keep track of expensive-to-replace keys or valuable-packed bags. Anyone who frequently finds themselves in a time crunch to get out the door can benefit from the tracker's ability to expedite locating misplaced items. A four-pack is just $70, increasing the value considerably. And since the Tile Mate trackers have a simple hole for attaching to key rings, carabiners, or even string, they don't require any extra accessories to put into use.
There are some cheaper trackers available, but not necessarily with the network of other users that helps users locate their lost items. For anyone who can't use the Apple Find My network or doesn't want to be further locked into the Apple ecosystem, the Tile Mate is a worthy option.
The Apple-user caveat
The price of the Tile Mate comes right up against Apple's AirTags, which cost $30 apiece. However, AirTags are effectively useless for anyone outside of Apple's mobile hardware ecosystem. So the Tile Mate trackers have some room to breathe and offer an affordable alternative for Android users.
For iPhone and iPad owners, however, buying anything but an AirTag makes less sense. The price difference is small, but the capability difference is considerable. Tile announced in late 2021 that it had sold over 40 million Tile devices — being generous, that means there might be 40 million users contributing to the network. Meanwhile, Apple's billion-device network provides substantially improved chances of having lost devices pinged, and UWB signals from the AirTag allow for more precision in locating nearby trackers. Any Android users hoping for this tech have to rely on either Samsung's own, narrowly supported SmartTag+ or can continue to hold out for the Tile Ultra, which is still a no-show despite its announcement in 2021, slightly before Tile's acquisition by Life360.