Eufy, commonly known as Anker's household accessory brand, is flexing its muscles with the new Mach line of premium cleaning products. Adding some cutting-edge competition to this already crowded category (we're looking at you, Dyson) — the subdivision's first US product is the V1 Ultra, a smart, powerful cordless stick vacuum with an innovative built-in steam mop.
Yes, cordless stick vacuums may make it easy and convenient to clean your floors, but getting out the mop and bucket to wash them afterwards can feel like double the work. And though Bissel has a corded vacuum plus steaming mop ($279), Eufy claims the Mach V1 Ultra ($700) is the first of its kind to go cordless.
Though it looks similar, the Mach V1 Ultra is unlike any stick vacuum I've used. At 12.5 pounds, almost double the weight of my 6.8-pound Dyson V15 Detect ($750), it was more cumbersome to maneuver. However, after weeks of use, the V1 Ultra made up for this extra heft with its ingenious built-in steam feature, which vacuumed and mopped my floor at the same time.
This is achieved by using the roller brush in the product's base, along with a detachable tank of water below the handle, which triggers the steam feature. Plus, the V1 Ultra even has a fan to help dry the wet floor as you mop so there's no streaky mess.
Is all this multitasking worth the extra weight and a $700 price tag? It sure was for me, and I can't imagine ever going back to a traditional vacuum and mop. Interested in trying it out for yourself? Here's everything you need to know about the Mach V1 Ultra before you decide.
This multitasking vacuum plus steam mop is Eufy's first foray into premium cleaning products — under its new Mach subgroup. The V1 Ultra not only saves you a ton of time, but it packs in a ton of high-end features that will make you almost enjoy cleaning. However, at $700, the V1 Ultra is an investment, though we appreciated that this cordless stick vac was easy to store and didn't take up too much room in our home.
What we liked about it
A modern design and automatic cleaning solution
Slim, sleek and somewhat futuristic-looking, the black-and-silver vacuum sits atop a fitted black base, which in turn plugs into the wall. A color bar runs along the top of the base and lights up red to let you know when steam is ready. The wand of the V1 Ultra has not one but two water tanks that easily snap into place, which hold the clean and dirty water separately.
There's also a third, smaller tank behind the handle, which holds up to 30 days' worth of proprietary cleaning solution (a small bottle is included with the vacuum to get you started and it will cost you $30 more once that's done). Not all floor cleaners allow the use of anything but water, but in my experience, we could all use some extra oomph in the tank. I also liked that I never had to think about how much to use because Mach automatically mixes the cleaning solution with the water, then dispenses the right amount each time you clean.
Though I was worried that the heavier Mach V1 Ultra would look bigger in my home, it ended up being quite compact for a stick vacuum. And even when placed on the charging base, it didn't take up much space in the room at 1 foot wide and 10 inches deep.
Multiple cleaning modes for different messes
A small, rectangular LCD screen resides on the vacuum's handle and two buttons sit above it: one for power and the other for cleaning modes. Depending on how and what you're cleaning, you can use the mode button to toggle between Vacuum, Smart Mode and Steam Mode, which is then displayed on the screen.
I started out in Smart Mode, which vacuums and mops the floor at the same time, and is also the V1 Ultra's default mode. When I gripped the handle intending to push the heavy vacuum across the floor, I was pleasantly surprised when it gently led the way, with minimal effort on my part. And, as advertised, the one-two punch of vacuum and mop was a real timesaver for kitchen tile as well as wood flooring.
Eufy also included a clever feature called JetBlade Anti Slip technology, which continually blows air from the bottom back of the vacuum onto the floor so, you guessed it, you don't slip while you work. While this can be turned on and off, I found I felt safer, especially in the kitchen, when I knew the floor would dry quicker. The problem? It was hard to figure out exactly how to control this mode, which tends to be a common theme when you want to do anything but run the basic three modes (more below).
Steam mop is impressive
A vacuum-only mode lets you do a quick cleanup of the floors, but the most impressive feature of the Mach V1 Ultra is the Steam Mode. Once activated, the V1 Ultra releases steam at 230 degrees Fahrenheit to assist in dissolving stains before it cleans the floor. After turning on steam, I waited about 25 seconds for the light bar on the base to turn red, indicating it was ready, and went to work on my kitchen floor. Each press of the trigger on the vacuum's handle released steam onto the floor and did an impressive job getting up some nasty dried ketchup stains. For safety, when the vacuum is lifted off the ground, the steam feature is paused, which prevents it from overheating.
And unlike that OG mop, where I would have to plop the mop head back in a bucket of dirty water, wring it out and then mop again, a proprietary internal system constantly cleans the built-in roller, making sure that I won't smear that ketchup back on my floor.
Eufy says Steam Mode is for hardwood floors only, and not intended for steam cleaning carpets or rugs. But I did try it on a low-pile entryway carpet, and though it obviously got it wet, the dirty water tank I emptied was disgusting. That means the vacuum did a darn good job.
A quiet self-cleaning mode
As mentioned, unlike a traditional mop, you don't have to clean or wring out the mop head on the V1 Ultra. Once you place it back on the charging base, just press the button on the top of the handle to activate self-cleaning mode. This will clean and disinfect the vacuum tube as well as the rolling brush on the bottom, then dry the entire thing with hot air, so it won't smell musty. The entire process took about 40 minutes, and though I was concerned the drying function would make a racket, it ended up sounding like white noise.
Eufy's other big trick is something it calls Eco-Clean Ozone Disinfection, which sterilizes the vacuum and further sanitizes the floors during steam cleaning. This simply means that the V1 Ultra uses an internal generator to create ozonated water from the tap water you provide. Pretty nifty. And though it's been certified by the EPA and TUV Rheinland to reduce germs by up to 99.9%, you won't have to worry about creating ozone in your home because it breaks down into oxygen within 30 minutes, making it safe for kids and pets.
Strong suction and long battery
For a cordless stick vacuum, the Mach V1 Ultra has some impressive stats. Eufy claims up to 82 minutes of run time on a single charge, if you use it in Smart Mode or suction only. Steam mode uses more battery power and I got around 15 minutes of steam cleaning before I had to put it back on the base to recharge. Still, that was enough to get my floors cleaned, sanitized and dried.
The vacuum cleans with 16,800 Pa (Pascal Pressure Units) of suction power, which is high compared to others I've tested. For instance, Eufy's robot vacuums run anywhere between 1,300 and 2,000 Pa suction power, and the newest Roborock S8 Pro robot vacuum boasts just 6,000 Pa of suction power.
And, with all that suction power, I was surprised the vacuum wasn't louder. But Mach was one step ahead of me there and the V1 Ultra uses a three-layered noise-canceling technology to keep it at 65 decibels, about the same noise level as a dishwasher. For comparison, Eufy's Robovac X8, with just 2,000 Pa of suction, has a 60-decibel noise level.
What we didn't like about it
Unintelligible voice prompts
Eufy added what it considers to be a helpful voice feature, intended to guide you through using the vacuum. Like, it lets you know when steam is ready or reminds you to empty the dirty water tank. But for my part, the execution needs work. The robotic voice sounded muffled, like it was coming from the bottom of the vacuum, and combined with a slight accent, I could never understand what it was saying. It might be better if I could change the voice and the speaker was set closer to the user, but as it is, I was glad that I was able to turn it off completely.
Confusing controls
Because the vacuum does so many things, and the controls are so small, limited to the LCD screen, trigger and mode button, it can get extremely confusing when trying to toggle through the different cleaning modes and turn features like ozone cleaning on and off.
For instance, some things require one press of the trigger, which serves as an "Enter" button when using modes, while others require three. To have a better understanding of exactly what you're doing, you'll have to check the manual and try to memorize things if you plan on using anything other than Smart Mode. If not, it's a lot of trial and error.
The Eufy Clean app is not helpful
Most smart home devices work in conjunction with an app, which should, for the most part, make it easier to access and personalize settings as well as go hands-free when turning features on and off. Unfortunately, the Eufy app experience was greatly disappointing.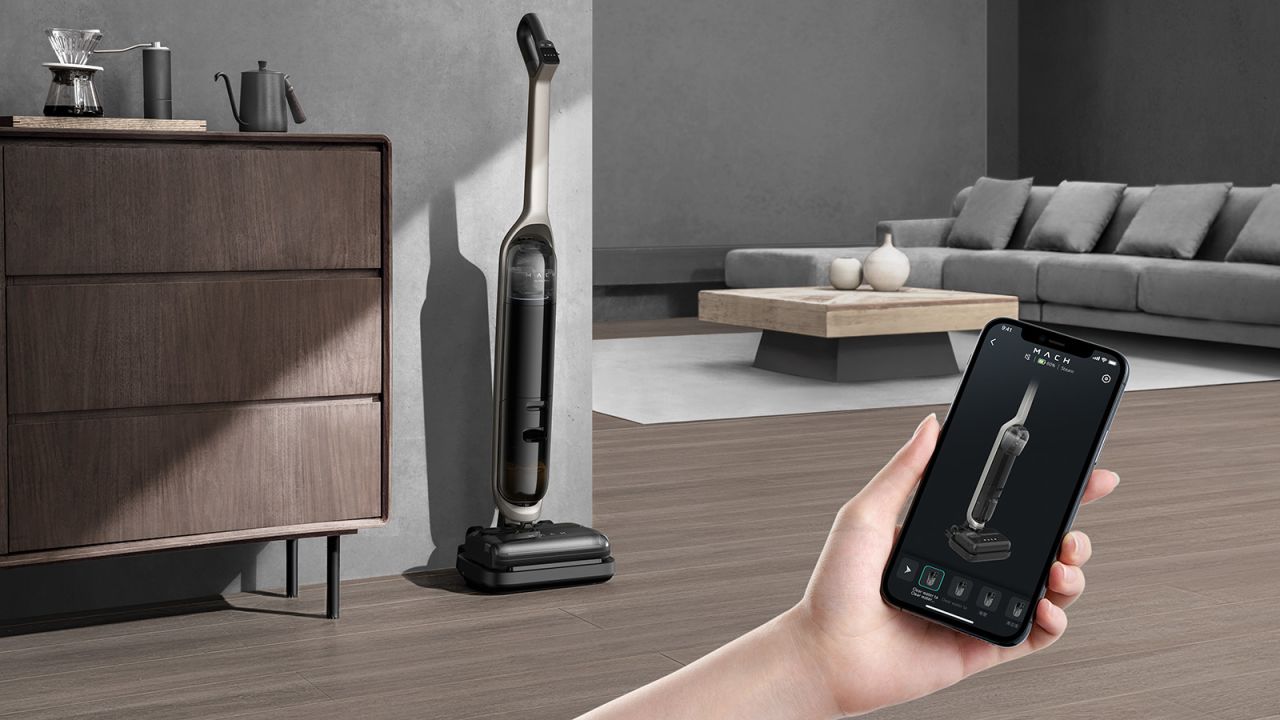 With the V1 Ultra, I had a difficult time just connecting to the Eufy Clean app, and once connected, I found only a handful of maintenance tips and how-to videos. I assumed I would be able to do things like turn JetBlade drying on and off, and that it might be especially helpful for those who have a hard time using the small LCD screen. But no dice.
C'mon, Eufy, you sell smart home products. Is that all you got?
How it compares
There are other stick vacuums available that mop and incorporate steam cleaning in addition to vacuuming. Bissell just released the CrossWave HydroSteam multipurpose vacuum that sanitizes floors, self-cleans and has two water tanks. It looks a little bulkier and less streamlined, but at $279, it's also more affordable than the Mach V1 Ultra. However, as we pointed out, it comes with a 25-foot cord. And though this should be plenty to clean a room or large area, if a cord is a deal-breaker, you'll have to stick with Eufy's offering.
Bottom line
The Mach V1 Ultra is a serious multitasking floor cleaner that saves time and effort by vacuuming and mopping at the same time. Plus, it's the only one of its kind that is also cordless.
The extra added steam cleaning power made it easier to get my floors cleaner quicker, and the self-cleaning feature meant I didn't have to do anything after I was done cleaning except place it on its base and press a single button.
But at $700, the price tag is a heavy lift. And because of its weight, nearly 13 pounds, it's not as easy to take it out to clean up just a simple spill. If mopping isn't as important to you, you might be better off spending the $570 on our pick for Best Cordless Stick Vacuum, the Dyson V11 Animal. It's half the weight, and it's easier to maneuver and carry from room to room and has accessories for cleaning carpets, bedding, blinds and other household areas.
• Related: The best vacuum cleaners of 2023
However, if you frequently vacuum and mop the floors in your house, you'll save a lot of time and elbow grease with the super-productive Mach V1 Ultra. With an impressive run time of over 80 minutes, it lifts up hard-to-clean stains and vacuums with super-strong suction power. Plus, you can cross "clean up after the mop" off your already busy to-do list.