CNN —
The Surface Laptop Go is not just a new laptop from Microsoft, but an insight into the company's approach to a broader tech trend: value, value, value. Affordable yet powerful devices have been all the rage this year. Apple has the iPhone SE and iPhone 12 Mini, Samsung has the Galaxy S20 FE and Google has the Pixel 4a.
In the world of laptops, though, the Surface Laptop Go is an exciting development — a pretty well-specced laptop with a sleek design and a quality build for a starting price of just $549.
We would, though, caution against buying the starting model. It only has 4GB of RAM and just 64GB of eMMC storage — which means it's a slow machine. The option for many will be the $699.99 variant, as it features the same Intel Core i5 processor but with 8GB of RAM and 128GB solid-state drive (SSD). You also get a fingerprint sensor in the same compact build.
But let's dive deeper than the Surface (sorry, pun intended) and see what this budget laptop has to offer.
A strong Surface build with a standard HD screen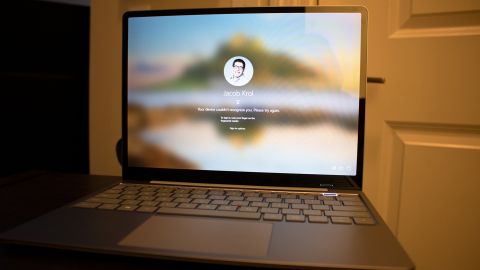 Here's a great thing about the Laptop Go: It's technically a budget laptop, but it looks like a tried-and-true Surface device.
The top case and keyboard case are both aluminum. We've been testing the cool "Ice Blue" color, which provides a pop of brightness in an elegant way. If blue isn't your speed, it also comes in platinum and sandstone as well. The bottom is a soft resin-like material made from postconsumer material. To us, it feels kind of rubbery, and while charging or performing high-performance tasks it does retain heat.
We fully believe it was a cost-cutting measure, and while it can sometimes feel a little cheap, it works with the Laptop Go. At $699, the Laptop Go still feels like a very sturdy design throughout. The Laptop Go is pretty light but weighs in heavier than the MacBook Air at 2.44 pounds. The thickness of the Laptop Go doesn't whittle down toward the front either. And for a budget laptop, it looks really nice while inherently feeling like a part of the Surface family. We won't lie, though: Surface Laptop 3 definitely feels higher-end.
The good news is Microsoft didn't cut ports. There's a USB-A, USB-C, headphone jack and Surface Connect port for power. You can connect pretty much any device you need too — whether it's a digital camera, a phone or an external drive. You can also opt to charge the Laptop Go with a USB-C power cable and wall plug. Microsoft just continues to push the proprietary connector as well.
Opening up the lid displays a full-size keyboard, a nice trackpad and other 3:2 display. Essentially, that ratio makes for a taller display that can fit more in, which we appreciate with a 12.4-inch touch screen. This is a pretty standard display, but one that falls behind that of the MacBook Air, Laptop 3, MacBook Pro and Book 3 in terms of resolution.
The PixelSense display measures in at 12.4 inches, but with only a 1536 x 1024 resolution and 148 pixels per inch. That's a standard HD screen — and it shows. Zooming in on photos can present a graininess, and even some text can look a little fuzzy depending how far back from the screen you are. Still, for the price point, at least it's HD and provides realistic-looking colors. It's a touch screen as well for if you want to go hands-on, but there's no support for Surface Pen here. This is also not a 2-in-1, so the screen doesn't flip backward.
You'll quickly notice that the included webcam doesn't support Windows Hello. That's Microsoft's technology for authenticating and unlocking laptops or desktops with your face. It's been swapped here for a 720p HD webcam and dual far-field microphones. It was adequate for Zoom, Webex and video calls in general, but it does introduce noise on the view.
The replacement for Windows Hello is found on the keyboard in the form of a fingerprint sensor. This is only available on the $699 model and above, but it gives you an easy way to unlock the computer in a jiffy.
Enough performance for most use cases
All Surface Laptop Gos are powered by an Intel Core i5 processor, which is a 10th-generation processor — not one of the recently unveiled 11th-gen processors from Intel. This also doesn't opt for an ARM processor like the Surface Pro X. Again, with just 4GB of RAM and slow storage on the $549.99 model, we really can't recommend it.
But the $699.99 model that boosts it up to 8GB of RAM and 128GB of storage is definitely an option that can handle quite a bit. In between all of the tech launches this fall — looking at you, Apple, Google and Amazon — we've been using the Laptop Go as a daily driver. The keyboard proved its weight when typing thousands of words, and performance could handle what we threw at it, from a custom CMS to Slack, Trello, Photoshop, Chrome, Edge, Brave, Word, OpenOffice, Spotify and several other applications.
As we wrote in our other Surface reviews this year, though, you'll want to upgrade from Windows 10S to full Windows 10. First, it's free. Second, you get to install any compatible application, not just the applications that are available in the Windows Store. It's just the right move.
And the Intel Core i5 was able to power most of these tasks without buckling. It wasn't the fastest Photoshop experience with many exports, but it also didn't buckle with these tasks. But it was great for web browsing or word processing. For productivity users, college students or someone looking for an everyday machine, this is up to the challenge.
Via GeekBench 5, a benchmarking application that we run on all devices, the Surface Laptop Go scored a 961 on single-core and 2,938 on multi-core. A very dependable score and behind the Laptop, which scored a 1,302 and 4,797, respectively.
We averaged eight hours of screen time with everyday use. The included Surface Power connector did offer a sense of fast charging, but it still took a few hours to top off. You can also charge with a USB-C cable and plug, but Microsoft doesn't offer one in the box.
We were also able to game a bit on the Laptop Go, including titles like Sims 4 and the Journey to Batuu expansion pack, along with a few matches in Fortnite. It was nothing spectacular, but don't get the Laptop Go if you're looking for a dedicated gaming machine.
Bottom line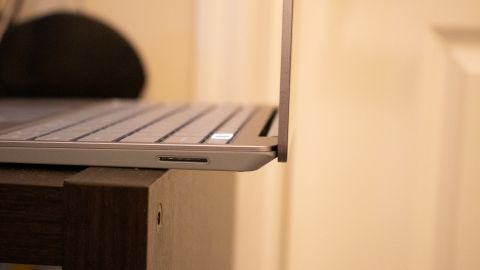 The Surface Laptop Go has a terrific design that will give you the sense it's a much more expensive device. And the specs, in the $699.99 variant, are what we like to see in a midrange laptop. For many of you, this will be an excellent go-to over the super-cheap Windows laptops with not-so-hot designs, and it's more affordable than a Laptop 3.
Just make sure you set expectations and opt for a fun color to show off the sleek design. The Surface Laptop Go is available now at $549.99 for 4GB and 64GB of storage, $699.99 for 8GB of RAM and 128GB of storage, and $899.99 for 8GB of RAM and 256GB of storage.