Sonos' One has been one of the best smart speakers since it came out in 2017. But as new competitors arrived — especially Apple's rebooted HomePod — the One needed to improve. Instead of making minor upgrades to the One, Sonos redesigned it and gave it a new name: the Era 100.
The Era 100 sounds better, looks more modern and has more features than the One. Unfortunately, it also costs more.
An excellent small wireless speaker
The Era 100 produces a bigger sound than the Sonos One without increasing the size much, and delivers impressive bass for a small speaker. It adds Bluetooth and the option for external sources through a line-in adapter. But the price has gone up again.
What we liked about it
It sounds better
The Sonos One has long been our pick for the best-sounding smart speaker, and the Era 100 improves on it in every way. The Era 100 has a lot more bass than the One, and it features a wider sound, thanks to having two tweeters.
Listening to "Cracker Island" by Gorillaz, the bass on the Era 100 boomed, and the vocals were clear in the mix. The One produced far less bass on the same song, and didn't spread the sound as widely. Ezra Collective's "Life Goes On" showed off the Era 100's balance between bass and vocals; the horns sounded warm and punchy. The chorus on SZA's "Kill Bill" made good use of the two tweeters, producing a wide sound with good separation in the stereo channels. The stereo effect of the Era 100 isn't as pronounced as with two separate speakers, though.
The Era 100's most notable competition comes from Apple's new HomePod. The Era 100 sounds slightly better overall when listening to stereo tracks, with more precise bass and crisper treble. But the HomePod supports spatial audio, the surround-sound tech for music; the Era 100 doesn't. When listening to songs in spatial audio on the HomePod, Apple's speaker creates a wider, more detailed sound.
It updates the design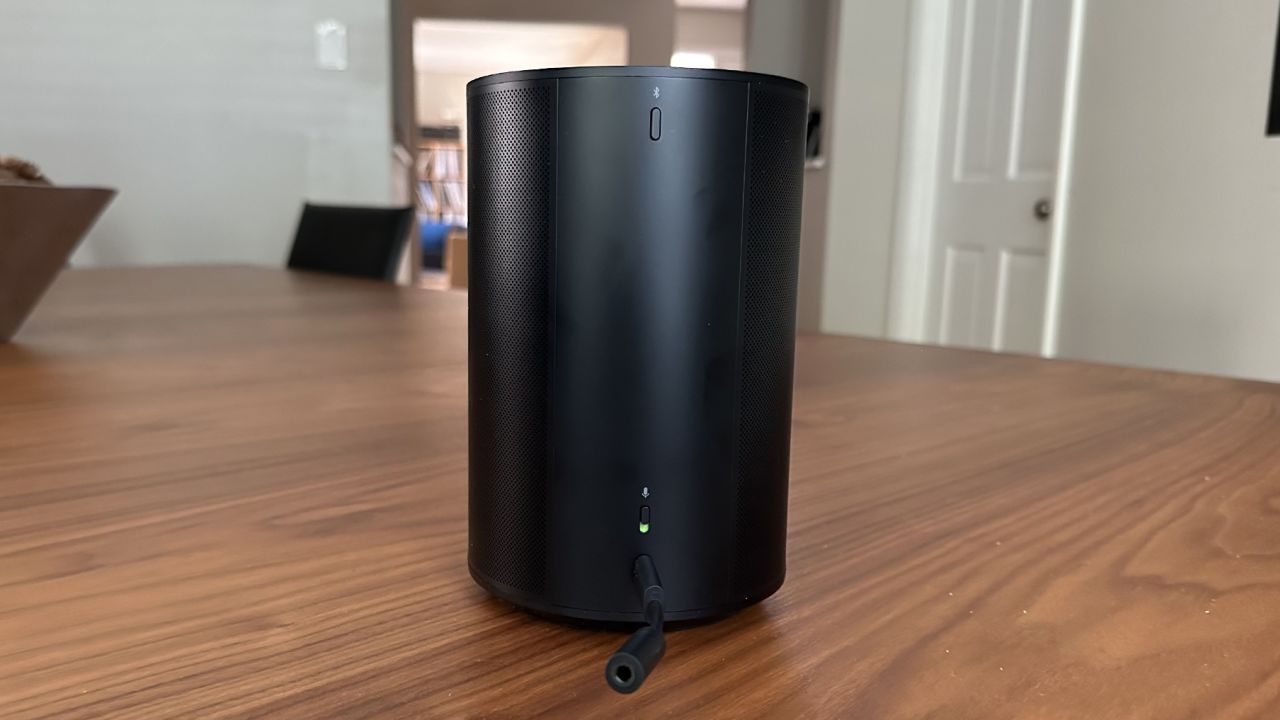 The Era 100 eschews the rounded box design of the One for an oval shape, giving it a more sleek and modern feel. But the design is still in keeping with the Sonos aesthetic and it fits in with existing Sonos speakers. It's wrapped in a perforated metal similar to other Sonos speakers and is available in black or white.
At 7.2 by 4.7 by 5.1 inches, the Era 100 is slightly taller than the One, and the extra height helps it create a bigger sound. Sonos placed two tweeters near the top of the speaker, which allows it to produce stereo sound. The tweeters are angled so that they better spread sound. A larger midwoofer helps the Era 100 produce its big bass.
Sonos tweaked the controls, too. The best addition is the volume slider: a trench across the top where you can slide a finger to increase or decrease sound. It's more tactile than tapping plus and minus signs to change volume, and it adds more control.
The Era 100 includes microphones so you can use your voice to control it (and for room correction). But if you don't want the speaker listening, Sonos included two ways to gain privacy: There's a touch-sensitive button on top that mutes the microphones, and there's a switch on the back that completely turns them off. I'm not sure we need both, but if you're concerned about your privacy, the Era 100 is for you.
It adds new features
Beyond the new design, Sonos packed in lots of features that many fans have been asking for
The one getting the most buzz is Bluetooth. Sonos had avoided using Bluetooth for its non-portable speakers (the Move and Roam have included Bluetooth since they launched), but added it to the Era 100 and the Era 300, the other new Sonos speaker. The implementation is as smooth as you'd expect from Sonos; pairing is easy and it reconnects quickly. And once you are connected, you can use the Sonos app to control playback and create groups. The sound quality is very good for Bluetooth, though it wasn't quite as good as Wi-Fi.
The Era 100 has a USB-C port on the back to which you can connect an adapter. Sonos offers two adapters: the $39 Combo adapter, which lets you connect to your network via Ethernet and includes a 3.5mm auxiliary input, or the $19 Line-in Adapter, for the 3.5mm input only. Adding a line-in to the Era 100 allows you to connect a turntable or CD player; once you've added a device to a speaker on your Sonos system, you can listen to your vinyl or CD music on any Sonos speaker in your home. That's a function that was previously only available on the pricey Sonos Five, or the Port or Amp, which connect to non-Sonos speakers or a receiver.
Sonos also made Trueplay, its room correction software, easier to use — and available to Android users. The new Quick Tuning feature doesn't require a phone; it sends sounds from the speaker into the room and uses the microphones to measure the room. Quick Tuning takes only a few seconds to do. You can still use the manual Trueplay method if you have an iPhone. The manual method produced a more balanced sound overall.
Like with One, you can group two Era 100s together to create a left-right stereo pair. You can also use them as rear speakers with an Arc, Beam or Ray soundbar and a subwoofer for a 5.1 system. If you want Dolby Atmos rear sound, you'll need to go with the Era 300.
What we didn't like about it
It got more expensive
At $249, the Era 100 costs $30 more than the One. And the One used to cost $199. You get more for your money, but it is creeping out of the affordable range for many people. The Apple HomePod costs $299, which is actually cheaper than the original HomePod.
You may be able to justify the extra cost because you might not need two speakers anymore. A single Era 100 nears the wide sound you previously needed two Ones to achieve.
It's less smart
Sonos added a lot to the Era 100, but took away Google Assistant. You can still use Amazon Alexa or Sonos Voice Control for hands-free control. Sonos Voice Control is limited, though – it can only control the speaker, and I found it frequently misunderstood what I asked it to do. Alexa is still full-featured, however, and could control smart devices throughout my house.
If you're in a Google Assistant house, you might want to skip this upgrade. However, the Era 300 doesn't include it either, so I wouldn't expect future Sonos speakers to support Google Assistant.
How it compares
| | | |
| --- | --- | --- |
| Size and weight | 7.2 x 4.7 x 5.1 inches, 4.4 pounds | 6.6 x 5.6 inches, 5.16 pounds |
| Drivers | Two tweeters, one midwoofer | Five tweeters, 4-inch woofer |
| Connectivity | Wi-Fi, Bluetooth, Line-in (with adapter), Ethernet (with adapter) | Wi-Fi, AirPlay |
| Colors | White, black | White, Midnight |
| Smart assistant options | Alexa, Sonos Voice Control | Siri |
| Price | $249 | $299 |
Bottom line
If you're looking for a single small wireless speaker to drive tunes in your room, the Era 100 should be on your short list. It sounds better than the Sonos One, with better bass and a wider sound, and it looks slick.
If you're choosing between the Apple HomePod and the Era 100, the choice may come down to the voice assistant and whether you're interested in spatial audio. Apple has Siri and supports spatial audio; the Era 100 has Alexa, but not Google Assistant, and can't do spatial audio.
Should you upgrade from a Sonos One to an Era 100? The Era 100 is definitely a better speaker, improving on our previous best-sounding pick in nearly every way. If you're using a single One, the upgrade would be worth it. If you have two Ones in a stereo pair, the difference is less pronounced. And for those who are new to Sonos or only have one of their soundbars, the Era 100 is a great place to start — or build on — your system.