Ski and snowboard season is well underway, and as such, we're all collectively aware of one overarching theme: This. Is. Expensive. From lift tickets and ski gear rentals to jackets, helmets and beyond, everything surrounding the snow sport is pricey. Which is why the news that Goodr has recently expanded its offerings to include ski goggles piqued my interest. The maker of the cult-favorite sunglasses known for being equal parts fun, sturdy and affordable (just $25 per pair!), Goodr rocked the sunglasses industry with its nonslip sunglasses a few years ago and the brand is undoubtedly aiming to do the same with the launch of the Snow G, a collection of stylish goggles that cost just 75 bucks each.
Given Goodr's durability prowess when it comes to sunglasses and its penchant for freaking cool design, I was excited to test both the former and the latter in goggle format. What really had me intrigued, though, was that price. If you're an avid skier or snowboarder you know that goggles — the good ones, at least — are not cheap. And they're a must when you're on the slopes, whether it's sleeting, snowing, sunny or cloudy.
So, I gave the Snow G a whirl, taking them for a day of runs in suburban New Jersey this winter. No, the skiing conditions were not ideal, but nonetheless, I put the goggles to the test … and so did my kids.
The Snow G goggles are Goodr's first step into winter sports eyewear, and they tout the same affordability, sturdiness and style as the brand's signature sunglasses.
What we liked about them
Swapping lenses is a breeze
Price aside, the Snow G's selling points on paper are aplenty. First off, the goggles come with two interchangeable lenses and are equipped with a magnetic securing system that allows you to swap in a low-light lens when the conditions call for it. My BS meter was relatively high upon reading "magnetic." I review a lot of products that sound great on paper but simply don't work IRL. Happily, that's not the case here. The Snow G's magnetic system is not only intuitive but also incredibly secure — you have to pry the lens off the goggle frame, and when swapping in a new one, the lens clamps down tightly and doesn't budge. This can be done while the goggles are on your face, but admittedly it took me a few tries to learn the adequate pressure to apply when removing and replacing the lenses.
The only way to truly know if the magnetic claims held up, however, was to have a kid (or three) test them out, which is what I did. My 8-, 9- and 10-year-olds all sported the Snow G for the day and I had each one attempt to swap their own lens — if you have kids you know they don't like to do anything by themselves. While they at first complained, after a few tries each one was able to pop the lens off (reminder: That magnetic pull is tight!), safely store it in the accompanying carrying case and latch the new lens onto the face frame. As the day went on, my kids were pulling their goggles up and down, taking their helmets off and throwing them on the lodge tables and even headbutting each other, and not once did their lenses pop off the frame or even become askew — reiterating that the Goodr magnetic security system is on point.
Comfort and durability
Another selling point is the Snow G's "universal fit," which is sort of … obscure? But once tested, it turns out that they do, in fact, comfortably fit kids, men and women alike. Coming in at 200 by 98mm externally — which I would anecdotally call a medium fit — a big part of the reason why they work so "universally" is because of the adjustable head strap that is lined with an inner silicone grip, ensuring the goggles don't budge from your helmet or your face and can be tightened or loosened as needed. That said, I did test them on my 5-year-old daughter and they were too big for her tiny face, so I'd only consider them a viable option for big kids and adults.
Related: 13 of our favorite family ski resorts for all ages and skill levels
More about those lenses: For one, they come packed with UV400 protection, which I appreciate. Second, they claimed to be anti-fog, and those claims held up, thanks to ventilation pockets above the eyes and flanking the nose — trust me, if three kids can't get their goggles to fog up after six hours on the hill, no one can. My favorite detail, however, was the lens durability. Like the sunglasses they're known for, Goodr has once again created an ultra-sturdy polycarbonate lens, which we tested thoroughly. Skiing aside, at one point my sons were pretending to fence with their poles, resulting in one of their pole tips scraping across the other's Snow G lens. The result? Zero damage, not even a faint scratch. Boasting six layers of ingredients, the Snow G lens includes two shatterproof and scratch-resistant coatings that truly seemed to hold up against even the wildest (and naughtiest) of product testers. And when it came to optical quality, I found the experience to be crystal clear with an expansive field of view. The lens also has an anti-glare coating, which proved to be highly effective during the sunny portion of our day.
I also appreciated that each pair came with both a soft pouch for the second lens and a hard case for safely storing the goggles. Oh, and the goggles are super comfortable, thanks to a foam inner liner that rests between the frame and your face.
Bright colors stand out on the slopes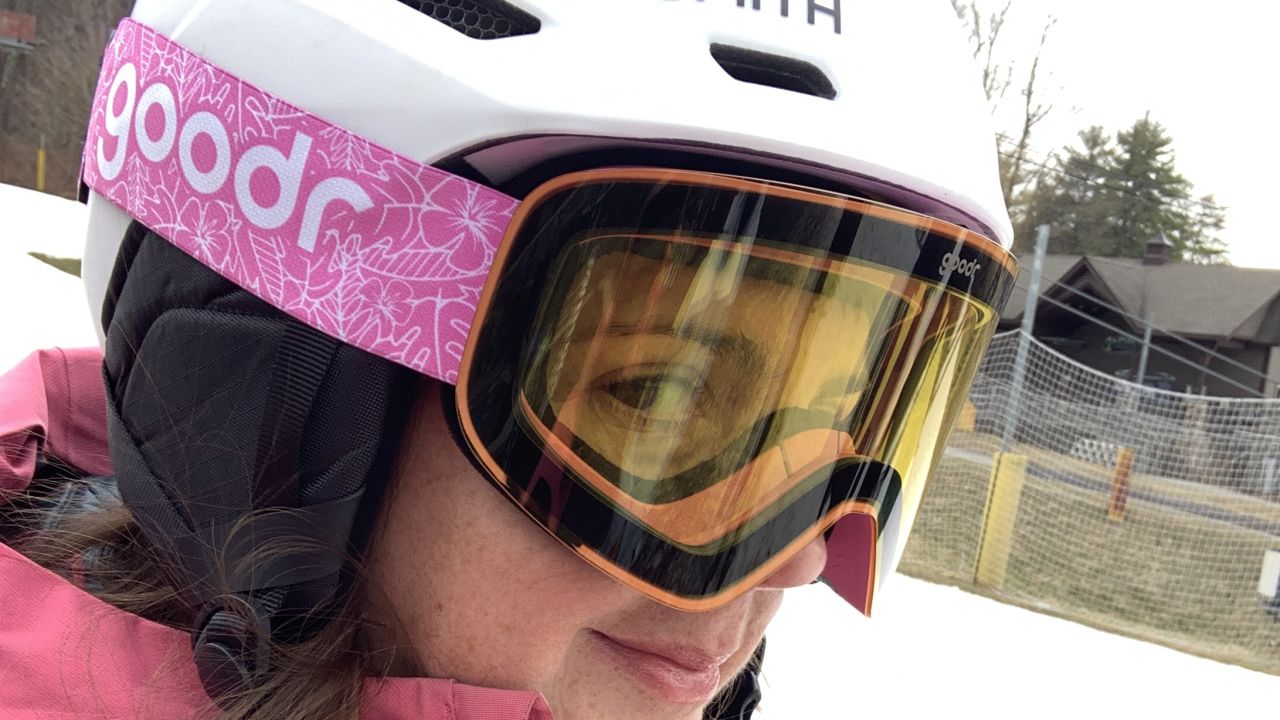 Now that we've got the nitty gritty discussed, it's time to focus on the fun part: design! That's right, my favorite facet of the Snow G is just how stylish and bold the goggles are. Available in three colorways — Bunny Slope Dropout is awash in Goodr's signature pink and teal, Here for the Hot Toddies in a vibrant orange and light green combo inspired by the wintry cocktail and Apres All Day is a slick black option — the goggles have a fun floral print on their strap and a clean frameless design. I sported the Bunny Slope Dropout atop my white helmet and the combo was utterly cute, and the pairs my kids tested had them looking like total professionals as they went whizzing by me. Given the brand's cache, I had several people come up to ask me how they were performing or to tell me they loved the look — more proof that The Snow G are eye-catching and the Goodr brand in general just seems to get people talking.
What we didn't like about them
Honestly, I'm hard-pressed to find a negative here. If I had to pick something, I guess it would be that the strap adjuster is slightly awkward when you're tightening the strap around a helmet (while wearing the helmet) — expanding the strap is much easier.
How they compare
My two points of goggle comparison were a budget Smith option and a luxe Spy pair. The Smith Optics Range is a very basic, utilitarian pair of goggles that is currently priced at $55 on Amazon. While the goggles did the job of, you know, shielding my eyes from the elements, they were rife with problems. My biggest gripe was that the lens would often pop out of its track — oftentimes while I was skiing — which could only be fixed by pulling the goggles off my helmet and popping the lens back into place with two bare hands. This was irksome. Armed with only one lens, the goggles also often fogged and didn't provide the premium optical clarity of the Snow G in low light — instead the visibility was more tunnel-esque.
I also tested the Spy+ Marauder goggles with the brand's new Happy Boost lens. Priced at $240, the goggles are pure luxury. They look sleek because, well, they are sleek. The optics are spectacular, thanks to the Happy Boost lens, which, fun fact, was developed using an AI that sampled 10 million lens combos. All in all, the Goodr and Spy+ goggles I tested were very similar in design — both are frameless and feature removable magnetic lenses (Spy+ has an additional "deadbolt" lock to keep the lens in place), both have a silicone grip lining the inner strap and both had zero fog issues, thanks to generous ventilation. I will say that the Snow G's top ventilation panel is constructed of a durable plastic webbing, whereas the Marauder is a foam mesh panel and thus a bit more delicate. Also, given its additional deadbolt lock, the Marauder's lens swap took a bit longer. I was impressed that the Goodr option was even in the same league as my Spy+ pair, and even more so considering they were neck and neck during testing.
Related: 15 ski and snowboard travel bags that will keep your gear safe while in transit this winter
Bottom line
I really can't say enough good things about the Snow G. Goodr's latest product maintains the brand's cult-favorite hype. Not only do the Snow G perform well in various conditions (sun, clouds, rain), they're also super sturdy and totally adorable — and they look way more expensive than they are. Reminder, folks, they're only 75 bucks. Trust me, these are the best bang for your buck goggles you're going to find on the market right now.
Beyond that, it just feels plain good to shop with Goodr. The company is not only 100% carbon neutral but also gives 1% of its annual gross sales to environmental nonprofits. A product that delivers on form and function and gives back to charity is always going to be one that gets my stamp of approval.