This year's Samsung Galaxy Tab S8 lineup consists of three different models. The $1,099 Tab S8 Ultra — which we found to be a great giant tablet but not a good laptop — gives Samsung fans a premium option. The standard $699 Tab S8 and the $899 Tab S8+ provide a more affordable yet impressive Android tablet experience.
But that's the rub: The Tab S8 and Tab S8+ run Android, which Google has all but given up on optimizing for a larger screen. Thankfully, Samsung continues to invest in its DeX platform that turns the Android tablet interface into a windowed experience, resembling something you'd expect to see on a laptop. It's not perfect, however.
For the last week or so I've been testing the Tab S8+, using it for work and play. And while DeX goes a long way toward improving the Android tablet experience, there's still some work to be done.
The Galaxy Tab S8+ impresses with a vibrant, clear display that's great for play and has plenty of power for nearly any task. Where it lets down is with Android OS, but that's really the linchpin with any Android tablet.
The who, what and how
Who it's for: Samsung's $899 Galaxy Tab S8+ has a fantastic-looking display, comes with an S Pen stylus and has impressive performance. If you're already invested in Samsung's ecosystem of products, this tab slots in nicely with the rest of the company's Galaxy products. It's perfect for using as a secondary computer — that is, a tool for drawing, video calls and responding to emails or Slack messages. It's not something we can recommend as a laptop replacement.
What you need to know: The $899 Galaxy Tab S8+ succeeds with a 12.4-inch Super AMOLED display, 128GB of storage and a microSD card slot for additional storage. Plus, you get Samsung's S Pen stylus in the box. You'll need to pay more for a keyboard, though — either $159.99 for the Book Cover Keyboard Slim or $229.99 for the Book Cover Keyboard, the latter of which has a trackpad for navigating the interface. In other words, if you want to use the Tab S8+ more like a laptop, be ready for the added cost.
How it compares: The $899 Tab S8+ confidently sits in the middle of Samsung's tablet lineup, both in price and screen size. It's slightly smaller than Apple's $1,099 12.9-inch iPad Pro, which also bests the Tab S8+ in terms of performance. At times, the Tab S8+ acts more like a standard laptop, thanks to Samsung's DeX platform, but if you're set on this form factor you'd be better off picking up a $999 Surface Pro 8 for its complete Windows experience that doesn't require compromises.
Samsung sticks with what works
The Tab S8+ looks a lot like last year's Tab S7+ and the more recent Tab S7 FE. After doing a quick side-by-side comparison for my own reference, I accidentally grabbed the Tab S7 FE instead of the Tab S8+ and started using it before I realized I had grabbed the wrong Samsung tablet. In fact, the Tab S8+ and the Tab S7 FE use the same Samsung keyboard accessories.
I understand Samsung's approach — if it's not broken, why fix it? The Tab S8+ measures 11.22 by 72.8 by 0.22 inches, housing a 12.4-inch Super AMOLED display that has a crisp and sharp picture. Colors are bright and vivid, while blacks are deep and dark — just like we've come to expect from all flagship Samsung products — and the tablet is great for watching content. The Tab S8+ is comfortable to hold and light enough that it doesn't cause any sort of fatigue when using it for long periods of time.
One thing that's worth talking about is the aspect ratio of Samsung's tablets. Samsung uses a 16:10 ratio, while Apple's iPad Pro uses a 4:3 aspect ratio. Those numbers simply mean that when either tablet is in landscape orientation, the Tab S8+ is wider than it is tall. The iPad Pro is more proportional and doesn't have a widescreen look to it. The Tab S8+, like Samsung's tablets before it, is ideal for watching movies and videos while not ideal for reading books or creating documents. There are a total of four speakers on the Tab S8+, which combine to provide an impressive mix for both music and streaming videos.
On the front of the Tab S8+ is a single 12-megapixel ultrawide camera, while there are two rear-facing cameras on the Tab S8+ — a 13-megapixel main sensor and a 6-megapixel ultrawide sensor. The cameras aren't as sharp as what you'll find on a Galaxy S22, but they're good enough to take the occasional photo when your phone isn't nearby. The front-facing camera, however, is a big upgrade over the Tab S7+, with a wider field of view that's perfect for video calls.
Next to the camera array on the backside of the tablet is a long black landing strip for the S Pen to magnetically attach to the tablet. Not only does that act as a place to store the pen, but it also wirelessly charges the stylus while not in use.
I'm not a huge fan of where the S Pen is stored, especially when I'm using the Tab S8+ without any sort of cover or case. The magnet to hold the pen in place is strong but not strong enough to keep it from accidentally getting pushed or knocked off. Indeed, the iPad Pro has a magnetic spot to store the Apple Pencil on the side of the tablet, but because the Pencil is always visible, you're aware that it's there — and can remove it if you need to.
Samsung's keyboard cover does have a flap with an indentation to keep the S Pen in place, but it's an extra cost. Samsung's S Pen remains mostly unchanged, and that's not a bad thing. It's still a reliable and easy way to jot notes or sketch out ideas — and now you can write in any text field (like Google) and the Tab S8+ will convert your handwriting into text.
There's a single USB-C port on the bottom of the Tab S8+ that you use for charging, with fast charging support of up to 45W. One thing to keep in mind is that Samsung no longer includes a wall adapter in the box with the Tab S8+. You can pick up Samsung's $49 45W charger if you want to take full advantage of the charging speed.
To work or play? That is the question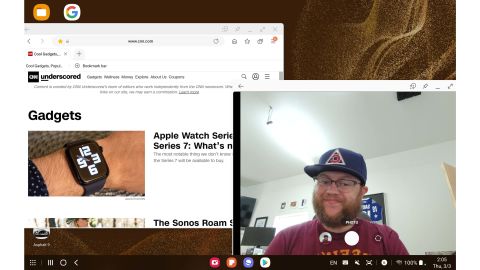 Powering all three Galaxy Tab S8 models, along with the shiny new Galaxy S22 trio of phones, is Qualcomm's Snapdragon 8 Gen 1 processor. Whether I was bouncing between DeX mode or using apps in split view to write part of this review and respond to Slack messages, the performance didn't leave me wanting more. The base model Tab S8+ comes with 8GB of memory and 128GB of storage. Additionally, all of Samsung's latest Tabs feature a microSD card slot, so you need not have storage anxiety.
Whether I was using apps in DeX or standard Android mode, the Tab S8+ was fast and responsive. I could have multiple apps open at the same time in various split-screen modes and not see any slowdown.
Going through a few races of Asphalt 9, I didn't notice any choppiness or lagging. It was smooth sailing…er, driving.
Running the benchmarking app Geekbench 5 on the Tab S8+ showed similar performance results to the Galaxy Tab S8 Ultra. It had a single-core performance score of 1,219 and a multi-core performance score of 3,219, which is more than powerful enough to handle your common, everyday tasks. That's an improvement over last year's Tab S7 offering and right in line with the results we got from the Tab S8 Ultra.
| | Processor | GeekBench 5 Single-Core | GeekBench 5 Multi-Core |
| --- | --- | --- | --- |
| Galaxy Tab S8+ | Qualcomm Snapdragon 8 Gen 1 | 1,219 | 3,219 |
| Galaxy Tab S8 Ultra | Qualcomm Snapdragon 8 Gen 1 | 1,176 | 3,336 |
| Galaxy Tab S7 | Qualcomm Snapdragon 865+ | 964 | 3,193 |
| Galaxy Tab S7+ | Qualcomm Snapdragon 865+ | 969 | 2,742 |
| iPad Pro | Apple M1 | 1,747 | 7,280 |
| iPad Air | Apple A14 Bionic | 1,578 | 3,981 |
As for battery life, well, it's been stellar. The Tab S8+ has a 10,090mAh battery that's been big enough to get through a full day of use with casual YouTube videos, bouncing between Discord servers, browsing the web and triaging my email. Out of habit, I charged the Tab S8+ each night, but there was more than enough battery that I could go into the next day and not have to connect it to a charger until the afternoon.
When playing a 4K video on repeat, the Tab S8+ powered through nine hours and 14 minutes before the battery ran out. That's over an hour less than the Tab S8 Ultra lasted in the identical test (10:32) and less than last year's Tab S7+ (10:05). Still, that's more than enough for a typical workday, with some extra battery to spare. It's also the same range of battery life I've experienced on my iPad Pro with Apple's Magic Keyboard attached to it.
A mixed desktop experience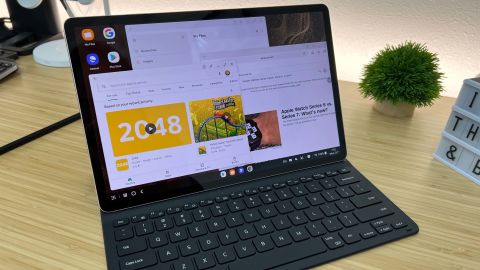 You can technically say the Tab S8+ runs a hybrid operating system. At the core is Google's Android 12 operating system with Samsung's One UI customization layered on top. That's the interface you see when using the Tab S8+ without one of Samsung's keyboard accessories.
However, the moment you connect the Tab S8+ to one of Samsung's keyboards, it automatically launches Samsung DeX. DeX is another one of Samsung's software tricks and is built into its flagship smartphones and tablets. When DeX is launched, it transitions the interface from a standard Android-like design to a desktop-like interface. You can open apps in windows like you do on a Mac or PC as well as place shortcuts to apps or files on your desktop, and even in the dock along the bottom of the screen.
The best way to use DeX is with Samsung's keyboard accessories, but you aren't locked into that setup. You can pair a Bluetooth keyboard and mouse to the tablet, then manually trigger DeX mode when you need it.
Not all apps work properly when DeX mode is triggered, but problems are few and far between. For example, with Netflix I got a message that the app may not behave as expected. Despite the warning, I haven't experienced any issues that stop me from using it, but that's not always the case.
Google Chrome still doesn't default to desktop mode, something that feels like it should be a given by now. Ultimately, you have to remember when using apps on an Android tablet, be it in DeX mode or not, that most of them are still Android apps designed for use on a phone.
Bottom line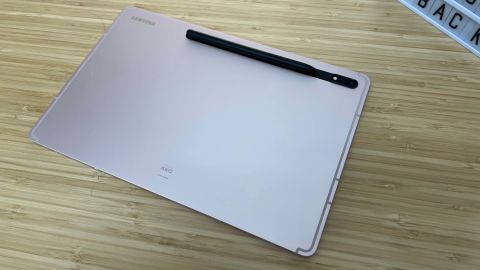 The Galaxy Tab S8+ impresses with a vibrant, clear display that's great for play and has plenty of power for nearly any task. Where it lets down is with the Android OS, but that's really the linchpin with any Android tablet. The real blame for that is on Google, not Samsung, but with the improvements Google is making to the larger screen experience in Android 12L, hopefully it signals a change in Google's approach to tablets.
If you want an Android tablet with a display that's not too small (Tab S8) but not too big (Tab S8 Ultra), the Tab S8+ is just right. Otherwise, the Tab S8 saves you some money and will ultimately provide the same experience as its bigger siblings. Apple's iPad, and by extension the iPad Pro, is widely considered the best tablet money can buy for its wide app selection, performance and accessory lineup that allows you to convert Apple's tablet into a gadget that fits nearly any use.
But nearly all of these tablets are on the high end of the price scale, so if you're looking for a tablet for occasional web browsing, video watching and maybe a game or two, the standard iPad or even one of Samsung's Galaxy Tab As are a better, more affordable option for you.
Galaxy Tab S8, Tab S8+ and Tab S8 Ultra specs
| | | | |
| --- | --- | --- | --- |
| Display | 11-inch LED display with 120Hz refresh rate | 12.4-inch Super AMOLED display with 120Hz refresh rate | 14.6-inch Super AMOLED display with 120Hz refresh rate |
| Screen resolution | 2500 x 1600 | 2800 x 1752 | 2960 x 1848 |
| Processor | Qualcomm Snapdragon 8 Gen 1 | Qualcomm Snapdragon 8 Gen 1 | Qualcomm Snapdragon 8 Gen 1 |
| RAM | 8GB | 8GB | 8GB/12GB/16GB |
| Storage | 128GB/256GB | 128GB/256GB | 128GB/256GB/512GB |
| Cameras | 13-megapixel autofocus/6-megapixel ultrawide with flash (rear); 12-megapixel ultrawide (front) | 13-megapixel autofocus/6-megapixel ultrawide with flash (rear); 12-megapixel ultrawide (front) | 13-megapixel autofocus/6-megapixel ultrawide with flash (rear); 12-megapixel FF/12-megapixel ultrawide (front) |
| Battery | 8,000mAh | 10,090mAh | 11,200mAh |
| S Pen | Included | Included | Included |
| Size and weight | 10 x 6.5 x 0.25 inches; 1.1 pounds | 11.2 x 7.3 x 0.22 inches; 1.27 pounds | 12.9 x 8.2 x 0.22 inches; 1.6 pounds |
| Price | $699.99 | $899.99 | $1,099.99 |